There's nothing better here in Hungary than when the evenings are cooling down and it's sometimes also drizzling; we are, however, taking a dip in the Portuguese summer's final hot days, as the famous fortified wine's region was celebrating its birthday on Port Wine Day.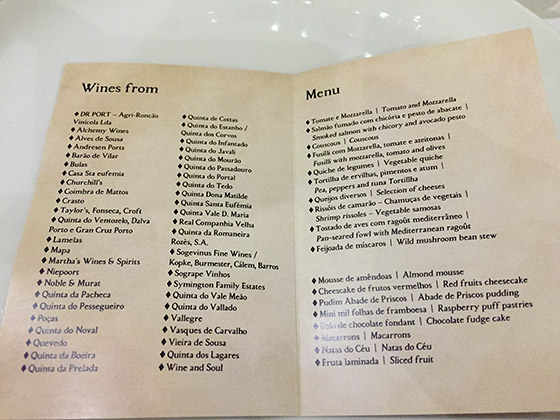 The menu of the Port Wine Day's dinner by Daniel Ercsey
Sebastião José de Carvalho e Melo, or as he is perhaps better known to most, the Marquis of Pombal, designated the Douro Valley as a demarcated wine region on 10 September 1756. For the Portuguese and most of the world, this date signifies the first geographically demarcated wine region with protected origin, although more and more people are now learning the names of Tokaj (1737) and Chianti (1716) related to this subject. But let's just skip over this small matter, as the Douro Valley is one of the world's most beautiful cultural landscapes, where you can drive from one marvel to the next for hours on end, or you can just sit on the riverside rocks toasting your belly, musing about how beautiful this world is.
Port Wine Day
You really have to visit Porto on 10 September and the days before and after. In 2014, our stalwart Lusitanian friends decided that they would organise a series of events during this time to commemorate the birth of the Porto wine region, and they certainly don't skimp when it comes to celebrating! There was everything from an opening dinner, tasting of the current, youngest vintage Ports, through to winery visits, spiced up with some Douro tours, a relaxed open-air wine festival and the Rabelo Boat Regatta sailing competition.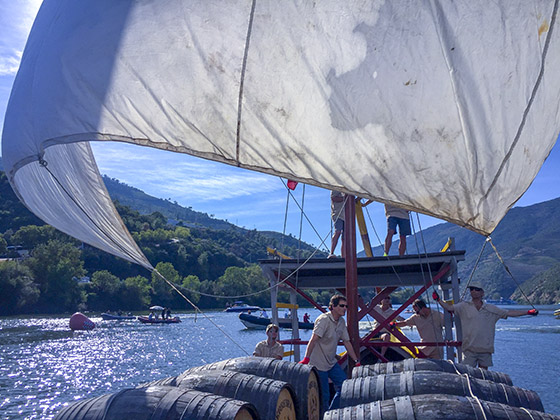 Rabelo Boat Regatta by Daniel Ercsey
The latter is a race involving the traditional wine delivery boats, which originally transported the Port wines downriver to the warehouses in Gaia (Vila Nova de Gaia is on the left bank of the Douro, across from the city of Porto, and is where the Port houses traditionally built their maturation rooms and wine storage – ed).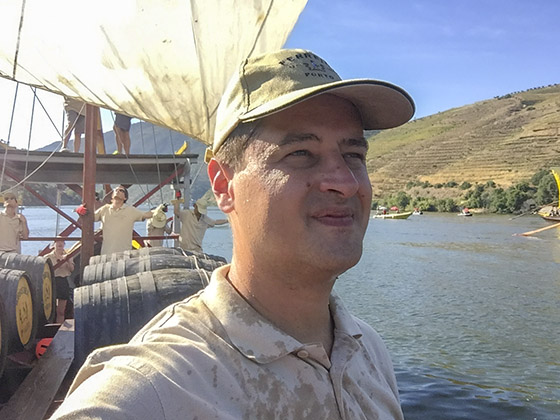 Selfie on the boat (Daniel Ercsey)
These often 200-year-old boats are flat-bottomed, as the river was very fast flowing, steep, rocky and wild before the damming of the Douro, and delivering the wine was a real adventure. An amusing but serious race takes shape every year between the boats and their crews, usually named after the large Port houses, which is followed by thousands of spectators on the city's quays. Which is why it seemed a strange decision to hold the competition in the wine region this year, almost a hundred kilometres from Porto and where the constant ocean winds no longer prevail. And if you'd like to know the result, don't bother. After unfurling their sails and grandly setting sail, the ships were becalmed in the same place in the middle of the river for three hours until finally the competition was called off due to the lull in the wind. In exchange, however, we could happily sip wine on deck and finally, with the temperature creeping up to 40°C, the most faint-hearted were tempted into the water. So, on 10 September 2018, to the great hilarity of the onlookers on the banks, the entire crews of 14 boats ended up bathing in the river Douro, singing loudly, in a perfect mood.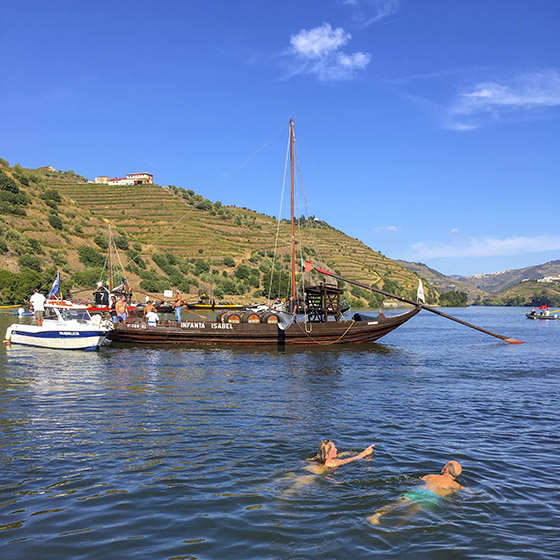 The end of the regatta, because of cal (Photo: Erik Klein)
Beat generation in the hills
The Real Companhia Velha was the first winery in the Douro Valley, established by royal decree in 1756. Thanks to its exceptional location, it has always played a leading role in the Port wine trade. In this area, there are mainly small estates with home wineries, whereas the large players own various estates, so-called quinta, who usually bottle their wines under their own name. The huge Quinta das Carvalhas, who hosted us for our two-day visit, is no exception to this.
The classic Douro estate stretches along the banks of the river on incredibly steep slopes and if you have no kind of support, you can only move crablike through its vineyards. This is not true for Pedro though, the son of the winery's owner, who leaps about the hillside like a chamois as he tells us about the rocks and indigenous plants. Then we taste all the grapes so that we can feel the difference between the varieties and the parcels. Meanwhile, José Saramago and classic English literature come up and it turns out that Pedro really loves Budapest and we also have some acquaintances in common; then we arrive at the hilltop viewpoint where lunch awaits us.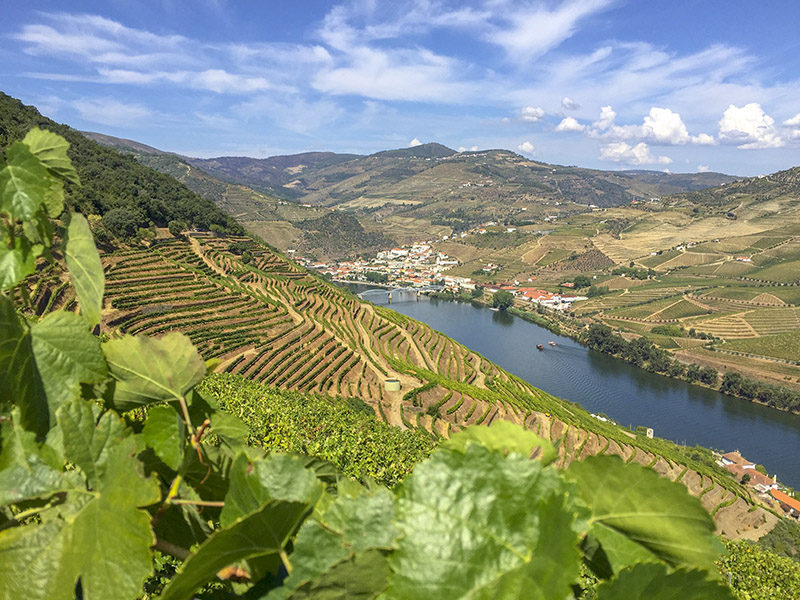 Quinta das Carvalhas by Daniel Ercsey
Álvaro Martinho Dias Lopes has been the estate's viticulturalist since Pedro's childhood. He has such a deep love of nature and grapes that he writes lyrics and songs about them; these are played by a group called 4wine at local music evenings. The Beatles and Cat Stevens are also on the play list; he sings and plays the guitar and mouth organ while I enjoy the best and simplest dessert in the world. I cannot imagine a better moment paired with the well-chilled chocolate mousse and freshly harvested Hamburg Muscat grapes.
Later, as a guest of the Quinta do Cidrô, which also belongs to the Real Companhia Velha (this estate pioneered the experimentation with international varieties in the Douro Valley), Pedro points out that although master of the house, his father is not at home; trousers and shirt are compulsory for dinner, although the jacket is generously waived on this occasion. The surprise of the evening is the hake paired with the estate's fresh Chardonnay, which was baked with plenty of tomatoes, wild mushrooms and bechamel sauce and served with rosemary new potatoes. If there were also hake at the Balaton, I'd maybe eat more of this every summer!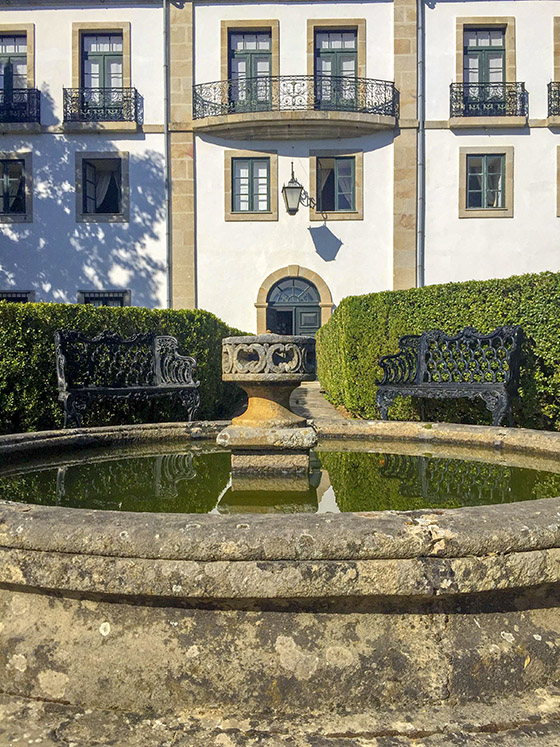 Quinta do Cidrô by Daniel Ercsey
Kindred spirits at the western reach of Europe
We Hungarians often say that the second best-known Hungarian word (after Puskás!) is a wine region, Tokaj. We also grieve somewhat that we are not able to take advantage of this endowment.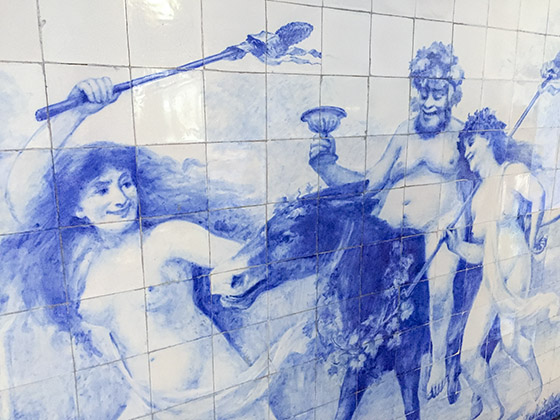 Azujelo in the Ramos Pinto salon by Daniel Ercsey
Hence, I laughed when Jorge Rosas greeted us with almost the same sentence in Vila Nova de Gaia in the Ramos Pinto salon decorated with playful blue and white Azujelo tiles:
Of course, the best-known Portuguese product is Cristiano Ronaldo, but closely behind him is Port wine!
– he said, jovially offering 20-year-old Port and immediately launching into the story of the scantily clad ladies on the walls. Although the Ramos Pinto House has been famed since its founding for its brilliant marketing, I simply have to say something about the fact that the Port wine market is also shrinking, and they are also facing challenges, yet I never hear the producers complaining about it.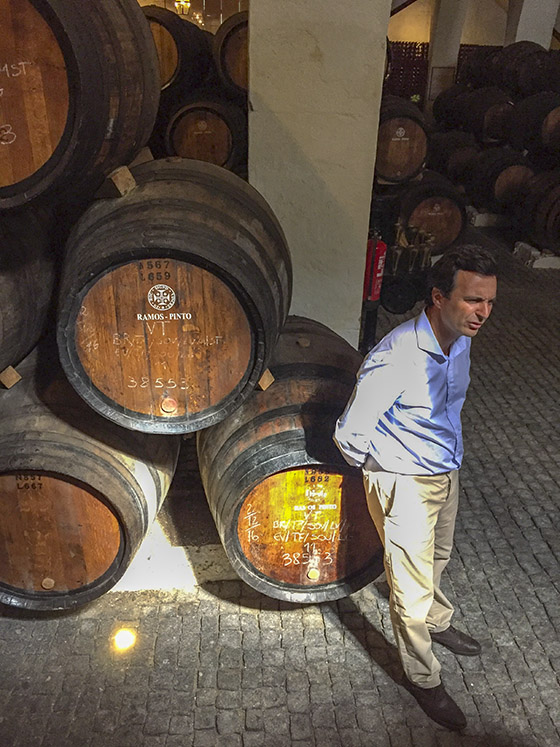 Jorge Rosas, Photo: Daniel Ercsey
We could say that the Mediterranean character is very different to the Hungarians', we could say that they are the descendants of a world empire, but the truth is that their world empire has come to an end, Portugal is almost as miniscule as Hungary, its population is about the same size and anyway it's controlled by Brazil nowadays, whilst fado, the musical genre born from the longing for things lost (saudade) is definitely one of their main exports. If we Hungarians are melancholy and weep while making merry, then what should they say? It seems to me that Portuguese winemakers and consumers look for answers to problems without forgetting even for a moment that life is nevertheless a wonderful thing. So, sometimes it's worth going to Portugal just to realise this.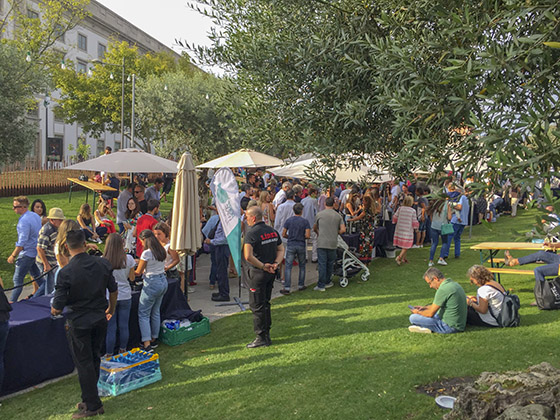 Wine Festival in Porto by Daniel Ercsey
Seafood? Far from it!
Lisbon is clearly the capital of seafood, so shouldn't Porto be just the same? Well, surprisingly, Portuguese cuisine is more than just a few anchovies and a vacantly blinking octopus, though there are certainly plenty of the latter on the ocean shore. The nickname for the inhabitants of Porto may give some credence to this: they are nicknamed the 'tripe-eaters' by those in Lisbon, and it's certainly not unfounded. Porto's tripe is unique, even uniquely delicious, without violating the spiritual world of the fans of Hungarian tripe stew. With or without herbs, but in any case, with pig's trotters, smoked cow's tongue and plenty of small, white beans.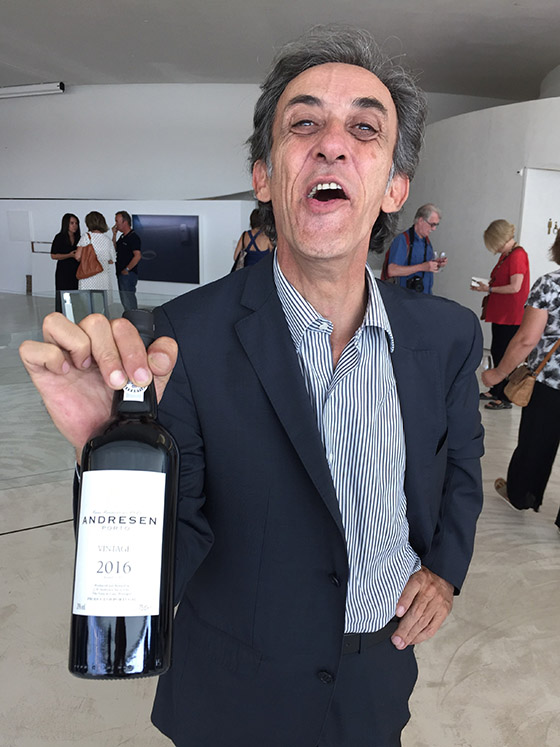 Carlos Flores dos Santos from Andresen and his amazing new Vintage Port by Daniel Ercsey
As I write, I'd love to return to the small eatery in Pinhão where the waiter served this, without question, along with a glass of Tinta Francisca. It's no wonder that Fernando Pessoa celebrated Tripas à Moda do Porto, or tripe, Porto style, with a magnificent poem. Pork is also an important part of Porto's cuisine. The best world-famous, fashionable pulled pork sandwiches are perhaps dispensed by Casa Guedes, where they also hold a festival in honour of the sandwich every evening, although food lovers hold the Taxca bar in equally high esteem. Anyway, what else can we expect from a country which has a museum dedicated to pigs? These sandwich bars are open till eleven every evening, so there's still plenty of time after winery visits to round off the evening in a wine bar. Porto is a hugely popular tourist centre, so most of the bars in the city centre are real tourist traps, but the Prova wine bar's selection hides some real treasures too, including some vibrantly fresh Dão reds from the eighties! And, even if you are not an expert, you can rely on the staff here!
A sample of the wines tasted during Port Wine Day
Quinta de Cidrô Chardonnay 2017 I 88 points
Sweet nose with spicy oak, vanilla and a little nutmeg. Medium-bodied with zippy acidity and a lemon and mint palate complemented with oaky notes. Well chilled, it's lovely and elegant with a long, spicy finish.
Quinta de Cidrô Marquis 2007 I 86 points
Fresh wine which had only been on sale for a few weeks! A blend of 40% Cabernet Sauvignon and 60% Touriga Nacional, accordingly dark in colour with a very intense nose. The palate and nose are dominated by black pepper, ripe black-berried fruit, cedar and balsamic vinegar. Really Mediterranean in character with a full body, silky tannins, bright acidity and a long finish. Worth decanting before drinking.
Ramos Pinto LBV 2013 I 93 points
Restrained nose of plum with a little cherry. Unfiltered and intended by the winery for further ageing; tasting blind, many confuse it for a vintage Port. Full body and bright acidity with plenty of red and black berry fruit and a touch of chocolate on the palate. Silky tannins, almost infinite finish!
Ramos Pinto 20 years old Tawny Quinta do Bom Retiro I 96 points
Wonderful set of spices, eucalyptus and dried fruit, especially figs, on the nose. Medium to full-bodied on the palate with vibrant and acidity and good balance. It has something for everyone who loves this style of wine – tobacco, fig, a touch walnut and almond. Endless finish!
Ramos Pinto Vintage Port 1982 I 97 points
Amazingly complex and elegant nose of oriental spice, black berry fruit and tobacco leaf. On the palate, ripe plum, dark chocolate, then plum jam and a pinch of spice. Deep and full-bodied, silky and infinite. It's in great shape, tasted blind, I'd have guessed it was at least ten years younger!
Royal Oporto Colheita 1976 I 94 points
A little punch on the nose, followed by anise, then punch again, vanilla, nutmeg and greengage. Medium-bodied, quite light in character with airily light acidity. The spices begin to kick in, sandalwood, pepper, clove as well as some toasted sunflower seed. Bottled in 2015, it's still a little wild, but this vibrancy makes a lovely wine truly exciting!