Photos by Jürgen Schmücking
Growing up in the UK, as I did, you may well associate port with Christmas, an after-dinner tipple with the cheese, the Stilton, to be more precise. That sweet, dense, alcoholic red wine that is rarely produced out of the drinks cabinet at any other time. Certainly, many families who would not normally consume it at any other time of the year would lay in some port for the festive season. In most cases, that wine would be a ruby, if you were lucky an LBV or a reserve, a tawny was perhaps less likely. And yes, I did say from the drinks cabinet, not the fridge. Most Britons, and probably many other nationalities too, labour under the illusion that port, and indeed other fortified wine, keeps for ever, even after opening! So, you can imagine the circumstances in which most people have had their first taste of port. Who knows how many years even granny has had that opened bottle of ruby port, along with a bottle of cream sherry, in her room-temperature drinks cabinet.
Over the years, I have learnt that there is more to port than meets the eye of the average consumer. First stop was a visit to Porto some years ago, when I still didn't know too much about wine; at this point, I discovered there was such a thing as white port, and it was rather delicious chilled as an aperitif. Later, as I ploughed through the WSET qualifications, I learnt just how much there was to this amazing wine: the vintage ports, the colheitas, the aged tawnies, the white ports, even rosé is now produced! I tasted them and discovered the raft of difference between that stale old ruby port that granny might conjure up from her cupboard and the real wonders of the world of port.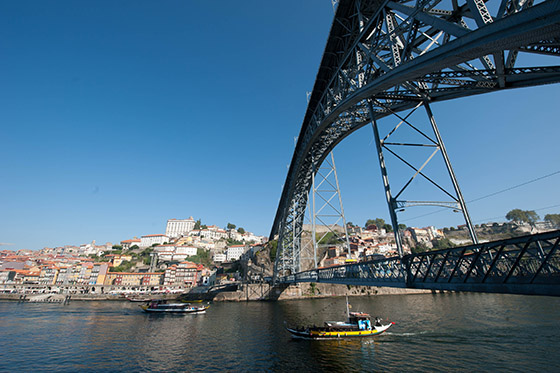 I was lucky enough to have the chance to visit the Douro Valley, the origin of the grapes for port, and Porto again this year, organised by the wonderful Andre Ribeirinho as part of the #winelover symposium, and what a visit it was to be.
We not only visited the Burmester and Calem port lodges in Vila Nova de Gaia as well as wineries and vineyards belonging to Royal Oporto and Dirk Niepoort up the river Douro and marvelled at the stunning scenery as the river Douro winds its ways through the steep vine-covered hills, we also clambered into the lagares at Royal Oporto to tread the grapes which will be turned into our own limited edition port! There were many highlights to this trip, including of course the magnificent scenery, but the most eye-opening were the two masterclasses we took part in. If ever anyone needed convincing of the virtues of port, then these tastings would surely strip the wool from their eyes.
The first was a colheita masterclass at the Calem lodge. Now, if you don't know too much about port, you might not know what a colheita is. It is essentially a tawny which has been aged in wooden barrels for at least seven years, but instead of having the age indication of 10, 20 or 30 years on the bottle like a tawny, it mentions the year of harvest, rather like a vintage port. However, unlike a vintage port, it may well have spent more than twenty years ageing in wooden barrels before being bottled, usually on demand, we learn at Calem. These wines need a lot of attention, being racked at least once a year to a large wooden cask. They lose alcohol as they age, which is corrected in the cellar, as they should always have an ABV of 20%. We tasted colheitas from four port houses belonging to the same group, each with its own individual style. Calem usually has a spicier character, with more Touriga Franca in the blend, less sweet than the other brands and with more obvious alcohol; for Kopke, the balance is crucial; Burmester demonstrates more finesse; and Barros is more rounded and velvety.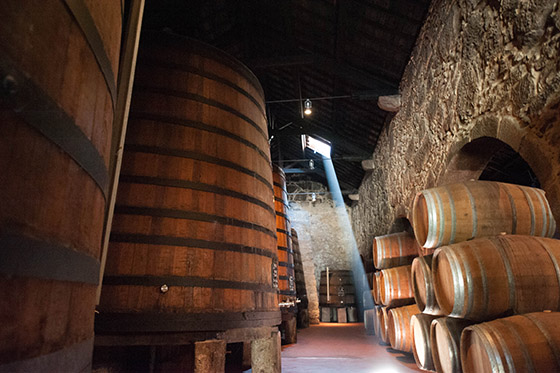 So, what can you expect from such wines? Well, here are my impressions of the wines we tasted.
Burmester 1989 - An elegant, soft wine with plenty of nut, caramel and butterscotch. Fresh acidity, fine-grained tannins, not too spicy.
Barros 1974 - A very complex wine with plenty of spice, nuts, herbs, caramel, dates and figs. Sweeter with round, velvety tannins, yet light and elegant.
Kopke 1966 - Smooth, velvety, rich and very complex with flavours of caramel, fig, date, nuts, tobacco, chocolate, coffee, rich spice and herbs with supple, fine-grained tannins.
Calem 1961 - Alive and fresh, a spicy, complex wine with rich flavours of coffee, chocolate, dried fruit, date, fig, prune and polish. Noticeable alcohol, but attractive tannins and a silky texture.
Kopke 1957 - A rich and silky yet still remarkably youthful concoction of chocolate, date, figs, spice, walnut, polish and old wood.
Burmester 1952 - A richer, more developed wine with flavours of nuts, figs, dried fruit, coffee, herbs and spice.
Coheita Kopke 1941 - A complex, rich, smooth and silky wine with plenty of chocolate, spice, dried fruit, coffee and herbs with attractive notes of furniture polish.
Once up in the Douro, we then spent an amazing day in the company of the quirky Dirk Niepoort, visiting the vineyards of Quinto do Carril, high up on the hillside, tasting both Douro still wines and stunning ports, and topped off by Dirk breaking open a demijohn of 1948 colheita which was freshly siphoned off into jugs for us to sip on the terrace to round off the afternoon. Here, though, the meat in the sandwich was a masterclass with the charismatic Bento Amaral, one of the best port tasters in the world and head of the technical department at the IVDP.
He points out that port wines have seen a huge amount of history, lying there maturing in their casks, e.g. two world wars and the fall of the Berlin wall, reminding us of the sheer age of some of the wines that we'll be tasting. As we taste, he also fills in some background on the wines and regales us with pearls of wisdom relating to port in general.
Ramos Pinto Vintage Port 1982
1982 experienced a dry winter and a dry summer, with the vines suffering and therefore weak production. It was a split vintage, with some declaring '82 and some '83. Wines from this year are usually better in the nose than on the palate. This year, Ramos Pinto started to plant by variety rather than field blend, the first year where there was the possibility to do so.
Ruby with brown tinges with dried berry fruit, raisin, black berry, prune, spice, cherry, coffee, toffee and tobacco. Very complex, smooth and soft with a good balance between body and tannins (it's very important for vintage port not to have more tannins than body).
Quinta do Noval Vintage Port 2011
2011 experienced a rainy winter and a hot, dry summer with rain before the harvest, thus a classic good year. It was considered to be one of the best years ever producing wines with a long life expectancy. Charles Symington termed the conditions excellent. Most houses declared a vintage, making this a clear vintage year, with extracted, powerful wines. Quinta do Noval's vintage port is comprised of Touriga Nacional, Touriga Franca, Tinta Roriz and Tinto Cão. When comparing with the previous, older vintage port, it's interesting to note that while tawnies gain in concentration as they age, vintage ports gain in delicacy. They are usually bottled after two to three years. Some, aiming for a fresher style are aged in Inox, whereas traditional styles will age in large oak, thus stabilising tannins and colour.
Intense purple wine with powerful aromas of blueberry, black cherry, blackcurrant, plum, raspberry and violet. Powerful and full bodied with somewhat grippy tannins, with the same intense fruit as on nose along with spice and chocolate. Smooth and rich.
Quevedo 30-year-old White Tawny Port
A true curiosity for most people – a white tawny; generally, tawnies are made from red wine. Interestingly, this wine came into existence due to export regulations. Most of their ruby was exported to the UK, but until 1986, it was not possible to export white port, so it had to be drunk in Portugal. The family had kept some of this in barrel till now and Oskar and his sister decided to bottle 1000 bottles of this. I'm most glad they did!
Pale amber with 107g of residual sugar. Fresh and elegant with delicious floral notes, citrus, tropical fruit and honey. Smooth and complex with mature notes of old wood, peach jam, vanilla, bread, butterscotch, raisin, hazelnut, butter and coffee.
Poças Colheita 1976
The winery was co-founded in 1918 and is one of the few port houses owned by a Portuguese family. 1976 suffered an extremely hot summer following a dry winter, causing the springs to dry up. There had been no wet summers since 1972. The wine was bottled in 2014.
A medium gold wine with 120g of residual sugar. Medium bodied, delicate and concentrated with flavours of honey, caramel, butterscotch, crème brulé, hazelnut, orange peel and hazelnut with some attractive mandarin and apricot fresh fruit character still present.
Vasques de Carvalho 40-year-old Tawny Port
The style of this wine indicates that it was aged in the Douro Valley rather than Vila Nova de Gaia. Wines aged up the valley generally have more caramel and coffee and less orange peel and bread character than those matured in Gaia.
Fat and round with plenty of caramel, butterscotch, spice, vanilla, crème brulé, nuts and spice, underlain by orange peel, bread and some old wood. Extremely persistent finish.
Niepoort Colheita 1957
Niepoort has a different approach to tawnies, believing that they also gain complexity in bottle. He thinks that this energises the wine and makes it expressive. Bento says, 'I think we are reaching heaven, just like The Pixies!' This wine was bottled in 1977, compared to other tawnies that are generally bottled only a year or two before release.
Dense, complex wine with fresh citrus, orange peel, banana and tropical fruit. Mouth-filling with lovely mature notes of caramel, nuts, bread, herbs, wood, dried fruit and tea leaf.
Kopke White Tawny Port 1935
A very rare wine from a classic vintage year, although the vintage was split between '34 and '35. Kopke have been operating in Portugal since 1638, making them the oldest exporter of port! The wine was only bottled in 2016, the week before the tasting in fact!
Very dry for a port with only 74g of residual sugar. Delicate, fresh and golden with flavours of vanilla, orange peel, citrus, polish, bread, marmalade, some woody and floral notes. Persistent finish.
Niepoort VV
The VV stands for Vinho Vejo – old wine. Thus, this is a very old tawny, bottled in 1972 in demijohns. Only 999 bottles were produced. The majority of the wine comes from a single harvest, from 1863! Phylloxera only reached here in 1863, so this wine is pre-phylloxera to boot!
Brown with a green rim. Fresh, spicy and persistent with a complex profile of raisin, prune, fig, caramel, crème brulé, coffee, dates, bread and spice. Simply amazing.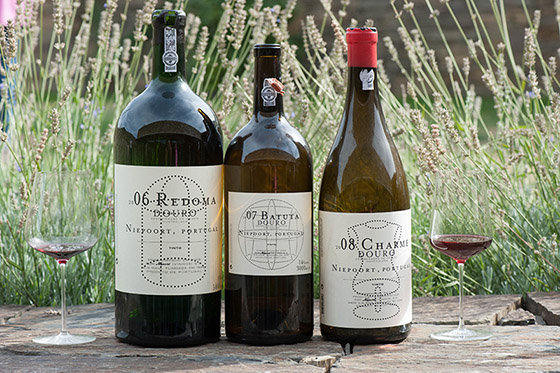 We certainly tasted a fabulous range of ports during these two masterclasses and had the opportunity to learn about port from a master – Bento Amaral. And while you may not be able to get your hands on some of the wines we tasted, I hope I've whetted your appetite to try older tawny and colheita port and thus put the Christmas ruby far from your mind!