Standing at the belvedere of São Leonardo de Galafura, dazzled by the stunning view, one finally understands why the Douro is among the most impressive viticultural areas of Europe. This landscape has been shaped by the hard labour of dozens of generations (at least since about the sixth century BC), and it is truly awe-inspiring to imagine how people have groomed and manicured this wild, rocky, tenacious piece of land into this charming countryside they call home. Most of the story is well known: how the Douro became the world's third official appellation in 1756, when the Portuguese prime minister of the day, Marquis of Pombal, defined the area, the rules of production and created a supervisory board, nowadays known as Instituto dos Vinhos do Douro e Porto - and how the local winemakers, after centuries of almost exclusively producing and selling fortified port wines, decided in the last few decades to show the world the amazing ability of the region for producing classic still wines.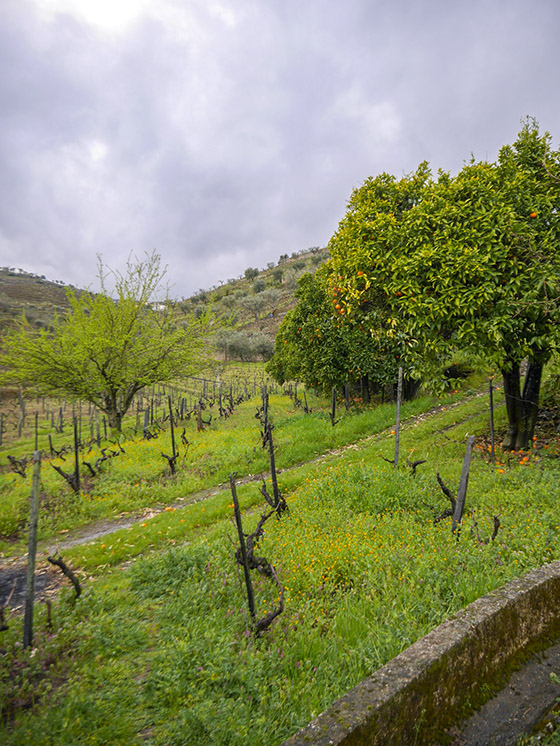 "Orange is a winter fruit" by Gábor Hegyi
As is often the case, if I take a closer look, I'll find a different narrative, and that is all about personal impressions. Can we taste excellent wines here? Yes, of course. Have I had delicious meals? Most certainly. Beyond all these, the best insight one can have in the Douro is into people's minds. The deeper the conversations we have, the more envious I am of the way these men and women think, act and communicate.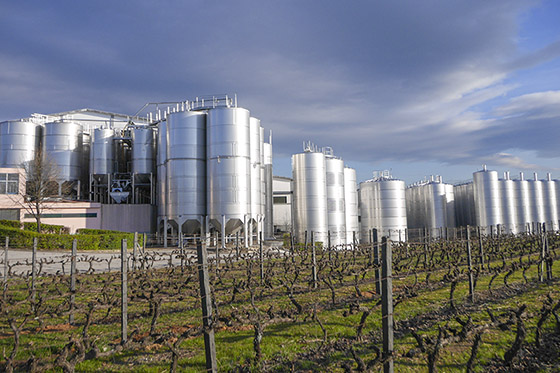 Adega Cooperativa de Vila Real by Gábor Hegyi
To get a head start, I have lunch with the owners and the winemaker of Bulas, a small family winery, and in the evening, we enjoy a guided tour through a huge coop in Vila Real (the region's largest city, with approximately 50,000 inhabitants). The contrast couldn't be sharper, but at the same time, I could see the same hospitality, the same informal atmosphere and, above all, the same straight-talking and easy-going attitude in both places.
Next day I have the honour of meeting Dirk Niepoort in person. The man is a living legend, one of the pioneers in the late eighties of making excellent table wines, while continuing to make some of the finest ports, following in the steps of his ancestors who started the company in 1842. In his canvas vest and blue jeans, with his laid-back but professional manner, he neither looks nor talks like a proprietor, not to mention an internationally acknowledged superstar (which, in fact, he is); he's completely up-to-date and attentive to even the most minute details of winemaking - at first I was almost under the illusion he was the estate manager and cellar master combined. It is also appealing that his presentation focuses on the traditional fortified wine categories, not on his own revolutionary initiatives. According to Dirk, "vintage [ruby] may be the king of port, but then tawny is its elected president", and when we taste a 20-year-old tawny together with its "contemporary" 1997 colheita, I couldn't agree more. The former is more complex and elegant, while the latter is full bodied and beautifully structured – choosing a preference would be hard. Later on, during the practically festive lunch on the sunny terrace, we finally taste some results of those famous experiments: a Riesling with only 8% alcohol from a plot at 700m in altitude, a Vinho Verde without added sulphites as a palate freshener and a 2014 "Redoma" - a field blend from old vines (pretty much the Douro's flagship genre) poured from a magnum, perhaps the most sophisticated red I've ever had from Portugal.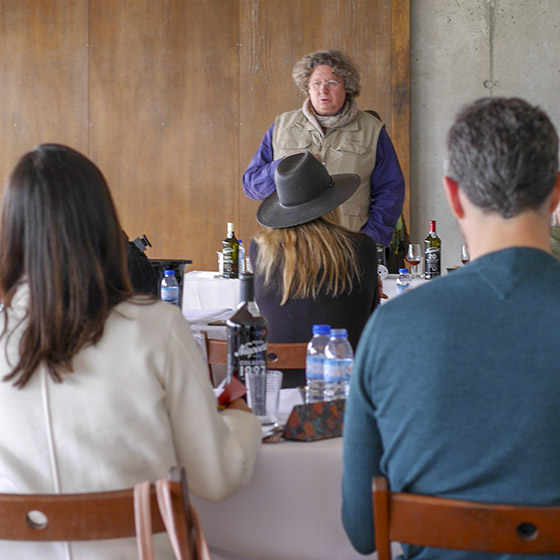 Dirk Niepoort by Gábor Hegyi
Talking about legends, shaking hands with Celso Madeira was also a great privilege. He is the hero of the Upper Douro, who, in 1966, planted the first terraced vineyard created using a bulldozer and in 1995, converted the whole estate (ca 200 hectares) to organic farming, together with the olive and almond trees. The Casa Agrícola Roboredo Madeira (CARM for short on the labels) has wines retailing from €5 to €150, and as we have the opportunity to taste both ends of the product range before and after our meal, I must say all their products deliver superb value for money - a rare trait in a winery with such volumes.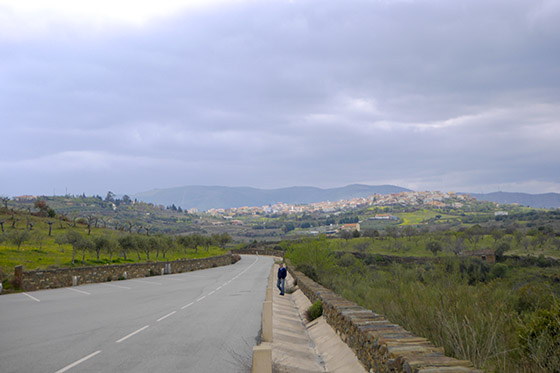 "Solitude", Upper Douro, by Gábor Hegyi
We rush back from CARM to Vila Real to meet some winemakers at a walkaround tasting in the town hall. All are open-minded, eager for feedback, willing to learn and truly curious about our opinions. I even feel embarrassed with Pedro Lencart of Quinta dos Lagares when I realise that while I'm trying to evaluate the ageing potential of his 2013 Reserva, I end up discussing the current issues facing Hungary's Tokaj region for 20 minutes - but he sets my mind at rest and still has further questions. The quinta's top tier red, "VV44", is a surprisingly saline and refreshing wine, yet with all the concentration and length expected in this category.
Wherever there is a wine producer with a palate, there will be experimentation with Pinot Noir.
Jancis Robinson mentions in her encyclopaedia - a statement difficult to argue with. In our case, the person in question is Daniel Fraga Gomez, who, besides having his own estate, Crónica, is oenologist for João Almeida D'Eça's Quinta Nossa Senhora do Loreto. His unique 2014 Pinot (under the label D'Eça) comes from a parcel of pure schist well above 500m high, planted in 2009. There are traces of underripeness owing to the vintage, but altogether an enjoyable, fresh but not too light wine with good varietal typicity.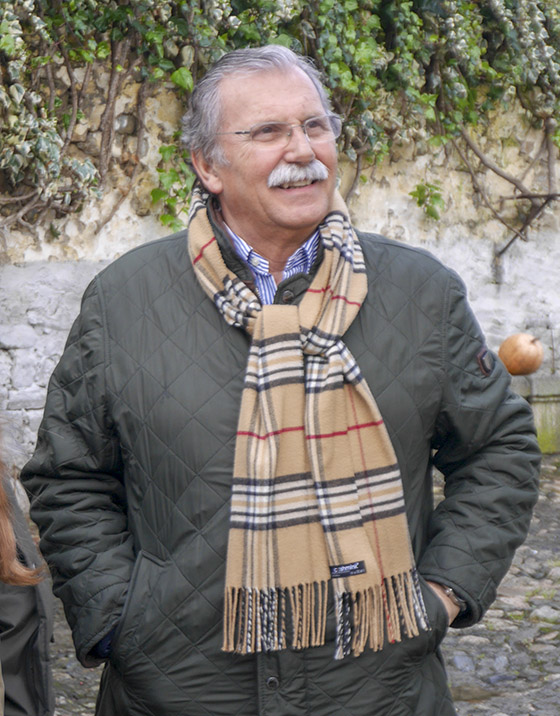 Gil Regueiro by Gábor Hegyi
By the end of the evening, I reach the last table in the room, that of Alvaro Martinho. While he also works for Real Companhia Velha, he has his own venture entitled Mafarrico (which translates as 'devil' or 'daemon', but can also mean 'scoundrel' or just 'naughty boy'). Suddenly, he excuses himself, grabbing his guitar and harmonica to sing us a Cat Stevens' song (Father and Son); however, his performance is so soulful and has such emotional depth that he rather resembles a Portuguese Vysotsky than any British rock musician I know of (and that, coming from me, is a compliment). Some of my fellow tasters are quite enthusiastic about his white cuvée, while I sip his red blend "A minha vinha" ('to my vineyards'), which bears a stanza from one of his own lyrics on its label. As far as I understand, the song is more a chanson, but what I find in the bottle is indeed the liquid essence of rebellion.
On our last day, Gil and Laura Regueiro welcome us unconventionally, as if we were long-lost relatives. On their 16-hectare estate (Quinta da Casa Amarela, established in 1885), time seems to stand still in the best sense of the expression. Traditional lagares behind the house, marvellous scenery with all the old vines and orange trees in the garden, and, last but not least, probably the best 10-year-old tawny port our group has tasted so far.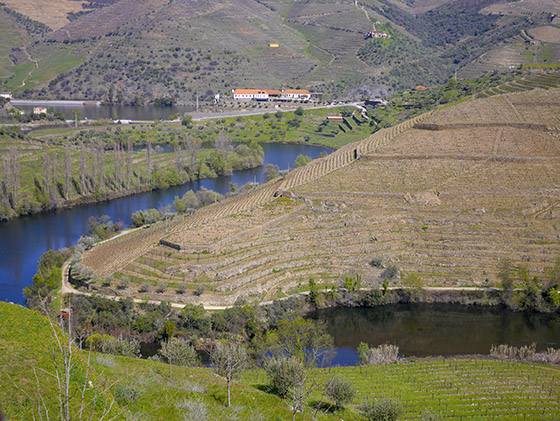 Photo: Gábor Hegyi
At our farewell dinner, I am lucky enough to be seated next to Jorge Alves, winemaker of the prestigious Quinta Nova Nossa Senhora do Carmo. He speaks to the wider audience with remarkable routine, full of ironic jokes and wittily hidden brags - but once the showman sits back at the table, the boaster fades away, and a humble and realistic expert emerges.
All the efforts in repositioning our wines turned out to be fruitful only five or six years ago. Our future lies within wine tourism, in convincing more and more people to visit the region and spend their time and money here. We are, of course, happy with the growing interest of the international press and increasing export prices, but as consumer trends come and go, we'd liket to rely on those who can and want to return to the Douro again and again.
Finally, as we clink a parting glass at 3am in the hotel lobby, I'm already planning my next trip to come back soon and discover more of the Douro. It really teaches you a lesson, and not only about the wine industry.