I am telling you the punchline at the very beginning so that you would know that it is worth reading the whole article until the very end: I have found a rough diamond in Tarcal. An almost invisible winemaker with brilliant wines. Let us see how I have got to this conclusion…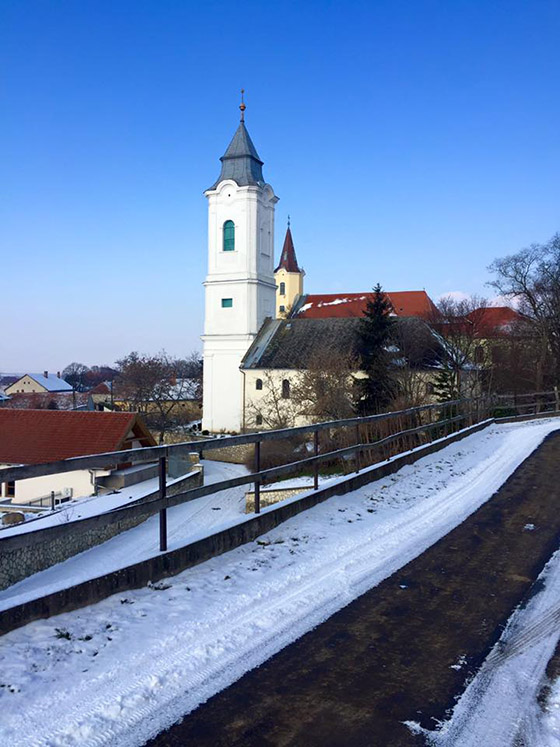 Tarcal village and the churches by Daniel Ercsey
The first piece of the puzzle was–and it happens to me quite often–that I fell in love with a house. It is an old, mansion-like building in Tarcal with five windows facing the street, its front façade has a three-bay median risalit and the veranda at the back comes with stone columns which cannot be clearly seen from the street. It stands on a corner plot and the street-side wall of the outbuildings turns into a five-metre high stone wall in some places because of the shifted floors. The former synagogue stands immediately next to the house and the Research Institute for Viticulture and Oenology of Tarcal is only 20 steps away, similarly to the Andrássy Hotel and Királyudvar estate. Even though the mansion itself shows signs of decay, I have been watching it for at least five years and whenever I go to the Tokaj wine region, I take a detour, even if I have no business whatsoever in Tarcal, to see the house. This is just the first piece, but be patient, it will add up later on.
The second piece of this puzzle was something that happened about two years ago. I was at a friend's place tasting wines and at the end he conjured up an aszú. Without any labels. You know, this happens all the time with wine writers. So there we were with the aszú and he would not tell me whose it was just asked me for my opinion. It was an exciting wine and because of its structure I guessed it had been grown on loess soil; more precisely, somewhere on the Tokaj Hill. However, no matter how much I liked the wine, my friend refused to tell me its maker.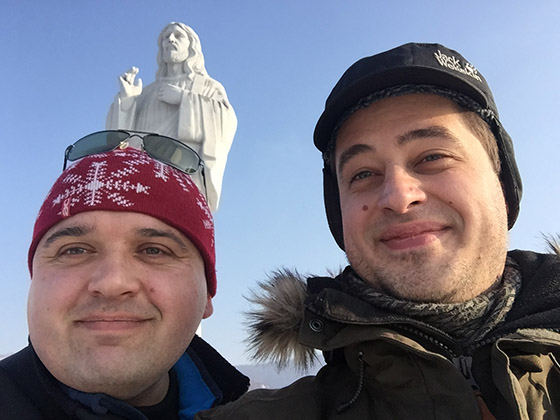 Peter Drotar the organizer of the Furmint Forum and our editor in chief Daniel Ercsey
The third piece was provided by my friend, Peter Drotar who–even though he lives in Slovakia and helped me to get acquainted with many winemakers on the Slovak side of the Tokaji wine region–he could also surprise me with some new information on Hungarian Tokaji. When we had agreed to spend a weekend in Tarcal, he said "OK but you have to come with me to Dezső Pataki". I did not object not even after having tried to Google this name but come up with few results. The sign one can see in Tarcal main street advertising Pataky Borporta is not this Dezső Pataky, either. So I found myself standing there in the court of a beautifully renovated house with a Slovak friend of mine who introduced me to Dezső Pataky.
The conversation flowed easily especially after it had turned out that our host is the wine grower of Royal Tokaji. It is funny how little I know about the background of large estates, isn't it? I know the estate manager, the cellar master and I presume that I know everyone. So there I was sitting next to the wine grower of Royal Tokaji in his guest house in Tarcal and it also turned out that Hugh Johnson regularly visits him when in Tokaj. Many lovely photos had been taken of these encounters and on the same day I privately sent one of them to Hugh Johnson on Twitter. He replied that if I was interested, he would be happy to send me Dezső's address.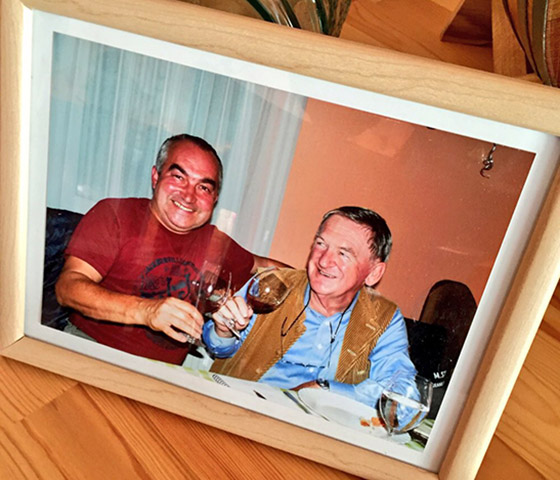 Dezső Pataky and Hugh Johnson Photo: Daniel Ercsey
So we have a wine grower who is a winemaker in secret, and even Hugh Johnson loves him. Slowly but surely, we learnt that he also played an active part in the early land purchases of Royal Tokaji; he was the one who recommended to buy Mézes-mály supporting the decision with his own wines of the time.
Today we would obviously say that those wines were terrible, but there were some, at least. They were parcel-select, divided by variety, dry or semi-sweet. It was not at all common that time.
His own seven-hectare estate today lies in iconic areas such as Mézes-mály or Lónyai but he also grows grapes in Záporos dűlő and rents vineyards in Betsek in Mád and Király dűlő, too. He planted the first vines in 1997-98 preferring the P27 Furmint clone of the Research Institute of Pécs. The small family business sells mostly grapes and sometimes (in exceptional cases) wine, as well. The buyers are Royal Tokaji, Tokajicum and Grand Tokaj. As for the invisibility, Dezső Pataky's wines are not available on the shelves of shops. He has a guest house in Tarcal and he is a primary producer with a license; this is enough to sell his wines to his guests. I have tried them and know their prices. So if you take only a single piece of advice in 2016 let it be this one: visit Dezső Pataky in 2017.
And what about the puzzle and the punchline I mentioned at the beginning? You must have put the pieces together: that unlabelled wine was made by Dezső Pataky. What is more, that mansion I love is also his. I hope to see it becomes an estate centre worthy of his wines.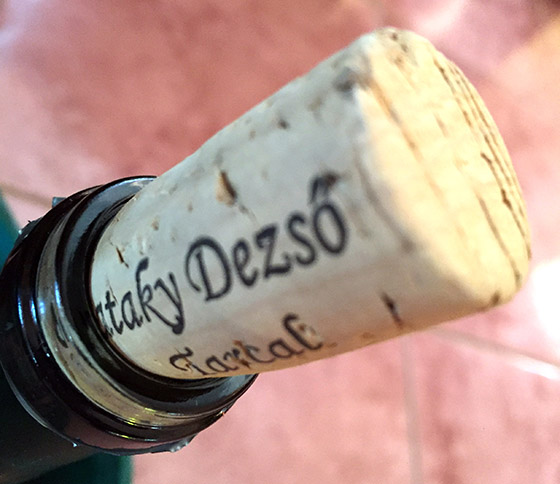 Photo: Daniel Ercsey
Furmint 2013 (Lónyai) I 84-85 points
Vanilla, apricot, white flowers and brittle on the nose. Rounded acidity, medlar, citrus fruit and apple on the palate. Attractive tannins on the finish too.
Furmint 2013 (Mézes-mály) I 85-86 points
Candied apricot and candyfloss on the nose. Smooth acidity with flavours of mandarin, white flowers and an attractive loess character. Very drinkable with a medium to long finish.
Szamorodni dry 2006 (fully oaked version) I 87-89 points
Dried fruit, pipe tobacco, rosehip jam and hazelnut on the nose. Lovely acidity, firm tannins and mouth-filling structure, with ripe fruit and a long, slightly sweet finish.
Szamorodni dry 2006 (3/4 oak + flor version) I 90-91 points
Aromas of yeast, oily seeds, walnut, pipe tobacco and peach. Firm on the palate, a lively, elegant wine with citrus, walnut, hazelnut and a little tobacco. Very long finish!
Szamorodni sweet 2008 I 88-89 points
Nose of apricot, dried peach, pineapple, honey and a touch of bitterness in the background. Full-bodied on the palate with smooth acidity, citrus fruit, dried exotic fruit and lovely tannins. Long finish.
Aszú 5p 2012 I 89-91 points
Restrained nose with peach, mushroom, apricot and oriental spice. Full-bodied on the palate with apricot, anise, citrus, brittle and lovely tannic structure.
Aszú 5p 2004 I 92-94 points
Oriental spice, pepper, mint and tobacco on the nose. Full-bodied and complex on the palate with elegant acidity, exotic fruit, mint, tobacco and citrus fruit. Wow!
Aszú 5p 2002 I 90-91 points
Aromas of coconut, rosehip, cocoa, anise, clove and chocolate. Full-bodied and densely structured with lovely acidity. The flavours reflect the aromas, supplemented by some notes of citrus fruit. Very long finish!
Aszú 5p 2007 I 93-95 points
Saffron, mint, apricot, lovage and cinnamon on the nose. Perfectly proportioned on the palate with lovely tannin, fresh acidity and impeccable balance. Flavours of peach, pear, anise, apricot, mint and citrus complemented with dried fruit. Long finish. Perfect craftsmanship.
Aszúeszencia 1999 I 90-91 points
Restrained on the nose with fallen leaves, mushroom and citrus in the background. Lively, fresh and firm on the palate with citrus and dried fruit. Bursting with freshness, with a long finish.