WineFolly has unarguably become one of the biggest guns in the wine media in recent years; previously Gary Vaynerchuk created this amount of furore with his videos. That said, at least he did not strive to simplify everything at all costs, but rather tried to look at the funny side of things, which sometimes led to something like this.
The WineFolly phenomenon, however, is something else. Gary is perhaps no longer even in the running with his little 16-minute programme. The new words are quick, concise and brief; so that even the cretin can understand, so that you don't even have to think about it. We want everything, immediately, and preferably so that we don't only note the information, we can also pass it on at once, as if it were our own small brainchild.
Well, the following article appeared on the internet. WineFolly introduces us to everything and tells us which are Western Europe's coolest wines. All thirty-five. Here's the map.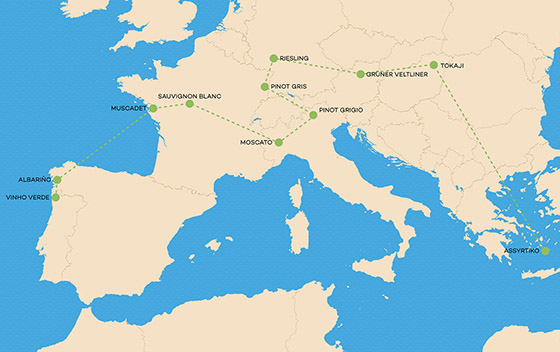 Let's not even get into the fact now that Tokaj is not in the west, rather distinctly to the east, but admittedly also central Europe, like Austria too, although the standard of living there is in fact western. Let's look at it in order, according to the styles. It's difficult to find fault with the Sparkling Wine category, these are indeed the main trends currently. The White Wine category is far more interesting. I don't want to offend anyone, it's not about Central Eastern European marginal whining, but where on earth is Burgundy? Missing this out is like forgetting Bordeaux for red wines! Whereas, if Tokaj is plonked in here, which the world rather knows for its dessert wines, why isn't the grape variety named like EVERYWHERE ELSE? Furmint, there, I've said it, I've written it, Furmint. Let's learn and teach together. And especially given the article mentions the variety and compares it to a good Chablis, which has been left off the map, has it not?
Poor Liz Gabay MW will be sure to have a heart attack when she sees the Rosé section. Six lines and three dots on the map, with rosé in three languages and no reference to any particular styles of rosé, specific regions where it is made or indeed varieties it is made from. Following it, the wording 'the pink stuff'. Although they may well be right, as, obviously, this wine style will be the most successful as you don't actually have to understand it. Then comes the red peril. The map shows a total mix of grape varieties and wine regions, so that you are just left shaking your head. If the important thing was for everyone to learn about the things mentioned, then I understand that Chianti is there and that there is not a single word about Brunello, but I don't necessary understand how precisely Cannonau ended up here. With all due respect to Sardinia and the perfect pizza wine (good grief!), but Austrian Blaufränkish or Catalan reds (see Priorat) are light years better known than it is.
Finally, the dessert wines, where Tokaj should really find its haven. WineFolly did not only mess up with this, however. Marsala is super, I've done vertical tastings of this on numerous occasions, but if we follow this logic, then where is Madeira? If dry sherry is now drunk rather than the cream styles, then why is sherry included with Dessert Wines? If, however, I don't think only along the lines of fortified wine, then where is Sauternes? Where are the German TBAs? Where are ice wines? Where is Rust? Or aren't these dessert wines?
I'm not the first to be wound up by a WineFolly article and certainly not the last, but if it stays this way, I'm going to pray that Central and Eastern Europe continues to remain off their radar. Otherwise, in the end, we'll be introduced like this to the world, and then it will take years for us to explain our credentials to consumers.