Cover pic: Komarna vineyards and the Peljesac in the background by Daniel Ercsey
Komarna is the first wine region I've been to that has literally just been created. And when I say created, I don't mean that vineyards that have existed for decades or centuries have finally been awarded their own appellation, I mean vineyards that have been laboriously blasted and crushed out of solid limestone, and at some considerable effort and expense.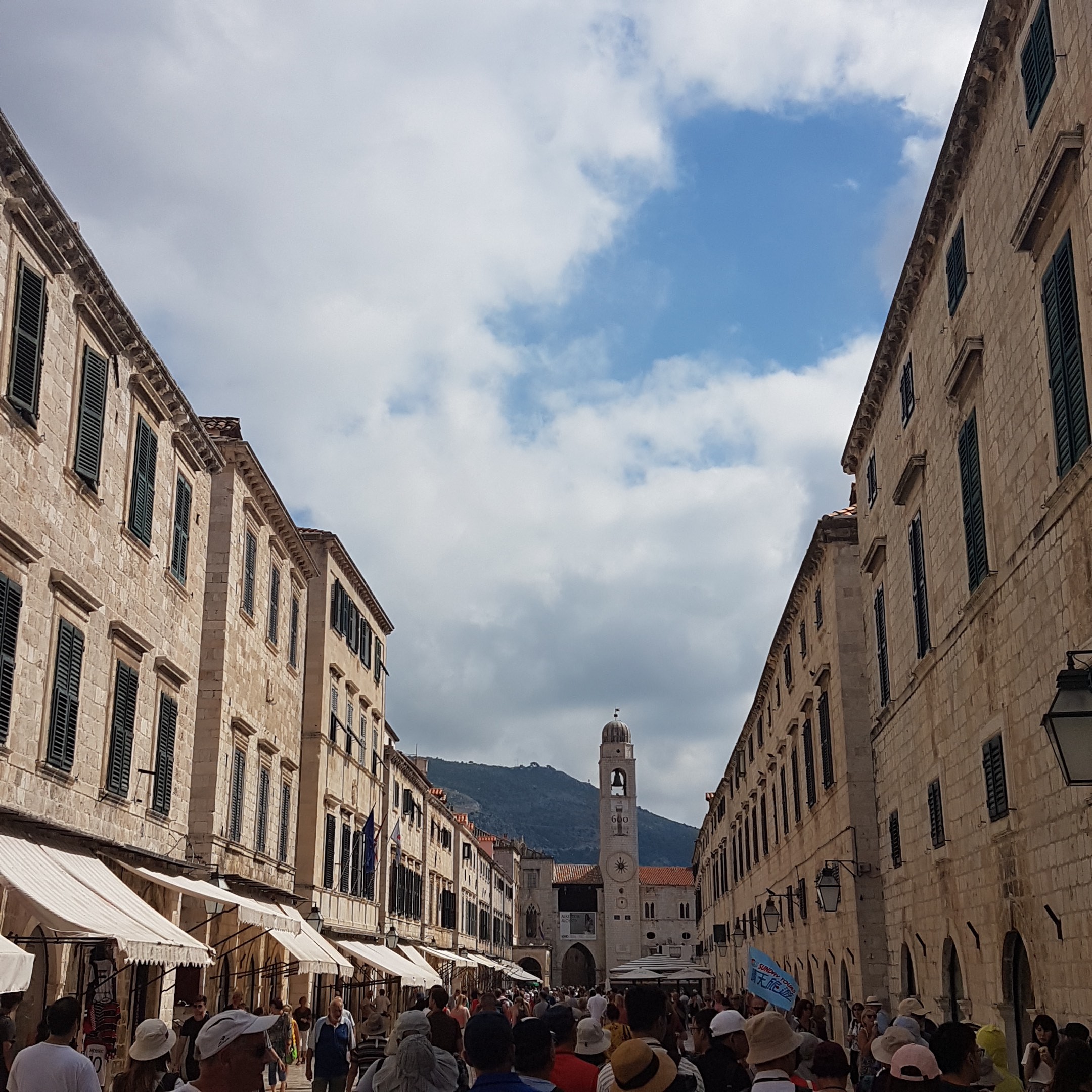 Crowds in Dubrovnik (photo: Sue Tolson)
Komarna, situated in Dalmatia between Split and Dubrovnik, is Croatia's youngest wine region, which gained official recognition in 2013. Its story only goes back a few years to 2006, when the Štimac family, perhaps better known for their football connections, established 22 hectares of vineyards and 1,700 olive trees on this rocky landscape where previously only scrub and herbs had grown. They named their winery after their long-lived great-grandfather, who had cultivated vines in both the Neretva Valley and in the US, and known fondly as Rizman.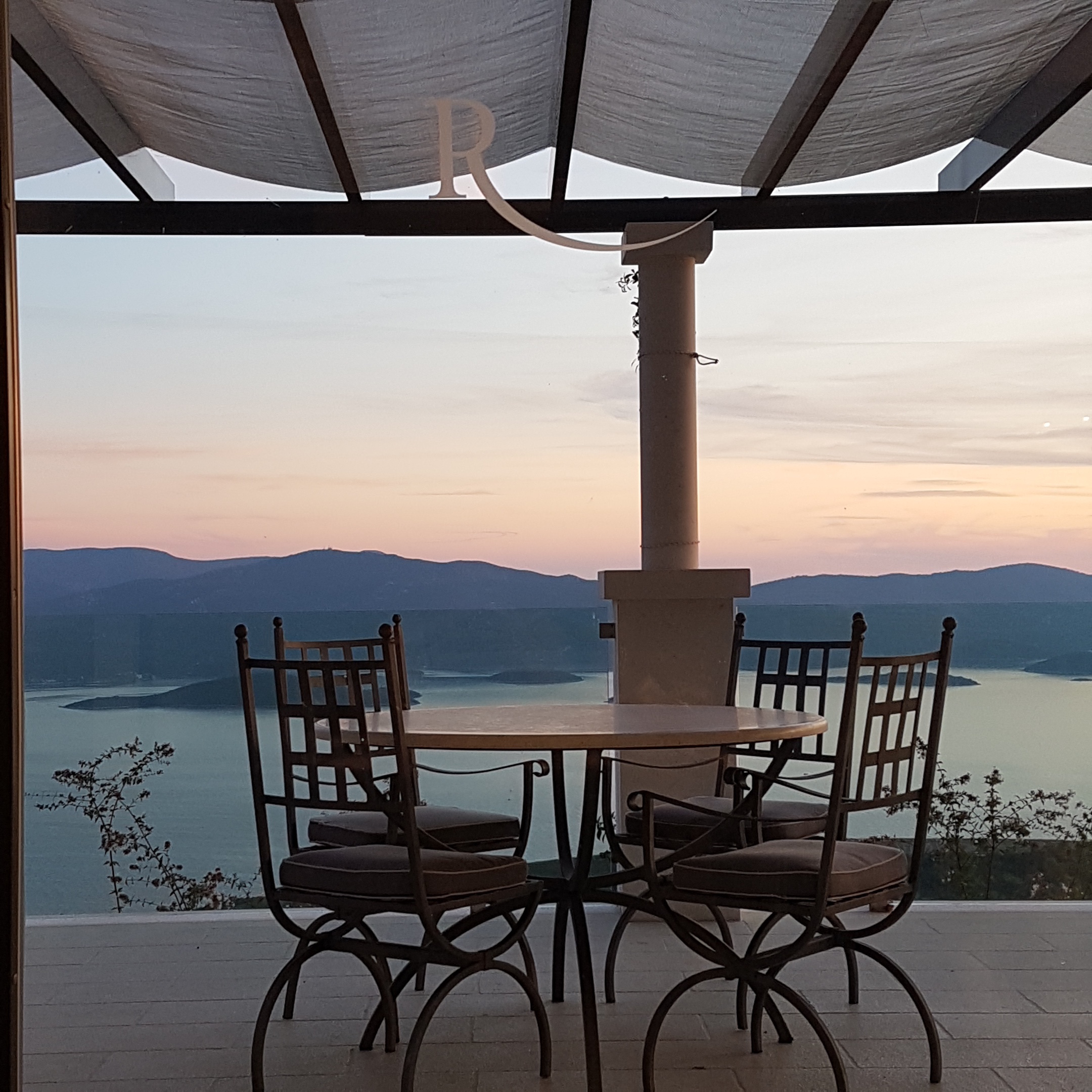 Terrace at Rizman winery (photo: Sue Tolson)
The brothers initiated their dream of establishing Croatia's first totally organic wine region on the slopes above the small village of Komarna, from which it takes its name, bordering the Neretva Delta where Rizman had cultivated vines much of his life. They were soon followed by others and the region now boasts seven wineries, although only five are producing wine commercially as yet – Rizman, Terra Madre, Volarević, Deak Family Wines and Saints Hills Wines. The area under vine has now grown to around 80 hectares, but it is unlikely to grown much further thanks to forests and the sheer effort and expense of creating vineyards on these barren slopes, with an incline of 30% in some places. The Israeli firm who installed the irrigation system at the Terra Madre winery, essential on this sun-baked terrain, said they had never worked on such steep slopes. The vines tumble right down to the sea from their highest point around the village of Stolovi, where the state-of-the-art Rizman winery is located, affording some stunning views across the Adriatic, its islands and the Pelješac peninsula on the other side of the strait, where the Plavac Mali kingdoms of Dingać and Postup are located. If you are here at sunset, as we were, you will be treated to a view of the azure sea changing slowly to a deep reddish orange as the sun slips down below the horizon.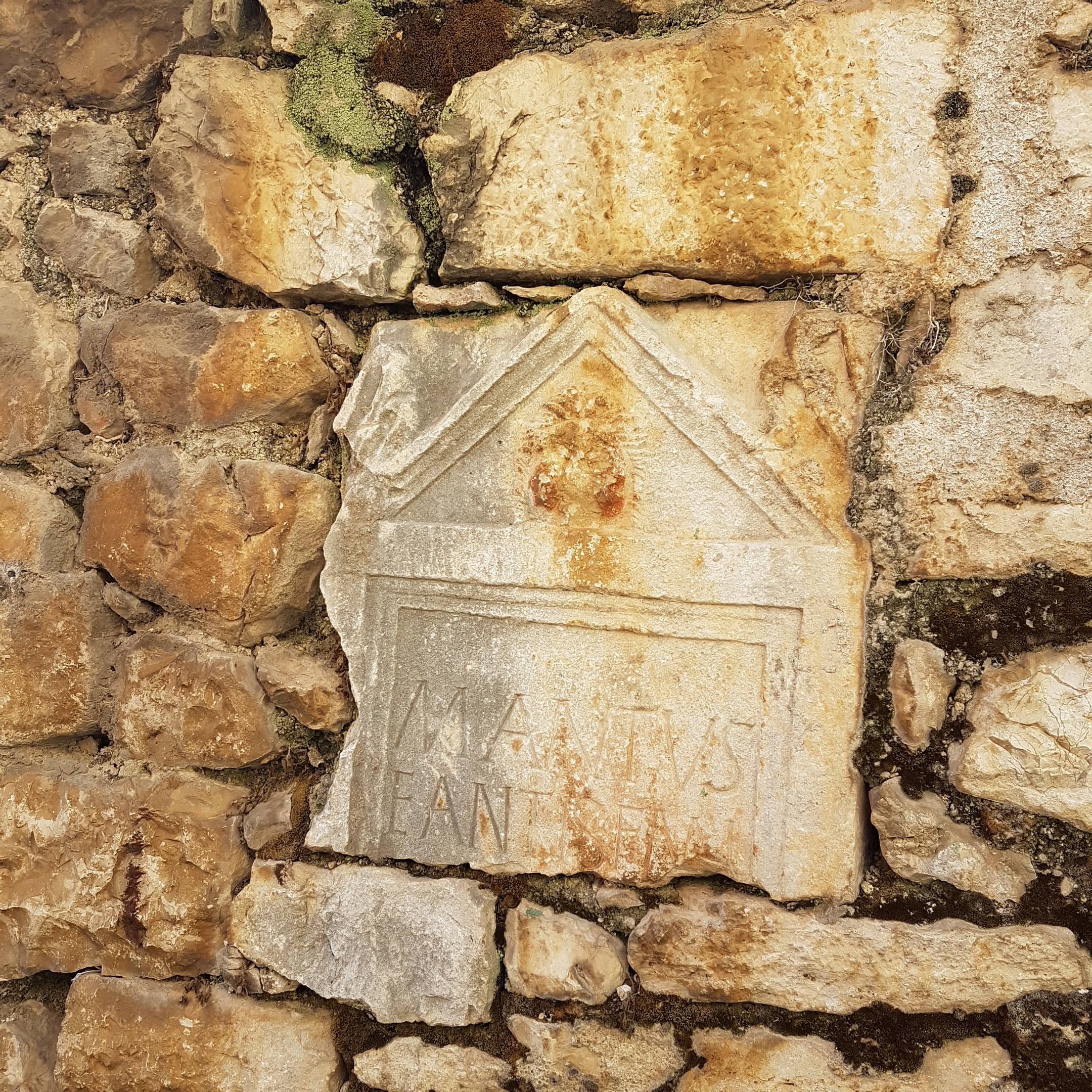 Roman fragments in walls (photo: Sue Tolson)
Focus on indigenous varieties
And what of the wines? King of Komarna is late-ripening Plavac Mali, which feels right at home on Komarna's hot, sundrenched slopes, although the height of the vineyards means that they cool down in the evening, thus ensuring a good diurnal range, which, along with fresh sea breezes, guarantees that these full-bodied reds also retain lively acidity to balance their also potentially high alcohol – small-berried, thick-skinned Plavac is also a sugar pump! The limestone soils, what there is of them, yield Plavac that is more elegant and fruity, with smoother, riper tannins than wines originating from the dolomite of the Pelješac peninsular.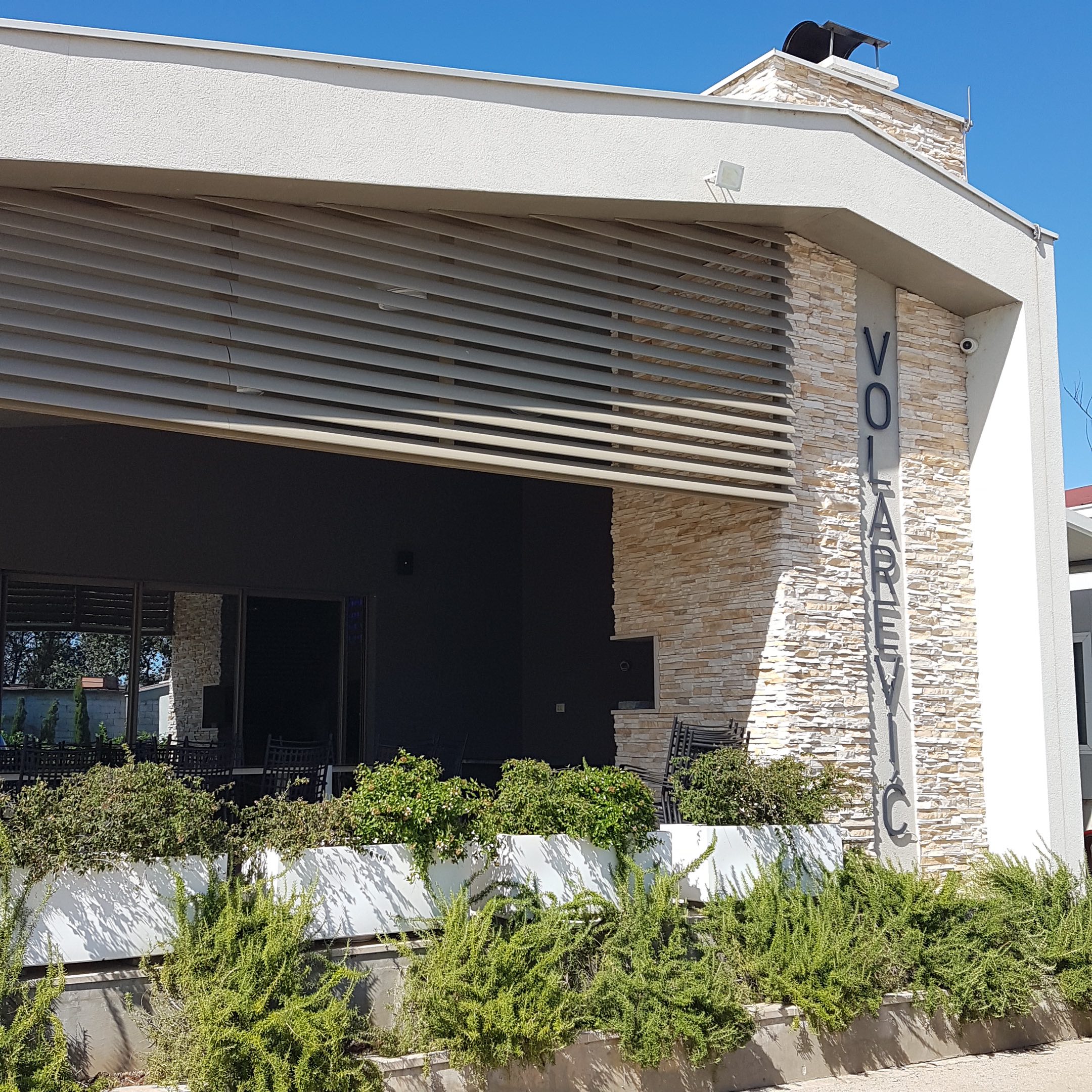 Volarević winery by Sue Tolson
Wineries generally produce Plavac in two styles: a lighter fruitier version with less oak that is ready for release earlier as well as a more serious, concentrated version with more oak ageing and greater ageability. And despite the youth of the wine region, it was evident that these wines can age; we tasted the 2011 vintages of both the Volarević Gold Edition and the Rizman Primus, which both demonstrated complexity and poise yet still boasted plenty of fresh fruit and acidity. Plavac is also turned into refreshing, juicy rosés, with Plavac's thick skins meaning that they only need a short maceration to obtain a lovely pink colour and fresh red berry fruit flavours. Some may have a splash of Syrah added too. Incidentally, the Rizman Primus also contains some Tempranillo. Although around 90% of plantings are Croatian varieties, the wineries also have international varieties such as Viognier, Chardonnay and Cabernet Sauvignon, which they generally use for blending, although Rizman did make a pure Syrah as its premium St Michael wine in 2016. This is not made every year and aims to showcase one single variety. The first building in their vineyard was a chapel in St Mihovil's honour; there has been a Mihovil in the family for the last five generations, such is the saint's importance to them.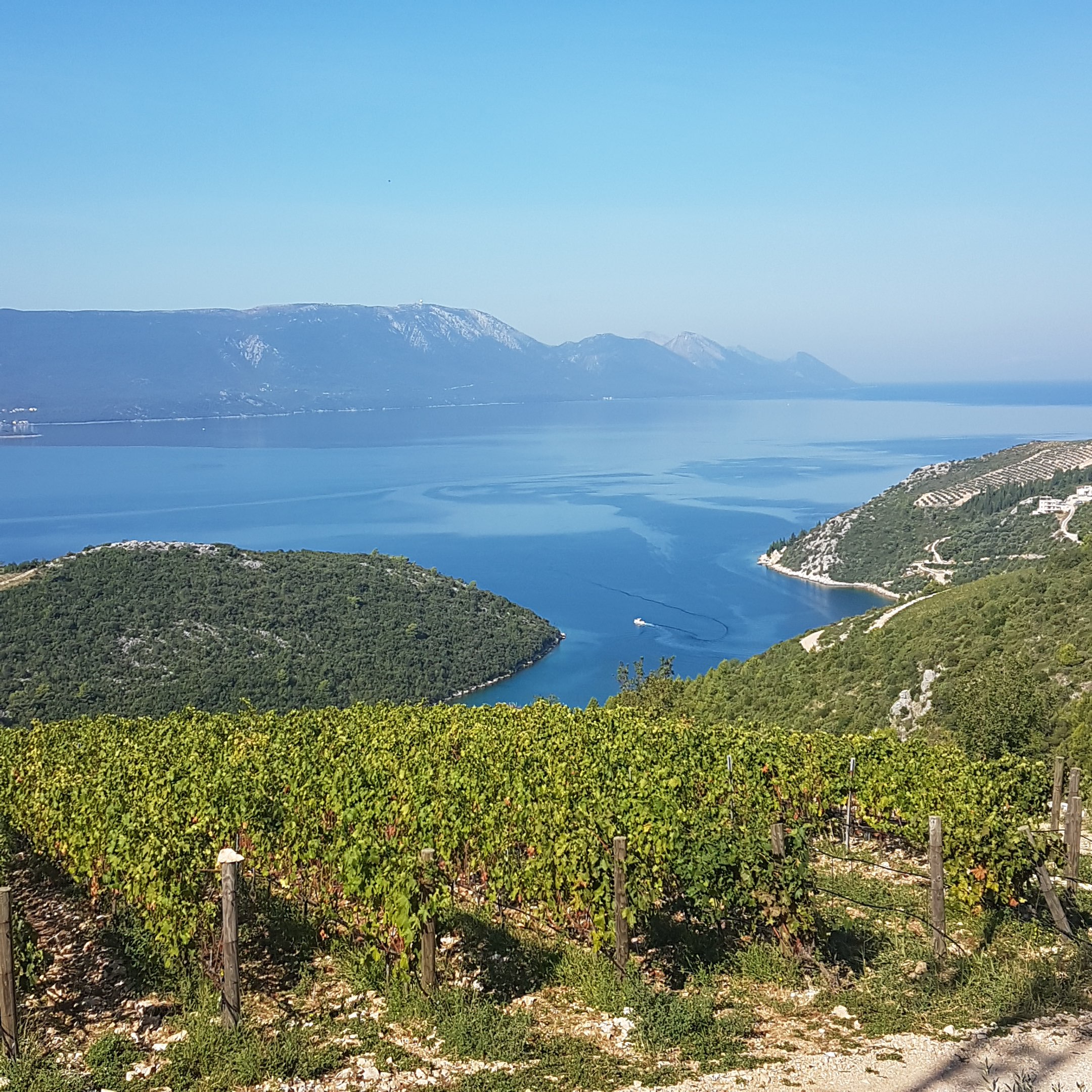 Komarna vineyards by Sue Tolson
Korčula's Pošip is the most important white variety planted in the region, with wineries generally producing a fresh, fruit-driven, citrussy version with a saline finish, perfect for the local Ston oysters, as well as a more serious, oak-aged version, generally sur lie, and sometimes with a splash of Chardonnay to add international appeal. I have to admit to preferring the more fruit-driven fresh style, which also responds well to a year or two of bottle ageing. We tasted both the 2018 and 2017 Pošip with the Deak Family – Damir and Marijana and their son Dino – at the lovely seashore restaurant of Ficovic in the village of Hodije as their winery and tasting room is not yet ready, although they do have an atmospheric guesthouse where you can stay and taste their wines. Anyway, the 2017, awarded 89 points by Decanter, was a beautiful concentrated wine with lovely honey and dried fruit character, but still with plenty of fresh citrus acidity and a slight saltiness – the perfect companion for the cavalcade of seafood the Deak family treated us to.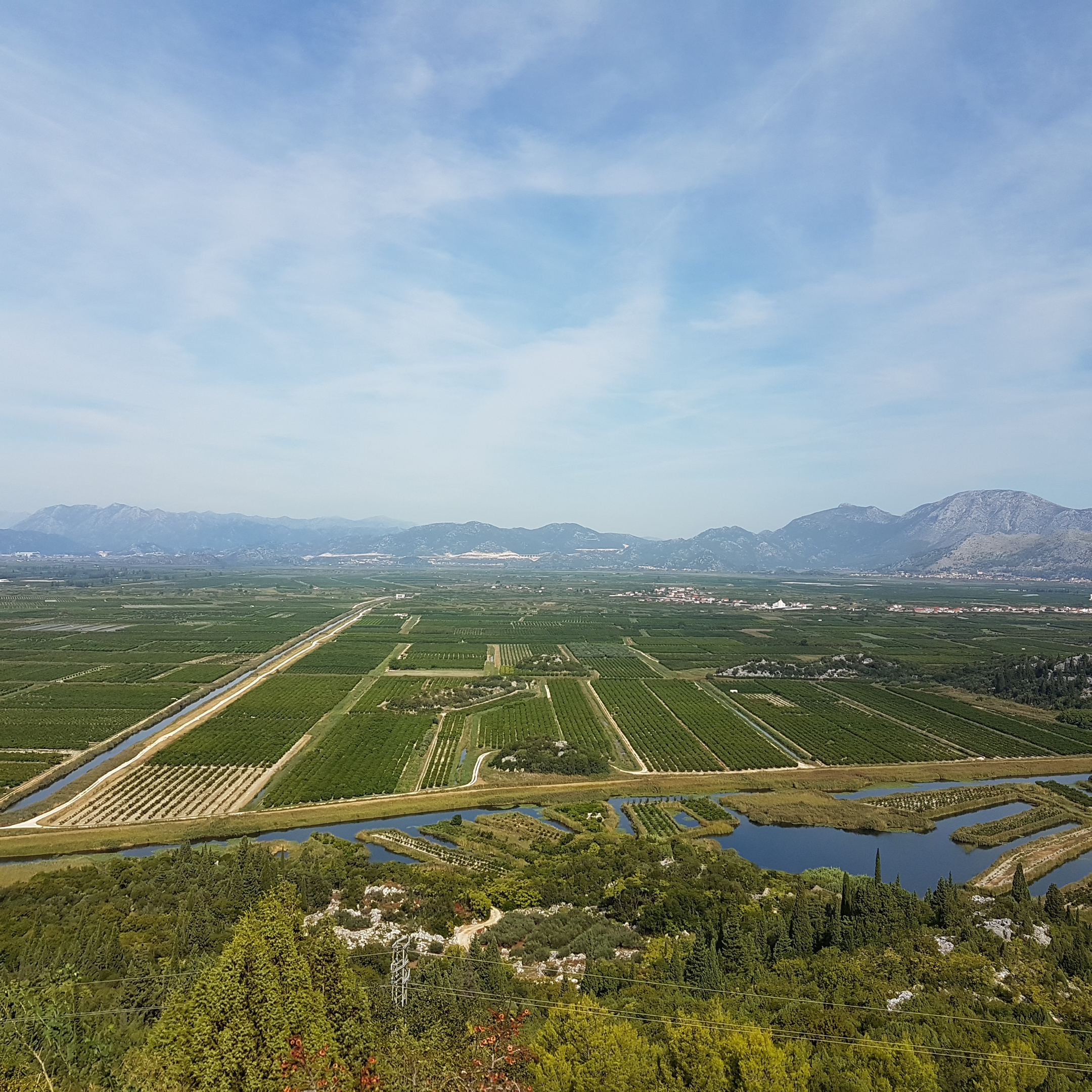 Neretva delta agriculture (photo: Sue Tolson)
Rizman also have Tribidag (aka Primitivo, Zinfandel, et al), a long forgotten variety in Croatia that was later to be reborn as Zinfandel in the US, and some experimental plantings of indigenous varieties such as Plavac Mali Sivi (grey), Pošip Crni (black), Dobričič (one of Plavac's parents) and Bratkovina Blatska Bijela – a white variety from Korčula.
Investigating Plavac Mali
Some of the most serious research into the Plavac Mali variety is taking place at Volarević winery, where Josip Volarević's phD studies focus on how combinations of different harvest dates and different maceration lengths affect the finished wines, especially regarding seed ripeness as unripe seeds result in sour tannins. Moreover, he's looking into promoting Plavac's ability to keep its colour after ten years or so, as it tends to lose its colour relatively quickly.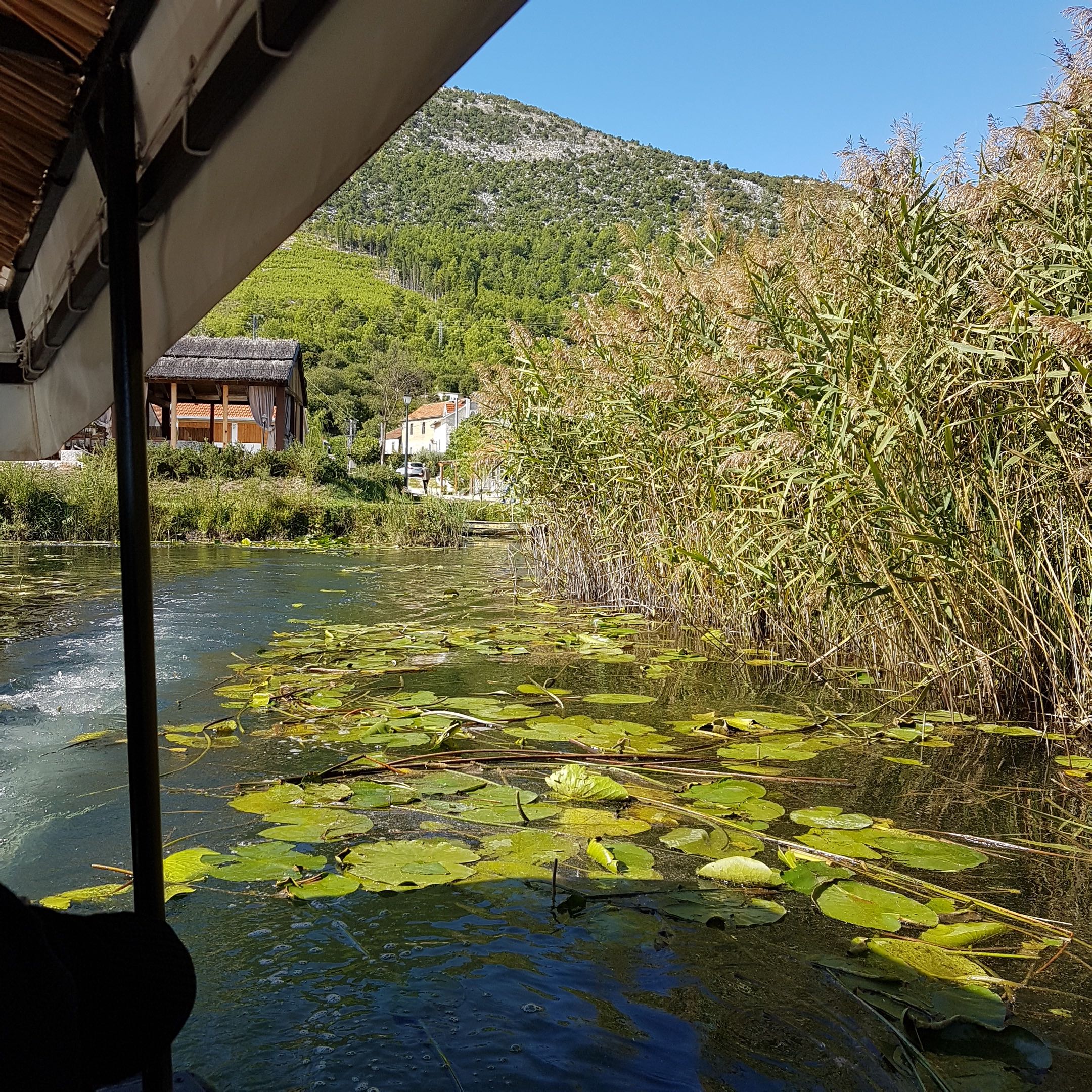 Boat ride (photo: Sue Tolson)
Wine tourism
The region already considers environmental sustainability as all its vineyards are organic; however, the Komarna Seven (K7) the region's association, headed by Mihovil Štimac, are also keen to promote and develop wine tourism in the area. Both Rizman and Terre Madre have cutting-edge hilltop wineries and tasting rooms with stunning views over the Adriatic, the Deak family's is under construction and the Volarević also have similar plans – we were welcomed at their functional winery next to the rows of greenhouses at the family nursery, the biggest in Croatia. Rizman also has a roadside stop, where people can stop for a drink and a snack, or buy wine if they can't make it up the narrow, winding road to the winery itself – needless to say, also with a pretty amazing vista. Terre Madre also plan to build on wine tourism by adding some guest houses and a marina down below the vineyards, near where the new bridge to connect the two parts of Croatia, currently bisected by Bosnia-Herzogovina's tiny sea access at the town of Neum; however, Davor Martinović, one of the three partners owning the winery, points out that will fall to the next generation, seven of whom already work for the business.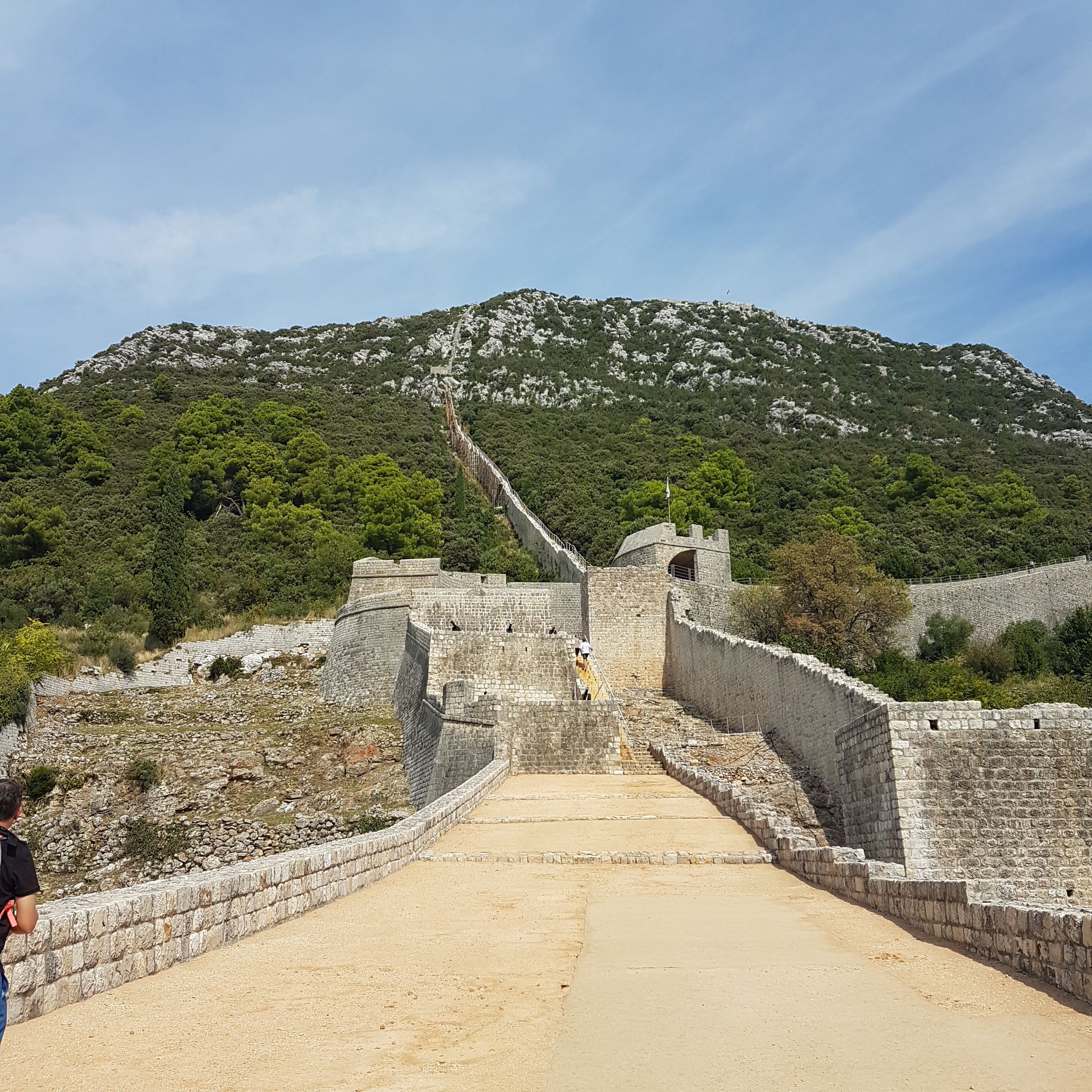 Walls of Ston by Sue Tolson
Plans are also afoot to create a wine route and Mihovil believes that the region should also build a wine hotel, stressing the importance of encouraging people to stay in the region longer than just one day. There's plenty to do nearby as well as just taste wine. You can take a peaceful boat ride on a ladja, formerly used for fishing and delivering vegetables, along one of the branches of the crystal clear waters of the Neretva delta or visit Narona, a Greek settlement first mentioned in the 4th century BC, which later became a Roman colony used as a base for attacks on rebel states and pirates lurking in the delta's waters. The musum is well worth a visit, as is a quick stroll around the village where you can see old Roman stones incorporated into the walls of the, unfortunately often tumbledown, houses. Neighbouring Bosnia-Herzogivina offers the spectacular cool waters of the Kravica waterfalls and Mostar is only an hour away along the Neretva river. Heading down through Bosnia to the truncated part of Dalmatia – the bridge currently under construction will aid accessibility here as you currently have to go through two borders to reach it – and you can visit the gem of the Adriatic, Dubrovnik, and picturesque Ston with its fortified walls. Game of Thrones fans will be in their element in tourist-thronged Dubrovnik thanks to its role in this long-running show, but make sure you also enjoy a meal in one of the few Croatian restaurants listed in the Michelin guide, fish restaurant Proto, whose wine list is curated by Croatia's top sommelier Siniša Lasan. And just simply relax and enjoy a Kormarna Plavac Mali or Pošip and support the region's entrepreneurial winemakers.
Many thanks to Croatian Premium Wine Exports and the Komarna Seven whose guests we were.