Cover pic: Merga Victa (photo: Sue Tolson)
Visiting Dalmatian vineyards is an exercise in humility. Perilously steep hills with barely any soil, liberally strewn with rocks were painstakingly converted to viticulture in centuries past. And by hand, I might add. There were no bulldozers or explosives to help the local people eke an existence out of these barren hills, where only scrub, olives and vines typically grow. It took determination, hard work, blood, sweat and tears to create these stony vineyards that tumble down in the hills in terraces and parcels lined with dry-stone walls.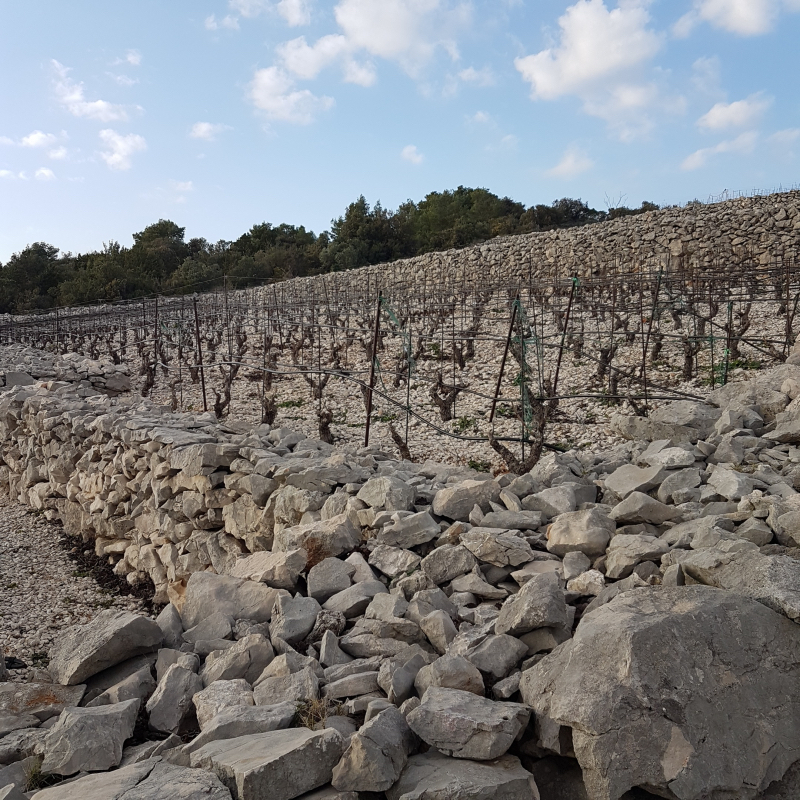 Photo: Sue Tolson
Following VinArt's Grand Tasting of Croatian wines in Zagreb, where you can immerse yourself fully in every region of Croatia for two days each year, we set off for Dalmatia. Although we would mainly be spending our time discovering the island of Korčula and the Pelješac Peninsula, we made a brief pitstop for lunch and a short vineyard visit at the Škaulj winery near Nadin in the Zadar hinterland. Their 20 hectares of vines occupy a mineral-rich former lakebed, and they were the first winery in Croatia to achieve organic certification. Maraština (aka Malvasia Bianca Lunga) is the typical white of the area, but they also grow Cabernet Sauvignon, Merlot and Syrah and are experimenting with Portuguese varieties such as Touriga Nacional and Arinto. The only area of Dalmatia to grow French varieties, the Rhône varieties were introduced in the seventies by a French company, later followed by the Bordeaux varieties.
A wine region blasted from the karst
Heading south, we call in at Rizman winery in Croatia's youngest wine region, Komarna, where we see the last rays of the setting sun from their terrace and tasting room. The Komarna wine region was literally blasted out of the Karst, in contrast to the ancient vineyards we would see in the coming days. It now numbers seven productive wineries, whose wines we tasted here. We visited this spectacular wine region several years ago, so you can read more about it here.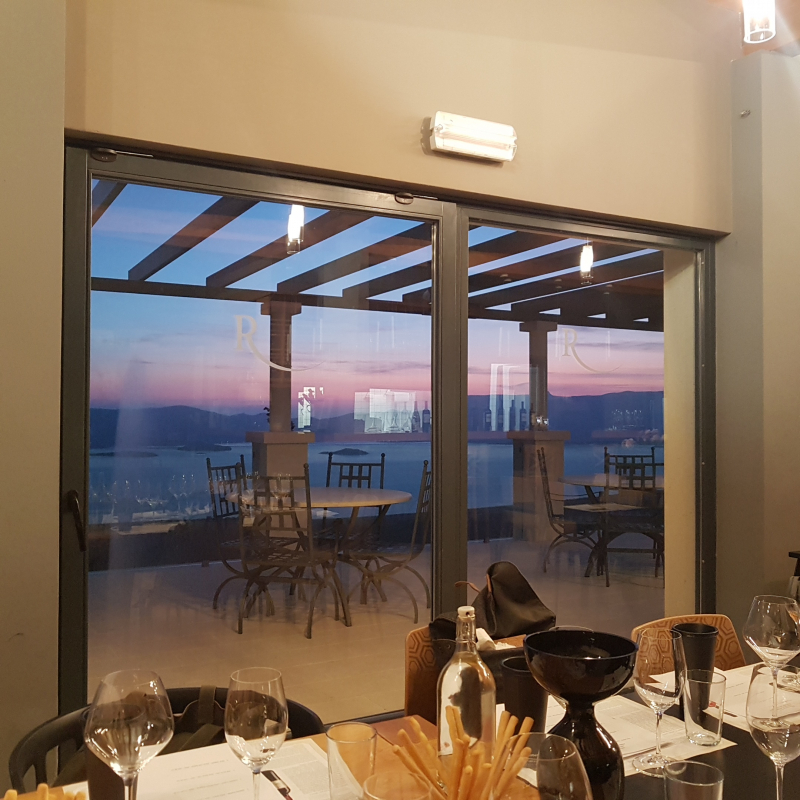 Rizman, tasting room (Photo: Sue Tolson)
Black Island
Our first visit on Korčula, known as Korkyra Melania, Black Island, by the Ancient Greeks, was to Merga Victa, whose name is taken from this. Located on the outskirts of Smokvica, considered the birthplace of white variety Pošip, a natural crossing of local grapes Bratkovina and Zlatarica, the winery is housed in the former Agricultural Cooperative Jedinstvo. It was once the biggest winery on the island, but went bankrupt in 2018. Revitalised by manager and winemaker Igor Radovanović, the winery is now working with around 50 winegrowers growing vines on around small, terraced vineyards around the village. Although they only make white wines here, including three labels of Pošip, which makes up 90% of plantings in the area, they have a sister winery, Testament, which produces reds from Babić, Tribidag and Plavac Mali. Incidentally, Testament are the creators of the popular Dalmatian Dog brand. Igor also introduces us to wines from his own garage winery, Radovanović, including the ambitious Heritage 2019, a blend of Pošip and Grk – another local grape we'd learn much more about later. Destined primarily for the on-trade, only one barrel, resulting in 666 bottles, was made.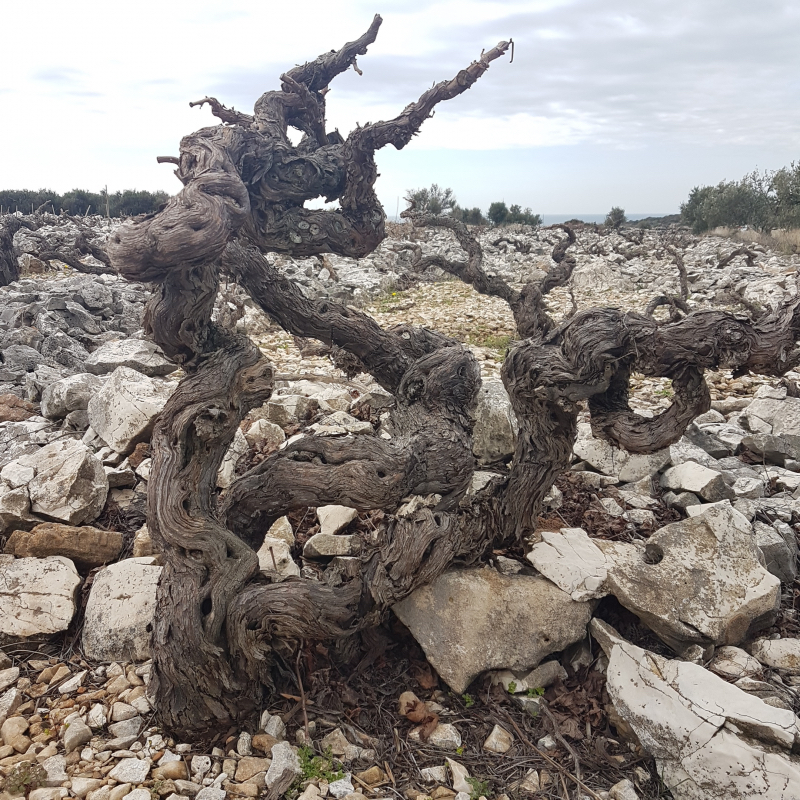 Photo: Sue Tolson
A master of Pošip
Just outside the neighbouring village of Čara, the charismatic and talented winemaker Luca Krajančić joined us to escort us to his red soiled vineyards down on the plains, surrounded by often abandoned terraced vineyards, devastated by phylloxera but never replanted. He explained that he had vineyards in 15 positions, and this was the only one where he could use a tractor – the others were less approachable, and everything had to be done by hand. On the valley floor, it is mostly red soil and as you go up, more brown soil, sand and gravel. Climate change is affecting viticulture here too, as Luca explains that he has had to start using drip irrigation in one vineyard and has raised the canopy to better protect the grapes from the sun. The rows are short, running from south to north and thus protected much of the day from the sun. There had been EU projects to irrigate the whole of the Čara area, but Croatian water companies had no interest in this, so the project stalled. Luca points out some natural ponds for animals and plants, which create a mini ecosystem, as well as some ancient concrete vats to which the grapes were transported by donkey. These were then transferred to half barrels and trodden in the vineyard. Having spent half the day in the sun, the grapes were oxidised to mush and starting to ferment, which is why, Luca quips, that Dalmatia was seen as the land of orange wine!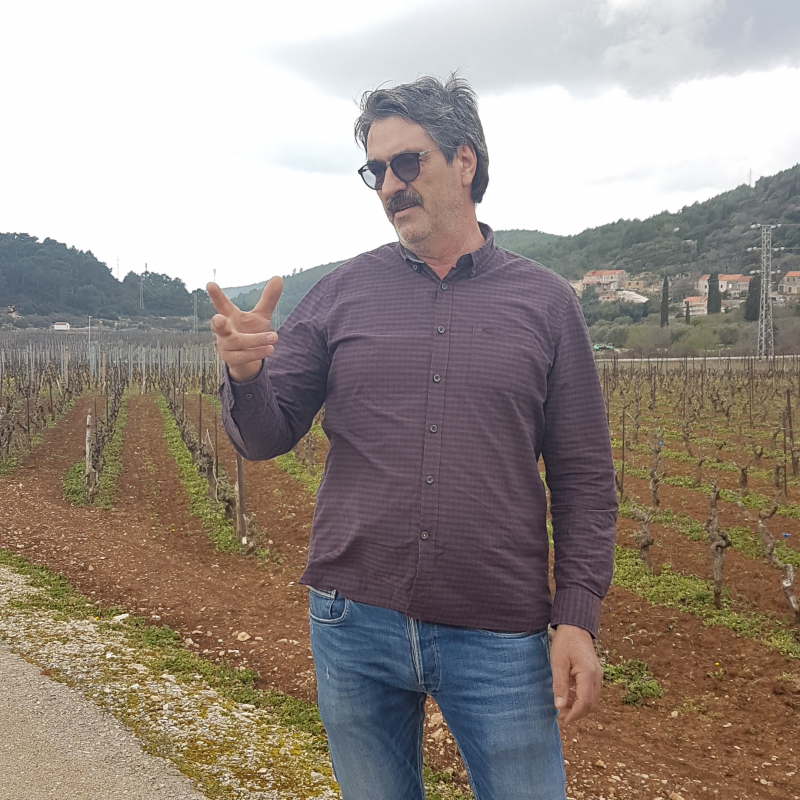 Photo: Sue Tolson
Following our vineyard tour, we head to Luca's home, winery and tasting room overlooking the harbour in Zavalatica, where we experienced true Dalmatian and Korčulan hospitality! The food, prepared by Luca and daughter Ivana, did not stop coming – anchovies, prawn risotto, two kinds of freshly grilled fish, octopus in wine and olive oil, cheesecake with sage and apricot and chocolate cake with sour cherries. And nor did the wine. Pošip, Pošip sur lie, which Luca is credited with creating, Plavac Mali, two sweet wines from Pošip and Plavac Mali, a 2017 Pošip Statut, a rich honeyed, textured wine, only produced in the best years and finally a beautiful macerated Pošip (40 day on skins) boasting orange zest, spice, peach and coffee as well as good grip. A whirlwind tour of Luca's 'winery' with vats, tanks and barrels squeezed into every nook and cranny over several rooms and floors, and then we were off to discover one of Korčula's greatest extremes with winemaker Frano Milina Bire.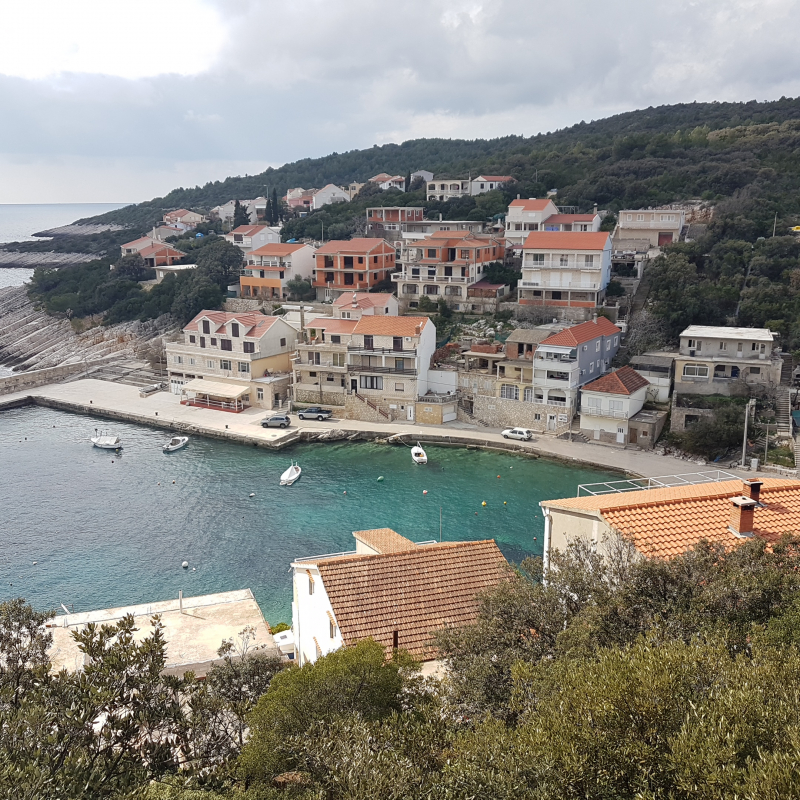 Photo: Sue Tolson
A grape with no vowels – Grk
We meet Frano Milina Bire just outside the village of Lumbarda. Surrounded by red sandy soils, the local white variety Grk survived here thanks to this, as phylloxera was unable to thrive. He is the king of Grk, with vines here and in a somewhat more extreme vineyard called Defora. As Grk's flowers are all functionally female, they need a pollinator to be fertilised, which often falls to Plavac Mali here in Lumbarda. Although it ripens later than Grk, it flowers at the same time, so is often interplanted with Grk. There are numerous plots of abandoned vines, but we learn that the local council are planning to levy taxes on those who don't work their land and just leave the vines to go wild.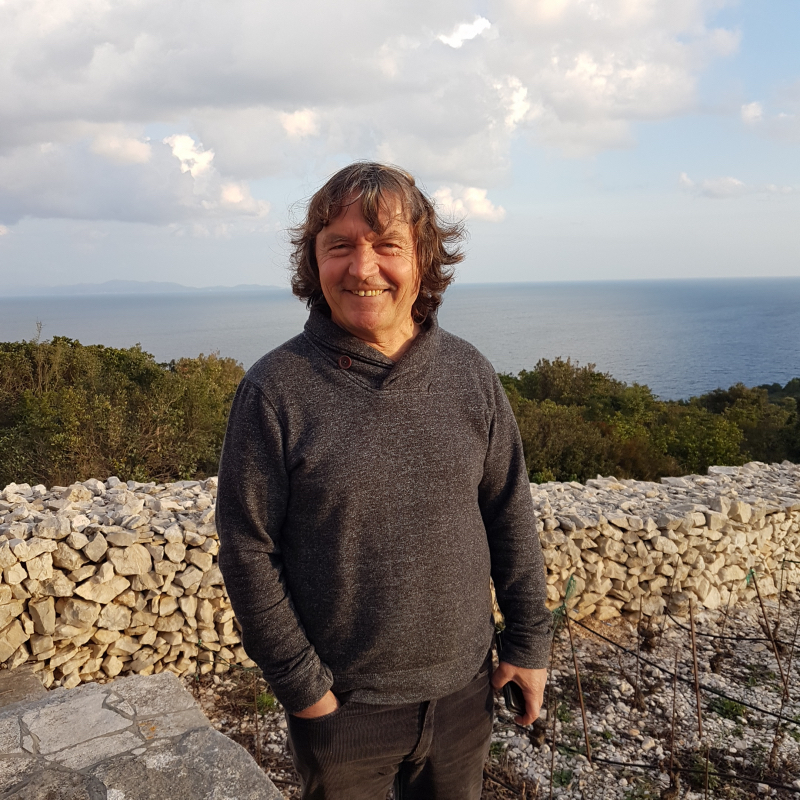 Photo: Sue Tolson
We then head high above the sea to a slope known as Defora. As you gaze upwards, the steep white stone terraces, also planted with Grk, shimmer in the sunlight. We climb to the top. There has been a vineyard here for centuries, but Frano revitalised the terraces 14 years ago with new technology, using a large machine to grind the stone. The walls were already standing here 200 years ago, but there was very little soil left thanks to erosion, so he crushed rocks to make a kind of soil. The walls help stop erosion and retain water. Heroic viticulture in the most modern sense.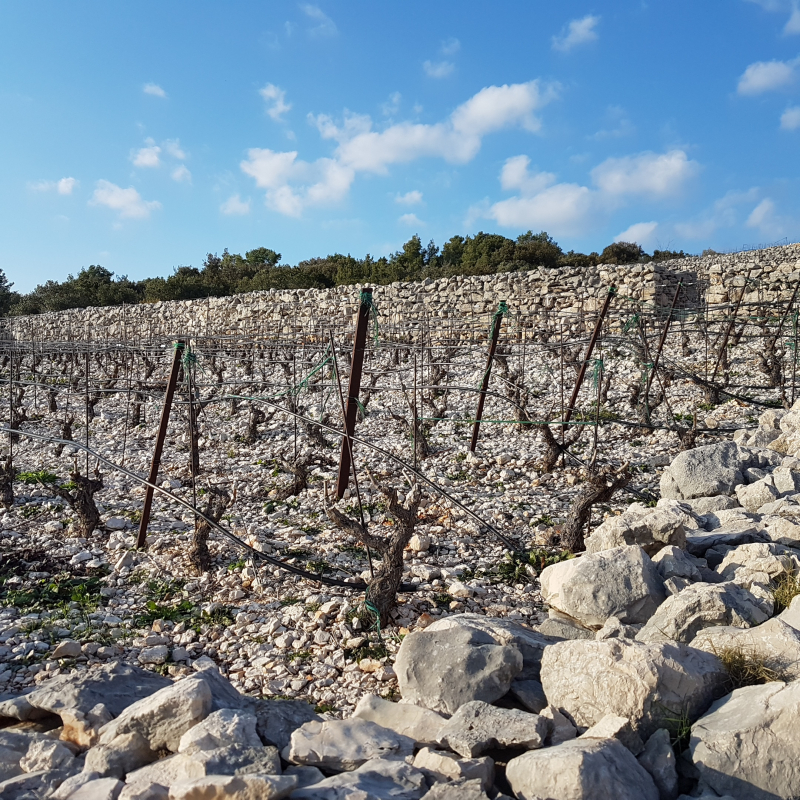 Photo: Sue Tolson
After a short tasting, marvelling at the terraces and the view, we also visit his winery, where his family have lived for generations. Frano was one of the first in Dalmatia to promote wine tourism and he has been building his estate little by little each year. His philosophy has always been to do something different to everyone else. If he is growing something and others follows suit, then he'll pull it out and plant something different. He's yet to do this with Grk though, as he is expanding the vineyards each year and is mostly planting Grk. It's a crisp, lemony, herbal wine with saline minerality when fresh, but as it ages, it becomes a more serious wine, showing finesse and complexity. We tasted back from a 2022 barrel sample, and Frano was generous enough to share his last bottle of the 2019 with us, as well as a 2019 Defora Grk – a complex melange of honey and dried herbs, custard and waxy grapefruit with lovely crisp acidity.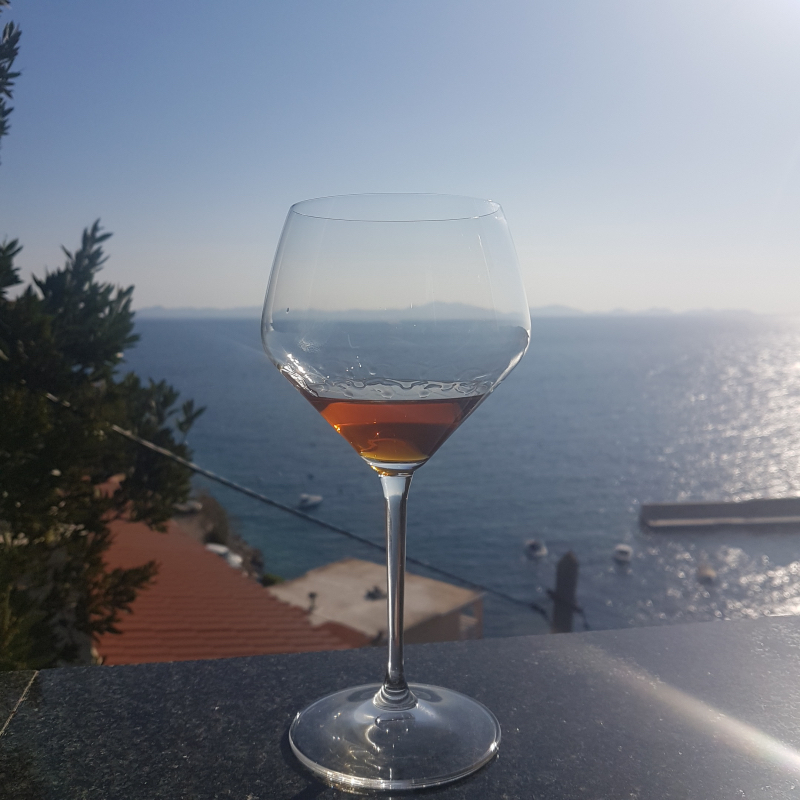 Photo: Sue Tolson
Just time for a fascinating guided tour around picturesque, atmospheric Korčula town, totally devoid of tourists for once, before catching the ferry back to Orebić, from which our Dalmatian adventure would continue the next day.