Cover pic: vino.rs
At the beginning of March, I was lucky enough to be invited to an almost week-long Croatian odyssey by our colleagues at VinArt. Dániel Ercsey and I set off to Zagreb by car, our first real 'adventure' this year post COVID. We arrived just in time for the older vintages walkaround tastings that afternoon, which Daniel has already reported on.
All around Croatia at the VinArt Grand Tasting
The following two days saw the VinArt Grand Tasting in the Lauba hall in Zagreb, the biggest annual tasting of Croatian wines. And a grand tasting, it certainly was, with around 140 wineries from all around Croatia pouring their wines for the increasingly large crowd of tasters. I tasted my way through Croatia over the two days. If you'd like to dip your toes into Croatian wine, or rather go for full and total immersion, then this is the place!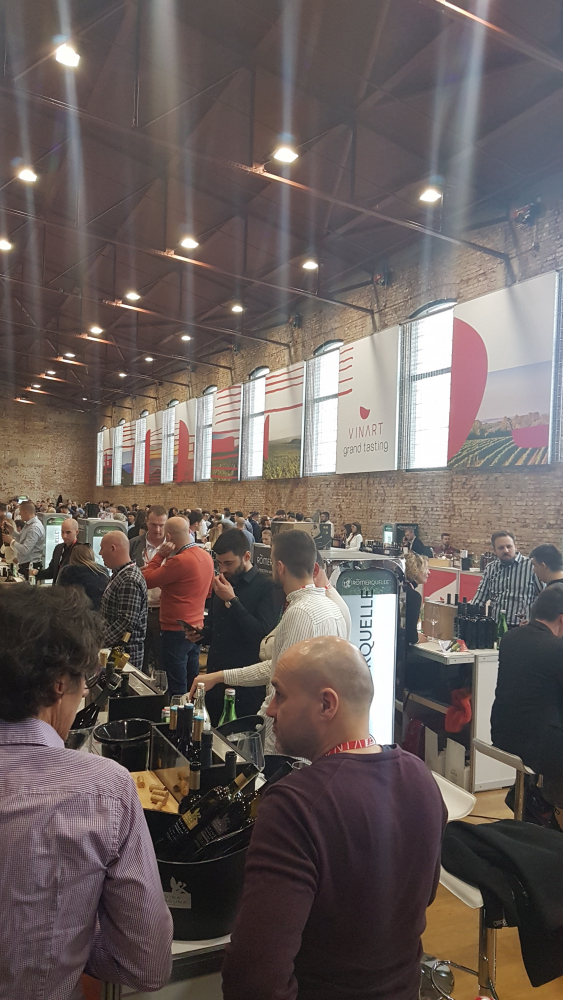 Photo: Sue Tolson
I set my sights on Graševina, Silvaner and Frankovka from Slavonia and the Croatian Danube, Pušipel (aka Furmint) and Portugieser from the Croatian Uplands, Malvazija Istarska, Žlahtina and Teran from Istria and Kvarner, and Pošip, Maraština, Debit, Grk, Plavac Mali, Plavina and Tribidag from Dalmatia, to name but a few. Of course, there was also sparkling wine, petnat, orange wine and the usual international variety suspects, as well as wines from neighbouring countries, from Bosnia and Herzegovina and Slovenia.
Cool-climate sparkling and orange wines
The following day, our international group set off to explore cool Plešivica in the Croatian Uplands, known for its high-quality sparkling wine and increasingly for orange wines too. It's the coldest wine region in Croatia, and it was certainly pretty cold in the steep, exposed vineyards of Griffin Ivančić, where all the work has to be done by hand due to the incline of the slope, and screws on your boots are strongly recommended to avoid slipping down it!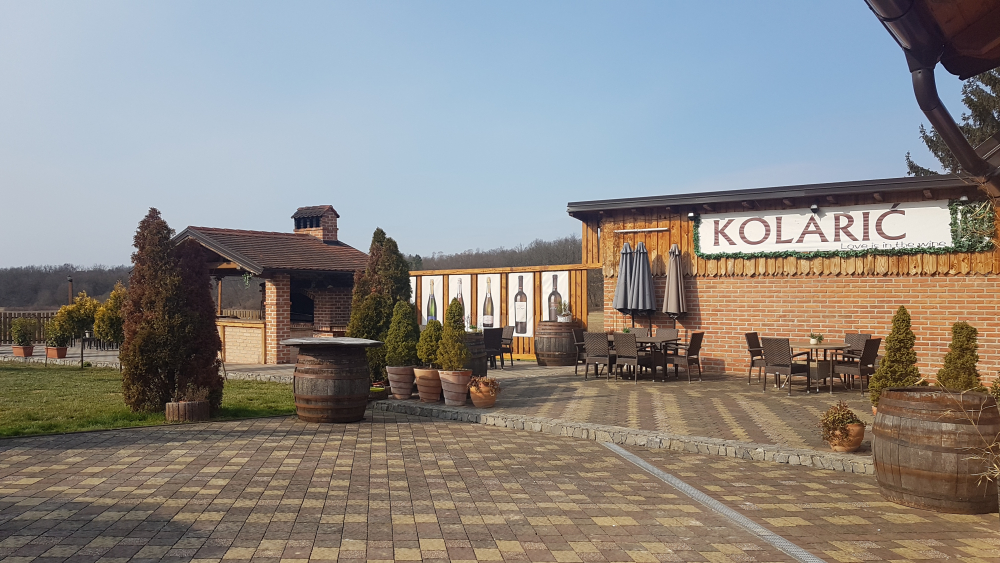 Photo: Sue Tolson
King of Croatian Pinot Grigio
Although the region is not so focussed on native varieties, rather the Pinots, Riesling, Sauvignon Blanc and Portugieser being more commonly grown here, the first winery we visit, the Kolarić Coletti Winery in Jastrebarsko, which produces a wide range of sparkling wines, also includes local varieties in some of them. Franjo Kolarić explains that these local varieties are good for sparkling, as they are neutral varieties and boast high acidity, but also likes Chasselas which does well there too.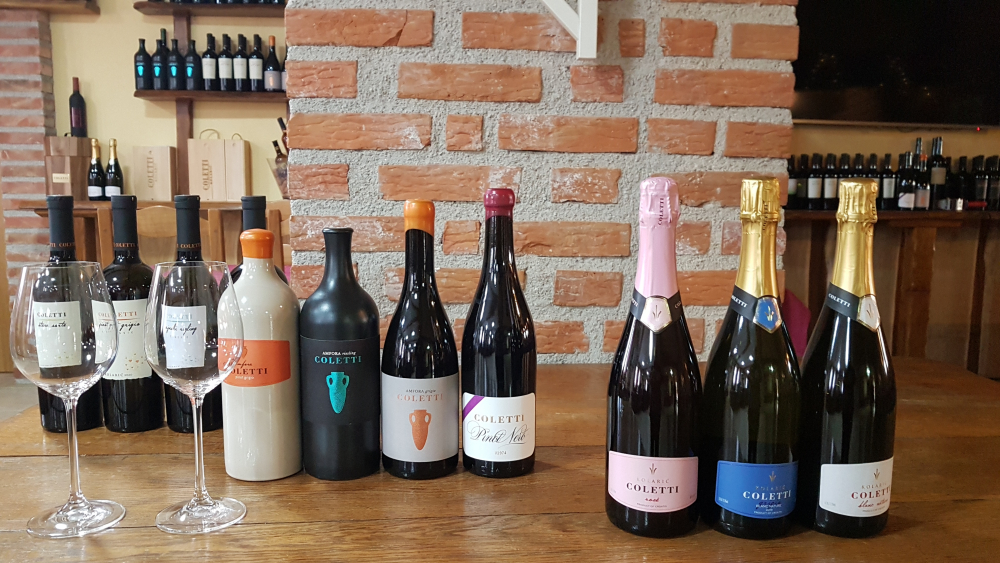 Photo: Sue Tolson
He also produces a still blend, Stare Sorte 2021, from old varieties Plavec Žuti, Štajerska Belina, Kraljevina and Sipelj, which is delightfully fresh and herbal, bright and juicy, yet austere and saline. Franjo is also a big fan of Pinot Grigio, which used to be widely grown around here under the name of Ruländer. He had drunk some Slovenian Pinot Grigio in a bar in Zagreb and liked it so much that he came home and said he had to plant it here. He produces several Pinot Grigios, which have nothing to do with what you might be used to from the flat lands of the Veneto, including a classic version fermented and aged in oak and an orange wine aged in Georgian qvevri, of which he now has four. He has been working with the variety since 1999 and now feels he is creating a Croatian Pinot Grigio style.
Unique sparkling wines
At our next port of call, the Griffin Ivančić Winery, Krešimir Ivančić shows us his 100-year-old vineyard of Chardonnay and Müller-Thurgau, where the vines are staked and there is not a wire in sight. As it is somewhat chilly and windy, we head into his warm tasting room and fortify ourselves with tasting, at least initially, his sparkling wines, which he's been producing since 2013.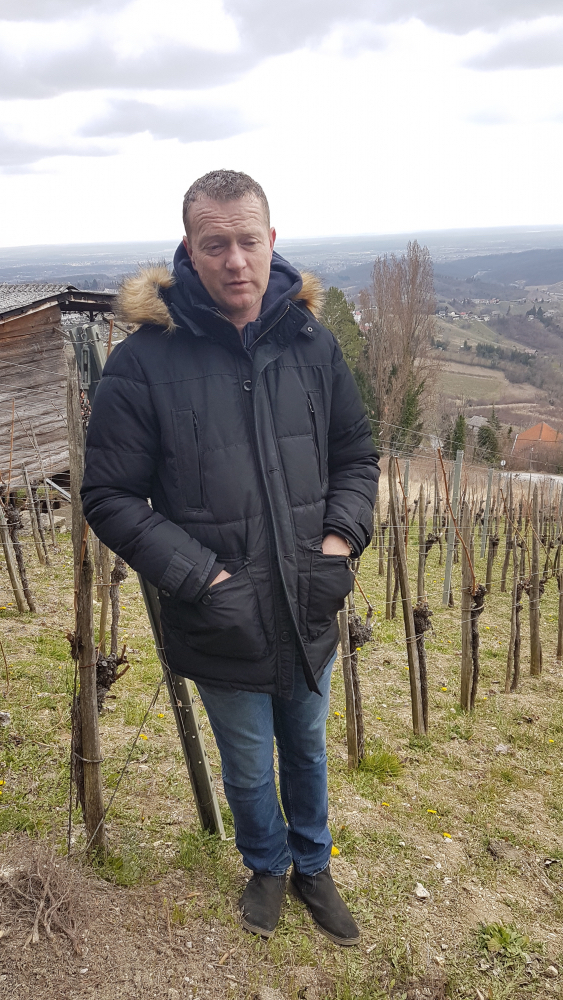 Photo: Sue Tolson
The winery is within his family home, and he jokes that when he first started making sparkling wine, there were 25,000 bottles throughout the house. We're glad he persevered, as the Griffin Brut Zero, which spends four years on its lees and benefits from cold maceration and battonage to add richness is a pretty special wine with great complexity and depth. Krešimir also produces rosé and red sparkling using Portugieser. He points out that the variety is traditional here, as it was previously part of the Austro-Hungarian empire, but he's now the only one working with it, producing still as well as sparkling, as most people rather focus on Pinot Noir.
Coral wines
While tasting, we also tuck into some delicious homemade greblica, a spinach and cheese pie. And Krešimir produces a bottle covered in seashells and other marine materials. This is one of his coral wines, which age 20 m under the Adriatic Sea!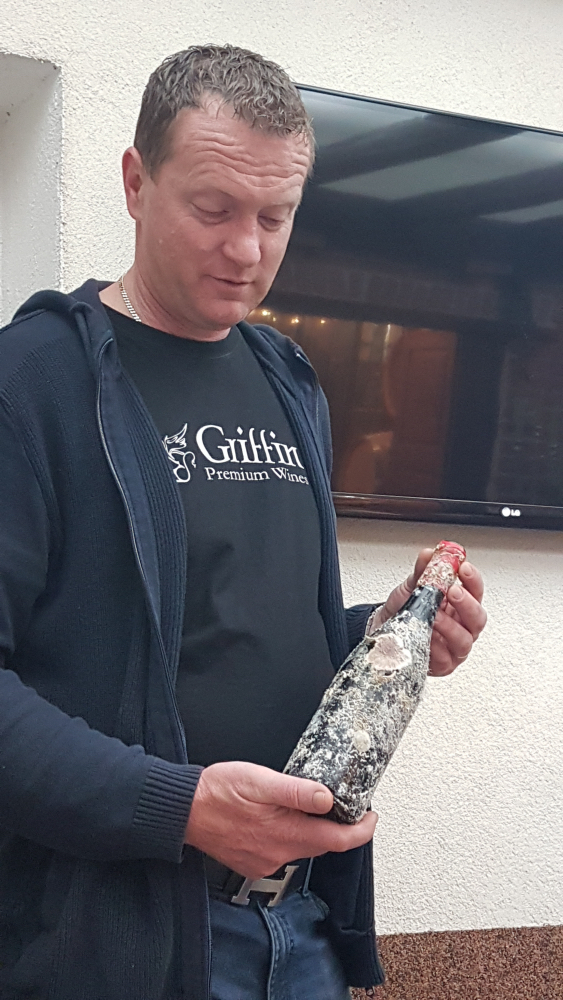 Photo: Sue Tolson
Apparently, one year ageing under the sea is like three in the cellar. In the case of sparkling wines, the sediment is always in motion. The Coral Dark Side Portugieser spent two years in the sea in metal cages following one in barrel. He also tried it with a Pinot Noir, but said it fell apart after a year. He's a professional diver and not only takes his own wine down into the depths but also the wines for wineries around the world. This was turning into rather an exciting tasting, as I had never tasted wines aged in the sea before. Next up was a 2017 Chardonnay sur lie, which had swayed around in the sea for two years too, then a 2007 version of this, a landlubber I believe, but an outstanding wine. Deliciously complex with wax, honey, dried apricot and mandarin vying for space in my mouth with grapefruit, candied lemon and a lingering saline finish. Finally, before time forced us to move on and decline the craft beer he was offering, a 2015 Coral Griffin Zero Dosage Brut Nature, disgorged just six months ago after three years in the sea. I did not want to leave this experimenter's table!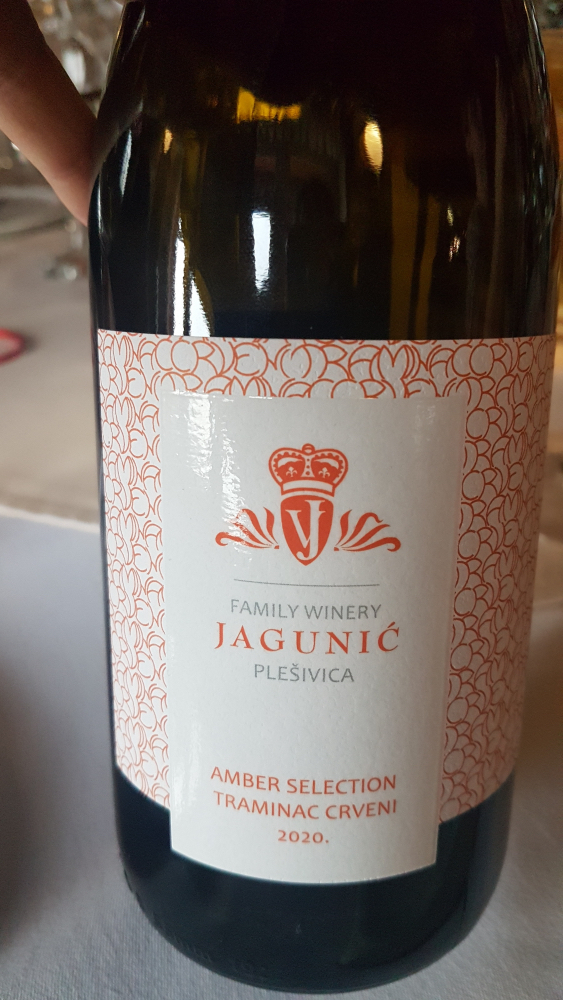 Photo: Sue Tolson
Amber Pinot Gris under flor
The Jagunić Winery continued a similar theme to our first visit. They are currently specialised in sparkling wine, but began to produce orange, or amber, wine three or four years ago. They aim to end up with four sparkling wines and four amber wines. They are a fourth-generation winemaking family producing wines entirely from their own grapes. Some of their vines were planted by Dominik's grandmother, who still goes out to work in them every day, like many elderly people who don't want to see their vines cut out and continue to work them in cooperation with wineries like Jag.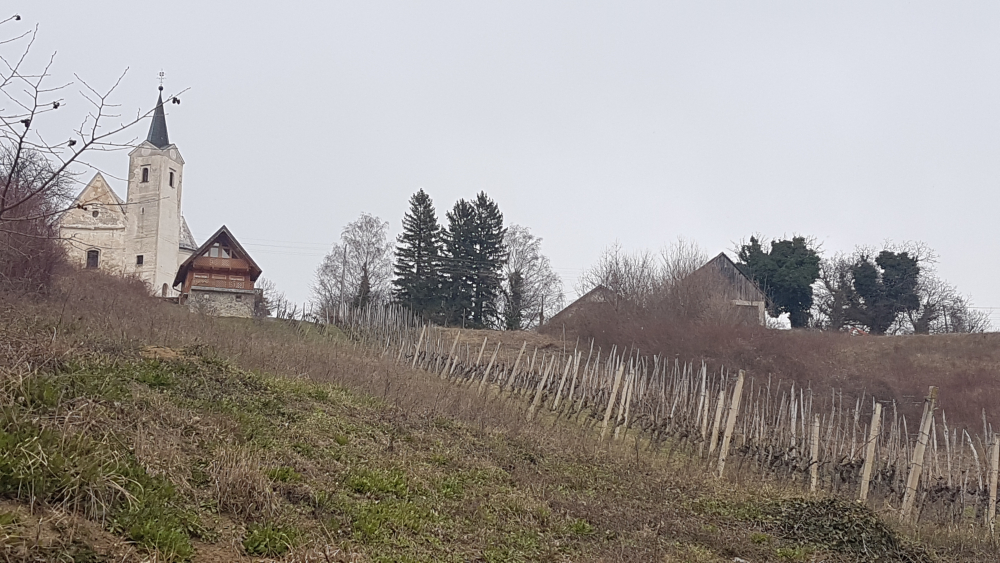 Photo: Sue Tolson
Like Franjo Kolarić, they also continue to use some local varieties in their main label of sparkling wine and also produce a rosé sparkling from Portugieser, with a touch of Pinot Noir for added zip. We learn that their line of amber wines is aged in 45 barrels they bought from Tamás Gere in Villány! This includes a Gewürztraminer, a Pinot Noir and a Pinot Gris. Interestingly, they are also making a Pinot Gris in a vin jaune style, where the fruit from 75-year-old vines is macerated for five months and then spent three months in barrel under flor, resulting in a complex and textured, saline, slightly oxidative, savoury, nutty wine. And it seems the flor grew naturally, as they had been intending to just make amber wine! The Jagunić Winery also boasts a restaurant, where we enjoyed a hearty meal following our tasting, naturally with a little re-tasting of our favourite wines! Darkness had fallen when we headed back to Zagreb, sated from ample delicious food and our new discoveries.