You are new here? For the 2nd part of this article click here.
In most of the world's most famous wine regions, it is nearly impossible to simply phone up a top estate and arrange for the winemaker to personally show you around. But Tokaj is not like most of the world's fine wine regions. It is isolated, under-appreciated, and in the Anglo-Saxon world, known only to a handful of enthusiasts. This is gradually changing, however. Its most famous vineyards, like Oremus and Disznókő, have attracted foreign ownership or investment. Royal Tokaji is partially owned and extensively promoted abroad by Hugh Johnson. And yet, a knowledgeable American or Brit can easily gain entry to the dizzying heights of Tokaj's finest estates. In the first instalment, I detailed the trials and tribulations of getting to Tokaj and in the second, I narrated the revelation of my discovery of the traditional Szamorodni wine style. In this episode, I narrate my second day in the region and my magical first encounters with Eszencia.
My first tasting of the day is at the storied estate of Oremus. To gain entry to these hallowed grounds, all I had to do was email the vineyard mentioning that I was a member of the Cambridge Blind Wine Tasting society. They had promptly arranged all the other details. On the morning of 21 August, I am picked up at my hotel in a big white van by Szabolcs Újfalussy, one of the winemakers, who then takes me off to see the vineyards where I get to eat under-ripe Hárslevelű, Muscat and Zéta berries, and discuss clonal selection. I learn of the experiments that the different parcels are being used for. We walk the terroir and discuss its logic.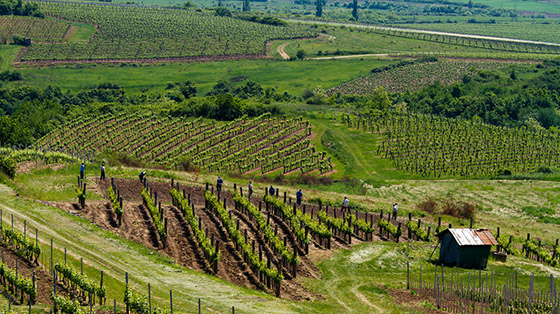 We discuss how microvinification is used to perfect new techniques and how at Oremus some red grapes are grown for the workers to take home and make into wine. We discuss how white wines can have tannins when made in the orange wine (Georgian Qvevri) style. He explains how small bunches and sparsely growing fruit is essential for high quality, and then, as we are driving back to the estate, he points out how just 400 metres from his amazing terroir, other growers are deliberately cultivating huge bunches and using fertiliser. They produce bland wines that they doctor up with grape juice and only successful legal changes are forcing them to declassify their wines so as not to tarnish the Tokaj brand.
The Oremus cellars are the most impressive I have ever seen. Corridor upon corridor of huge tunnels dug 20 feet underground, lined with barrels and alcoves holding the library of the estate's wines going back to the 19th century. The set-up is monumental and the quantity of wine which is being produced is clearly as enormous as the scale of a large Bordeaux estate.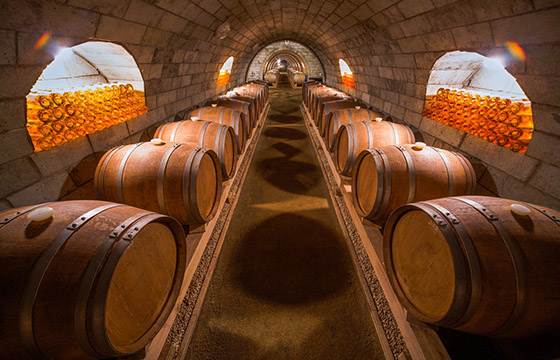 I am then taken inside the chateau which has been entirely rebuilt, as it had been parcelled into offices for communist functionaries, and has now been restored to its neo-Habsburgian splendour. We have our tasting outside on a glorious patio looking at the façade of the mansion and the clouds moving rapidly above the poplar trees.
We start with an astringent 2013 100% Dry Furmint. It is head and shoulders above those that I have tasted on the trip so far. The 2013 Mandolás has a strong white fruit nose, the very soapy, crisp, astringent taste of pure Furmint. However, this one I find more Sauvignon Blanc-esque in taste with grassiness and a slight spritz or prickle. Although not to my palate, this is clearly an excellent wine; I give it 15.5/20 on quality and 17.5/20 on unique expression of the Furmint varietal's characteristics.
We next have the 2013 Late Harvest which Szabolcs usually serves to non-Hungarians and non-Eastern Europeans. Late Harvest is not an indigenous wine style, but is being made to suit international palates which demand easy drinking, unoaked or minimally oaked styles. It is exceedingly fruity, with peach, white fruit, jasmine and petals. True to its late harvest blueprint, its medium-light body, plus mid-high sugar, makes it a pleasing summer picnic wine for some less adventurous palates. With its low acidity, it is too sweet and not Tokaji enough for me. It is slightly redeemed due to its great pureness of fruit with some creamy or oily texture to make it medium-light rather than light bodied. I give it 14.5, but it could be a good value quaffable summer party wine which might prove a crowd pleaser if served with a fresh fruit dessert.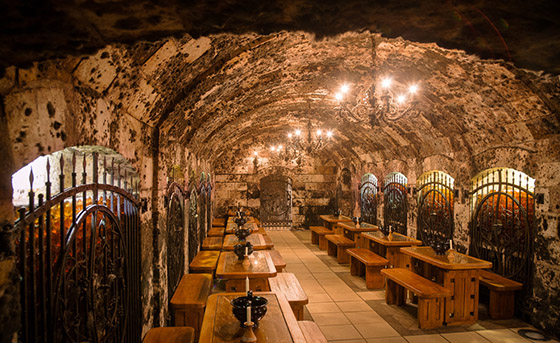 We then are served some lovely tapas of foie gras, roasted eggplant and stuffed tomato. I am thrilled as I doubt I'll be able to have lunch before my next tasting and these nibbles are a real sobriety saver.
They also go amazingly with the next wine. I am honoured that it is the 2010 Szamorodni Édes, which Oremus usually only serves to visiting Hungarians, Poles, Czechs and Slovaks. It has a deep goldish brown colour, the nose has a lot of botrytis and smells of bricks, old books and honey. It lacks the marmalade jamminess of a standard Tokaji Aszú, but makes up for that with a savoury quality and the buttery or nutty character derived from the Szamorodni process. It is not as good as the Barta Szamorodni, but it has great balance and is a dessert wine that one could drink largely on its own as it is not cloying or syrupy. I give it 16. I am getting happy.
Next is the 2006 5 puttonyos Aszú. It has a Sauternes' nose of old books and pure honey, but is crisp on the palate with a clean apple taste, with more acidity than a Sauternes and much more body. It is a classic dessert wine which will please international palates. A great wine for pairing with blue cheese, a tarte tatin or any dessert with caramel. I give it 16.5 and considered it a really benchmark wine.
Then the 2005 6 puttonyos; this is an amazing wine that knocks the socks off the 2006 5 putt. It is truly 'big' - so much bracing acidity and so much velvety sugar. It also has an effervescence to it like a young German Riesling. It presents as a very structured wine with the acidity giving it linearity and backbone. In addition to its classic Tokaji taste with great jammy, orange marmalade, it is a touch syrupy and super sweet, but eminently drinkable, especially with the right food pairing, thanks to its great harmony and balance. 17.5 on quality, 18.5 on expression of varietal character.
Loving these wines, I chat with Szabolcs about how international investment has improved the estate and how the winemaking techniques have changed slightly to suit international palates. As he is explaining how Vega Sicilia's ownership is turning Oremus into an international luxury brand, I am served the 2005 Eszencia. During the tour of the winery, I have already seen the large glass jars in which it is slowly fermented for years. The technique of making Eszencia dates back to the 18th century and has remained as simple as it is beguiling. The free run juice of only the botrytis berries is collected in wooden containers, puttonys, during the picking process. The weight of the berries on top causes the juice of those below to escape. They are then left to ferment alone in huge glass beakers, or demijohns, with a valve that lets the carbon dioxide from the fermentation process escape while keeping the air out.
Szabolcs and I discuss why Sauternes or other regions cannot make this style. This has to do with Tokaj's continental climate and its greater percentage of botrytis berries in each cluster. However, to his mind, the production of Eszencia is most crucially connected with the thicker skins of Hárslevelű and Furmint relative to Semillon and Sauvignon blanc grapes, meaning that the shrivelled botrytis berries in the Tokaj region don't fall apart when their weight squeezes the botrytis juice out. Szabolcs speculates that if the picking technique from Tokaj were to be used in Sauternes, the grapes would fall apart and it would be impossible to make the wine.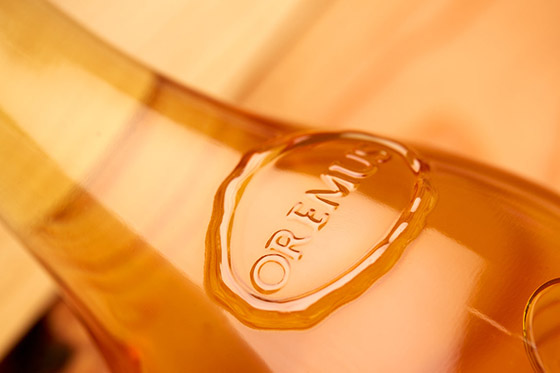 As we are discussing this, I am having my first sips of the 3% alc 550 g/L sugar content 2005 Oremus Eszencia - a truly different experience to any other beverage I have ever had. It is simultaneously the essence of wine and yet not really like wine at all. It tastes very much of the earth and yet divine. It is sweeter than most desserts and actually tastes like a liquid dessert, but not like a cloying syrup or even an excellent, melted dark chocolate. It has a sharp enough acidic structure and sufficient complexity to provide each sip with a discrete and persistent finish. As such, it doesn't need to be cleansed by a sip of coffee or tea. Simultaneously, the intense sugar plus complex flavours gave me a kind of high, like absinthe, making my mind feel more lucid and sober. I focus on the clouds floating by and as Roger Scruton has famously described the effects of fine wine on the mind, I am re-grounded into the time, place, space, terroir and culture that is Hungary. The wine has brought me into the moment and the place, rather than away from it as many mind-altering drugs do. Although impossible to rate such an experience, especially as an Eszencia virgin, I will have to give the wine a 19 on quality and 20 on distinctiveness as a wine experience. What this means is, if you care about wine, and you can afford the time, expense and planning required to get yourself to Tokaj, then what are you waiting for? Oremus Eszencia is there for you. And it isn't dubbed 'nectar' for nothing. It is the closest thing we have on earth to the tipple of the gods. Too bad it is so incredibly precious.
You can read more about Jason's adventure within a few days in the fourth part of this article.