You are new here? For the 3rd part of this article click here.
This is the last instalment of a four-part series on my experience of Tokaj's vinuous pleasures. At the end of instalment three, I discovered at Oremus the joys of Eszencia – a drink that is more magic than wine. As I was lingering over my glass, my high of sugar-induced contemplation and euphoria was abruptly called to an end, as my host deduced that I was late for Disznókő – all the way back west near Mád. And I was glad I didn't miss it. Because rather than another professorial middle aged balding winemaker, I was greeted by some young blood in the form of the very sophisticated and elegant Blanka Bukodi – a law student in her early twenties who conducts tastings and tours at the winery on weekends and during the summer.
Initially, I was afraid I was going to get another memorised tourist vineyard visit. When she started off our tour by telling me that Tokaj was called "Vinum Regum, Rex Vinorum" (Wine of Kings, King of Wines) and was historically only famous for its sweet wines, my fears increased. After she proceeded a few sentences in that vein, I gently informed Blanka that, although not a Tokaj expert, I was a serious wine lover and had just come from many other top vineyards. Without skipping a beat, we transitioned to discussing why at Disznókő they plant the Hárslevelű at the top of the hill unlike at the other vineyards where the Furmint occupies the top slopes.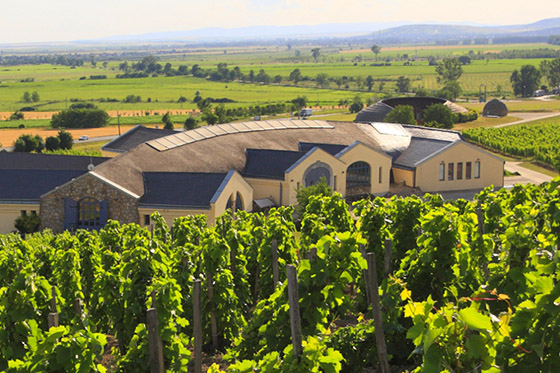 Blanka certainly had the best English of the Somms, Vintners, and wine guides I met over the weekend and she was also the most skilled socially. Therefore, we were able to engage in the whole gamut of wine-related banter. After seeing the vineyards, gazebos, cellars and fermenting barrels, I was led into the tasting room on the second floor of the winery complex and containing a long conference table facing an enormous picture window with spectacular views of the vineyards slopes and the changing colours of the trees of a nearby hilltop. When Blanka retreated into the adjacent kitchen, I inferred from a piece of paper in front of me that in about an hour, I would likely have another spiritual experience while gazing out of that window. The paper had my name printed on it and a list of seven wines proceeding from dry to sweet that I would be tasting. I noted with delight than an Eszencia was last on the list and I was eager to see the difference between Disznókő's and Oremus's.
While still in the kitchen, Blanka remembered from our early conversations my intense interest in dry Szamorodnis. She explained that they make them, yet weren't going to serve me one, as they usually only served them to Eastern Europeans. She asked if I would mind if she amended the tasting line up to insert one. I thanked her profusely and asked for one of the other wines to be removed as I would have another tasting right after this one, and three tastings in one day would be too much. My pleas were to no avail. She insisted that I get the chance to experience all the wines. Also, I noticed that she would be opening a fresh bottle of every wine (except the Eszencia) for me, exactly as was done at Oremus earlier in the day even though this was Blanka's third tasting of the day and presumably there would be some leftovers from other bottles. This meant that about $1000 worth of wine was opened on my behalf at Oremus, Disznókő and later at Zoltán Demeter. Of course, I was not allowed to pay a dime for this stupendous hospitality. I hope this humble and delayed article is some form of thank you note to my incredibly gracious and cultivated hosts.
As always at a Tokaj vineyard, the first wine was an astringent dry Furmint. It (as well as all the other wines) differed from Barta and Oremus (but not from Zoltán Demeter which I would visit that evening) because it is fermented without any oak; furthermore, the dry wines see no maturation in oak. Presumably this is why the Disznókő motto is "Pleasure of Purity".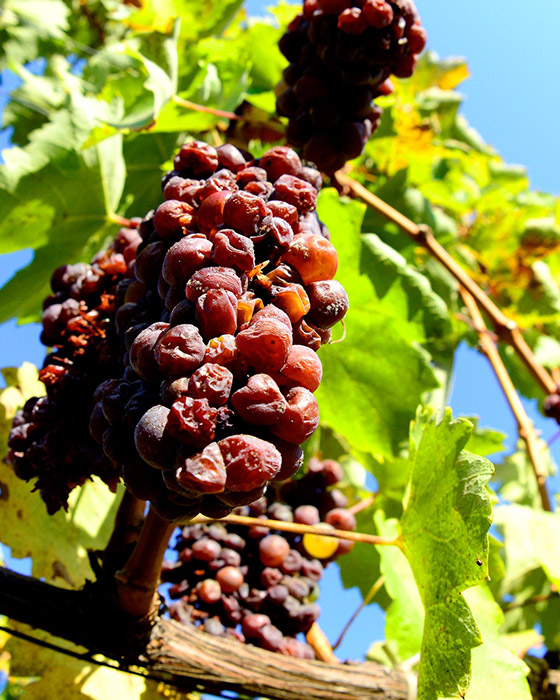 Thus, the 2014 100% unoaked Furmint was the purest expression of the varietal I had yet tasted: reductive stainless steel taste, high acidity, very minerally, closing with a touch of citrus. A well-made wine for sure, but way too sharp for my palate. However, as you know by now, pure dry Furmints served without food are not my thing.
Next up was the wine that Blanka had generously added, the 2006 Száraz Szamorodni. As expected, it thrilled me. Great sherry nose, huge almond flavour, very waxy, full body on the palate, exceedingly high acidity and powerful mouth-coating energy. I would rate it 16/20 on quality and 17/20 for interest and distinctiveness. She said that the 2003 Szaráz Szamorodni might be the best one, so I purchased one on her trust, but now can't find the bottle. Did I maybe leave it in Sweden?
Next, we moved onto the Late Harvest 2012. It was a totally different beast: white fruit, petal and a touch of apricot; it had only a slight bit of noticeable Furmint characteristics and a bit of Tokaji jamminess, and those flavours were only there if you really searched for them. Otherwise it was not so different from a late harvest Riesling, especially because of the lack of oak. Therefore, I would give it 14 for quality, 16 for drinkability but only say 12 for varietal/regional expression. This was a wine for the international market that did not specifically value a 'Tokaji-y tasting' wine as I did.
Next, we moved onto the slightly sweeter and much more complex 2012 Disznókő 1413 Tokaji Édes Szamorodni. It was not a golden dessert wine colour, but more like deep straw. It had a nose of white fruit and honey; it was extremely palate coating due to the heavy body, sugar and oak. It had some aspects of the late harvest with its profile of white fruit, but for me, was far more balanced due to the savoury notes. Blanka gave the excellent note of 'caramelised apple'. I completely agreed and this made me think of it as a perfect complement to an apple pie, pumpkin flan or a crème brȗlee. I have since tried this experiment and can assure you, anything with baked apple or caramelised flavours and Édes Szamorodni go perfectly together. As it was quite balanced, I would give 15.5 for quality and 16.5 for interest, however it was still not as good as the divine sweet Szamorodni from Barta.
Next, Blanka opened the 2007 Disznókő Tokaji Aszú 5 puttonyos. It had a very Sauternes feeling to me. Exceedingly honeyed, very sweet, almost syrupy, with the classical botrytis honey note supplemented with baked apple and lemon peel. 16.5 for quality and certainly a crowd-pleaser. Blanka called this a traditional wine that her mother would prefer. It was a lovely wine.
Then we moved into the 2006 5 putt, which had won the Wine Spectator award for its category. It was truly amazing.It had high enough acidity to balance it out, as opposed to the slightly cloying sweetness of the 2007. I found it to be dominated by lemon candy and marmalade. Although slightly syrupy, it had great structure, biting acidity and a super long finish. It probably needs twenty or so more years to approach its peak. However, the quality was clearly insanely high, so I'll give 18.5. With this wine, you could taste the greatness of Disznókő's wine making. I would have loved to take a case home and have one every year or two.
Getting ever more complex, I was next served the 2002 6 Putt, and fascinatingly, despite the increase in puttonyos number, it was less sweet, and the ageing gave it a darker colour. I found it a truly intoxicating wine with some tertiary notes. It was brooding and layered, and due to its age, now fully expressing the Tokaji Aszú flavour of orange marmalade, supplemented with a prominent taste of caramelised apple, which I came to feel was a particularly Disznókő note. This wine also had a buttered toast or vanilla bread pudding flavour which seemed a lovely ageing or oaking note. I found the wine delightful and would love to drink one a week for the rest of my life. I give it 19 on quality, on a par with the highest rating I am giving to any of the wines of the trip.
Despite this and its affordability, I didn't purchase this wine because Blanka suggested that since I like tertiary notes, I might enjoy the 1993 more and that the latter is more likely to be at the peak of its drinking window at the moment. I trusted her about the wine's qualities. I bought that wine untasted as a remembrance of her very precise and discerning palate. In fact, despite being decades younger than my other tasting givers, I felt she gave the most incisive tasting notes of all the winemakers I met. Opening the 1993 6 puttonyos on New Year's Eve in 2016, we found it a dark amber colour. The primary notes, like fruitiness, and the botrytis notes, like honey, had all disappeared and morphed into more complex and savoury notes. The most identifiable tastes were of candied lemon and stewed orange marmalade. This was a classic aged Tokaji Aszú, and the oldest I had ever tasted. It exhibited racy acidity, a walnut oaking note and a savoury grape flavour. The texture was syrupy without being too sweet. The finish was long and the wine seemed more concentrated for the age. Even the tiniest sip was enough to coat the whole mouth. The finish could be measured in minutes not seconds. If anyone would like an introduction into aged Tokaj and its delicacy, this would be an excellent intro course.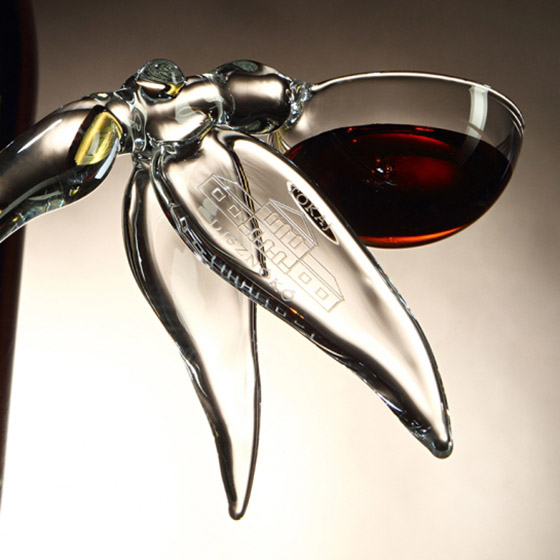 Returning to the tasting, Blanka closed the show with her vineyard's best - the 2006 Disznókő Eszencia, a totally different beast than the Oremus Eszencia. It had 800 g/L sugar and no Zéta berries, only Furmint, Muscat and Hárslevelű. This meant that it was even less of a wine and more of a dessert syrup. In fact, it is so sweet that after four years' fermentation, it still only achieved 1% alcohol content. The wine's volume was likely more than 80% sugar. For me, this Eszencia was less Tokaji like than at Oremus, where you could taste the connection between the Eszencia and the Aszú wines. Here at Disznókő, it was very syrupy with notes of toffee and caramel. It was a delightful and exceedingly layered experience, but not nearly as balanced as the Oremus version or as the tremendously great 2002 6 putt I had just had. I give it an 18.5 for being its own unique vinous experience, redolent in sugary sensual magic.
Sadly, the tasting had come to an end. I asked Blanka about her ambitions, encouraging her to be a Sommelier and seek training in the UK or France. We discussed her future law career and then I regretfully had to part from that magical sun-kissed hill in the Mád countryside.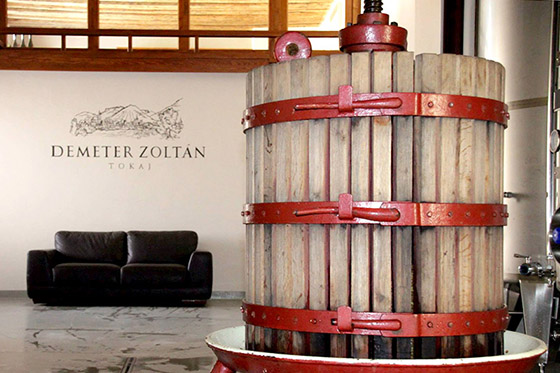 My marathon of tastings was set to conclude with an aperitif hour affair at the house/winery of Zoltán Demeter, from which he runs his eponymous label. His was the only winery in the town of Tokaj where vinification actually happens. Located on a quiet and unassuming street, it was difficult to find, but inside everything was artfully laid out with a vast internal courtyard like a Mediterranean villa. Zoltán took me downstairs and showed me his garagiste-style operation. He owns ten or so very small plots across the region. He showed me old maps of the Tokaj region and explained how the system of 'protection of origin' laws dates back to 1737 and, as such, is the oldest in the world, predating those in Bordeaux by over a century. He lamented the loss of the wisdom of the Habsburg period division of the land into specific parcels that allowed a gradated system of Crus. He explained the logic of the new "Protection of Origin" System which had successfully come into effect in 2009, exactly five years after Hungary's accession to the European Union.
After an hour or so of presentation and demonstration of his equipment, the tasting that Zoltán offered me differed from the others I had experienced at the grand estates. It was a folksy affair, rich in what the Danes would call hygge (or coziness). I sat down with the winemaker in what seemed to be his dining room – he called it his tasting room. Rather than having a million glasses imposingly laid out in front of me, Zoltán offered me one glass and we sat diagonally across from each other at his table.
Every aspect of the décor and ambiance of his house was finely calculated. It was not over the top, nor was it sterile. The glorious old wood and clean lines of the furniture were complemented by a faint soundtrack in the background. Fascinatingly, the music was most audible in his cosy privy, with French and British 19th century cartoons about Hungarians on display.
Over the first of two 100% Furmints, we discussed how British culture, gentlemen's clubs and the shared hobbies of the English elite lent themselves to cultivating a discerning palate and a knowledge of world wines. As it was late in the evening and I was focused on engaging Zoltán in conversation, I regret that I did not take formal tasting notes as I had at the other wineries.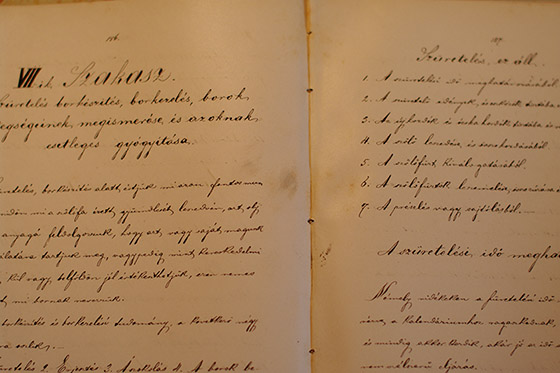 As the tasting went on, we sampled many single parcel wines. The quality was superlative. I remember vividly that Demeter's "Ősz-hegy" Sárga Muskotály was exceedingly fruity, ethereal, light and divine. I got one for the road and took it to Sweden to have with my best friend there. I also greatly enjoyed his pure 2015 Hárslevelű, with its abundance of white flowers and a kind of Grüner Veltliner minerality.
I also remember that Zoltán Demeter is a genius at branding. He uses special high-end replaceable glass wine stoppers that cost over €2 a bottle and give his wine a distinct luxury feeling, and his sparkling wine bottle with its special airtight re-sealable closure is the only one of its kind in Hungary. He is most highly reputed for his Aszús. We had some of the most decadent, apricot, honeyed, creamy Aszús I had ever tried. They were quintessential Tokaj. When I went to purchase my favourite, I asked Zoltán when I should drink it. We both agreed that the wine would gain complexity over the next fifty years. But he was adamant that this didn't mean I should wait that long to drink it.
In answer to my question, he recited an aphorism.
You should drink it at the soonest possible moment that life allows you to enjoy it.
Wine was not a collector's item or a status symbol for him, it was a way of life. Embracing the mysteries of wine was about seizing the best life has to offer when it offers it – moment by moment. With a glass of any of his Aszús in hand, it was hard not to carpe diem.