You are new here? For the 1st part of this article click here.
Despite the intense globalisation that characterises the world of fine wine today, the Tokaj region remains one of the most geographically, linguistically and politically isolated. Paradoxically, it was not always thus; Hungary used to be a centre of a great global empire, and in the 1890s, Budapest was the world's sixth wealthiest city. In those days, Tokaj wasn't on the periphery but, in fact, close to the major economic and cultural centres of Vienna and Budapest. In Part I: GETTING THERE ISN'T HALF THE FUN, BUT THE GEOPOLITICS IS, I narrated the trials and tribulations I experienced even before I tried to get to my first vineyard – precisely so you won't have similar experiences as you set out for your Tokaj adventure. The key tip is always rent a car when trying to get around Hungary.
In Part I, I finally arrived in Tokaj after airport, train, weather, and hotel troubles. After switching to a nicer hotel than my assistant had initially booked me, I discovered that all the kitchens around town were already closed and so I would have to go to bed without dinner. But even without nutrition, spiritual sustenance was at hand. Literally, once I opened my first bottle of Szamorodni, my troubles were over and I was well positioned to experience the dynamism of the region's divergent wine styles and vinification techniques.
***
My first reprieve after a series of inconveniences was when I discover the mini bar of my spacious room at the Tokajvár stocked with peanuts and crisps as well as a selection of bottles. On an empty stomach, I know I should avoid a sweet wine or a full bottle. I select a 500ml bottle of 2009 Tokaji Szamorodni Száraz Bene Pince which costs 1500 Forints or $6.00. The first sip hits me as a revelation. My tribulations are now over. The bracing structured acidity combined with nuttiness is a quintessentially Hungarian flavour; it tells me I have arrived.
The wine is full bodied with a strong buttery note of oak. The colour is deep gold, less bright than an Aszú would be. It is completely dry with a nutty, almost almond-like flavour. In this instance, this is the product of oxidative wine making and I would compare this Szamorodni Száraz favourably to a good Oloroso sherry. Szamorodni is not fortified, but is still fairly high in alcohol. It goes straight to my head and although I know I should stop drinking as I have not had any dinner, I mostly finish the bottle as the stuff is delightfully full of flavour and helps me relax after the stress of the journey. The essential trait of Szamorodni wine is that it has not undergone a berry selection (i.e. it contains a mixture of botrytis and non-botrytis berries) whereas the more famous Tokaji Aszú wines are defined by the selection process. Like an Aszú, Szamorodni can contain any, or even just one, of the six permitted Tokaji varieties. In practice, this usually means Szamorodnis are Furmint dominant wines, sometimes with a significant percentage of Hárslevelű (the region's #2 grape). Yet, 100% Furmint Szamorodnis are also common. In the case of my bottle, extensive oaking and oxidation were apparent yielding a rustic, old world wine style evocative of Jura or Savennières. This is not uncommon for dry Szamorodnis made in the ancient style.
Within the category of Szamorodni, Száraz indicates that it is completely dry, whereas Édes indicates the inclusion of enough botrytisised berries for it to be sweet.
On 20 August (St. István's Day) I wake up with a horrible hangover, even though I have had only about 400ml the night before. After the very satisfying breakfast at the Tokajvár, I change to Hotel Kelep (the only place where a room can be found for me) which is inexpensive, new and has an indoor Jacuzzi, but also has barely functioning wifi. Unfortunately, my room is on the street side and hence has a lot of traffic noise. Moreover, the receptionist doesn't really speak any Indo-European languages.
After checking in at the Kelep, I take a taxi twenty minutes to Mád where I have a tasting appointment at Barta Pince (Pince means winery).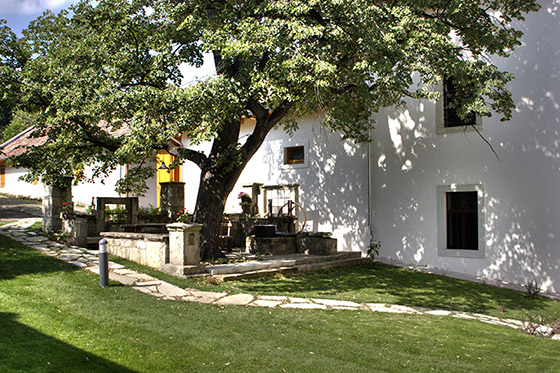 My colleague from Peterhouse, Cambridge, Tim Crane – a renowned wine writer and philosopher with a marital connection to Hungary – has suggested I visit here. My host, Anita, shows me around their amazing restored 16th century mansion.
They are turning it into a boutique hotel for MWs and other wine experts to stay while they explore the region. The rooms are elegant with classical pillars and painted ceilings. Apples and lemons grow in the small orchard. One senses an oasis of calm inside the Barta estate. It would be a perfect crash pad for a luxury wine-tasting holiday. But clearly you need a car to do such a holiday right.
Anita explains that during the Communist period, the famous estates were broken up and those that produced low yields in difficult or challenging terroirs, like steep slopes, were turned into stone quarries because of the excellent volcanic rock which makes Tokaji wines so unique. In the case of Barta, a wealthy investor, not previously involved in agriculture or wine, decided in 2003 to buy a plot on the once famous King's Hill (Király-hegy) in Mád and turn it into a quality operation. His dream was to produce wine of first growth quality for the international market and to have a boutique hotel targeting wine experts. He has spared no expense. After discussing clones, yields and harvest dates with Anita, I am shown to a stone table in the garden overlooking the orchard.
The first wine I am offered is the dry 2012 100% Furmint, which is fermented naturally (i.e. no added yeast) in oak; it is too astringent for my taste but has pleasing minerality, a strong white pepper note like a Grüner Veltliner and a clean, crisp structure. It is the sort of wine that is challenging to drink without food and which would not appeal to most palates, especially Anglo-American ones.
Next is the 2014 Egy kis Muskotály. It is Barta's only wine made in stainless steel. It is from the Muscat grape which is not indigenous to Tokaj. Anita opens a fresh bottle for me and as soon as it is poured, extremely fresh aromas leap out of the glass - elderflower, jasmine and petal. On the palate, it is light and a little grapey. The finish is rose petals, but without enough bite to balance the extreme florality. Nonetheless, it reminds me of a good Côte de Provence rosé. These wines have their time and place, and given how inexpensive this wine is at ~$12, it would be a steal in the West and would get rave reviews for value. I would give it 14.5/20 on pure quality and 17/20 on value.
Next is an Édes (sweet) 2010 Szamorodni. It is a deep golden yellow colour - a touch browner than an Aszú. The nose is amazingly powerful with the signature botrytis notes of old books and honey. The palate is rich with condensed baked apple and pure honey, yet it has strong enough acidity, full body and high enough alcohol that the overall wine does not seem syrupy or unbalanced. This feeling of balance and roundness is accentuated because this Szamorodni has experienced oxidative vinification, leading to various savoury and nutty notes. It is absolutely delightful. When I leave Barta, I greatly regret that I didn't buy any of it.
As this was my first tasting, I incorrectly thought it would be eclipsed by other wine types, made by other producers. I was wrong in this, and I consider it the best value dessert wine I drank on the whole trip. On pure quality, I would give 16.5, but on value 18. The cost was 8000 Forints or ~$27. It is truly worth getting a case as it would compare favourably to good Premier Cru Sauternes, but would be more drinkable on its own as a digestif (i.e. without cheese or dessert) as it is less sweet and more balanced.
Next, Anita serves me Barta's 6 puttonyos Tokaji Aszú 2006. It lacks the powerful nose of the Szamorodni and is a more classically Tokaji dessert wine. That is, it is quite syrupy in texture and taste, dominated by the Tokaji notes of marmalade and orange. It has a sticky sweet Eszencia feeling to it, but lacked enough racy acidity and body for me to consider it balanced. On quality, I would give it 15.5 but on value only 14.5.
Lastly, to finish off, we came back to a Szamorodni style wine which is labelled as Barta's 2008 Möbius. The name was selected due to its "almost endless" five plus years of continual fermentation, all of it in oak. This tremendous amount of oaking makes it taste almost Spanish, like an extremely old Oloroso sherry or a Gran Reserva white Rioja, made from Viura.
The Möbius is an experience. Its hue is a deep rust brown, adding to the impression that it is fortified, due to its extremely strong flavour and powerful body. In fact, it is the product of spontaneous fermentation and almost no wine making at all (i.e. no yeast addition) and just sitting in the barrel for five years. It has strong almond and even the marzipan notes that characterise oxidative flor-aged Szamorodnis. The Möbius takes the nuttiness, characteristic of a Szamorodni, to a new level, with walnut and toasted hazelnut flavours added in. There is a slight note of residual sugar, due to the mixed botrytis and mostly non-botrytis berries. This tiny bit of residual sugar makes it easier to drink. However, it will not be everyone's cup of tea. It is still super full bodied with really high astringency, making it appeal to sherry and Savennières drinkers. On quality, I give it 17, on value only 15.5 because it is $60, but on originality, I give 19. As one of the most distinctive wines I've ever tasted, I buy a bottle and thank Anita for the fantastic wine tasting and tour.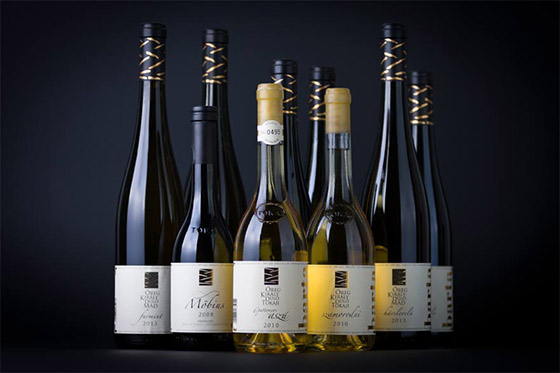 Photo by Zsolt Szentirmai
While waiting for my cab after the tasting, I'm invited to wander in the fruit garden inside the walled Barta estate. It has benches, terraces and a stone wall abutting the restored 19th Jewish synagogue and new yeshiva which is under construction.
I pick some apples which are delightfully sweet and tart simultaneously and almost have the traits of the racy acidity balanced by sweetness that characterises Tokaji Aszú. Maybe I am hallucinating after the Möbius, or these are the best apples I have ever had. The Barta winery, mansion and garden represent an oasis of luxury, culture and delicacy in the beaten down, boarded up, potholed town of Mád. The contrast with the outside world is made absurdly striking when my cab arrives and I am back in the real Hungary of Viktor Orbán and no longer in the neo-Habsburgian resort estate catering to 21st global cultural elites. Mád and Tokaj are like ghost towns. For the whole St István weekend, I was barely able to find any restaurants, tourist sites or amenities open; for the traveller, all the action is inside the elite vineyards, which appear hermetically isolated from Hungarian society. Yet in the domains of privilege (i.e. the boutique hotels and upscale wineries), the luxury is five-star. I discovered innovative cuisine at places like the restaurant at the Disznókő winery, which combines Hungarian, French and German elements. Fascinatingly, this international level of luxury only costs slightly more than the food in Tokaj or Mád, which is usually heavy central European fare - and in most instances not spectacular. In the elite vineyards and resorts, I frequently encountered extremely courteous staff who took an interest in me, offering samples and enlightening conversation.
After arriving back at the hotel, I take a quick Jacuzzi in a room where you can turn on a special lamp that lights up a picture of the Tokaj town symbol with the big Hungarian national cross and the vineyards, a kind of ethno-nationalist chic.
I then bike around town hoping to rent a boat to go out on the river. Despite having two guidebooks, I can't find the correct place and instead stumble onto the town square for St István's day, where celebrations are underway with the mayor reading a long, formal and grandiloquent speech. It seems right out of the Soviet times or national day celebrations in Egypt or Syria. Next, the people of the surrounding areas gradually arrive in national dress to listen to traditional Hungarian ballads about the great King St István and his Christianisation, while the singers wear medieval-styled robes and enact various scenes from the coronation. It strikes me as a Hungarian re-enactor's paradise crossed with seemingly central Asian, almost-Mongolian throat singing, but with the background beat mixed in the ballads acquired a 1980s heavy metal feeling.
Then I go out to a rustic csárda (tavern) on the main square for dinner where the fish soup is good and the portions big. I drink a dry Furmint from Patricius Borház with dinner and it is not as insanely astringent nor as complex as the Barta one, and is quite pleasant and balanced with real bite, but with some classically dry Furmint astringency dominated by white fruit. Then, I have Eger Bull's Blood wine, with its characteristic sourness matched with heavy body, with the pork sausage main course. Dinner costs less than $15.
Hungarian food, wine and music are not for the faint of heart. The Furmint is bold and sour, the Szamorodni nutty and layered. Getting to Tokaj was complex and stressful. My first day of tasting has shed light on the deep contrasts and fissures in Hungary, but has also connected me to the country's glorious traditions. It has left an indelible mark on me. I will forever be a Szamorodni enthusiast.
You can read more about Jason's adventure within a few days in the third part of this article.