Every year the press programme at the Grafenegg Single Vineyard Summit includes a vineyard walk and tasting in a different region associated with the ÖTW. This year was no different and we were transported off to the tranquil Traisental south of the Danube.
Now you've probably heard of the more famous Kamptal, Kremstal and Wachau as producers of Austria's top Riesling and Grüner Veltliner, perhaps fewer people are familiar with smaller, more secluded Traisental or Wagram that we visited two years ago. And this is what makes them something special.
A young wine region
Traisental is one of Austria's youngest winegrowing regions, separate only since 1995 and a DAC since the 2006 vintage, and one of its smallest, with only 815 hectares under vine. Like its more famous counterparts, it is also named after a Danube tributary, the Traisen, along which its vineyards are found. And not only the region is young, but also many of its winemakers, managing small-scale vineyards, who are looking for sustainable ways to keep their vineyards viable in the future too. Interestingly, it is also one of Austria's fastest growing wine regions by area, but then it is one of its smallest.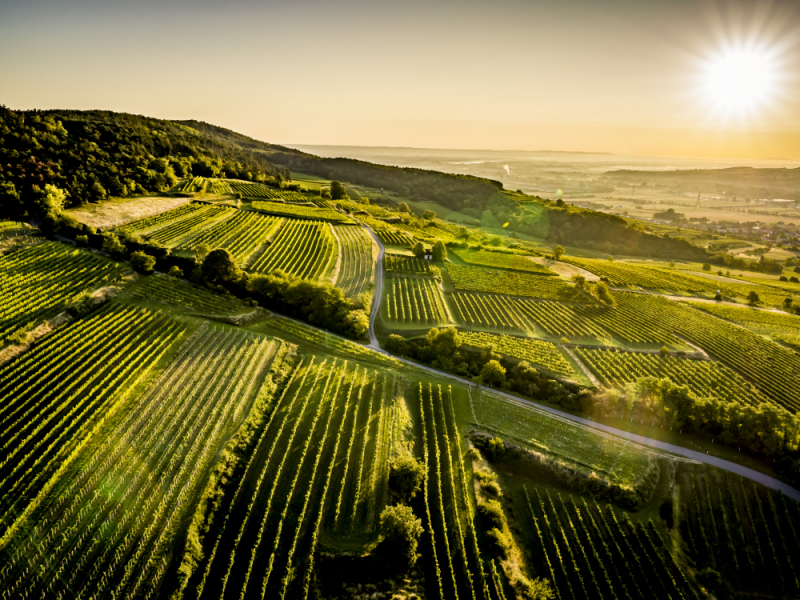 Ried Rothenbart Inzersdorf Traisental DAC ©Austrian Wine / Robert Herbst
Young Reichersdorf winemaker Markus Huber, president of the region's winegrowing association and recipient of numerous awards, accompanies us on our walk along with Dr Maria Maria Heinrich, vineyard geologist, who has educated us about the soils and rocks below the vines on our previous hikes in Wagram and Kremstal. In her inimitable way, she points out the varying geology as we walk through the vines – terraces and loess from the Quaternary ice age, Neogene conglomerate brought by river from the alps and granulite crystalline bedrock.
The vineyard is a well-stocked pharmacy
However, this year our hike is not only about geology but also about the herbs growing in the vineyards and their properties. Markus Dürnberger, local herbal expert shows us the amazing variety of colourful herbs and berries with differing properties we find on our way, many of which seem to be connected somehow to liver ailments. No surprise here in the vineyards – perhaps a little like the stinging nettles and dock leaves that grow close to each other, with the dock leaf calming down the nettles' burn when you pick it to avail yourself of its beneficial properties too, like cleansing the blood, providing iron and detoxification – perhaps also after a spot too much wine!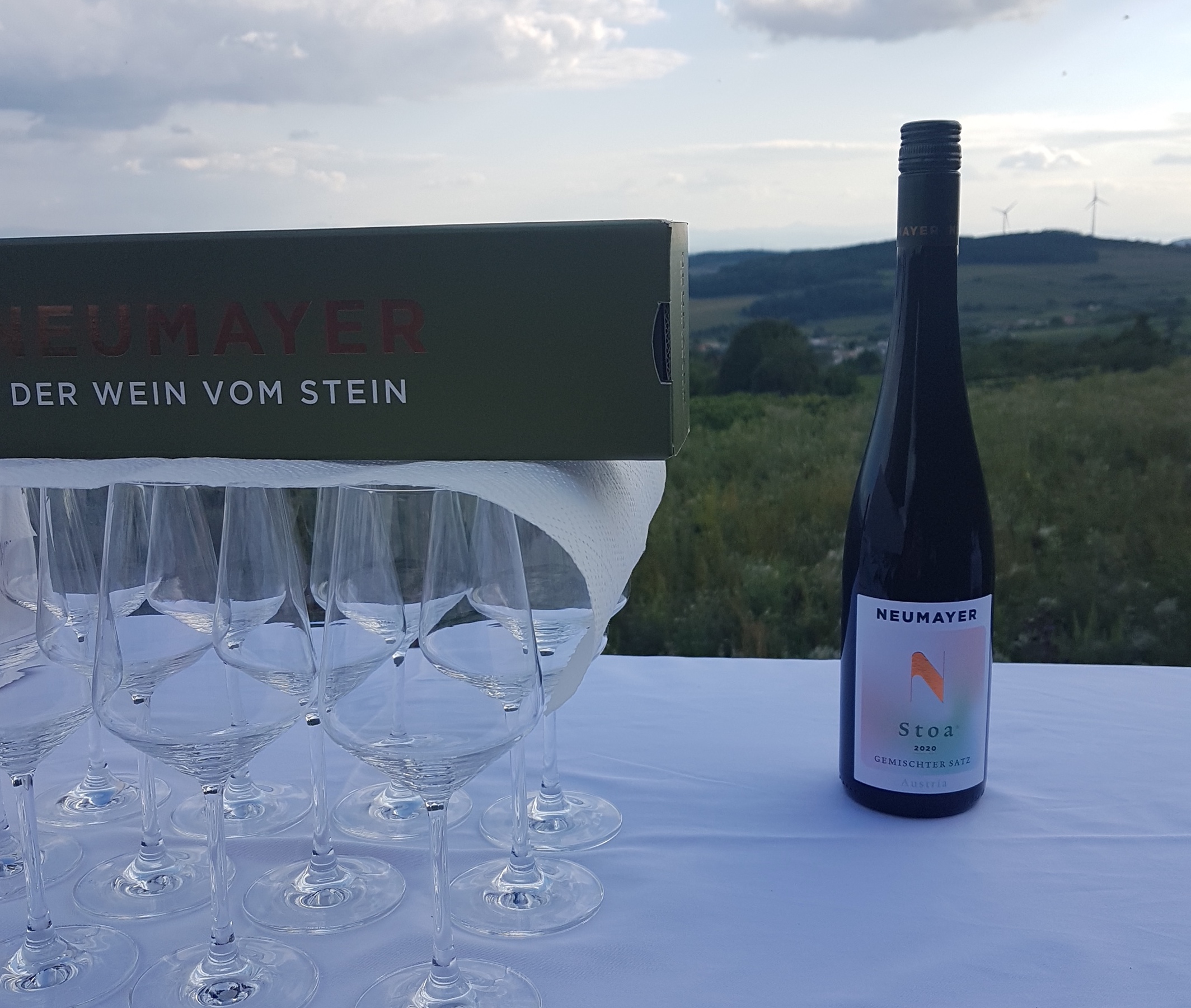 Traisental with wine
Markus spins interesting stories about the herbs we come across, for example Mugwort, which is used to keep your strength up, especially in your feet, indeed the Romans were said to put it in their sandals so they could walk for hours without getting tired. Apparently another herb, something I had never heard of, also has the magical ability of preventing your husband cheating on you if you put it under the bed, while the Königskerze (King's Candle) can light the way like a candle. We also learnt why St John's Wort has tiny holes in its leaves and that rosehips have ten times as much Vitamin C as a lemon.
A picturesque wine region that has not become a monoculture like many, Traisental and its rolling hills boast plenty of other crops and forest, but alas also birds who like to eat the juicy Riesling and Grüner Veltliner, hence the nets we come across in many places, which also protect against ever more frequent hail, and other animals who would like to feast on the grapes.
Forest gardens – nature's pantry
We also learn about the phenomenon of forest gardens, which combine numerous plants to improve soil fertility and create a local microclimate, encouraging the propagation of various crops with minimal work and machine effort. Our first sighting of one was some beautiful ripe tomatoes spotted growing on the other side of a fence in the middle of the vines and forest. We then headed into the clearing and heard about the efforts of Reinhard Engelhart and family to create such forest gardens. Their first is now 20 years old and was created as a sea buckthorn culture, but they also have walnuts and elderberries there, while it is a refuge for numerous wild animals, insects and birds. In their herb garden in Pletzengraben, they have hundreds of types of grasses, herbs, wild vegetables and bushes as well as a wildflower meadow mowed only once in spring, also encouraging a wide variety of insects and birds. They were also the first to plant green asparagus, loved by the English, rather than the white version so beloved in the German-speaking world – and were told they were mad. I believe we were visiting the 'snack garden' or Naschgarten, which was misheard by many of us as 'snake garden', resulting in some hilarity, but it is so called, snack not snake, as they predominantly cultivate edible plants. Forest gardens can also be small and even on your own balcony – plants have to be of different heights, but of course, you can then miss out the tree level!
Grüner Veltliner, Riesling and much more
Well, if this seeming paradise of forests, vines and gardens has piqued your interest, I should tell you something about the wines too. Of course, like its neighbours, the focus is on Grüner Veltliner and Riesling (60% and 6% respectively), but you can also find wines outside the DAC regulations such as Muskateller and Sauvignon Blanc, Sankt Laurent Pinot Noir, Blauer Portugieser and Zweigelt.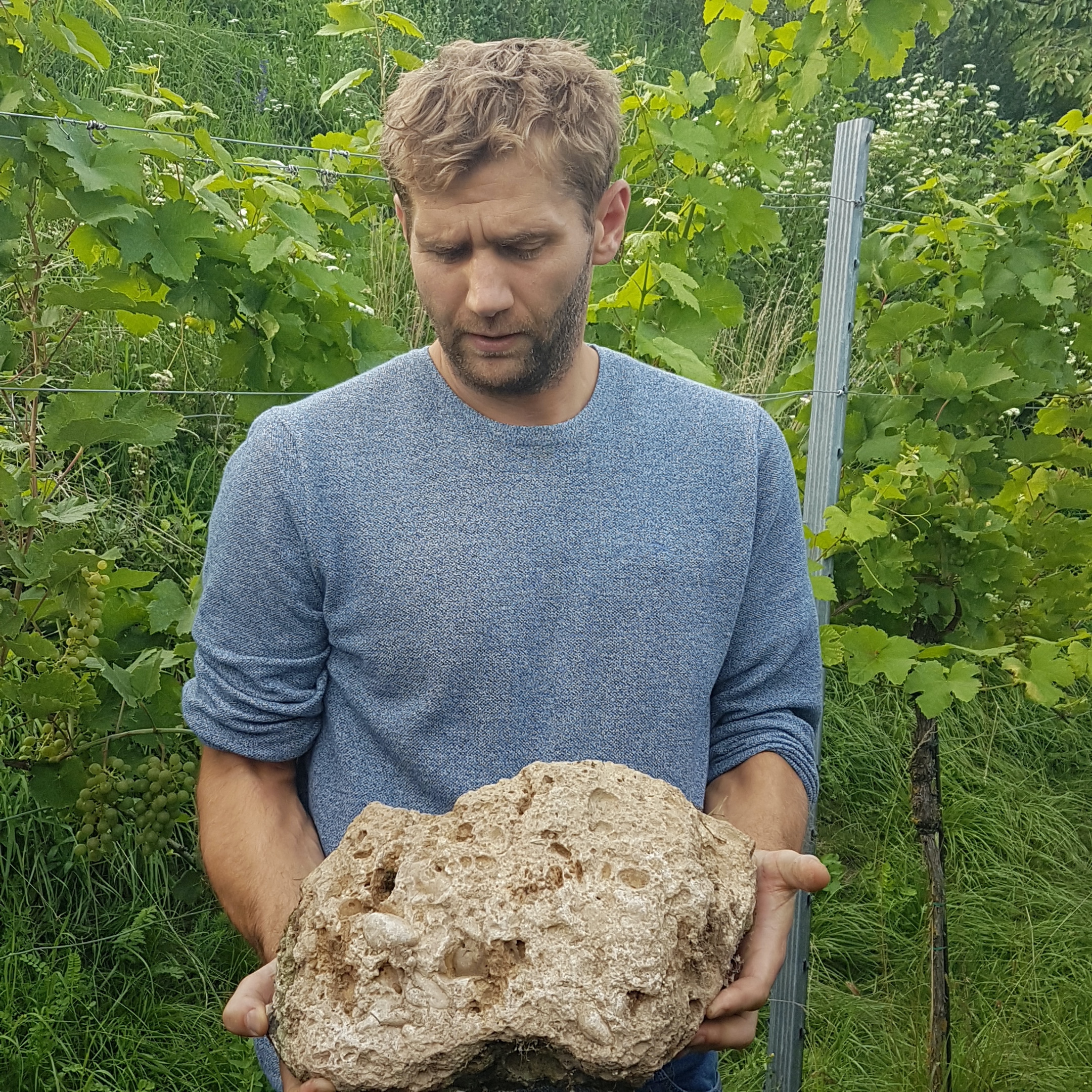 Markus Huber with rock
Like on all our previous vineyard hikes, we ended up at a winery or at least somewhere to taste wines. In this case, we strolled down to the village of Reichersdorf, past the small hut where a local sentinel once stood guard to make sure nobody picked the grapes before the official harvest start date, and on to Weingut Markus Huber where we tried older vintages from his winery as well as from Weingut Tom Dockner and Weingut Neumayer. These three wineries are considered the top estates in the region. Tom Dockner have some of the highest vineyards in the region, rising to 400m above sea level. Their top Grüners come from the Pletzengraber vineyard in Inzersdorf, while their best Rieslings from the limestone soils of the amusingly named Parapluiberg. Markus Huber's best Rieslings are from the Berg vineyard and the Grüner from Alte Seltzen. Neumayer boast a range of blends called Wein vom Stein – as its name suggests, these wines come from sites that share very stony soils - while IKON is a selection from the best parcels.
So, head south of the Danube at Krems and discover the idyllic historic wine villages of Statzendorf, Unterwölbling, Oberwölsbling, Nussdorf, Getzersdorf, Inzersdorf, Stollhofen, Fraundorf and Gemeinlebarn and their cellar rows: the best one can be found between Sitzenberg-Reidling and Traismauer, where the Ahrenberg and Eichberg 18th and 19th-century Kellergassen form the longest lane of their kind in Lower Austria. Or wander through the vineyards like we did, discovering wild herbs, forest gardens and beautiful forests and finishing off with some refreshing Grüner in traditional tavern, a Buschenschank, or meeting one of the friendly Traisental winemakers.
Our vineyard walk was part of the ÖTW Single Vineyard Summit. Many thanks to them and to the Traisental producers.