Cellars carved into the deep loess have characterised the lanes around the village of Fels am Wagram since the 1800s. Following World War II, many of them moved their winemaking operations to the neighbouring villages for infrastructural reasons, and nowadays just 170 remain, only ten of which are operational. Strolling along the Hammergraben, a 'cellar ditch' etched deep into the loess, it's eerily silent and hard to conjure up the hustle and bustle of bygone times. The Hammergraben is one of seven deeply eroded ditches with solid loess walls of up to ten metres high, lying between Fels and Gösing am Wagram, that are home to picturesque cellar rows.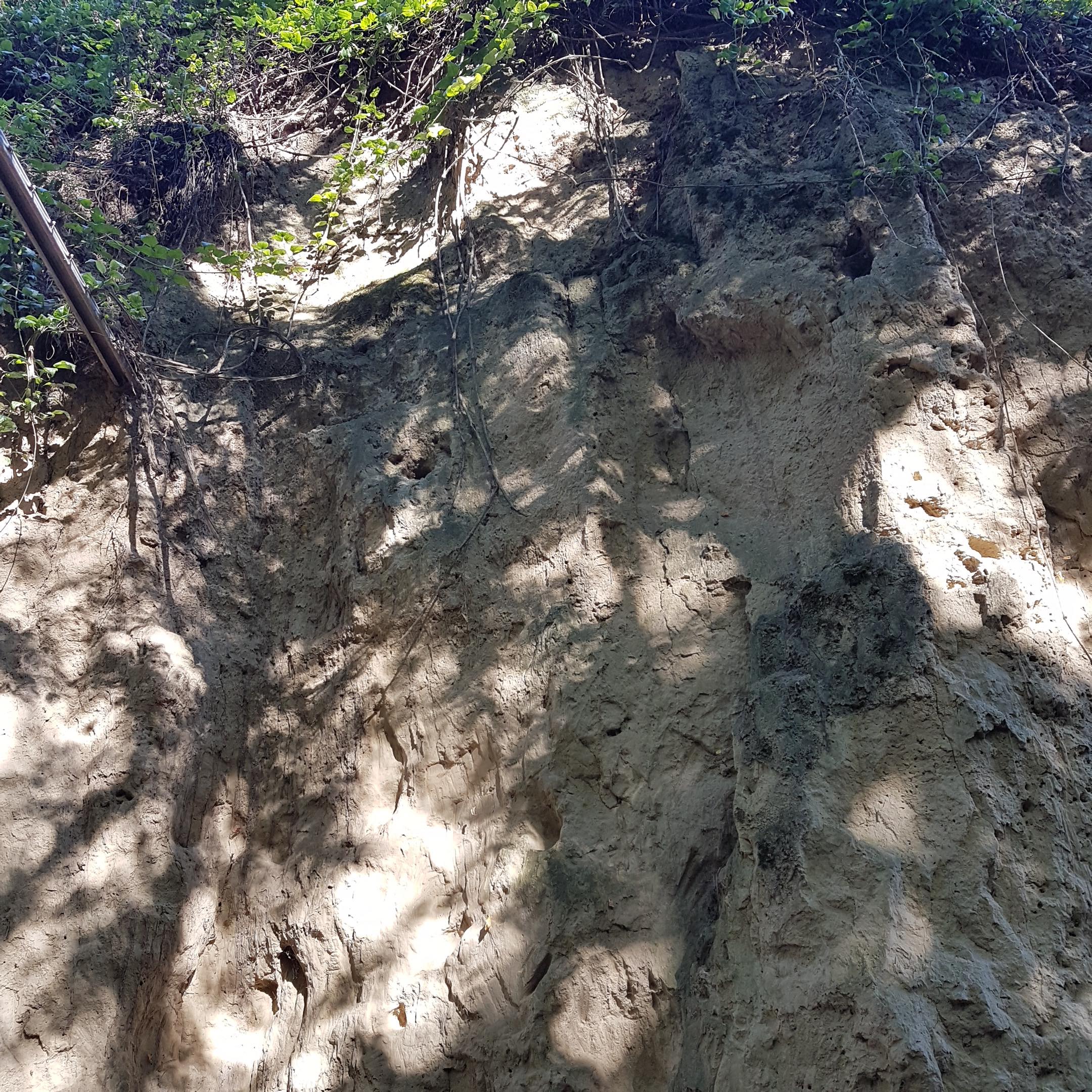 Loess wall (photo: Sue Tolson)
We are in the heart of the Wagram proper, a plateau of deep, mineral and fossil-rich loess, up to 20 metres thick, formed during the Ice Age north of the river Danube and running parallel to it for around 25 km. This thick, well-drained loess, ideal for producing spicy Grüner Veltliner, accumulated over a base rock of crystalline rocks, silty-clayey and sandy marine deposits as well as glacial terrace gravel. As the loess walls shrink in height and are peppered only with small wooden constructions amongst the diverse flora, we emerge into the vineyards and steadily climb towards a viewpoint near the top of the hill with views over the sloping plateau to the Danube below.
The 2,700 hectares or so of vineyards in the Wagram region extend over both sides of the Danube, with the northern section comprised of an old erosional steppe of the Danube course, which now lies further south than in the past, having cut down 350 metres into its former flood plains over ten million years. Its name derives from 'Wogenrain', meaning shore, although the region was known as Donauland until 2007. Viticulture has been practiced in the area since the 1400s and nowadays vines are planted horizontal to the slope to help prevent further erosion. The Danube basin is still relatively wide here, so the region is strongly affected by the warm air currents from the Pannonian Plain, unlike Wachau, lying only 22km to the west where the river basin narrows.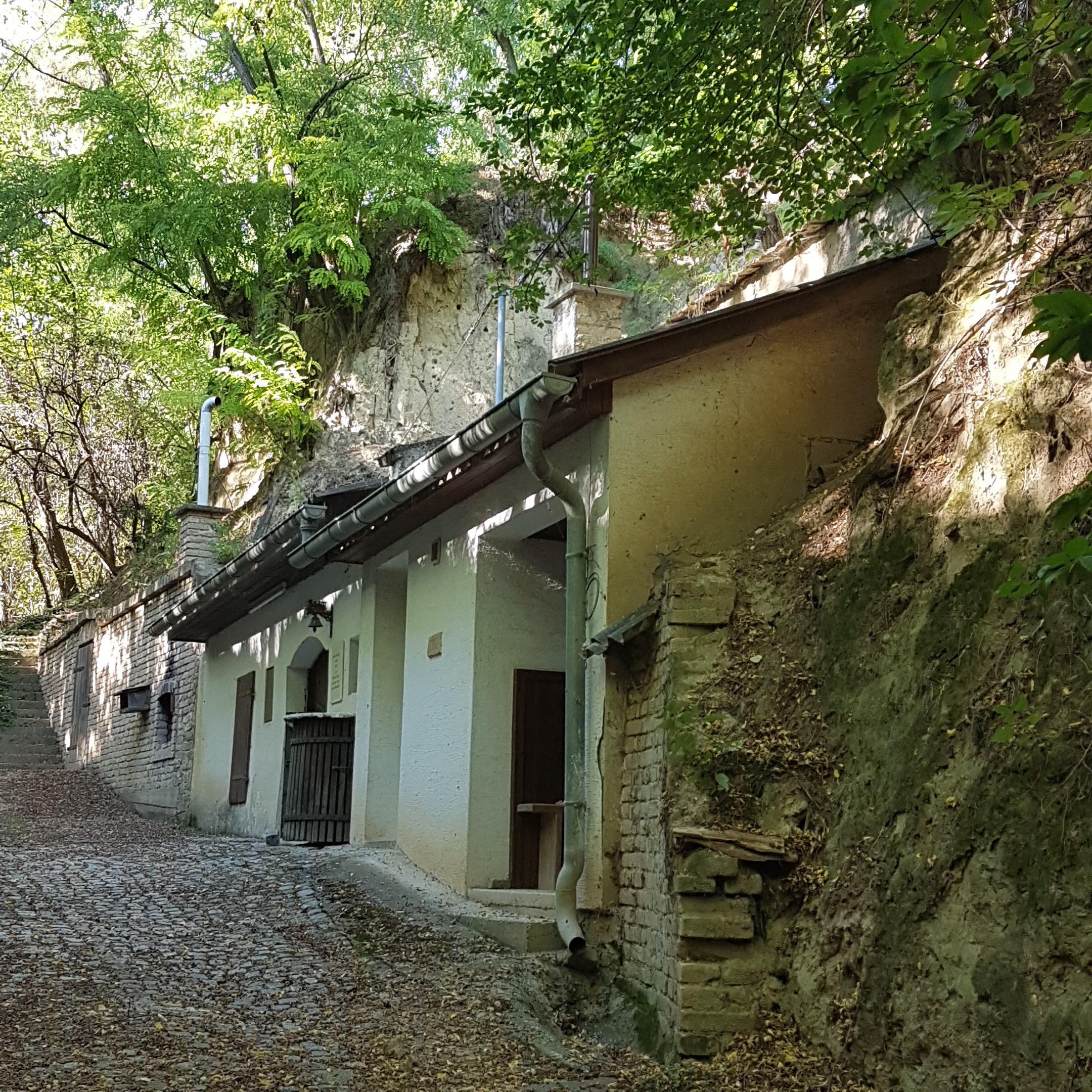 Photo: Sue Tolson
Wagram, like its neighbours along the Danube, is primarily known for its Grüner Veltliner and Riesling, which are eligible for inclusion in the Association of Austrian Traditional Wineries' single vineyard categorisation. However, a range of other varieties are grown there too, such as Gelber Muskateller, Zweigelt, Pinot Blanc and Pinot Noir.
We are now in the Brunnthal, one of Wagram's single vineyard sites. We can see the Alps to the south, the chalky eastern end of the Alps, we are informed, and Vienna lies just 40km to the east. We taste an aromatic Gelber Muskateller and Riesling pet nat, a crisp blanc de noir and, of course, a spicy Grüner Veltliner as we take in the views. Talk turns to another variety, Roter Veltliner, which is a particular speciality of the Wagram. Unrelated to its more famous green namesake, Grüner Veltliner, it boasts Rotgipfler and Neuberger amongst its descendants, but is only sporadically planted in other Danube regions as well as in Slovakia and Hungary. Like Pinot Gris, it has berries that turn red as they ripen, hence its name. However, it actually produces a white wine that's tangy and herbal with soft acidity and generally low alcohol with notes of white blossom and bitter almonds, which develops a nutty character as it ages.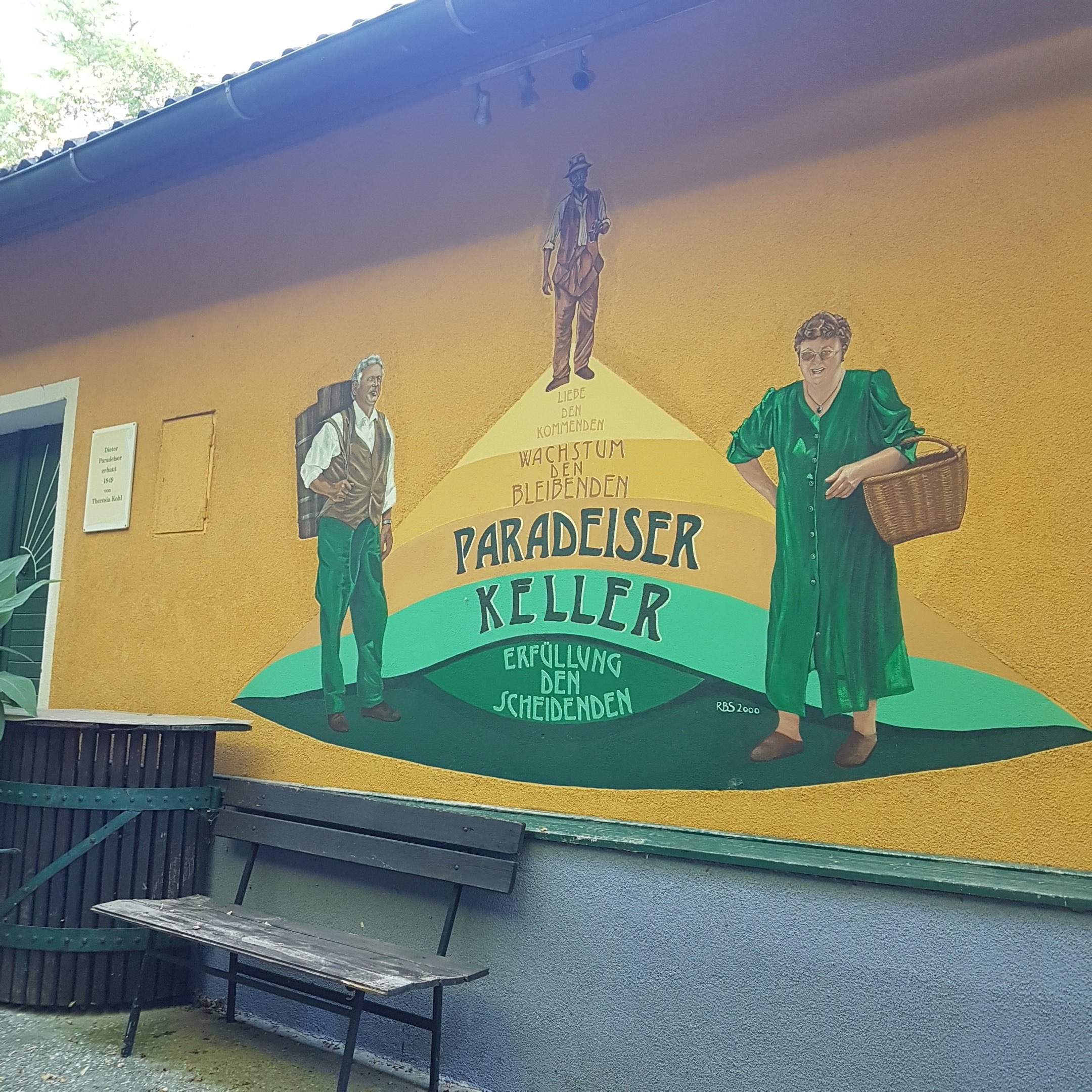 Photo: Sue Tolson
Our three hosts, members of the Association of Austrian Traditional Wineries, have a treat in store for us, so we continue our way up through the vineyards and along the hedge-lined lanes to Gösing, to the Panoramaheuriger run by the Güntschl family where there are, as its name suggests, panoramic views over towards Stift Göttweig and Tullnerfeld. However, this is not in itself the treat, nor is the hearty heuriger fare laid on by the family. The Fritsch, Leth and Ott wineries demonstrate the quality and ageing ability of their single-vineyard Grüner Veltliners with an outstanding vertical tasting.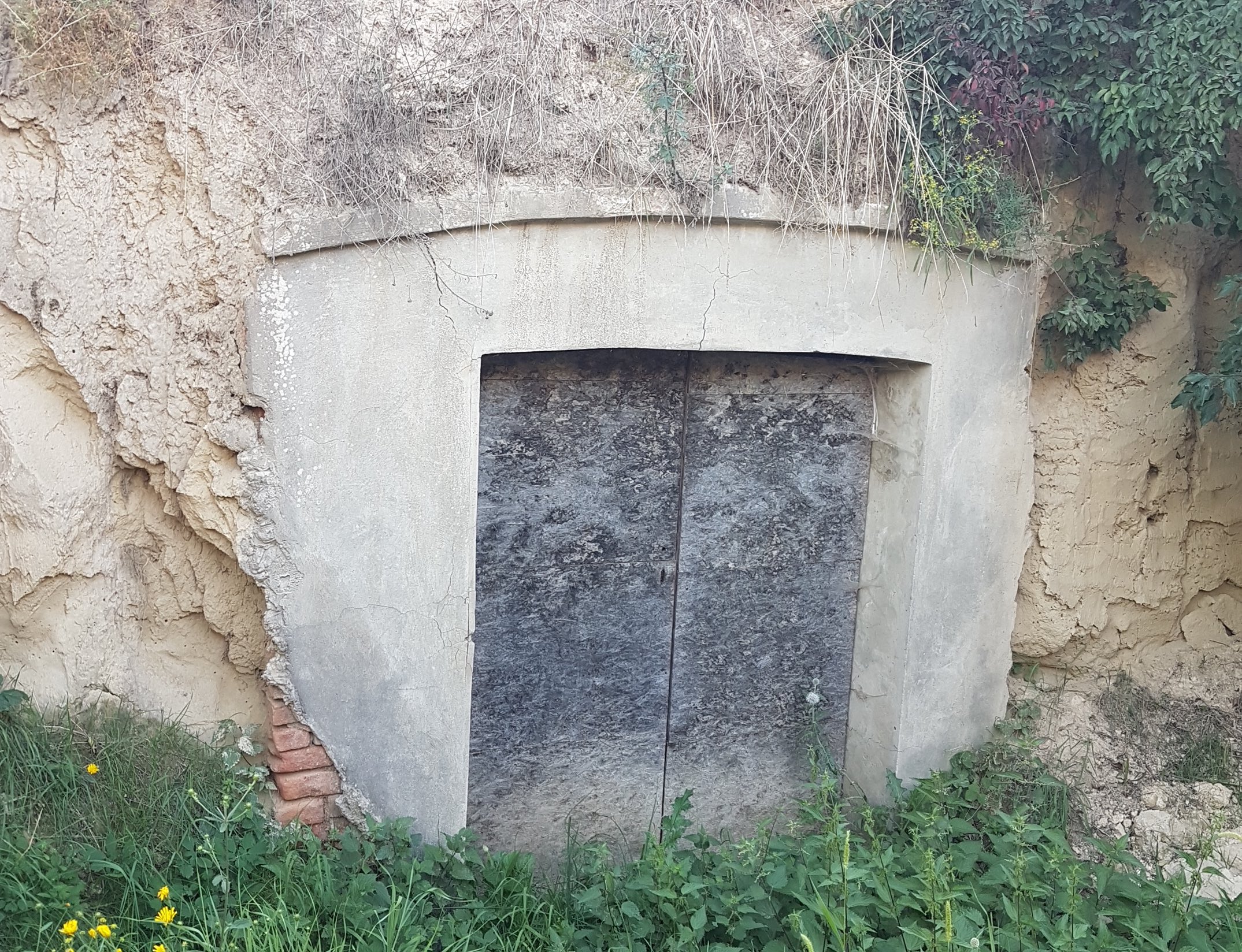 Photo: Sue Tolson
Karl Fritsch, a biodynamic producer, and member of the Respekt group, presents the Erste Lage Ried Schlossberg – their best vineyard, planted directly behind the winery - Grüner Veltliner from 55-65-year-old vines on deep loess, with wines going back to 2007. The 2008 was a buttery, textured concoction of spiced dried fruit and caramel, while the 2007 still boasted remarkably fresh acidity, lovely dried stone fruit and saline finish.
Franz Leth is the viticulturalist of the family-run business in Fels am Wagram, while his son, third-generation Franz, is the winemaker. We tasted their sleek, elegant Grüner from Erste Lage Ried Scheiben, one of their oldest vineyards on deep loess, going back to 2007. Their 2007 was harvested quite late, as it was a cool vintage, and was still extremely bright, textured and incredibly long. They also have an experimental vineyard boasting 250 nearly extinct, ancient varieties from Austria, Italy, Hungary, Germany and the Czech Republic. The project is in cooperation with the wine school of Klosterneuburg (the historic wine village and estate and the largest privately owned winery in Austria), south of the Danube. Wagram is still outside the DAC system, so Franz senior points out that they need to wait until Wagram is granted DAC status before the Roter Veltliner, their other flagship wine, is also entitled to Erste Lage status.
Bernhard Ott's Erste Lage Rosenberg vineyard is the heart and soul of his winery, with vines planted in 1995 and 2009 on a 20-metre-thick layer of, you guessed it, loess. He has also been biodynamic since 2006 and Grüner is his flagship variety, with 95% of his 50 hectares planted to the variety. He takes us back a bit further to 2005 with a beautifully crisp yet layered wine which still boasted plenty of fresh fruit along with the dried.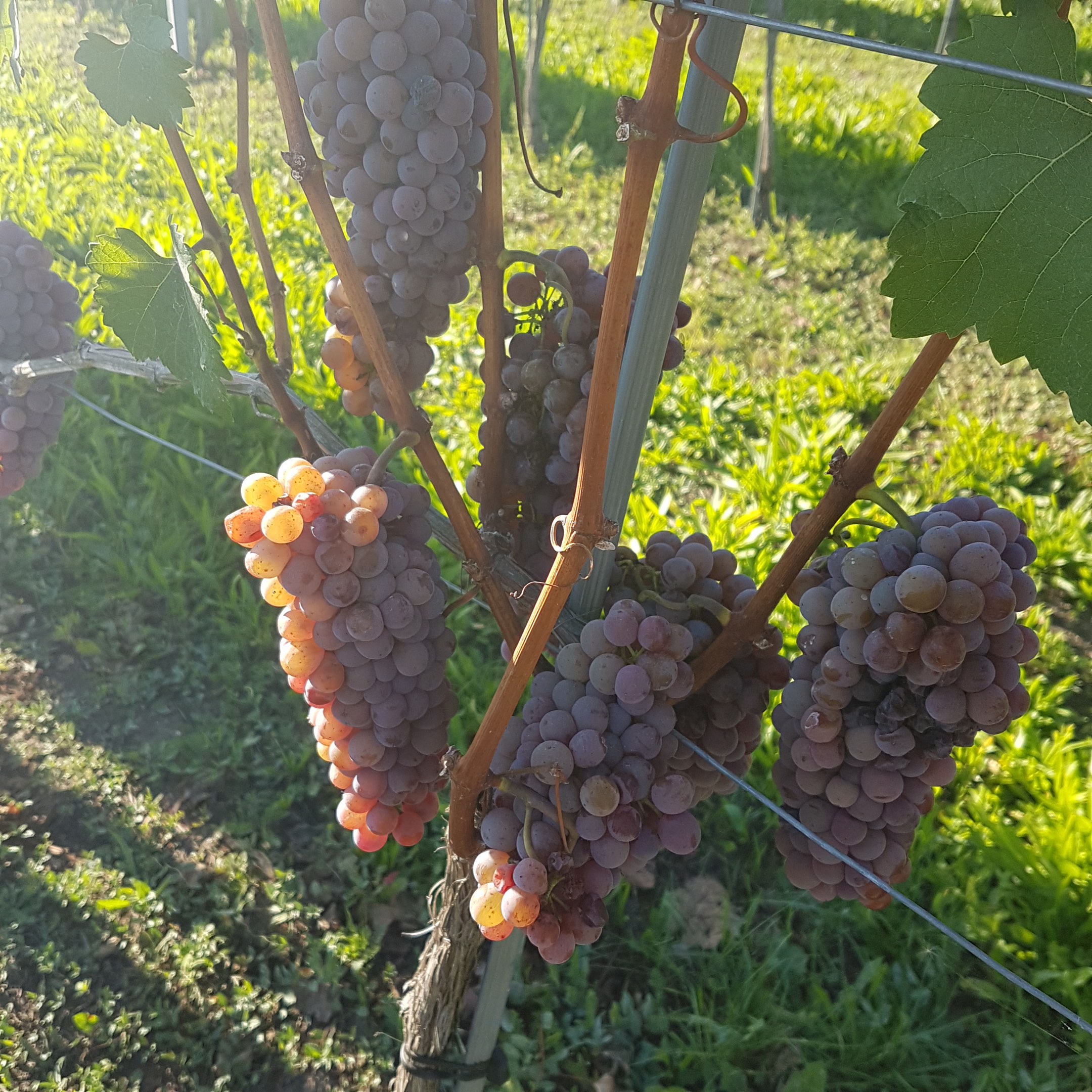 Photo: Sue Tolson
We visited Wagram in conjunction with the silent tasting programme of the Association of Austrian Traditional Wineries. So many thanks to both them and to Wine&Partners for an eye-opening visit!