The club features eight different wines: Wine of the Year; Unconventional Wine; Classic White and Classic Red; Modern White and Modern Red; a sparkling wine; and the bag-in-box wine. In the case of the bag-in-box, the desingners played off the idea of a wine that – in the words of its producers – is straightforward and friendly, drinkable, versatile, and robust. A wine with values, ideal for tapas or an al fresco party. A red to have fun with, to smell and to drink.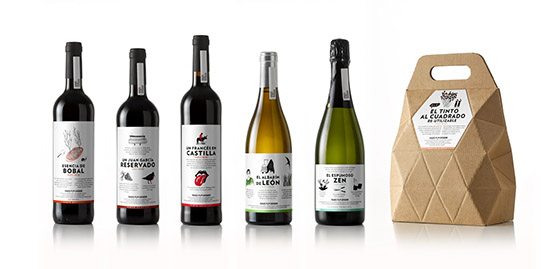 Choosing this wine also translates to support for a winery that works with the intellectually disabled, relying on these professionals to take care of the shipping and handling at its warehouse. As such, this a socially responsible product. Viajes de Un Catador makes it clear that it wants to support these types of workers whenever possible, as well as other projects to combat social exclusion, or help people and winemakers revive vineyards in challenging regions.
Taking inspiration from this festive spirit and the fact that its bag-in-box sales format makes it ideal for informal events, the designers decided to emphasize the wine's playful aspect, its portability, and its presentation to come up with the most functional and innovative packaging possible.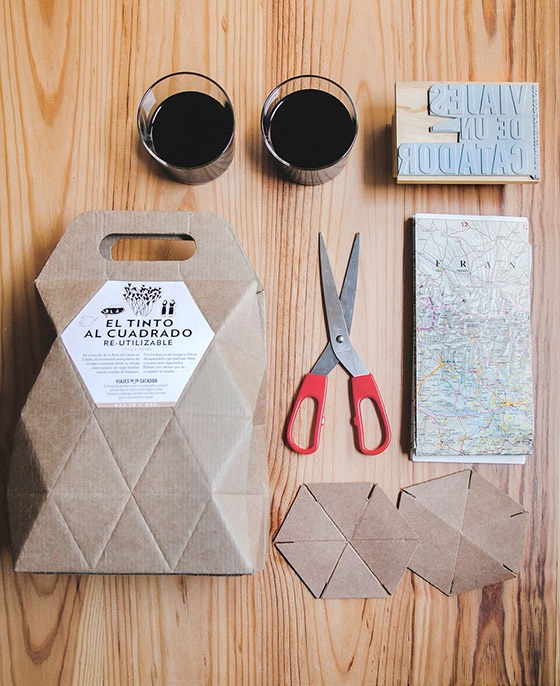 Wine selection and the nose for a good wine are the responsibilities of Maite Corsín, wine taster, journalist and winery marketing adviser. For years she has been trying to find a way to get "word-of-mouth" wines made from local varietals to the consumer–wines that are drinkable and reasonably priced (€12 maximum)–and change buying wine into an uncomplicated experience, exposing the virtues of each wine inside and outside of the bottle without a lot of technical jargon.
The studio is made up of three partners: Àlex Jiménez, industrial designer and engineer, Jon Marín, industrial ecologist, and Bernat Faura, materials engineer and industrial design engineer. The label design was inspired by the spirit of discovery. Through illustrations, the labels show the things Maite Corsín encountered in her travels through the regions where these wines are made, showing the local people, animals and plant life.
We all like to know where the products we consume come from, and nothing gives a better picture of a place than its inhabitants and surroundings.
The studio also presented the possibility of a second use, including instructions in the package so that the cardboard container could be used as a construction toy with hexagonal pieces. They wanted packaging that was well-rounded. It needed to stand out from the crowd without neglecting functionality, and the design team also wanted it to be environmentally-friendly, avoiding the use of plastic bags and lengthening the useful life of the cardboard packaging as much as possible.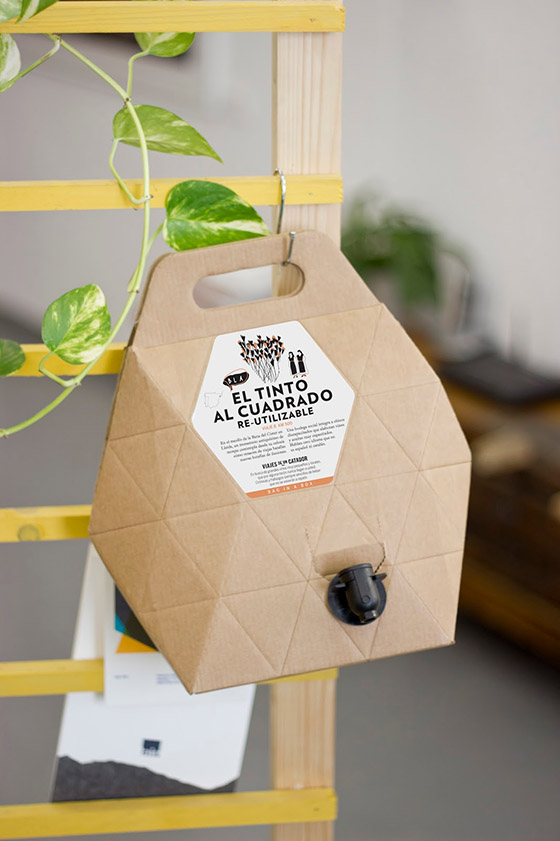 Designed by Nutcreatives