There is a legend among Tokaj winemakers I heard years ago maybe in Paulay Winery in a cold November evening. We were discussing how difficult it was to find really good food in Tokaj when Péter, the viticulturist said:
If you want to eat really good fish, all you have to do is go to Timár by the Tisza.
That time that was all there was to it, though the suggestion was recorded for the past. Later on László Szilágyi (Gizella Cellar), Zoltán Demeter and István Balassa also mentioned Timár, last summer it was my friends who do kayak and talked about the place and this spring it was (Hungary's best at spin fishing) Viktor Gégény. So we were left with no choice but to set off and go to Timár on a cool March day.
It is not far from Tokaj, you just have to drive across the Tisza (as if going to Nyíregyháza, the nearest big town) and turn left in the first village (Rakamaz) and the next village is Timár. The fish buffet is not difficult to find either: get to the village centre where the road takes a sharp right, go straight ahead (in Szabadság Street) past the Greek Catholic church and turn left at the first street (Bercsényi) and drive all the way down to the Tisza. There, on the right hand side you can find the buffet.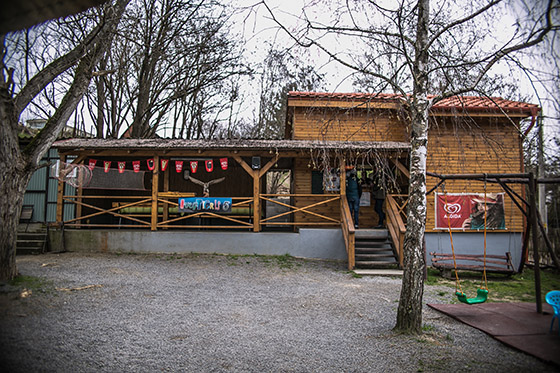 Yes, it is a buffet indeed, not a restaurant, not a fast food outlet but a simple buffet on the riverbank with a few benches, tables and a terrace stretching a bit over the Tisza (called Üvegtigris – "Glass Tiger" – 5 referring to a Hungarian cult film bearing the same title). Behind the bar we can find Imre Sztankovics Jr. who took over the business after the sudden and tragic death of his father. His family has been living in the village for generations and they – including Imre, too – deal with fishing (and not angling). This is how they get fresh fish in the buffet every morning and on the table before the hungry guests as they only fry the fish they themselves have caught in the morning. The more guests there are, the earlier they run out of fish; with fewer guests the food lasts longer but there is no way Imre would fry frozen fish for anyone.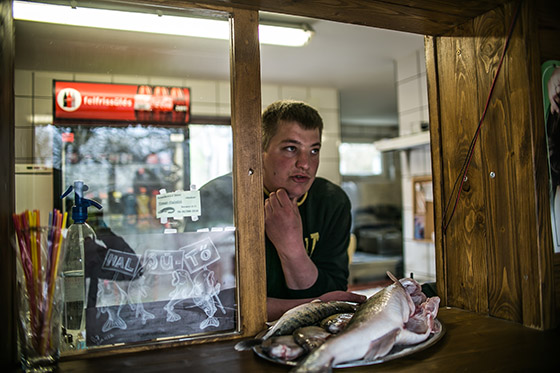 Talking of frying, the bream, crucian, carp, zander and catfish from the Tisza are fried in hot oil and served with fresh bread, French fries (not frozen either but peeled and made fresh), pickled and leavened cucumbers (this latter is a kind of fermented pickles typical of Hungary. It needs a lot of sun for the making so it is a seasonal summer dish.) If you want to have something to drink with your fish, you can choose from among the wines made by Zoltán Demeter which is no joke either and it clearly shows that star winemaker, Zoltán Demeter, who is really picky about quality, is satisfied with the fish Imre offers.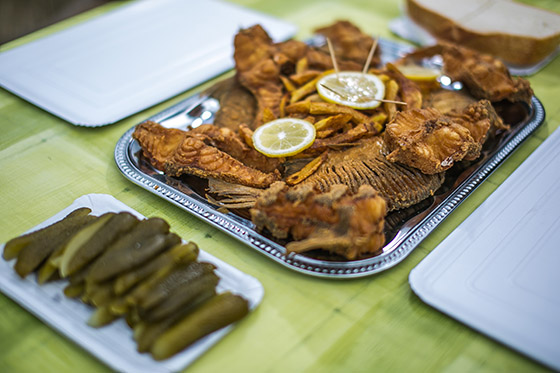 Unfortunately, the number of guests is dropping or, to be more precise, changing. 10-15 years ago thousands(!) of canoes and kayaks arrived on the Tisza every summer and people stopped for fried fish, ate and continued their trips. Now they are happy if 50 boats arrive throughout the season. However, if Tokaj winemakers do not stop praising Imre, an increasing number of wine-tourists may be expected, which would be great all the more so because it would be a shame to let the best fried fish in Hungary go to waste.
The buffet is surely open when the weather is good, but make a phone call before setting out just to be on the safe side.
---
Üvegtigris 5 aka. Tímári Halsütő
Address: Bercsényi utca, H-4466 Timár, Hungary
Phone: +36 30 388 2658