The owner of a winery, to be more precise, but let's not rush ahead here. Did you know for example that Johann Sebastian Bach composed, amongst other things, those cello solo suites which are the best known to this day? Six of them, in fact. I didn't know, but now I do, and what's more I listen to them several times a week too. And do you know who was working beside him as cellist when he wrote these pieces? You don't, do you? Christian Ferdinand Abel and Bernhardt Carl Lienicke. Note those two names, because other than you, not many people read about them, nor about the year 1717 when Bach moved to Köthen.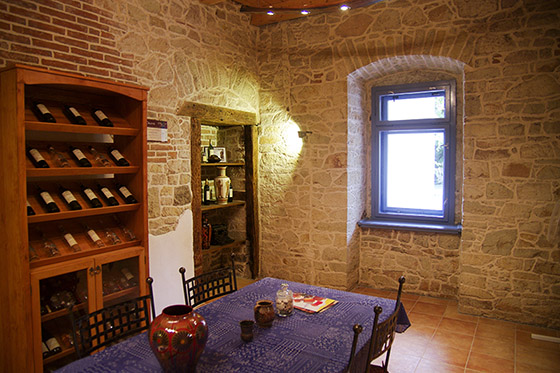 Let's fast forward a bit, we'll still have a chance to converse about music. How is this going to turn into a worthwhile wine article? Let's leave Germany to our imagination and fly over to Hungary's eastern fringe, to the heart of the Tokaj wine region, to Mád. Working here, amongst others, is István Szepsy, who is not only the biggest name in the wine region, but also in the whole world, when it comes to natural sweet wines. Here you can find the Royal Tokaji winery, with a bronze statue of Hugh Johnson in its garden and this is where the Mád Circle association was founded. Browsing through the names of the members, Tokaj Classic strikes me as somewhat unknown to Hungarian eyes. That sounds strange, doesn't it? A winery whose wines are stocked by Harrod's in London and a Budapest wine writer who has never tasted their wines. I'll explain in a moment, but first let's taste some dry wine and just briefly mention that these don't constitute the main profile of the winery.
Sárgamuskotály 2015 I 79-81 points
Fresh, crisp acidity, lightly tuned with green reflexes. The finish is a little short with a bit of bitterness encroaching.
Furmint Király 2015 I 85-86 points
Aromas of green apple. Elegant structure with tight acidity and flavours of citrus fruit, a little mint and some peach stone with salty flavours intensifying on the finish.
Furmint Betsek 2015 I 86-87 points
Green apple, medlar and herbs on the nose. Full-bodied with rounded acidity and an almost 'greasy' feeling, which I've noticed in quite a few wines from the Betsek vineyard. Flavours of ripe apple, wet stone and a lovely range of spices.
As András Bruhács says himself, his first visit to Mád was in 1993. On the guidance of well-wishers, he found István Szepsy out and about in his vines, who beckoned him in. They tasted the wines and from that moment on there was no question about it, András wanted to buy some vineyard land. A year later, he was joined by his brother and two German friends, and the Tokaj Classic winery was established.
This evening at 5.30, the music school is organising its second public concert by its students. The second half comprises solo pieces. András Bruhács will play two movements from Bach's solo suite for cello… (Dunántúli Napló, February 1959)
The above quote is also about András, which, as you've probably guessed by now, is why I began the article talking about Bach's cello suites. The owner is a renowned and respected cellist, who has been involved with this all his life, which is also how he met his wife, Phyllis. At a music festival in Croatia. Later he moved to Germany, where Phyllis, a New York girl, was working for the US government. András, on the other hand, played at the Wiesbaden Opera. The family had previously owned a small vineyard in Pécs and also traded in Szekszárd wines, so that when the Soviet troops pulled out of Hungary, András visited home increasingly often. There was no question that he wanted to get involved more closely with wine again. Then along came István Szepsy and the rest is history.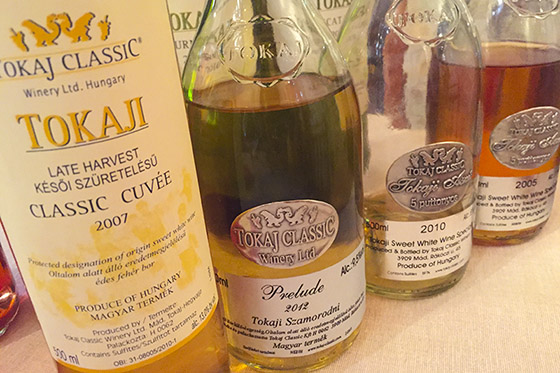 Furmint 2012 I 82-83 points
Apple and herbs on the nose. Medium body, rounded acidity with flavours of apricot, mint, apple and a little plasticine. Medium finish.
Muscat Lunel 2009 I 82-83 points
Lovely nose of quince, mandarin, orange marmalade and spices. Lively acidity and firm structure, but a little empty on the mid-palate. Citrus fruit on the finish.
A former bourgeois residence houses the centre of the estate (a banker's family supposedly also lived there for a time); its renovation was completed a year and a half ago. A winery has been constructed behind it, so another gem has been added to the Mád's main street. The seven hectares of land are in Mád's best-known vineyards; Betsek and Király have been considered premier cru vineyards for centuries, moreover, most of the vines are between forty and sixty years old, which is certainly no disadvantage if you're serious about wine-making. The chief winemaker cum estate director, Imre Galambosi, was once the town's mayor, who, apparently, also understands about wine, and pretty comprehensively too. We've already talked about classical music, so how about a bit of maths? What does the following sequence bring to mind: 91, 93, 93, 93, 94? For me, the points awarded by Wine Spectator to Tokaj Classic's Aszús!
Alongside such appraisals, it should be no surprise either that they basically don't sell their wines in Hungary, much rather in England, Portugal, Norway, Denmark, Germany, Holland, Canada, the USA, Belgium, China or Brazil. The trade structure also plays an important role, at least in the Tokaj wine region. If possible they sell one wine to one market, so that they don't have to replace the wine too frequently because of the vintage. Thus, the 1999 and 2010 ended up at Harrod's, the 2005 went to Finland and the 2002 was Portugal's.
They also have their own opinion about Szamorodni, based on market research. Szamarodni will clearly occupy the sweet blend position at Tokaj Classic, mainly due to the shape of the bottle. The Aszú bottle can be used for Szamorodni, but not for late harvest wines. The market doesn't like to have to ask about it, so if they need to ask, then they'd rather look for something else.
Szamorodni sweet 2012 I 85-86 points
Reserved nose of apple sauce and lemon marmalade. A little flabby, the balance tends towards sugar. Apple sauce on the palate too, with some cinnamon and brittle. Smooth and very drinkable, with a long finish.
Tokaji Aszú 5p 2010 I 89-91 points
Plenty of apricot and oriental spice on the nose. Tight and fresh with vibrant acidity, lots of citrus fruit and a long finish.
Tokaji Aszú 5p 2005 I 88-90 points
Intense, rich aroma of Christmas spices and honey cake. Full body, lively acidity with flavours of apricot, rosehip, cloves, autumn leaves, turmeric, citrus, mint and peach. Long finish.
Indeed, did you know how close and at the same time completely coincidental and meaningless the relationship between the cello and Tokaji Aszú is? The oldest surviving cello was crafted by Andrea Amati in Cremona around 1572, whilst the currently earliest known mention of Tokaji Aszú dates from 1571 in a Garai family letter, in which they are distributing their inherited wealth. Either András Bruhács is consciously attracted to everything which happened in the 1570s, then I'd suggest that he starts a collection of Caravaggio paintings, or just simply Tokaji wine and classical music, which includes the cello, make cracking partners.
Tokaji Aszú 6p 2002 I 92-93 points
Mature nose of hazelnut, gum, walnut, cloves and apricot. Full body, rounded acidity, with the nose reflected on the palate, along with some dates. Chewable, dense texture with tannins reminiscent of tea on the finish. Super!
Tokaji Aszú 6p 1999 I 94-95 points
Restrained, elegant and complex nose with all the characteristics of an older Aszú. Perfectly balanced on the palate, with wonderful acidity and an elegant composition. Aromas and flavours of dried fruit, citrus, plenty of apricot and of course a little pipe tobacco and a pinch of vanilla contributed by its maturity. An almost endless finish.
Aszú Eszencia 2006 I 94-95 points
This category no longer exists. For a long time, it was erroneously called '7 puttonyos Aszú', as that's where those wines whose sugar content exceeded a 6p Aszú were categories. This wine contains 240g/l of sugar.
Almost reminiscent of pure Eszencia with its concentrated nose of apricot, which mixes fresh apricot with apricot jam. Full-bodied, dense and concentrated, with vibrant acidity. An impressive wine, extremely intense. Impossible to resist.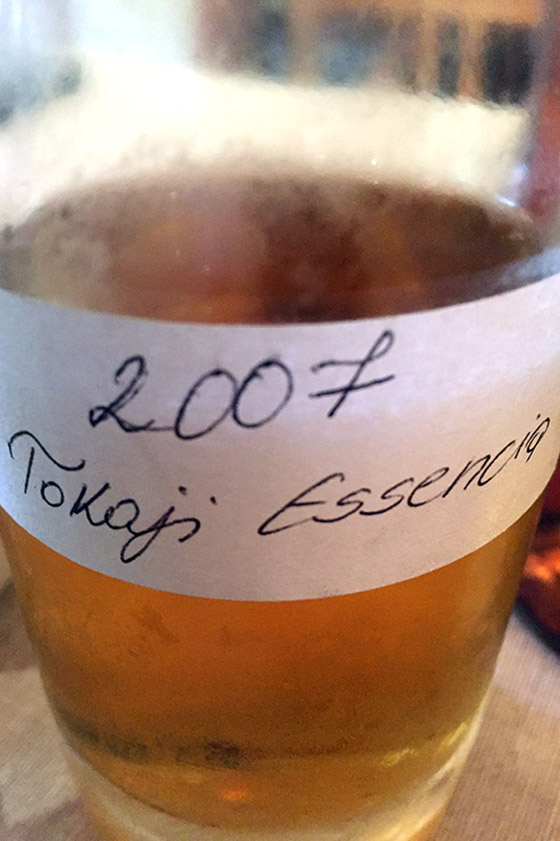 Eszencia 2007 I 97 points
Just a little analysis to show what an average pure Eszencia means in Tokaj. 3% alcohol, 455g/l sugar, 14 acidity and 99 extract.
Concentrated, resounding nose with lots of apricot and jam. The palate is like honey, thick and full-bodied, silky and infinite. Flavours of apricot, as well as citrus fruit and peach, orange zest and oriental spice. Elegant and endless!
If you head this way, it's worth calling in on Tokaj Classic and its estate centre now restored to its formal glory, or giving them a quick call or an email beforehand. Of course, only if you want to taste some of the world's best sweet wines. Although are there perhaps better dry wines than theirs in the wine region? This is true, but I'd rather let András Bruhács respond to it:
Harmony is when any dissonance is dissolved somewhere. Harmony cannot exist without dissonance. Pure harmony is boring, just like C major.
And if you can also accept a final word from me, I'd like to mention that the cellar's dry wines show continuous improvement as the vintages progress, so it's also worth looking at those. However, you shouldn't forget that it was the sweet wines which have made Tokaj great over the last 500 years, since this is what makes it unique and inimitable. Classic, as András Bruhács also advertises in the name of his winery.