No stranger to Eastern European wines and one of the world's rosé gurus, Elizabeth Gabay has put all her knowledge and enthusiasm about the pink drink into a comprehensive look at rosé around the world, including a healthy dose of rosés from Central and Eastern Europe.
Sneered at by many as a sweet, girly tipple, Gabay shows us there is far more to rosé than initially meets the eye and plenty to interest the curious wine drinker. She gives us an insight into the history of rosé and discussed how it ended up as the 'ugly duckling' or simply a flippant, forgettable drink to be sipped by the pool. She also shows us it is increasingly being recognised a serious wine and discusses some of the techniques being used to change the tarnished image of rosé.
Historically, rosé wines were not greatly valued. In the twentieth century, they generally occupied a spot in the low to mid-price range and were seen as cheap and cheerful, and often not even the latter. It only started to regain its reputation in the 1990s and 2000s, emerging from oceans of easy drinking pinks to emerge as serious rosé in a variety of styles.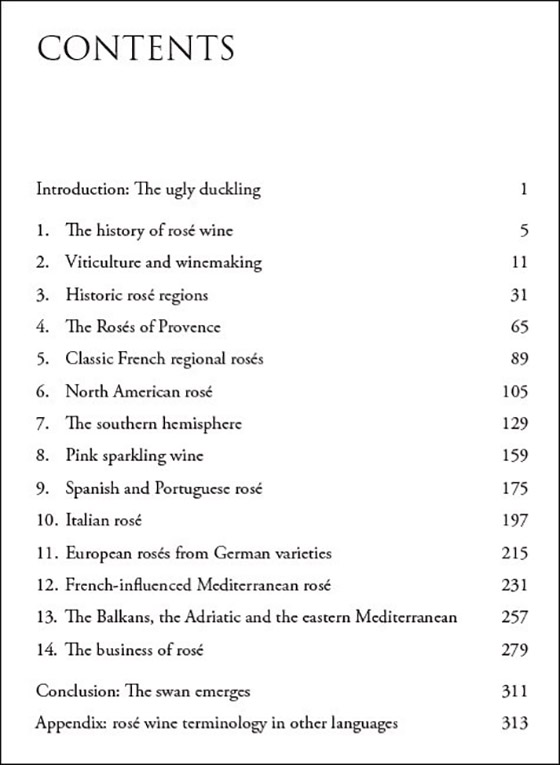 She considers the viticulture and winemaking involved in the style and expands on the simplistic view of pink wine production, noting the impact of variety and terroir on wines as well as the transfer in attitude of rosé being a by-product of red-winemaking to production specifically geared towards rosé. A fascinating whirl through history takes us through the darker clairet styles and the paler vin gris styles. We visit Tabel, Anjou, Champagne and Neuchâtel, among others. A chapter is devoted to the rosés of Provence, which have been at the forefront of the rosé revolution with its style factor, tourism and Hollywood names.
A brief overview of modern rosé styles follows with recommended producers and wines from a wide range of countries. She discusses the American boom in rosé, various fizz and the impact of wines such as Mateus Rosé and Lancers in Portugal as well as the wide palate of rosato and chiaretto in Italy. We learn that in Slovakia it's the fastest growing category of the last 15 years and that in Hungary, Dúzsi's first rosé was the result of a vat accidentally bubbling over and now 70% of his production is rosé, including some single-vineyard wines. We meet the wines of Serbia, Bulgaria and Romania, before finishing off with some thoughts on implications and issues of the growing rosé trend.