Egri Bikavér (Bull's Blood) was THE HUNGARIAN RED WINE for my grandfather who was born too late to understand and appreciate the real value of Hungarian wine regions. The wine sold with a terrible label and incredible acids was the only wine available for him in the market.
Needless to say, much has happened since and before my grandfather died he had seen the Villány Wine Region emerging and becoming popular while Egri Bikavér was slowly but surely losing its appeal. However, I have read recently that the Bikavér has been designated as Hungaricum as if this in itself would solve the problems that wines and winemakers from Eger face and that so many have been working hard and steadfast to tackle for years. I have nothing but bad news, sadly: this designation simply conceals but does not solve the real problem.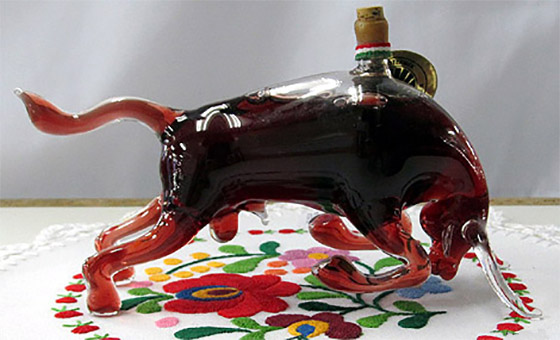 But what do I want to talk about?
Mostly that the popularity of Villány is far from being an accident. Today it may sound as a commonplace to say that the winemakers from Villány stood together and they recommended each other to tourists regardless of their disagreements, if any. They were able to attend events together and agree on issues concerning protected designations of origin. This was not a smooth procedure, no doubt, but they have succeeded despite all their differences.
Mostly that the popularity of Szekszárd is far from being an accident. The wine region managed to produce leaders, to achieve the cooperation of older and younger generations who could agree upon major issues or at least could find answers to some significant questions. Nobody in their right mind would dare to say that Szekszárd has no problems, at all but the winemakers seem to be focusing on solutions instead of complaining.
Mostly that the opportunities Eger has are unique since this wine region has a well-known brand – only Tokaji Aszú may be more well-known –, a wine which brings back memories (even if not only good ones, similarly to my grandfather), and it does mean something to everyone and we all know that this is a kind of red wine. Those who have dealt with brand building known that this is already something. What is more, the number of successful winemakers is on the rise in the Eger Wine Region with the big names producing reliable quality products at all times. The cooler climate might be a drawback compared with southern regions but this could easily be transformed into something positive as people are looking for lighter, more elegant and fruity wines, as international trends go.
The fact that winemakers are currently seizing only a part of their opportunities does not mean that this will not change in the future. Eger is a potentially first class wine region and in many parts of the world people would kill for only half of the possibilities available here. One of such great opportunities is the production areas that are suitable for basically anything and everything. We cannot say that Eger is good for only red or white wines or that no rosé, champagne or even sweet wines could be produced here. It is true that conveying these messages is difficult but not impossible as a Portuguese example shows. Our dear friends from the Iberian Peninsula appeared at major international wine trade shows presenting Portugal as the land of diversity. This was their main message saying that their country is suitable for making any kind of wine. Taking this into consideration, the name of Eger is not tarnished at all, only a small ingredient is missing still: unity. Winemakers must start operating as a community, working for and not against each other, learning to represent not only their own but the joint interest of all the people (not only winemakers) living in the region. If this happens – and I wish from the bottom of my heart that they succeed – Egri Bikavér might be THE HUNGARIAN RED WINE for me, just like for my grandfather 40 years ago. But mine will be even delicious.