Is natural the new hipster fashion, or is it really simply better? What is natural anyway? Is it the same as organic? How is biodynamic related to this? Will we all really die if there are sulphites in the wine? Has anyone actually tried these wines, or do people just write about them? We have just done so!
I'm not able to do real justice to this vinous catfight, and I have to admit that even I get lost in the rules of the natural, biodynamic and organic systems, so how must someone who simply wants to drink a good wine feel? Is it really the case that anyone who collects their waste selectively and goes shopping with a paper bag or even a cloth bag like our grannies did will definitely buy organic wine? Or that anyone with multiple food allergies and additives really seeks out natural wines? Or that anyone who puts their trust in God really keeps their gunpowder dry? Come on, no way! Life is much more complicated than that, as is wine. The point is to drink good wine, right? Whatever tastes delicious, something that you like, something which doesn't need explaining!
In light of the above, I decided to go shopping for some natural wines, and the Marlou wine bar in Budapest city centre was perfectly suited for this. It only opened last March, so people have not yet had time to discover it. However, it's a great place, both in terms of its story and appearance; it's in French ownership and run with plenty of enthusiasm. I entrusted myself with the selection of the wines, and there was even one which I chose based on its label, just as my wife would have done, but that's just what makes it authentic, meaning I wasn't influenced by expectations about its acidity, tannins and so on!
As for the wines, I don't want to over-explain, because, as I said at the beginning, if something needs to be explained, then something's not right…
Milan Nestarec - Royale with cheese I 81 points
The Czech daredevil of natural wine gave this name to a 2017 Sauvignon Blanc, adding a hipster label and explaining on his website that this wine could turn into anything. And that's no joke, he writes "careful here, she can move in any direction". Snapping off the metal beer cap (I know, crown cap), it's initially a little closed in the glass, not necessarily cheesy, but restrained. Then, as it opens, aromas of white flowers, gooseberry and apple appear on the nose. Incredibly acidic on the palate, with flavours of lemon, thyme and lemon grass. My father-in-law said that it was simply sour. Actually, he was right.
Davis vineyard - Twin pyramids I 84 points
California dry muscat, proclaims the funky label. I actually just bought it because the Tutankhamun death mask in sunglasses and the orange-gold-coloured wine encased in the clear glass were like the ugliest bling I can imagine. Well, I bought it, so…! The wine was from 2019 and, as you can imagine, had extended skin contact. The nose had some tonic bitterness, gooseberry, lemon peel, overripe orange and white flowers. Light and with plenty of acidity, serious tannins, flavours of tangerine, green tea and jasmine and a refreshing finish. The wine is as funky as its label!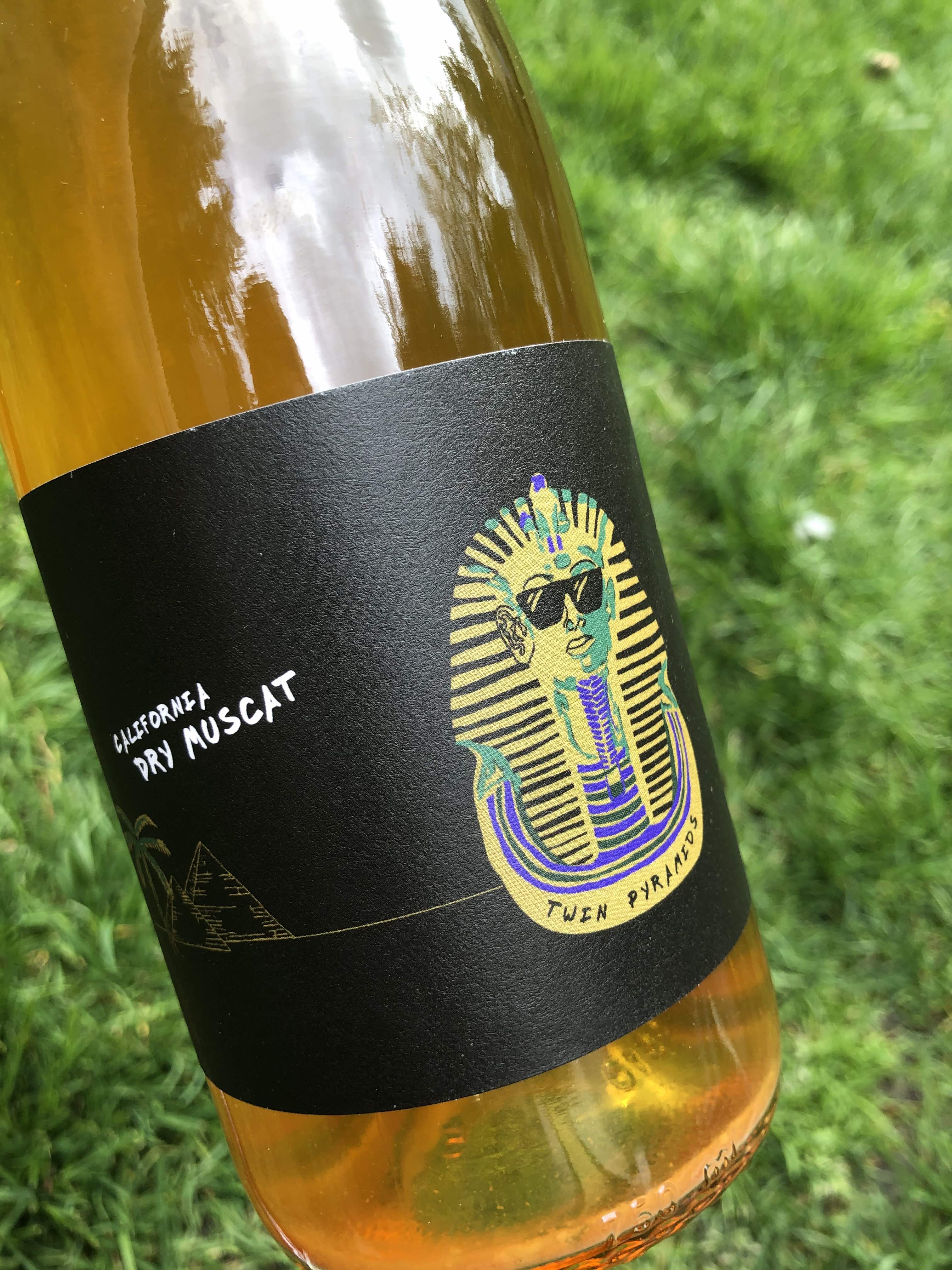 Photo: Daniel Ercsey
Réka Koncz - Óra 2019 I 88 points
The producer who brought me into the fray in the first place! Well, not the wine initially, but rather where it came from! Kaszonyi Hill is an extinct volcano on the Hungarian-Ukrainian border. I went there in 2009, 2010 and 2012, but didn't find any decent wine. This is where Annamária Koncz appeared and burst onto the natural wine scene with her wines, what's more, she comes from right here! Medium gold colour with orange reflexes. Aromas of sweet apple, spice, mandarin and hay, reminiscent of some Georgian wines. Medium-bodied on the palate with fresh acidity and flavours of herbs, hay, apple and chamomile. Very drinkable, with chewy tannins, but this is characteristic of the style.