Cover pic: Lukáš Berta (photo: Daniel Ercsey)
They are young and agile, and their wines have cool animal labels. In 2015, they also created Slovakia's first "cork free" zone, which has even received praise from New Zealand. Their crisp, lean wines cater more to Hungarian tastes, although they are among Strekov's Slovakian-born winemakers, while Lukáš is one of the organisers of the only OIV wine competition in Slovakia, the Danube Wine Challenge. Moreover, he speaks perfect Hungarian…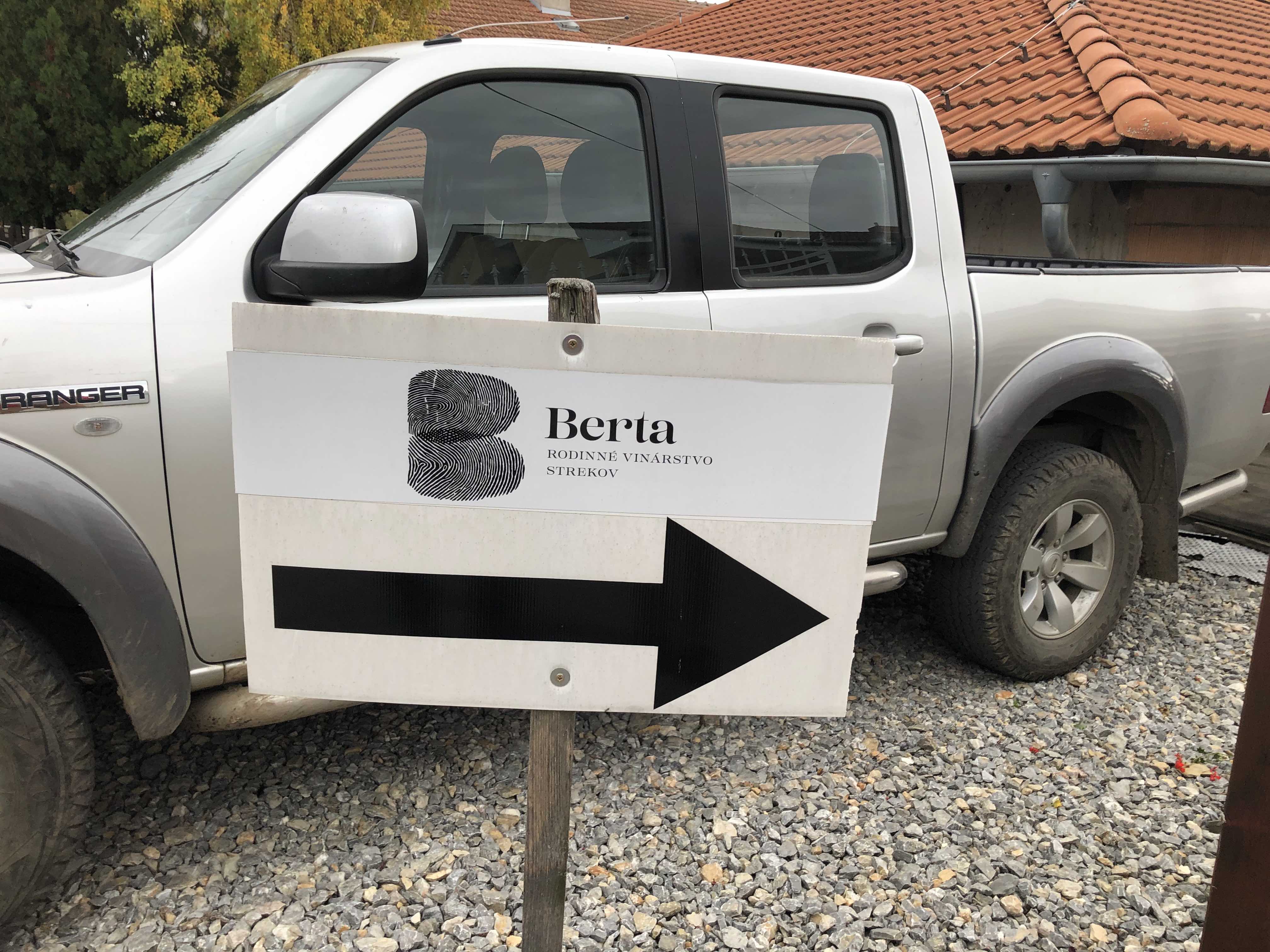 Photo: Daniel Ercsey
How exposed is a winery to the vagaries of the market? What should a Slovak winemaker who comes from a southern region from which his domestic market expects full-bodied red wines, a region where, on the other hand, the cultural milieu is Hungarian, and the Hungarian market sees Strekov as a northern region and expects crisp white wines from there? Where do you sell your wines, in Bratislava or Budapest? Even we can't get to the bottom of these questions, given that nothing is black or white in this world, the wines, however, provided some interesting answers.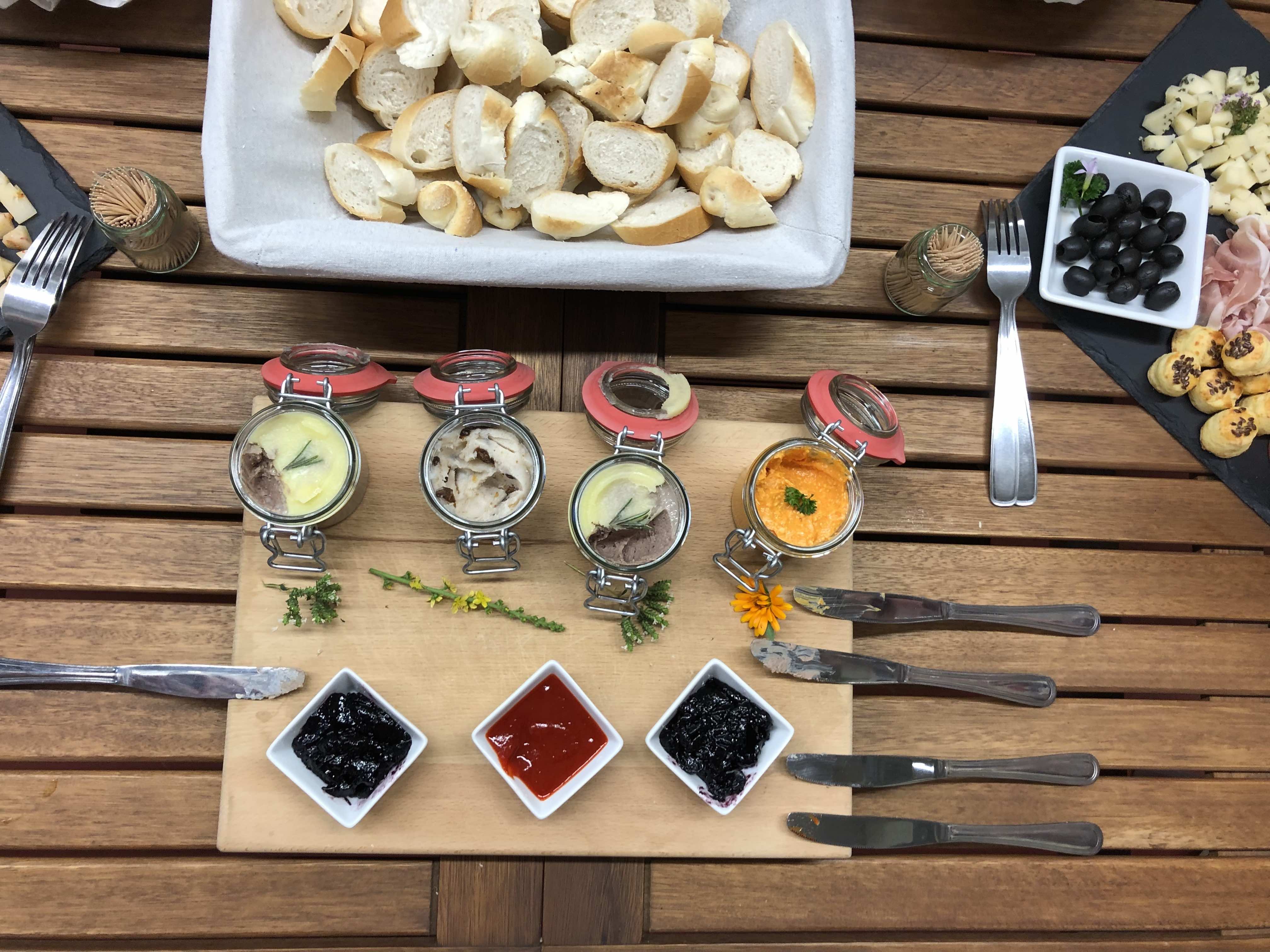 A fantastic plate of cold cuts awaited us (Photo: Daniel Ercsey)
Lukáš's great-grandfather was resettled from Kisnána near Eger after the population exchange. His destination was Modra in the Small Carpathians, as he was a vine-grower and wine producer, but the train stopped at Strekov, and he decided to get off. He could not have made a better decision!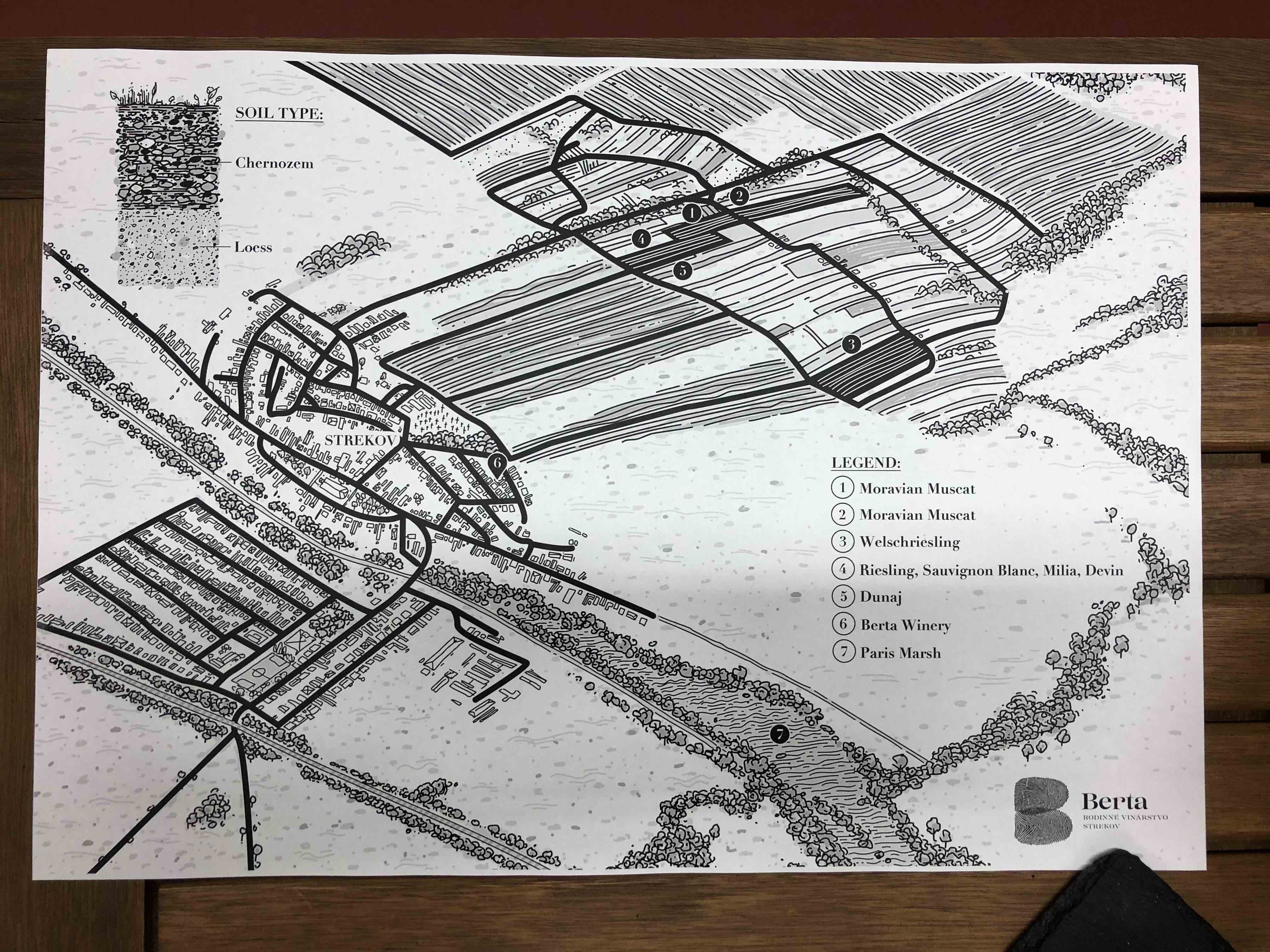 Photo: Daniel Ercsey
His descendants now farm a 2.5-hectare micro estate, mainly in Strekov, but they also have some vines near Pribeta and Gbelce. Most of the labels are decorated with birds made from the family's fingerprints, but there are also bees (sweet wines) and drunk mosquitoes (mainly rosés) on the bottles. At the same time, the top wines (winemakers' choice) are distinguished by their bottle shape and dark labels.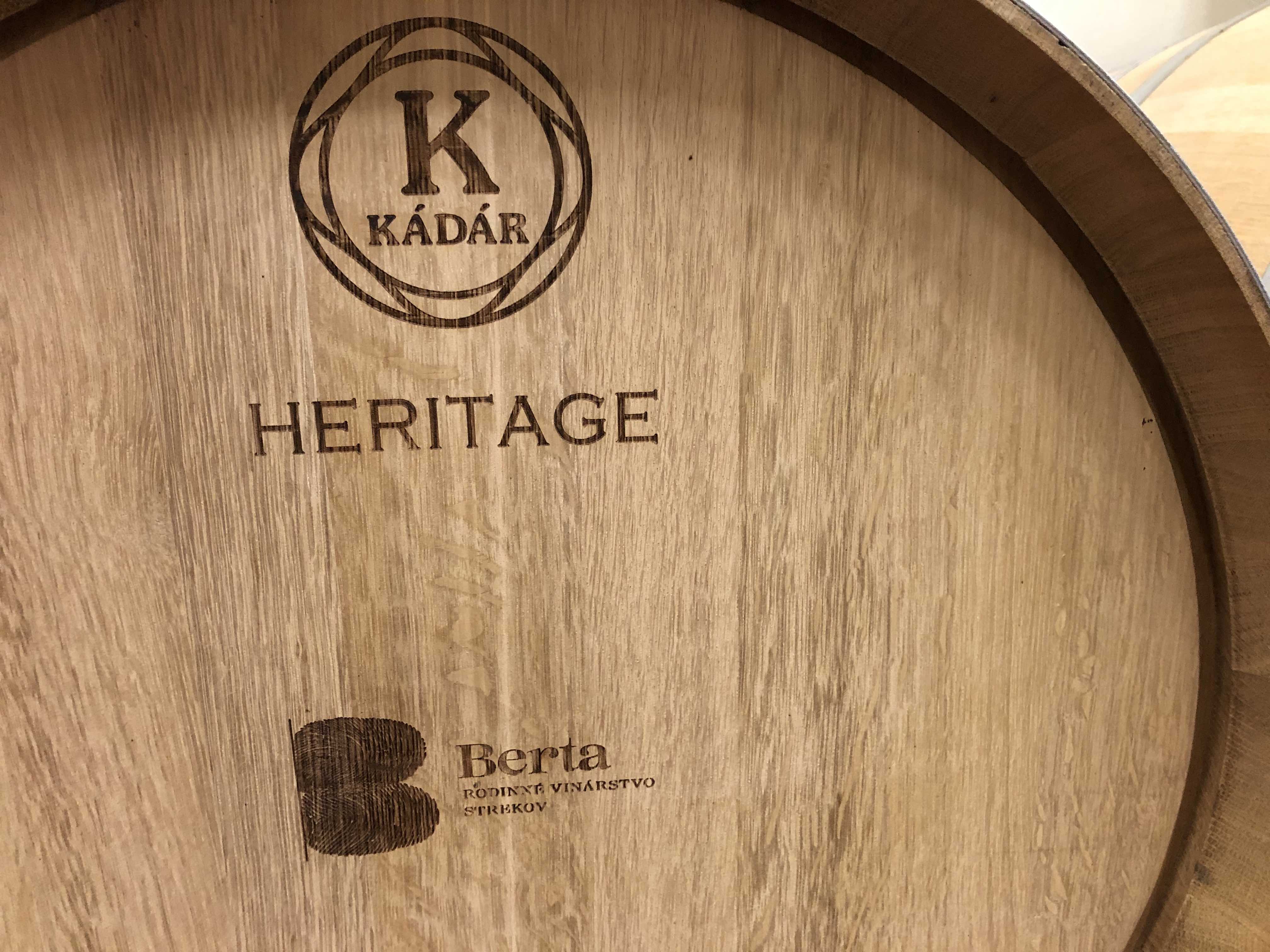 Photo: Daniel Ercsey
During our short visit, we gained a good idea about their range, walked around the estate with the help of the map below and had a great chat with the brothers Lukáš and Matúš, who both speak perfect Hungarian. Their Rizling vlašskýs are worth keeping a special eye on, and we hope to see their wines at Pécsi Borozó's Olaszrizling tasting next year!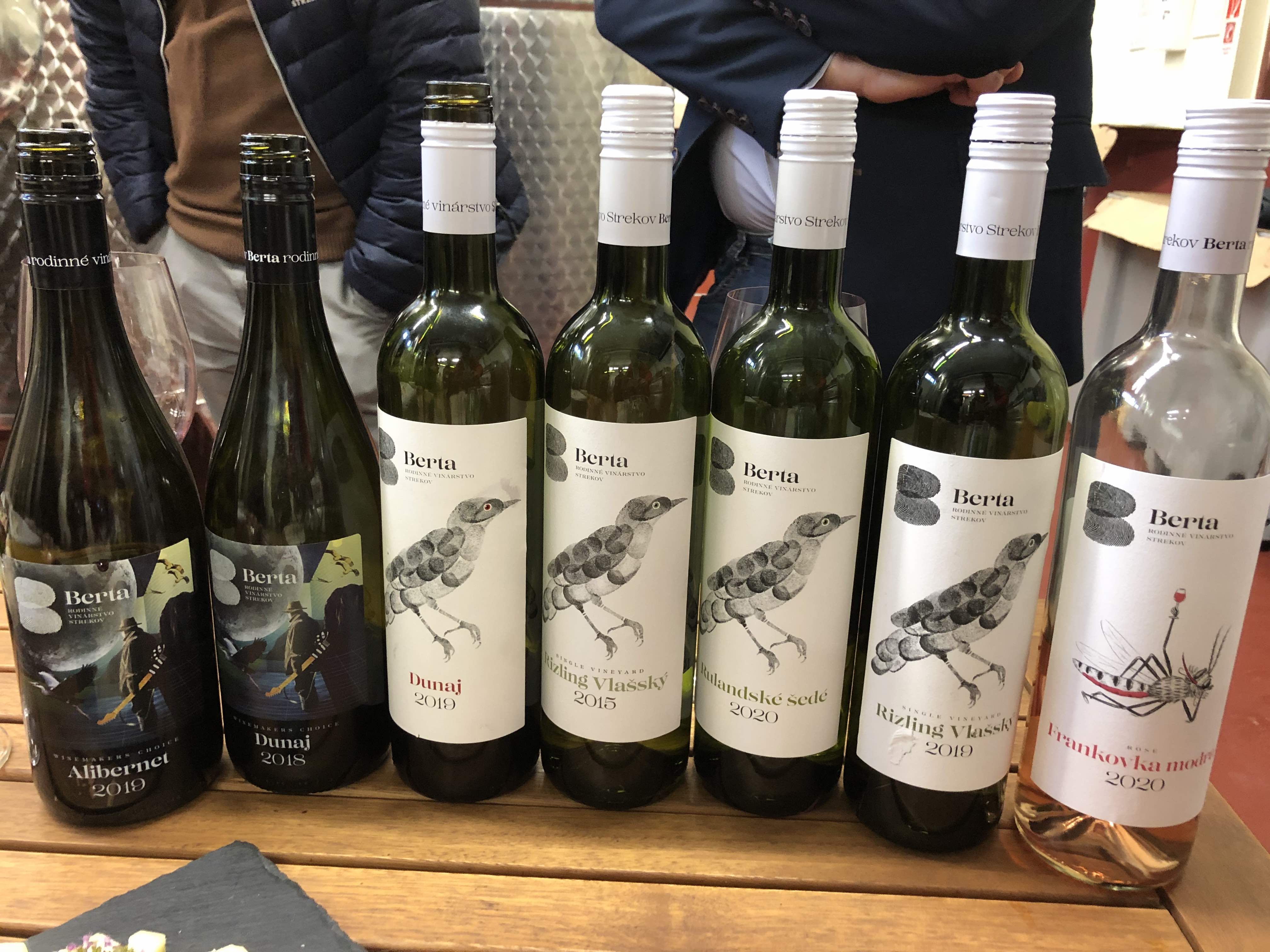 Photo: Daniel Ercsey
Zero dosage sparkling wine 2019 (Rizling vlašský and Riesling) I 86 points
Not yet released. Citrusy, biscuity aromas and flavours with a bone-dry finish. Seriously reminiscent of some Catalan Cava! Long finish, refreshing palate, lively acidity, very modern overall.
Frizzante Sauvignon Blanc 2020 (8 g/l residual sugar)I 85 points
Fresh, firm and varietally pure. The sugar is barely noticeable thanks to the lively acidity, rather it just rounds out the palate. Citrus and pear on the finish.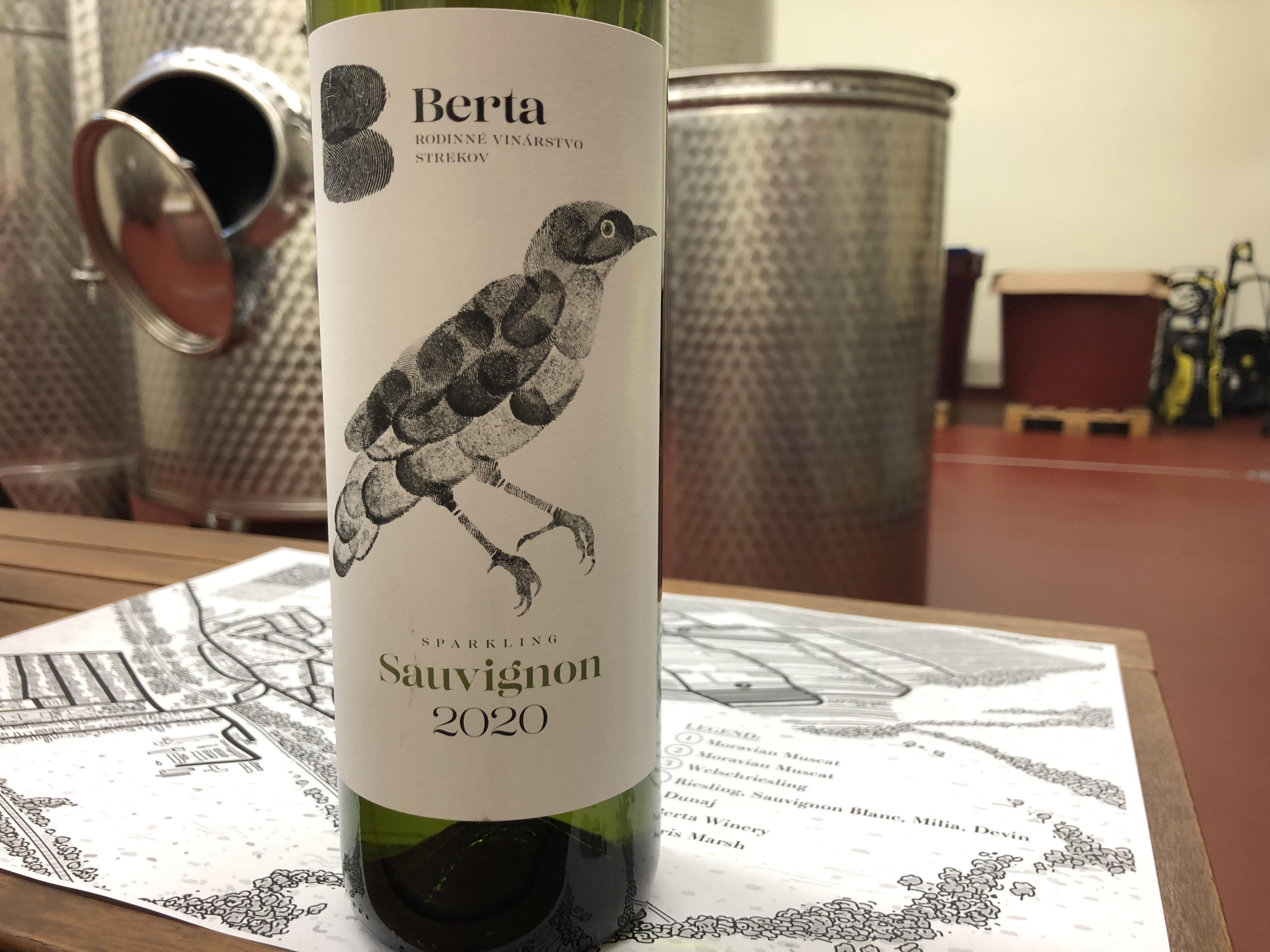 Photo: Daniel Ercsey
Rizling vlašský 2019 I 87 points
Citrus and white-fleshed fruit on the nose. A smooth and appealing palate, with good balance and lovely fruit as well as the usual slight bitterness on the finish.
Rizling vlašský 2017 I 87 points
A beautifully ripe nose with peach and summer pear. Fresh, firm and fruity on the palate. A touch of sugar rounds out the mouthfeel, which also boasts a touch of chalky minerality.
Photo: Daniel Ercsey
Rizling vlašský winemakers' choice 2017 I 89 points
A slightly chalky, mineral character on the nose with some tangerine and orange zest. Medium to full-bodied, zesty acidity, a hint of flint, with notes of citrus, peach and pear. Longer than average finish.
Rizling vlašský 2015 I 89 points
Petrol, white truffle and a hint of pear and mango on the nose. Bone dry, medium body, good acidity and floral notes. An exciting wine!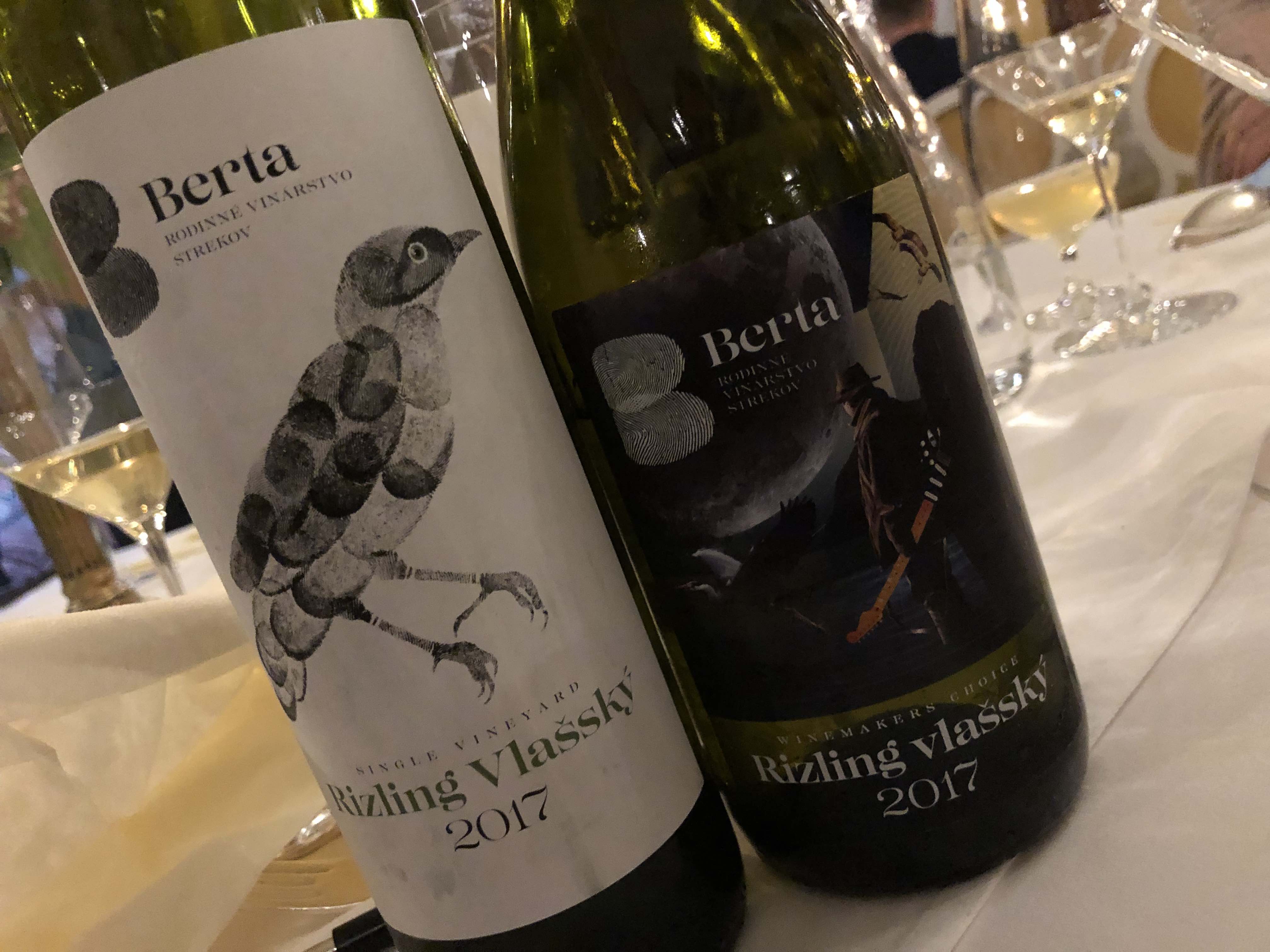 Photo: Daniel Ercsey
Rulandské šedé 2020 (Pinot Gris) I 86 points
Intensive melon aromas. Bright acidity on the palate with medium body and a long citrus-led finish.
Frankovka modrá rosé 2020 I 85 points
Medium-dry (7 g/l residual sugar), which is clearly the northern, Slovak style. Lively acidity with sweet raspberry and strawberry aromas and a fruity palate. Silky, gorgeous!
Dunaj 2019 I 87 points
A nose reminiscent of plum jam. The varietal character is shown by its medium body, sharp acidity and high alcohol, with chocolate and plum jam on the palate too.
Dunaj winemakers' choice 2018 I 90 points
Deep, dark ruby colour with almost blackish reflections. The nose boasts plum, black cherry, a touch of vanilla and new oak. Smooth and full-bodied on the plate with good balance and lovely fruit. One of the best Dunaj I have tasted.
Alibernet 2019 I 82 points
Dark ruby colour. A bit raw, direct and bitter on the nose and palate with wet wood and raw tannins.