Tamás, a Hungarian living in the UK and working at the Michelin-starred Northcote restaurant in Lancashire, has recently joined the prestigious ranks of the Court of Master Sommeliers and now counts as one of the 269 professionals who have earned the title of Master Sommelier since the first exam in 1969. It is a gruelling task, requiring years of dedicated study and outstanding tasting and service skills. There are not many that succeed in this mammoth achievement! And now he's hanging up his UK sommelier's apron and moving back to Hungary, bringing all this knowledge and experience with him.
First of all, congratulations on your massive achievement. Becoming an MS in the first place and being the first Hungarian to achieve this prestigious title. I'm sure that the Hungarian government and wines of Hungary are delighted about this.
Yes, it's really but great, but I was never doing it for recognition. I was doing it for myself, it was my own personal goal. But I've had massive attention from Hungary, which I'm really grateful for.
So how did you end up with such a difficult task as your personal goal?
Interestingly, when I started with the Court of Master Sommelier courses, I didn't intend to do the MS exam. But as you achieve the next level and the next, you don't want to end the journey, despite all the ups and downs. Sometimes, you know, I was close to giving up, sometimes thinking that it wasn't the right thing for me. But, if I had done that, it would have bothered me for the rest of my life. So, I was really happy and grateful when they called me back in for the feedback and told me I'd done great and passed all the parts of the exam. However, although you've achieved your goal and got the qualification, the journey is not really over, you just start to concentrate on different things.
So, what did you drink to celebrate?
Oh, things were going to be very different. To be honest, I'm still celebrating and will continue to celebrate with my family when I get back to Hungary. My family deserve as much credit as I do, because it's not a sacrifice for a wine professional to learn about wine because they like tasting, but you do it in your free time, meaning you are taking time off from your family, which is a big sacrifice for them. But, back to the celebration, I and my wife opened some Champagne and some English sparkling wine. But I'm planning to have the biggest celebration with my family in December. I had planned to have a huge party, a massive celebration with all my friends, but the situation is not really ideal for that, though some more bottles will be opened!
How did you first get interested in wine and set off on this journey?
Interestingly, it was when I was working in fine dining restaurants in Hungary, and the manager or owner required all the staff to know something about wine. And as soon as I started to learn about it and understand something about wine, it developed into a passion. I then moved to England in 2013 to pursue this, to establish myself as a sommelier, not a restaurant manager with some sommelier duties.
I understand that you're moving back to Hungary soon – a brave move in the current COVID crisis. What are your plans when you get back or are you just going to see what happens?
Nothing really concrete, although there are some things I definitely want to do, like learning more about Hungarian wines so I can specialise in that and spending some time with winemakers. I think it's helpful to go out in the vineyards with them and see, for example, why they prune like they do for what kind of variety. This is helpful to learn about vinification and viticulture. As I said, the journey is not over. I want to keep learning and focus more on Hungarian wines.
Have you managed to keep up with what's happening in the Hungarian wine scene while you've been in the UK?
I tried to, but my knowledge is not as deep as it should be. I'd really like to improve that now I'm moving back. So, the first couple of months will probably be vineyard and winemaker visits to try and understand what's happening, what are the current trends etc. But there are a lot of other things too. For example, I'd like to get a bit more involved in education, teaching sommeliers and doing some wine courses. Thanks to the long time I've spent in the UK, I think I have experience I can pass onto other people, showing them what the sommelier profession in the UK is like and opening their eyes to more international wines. If I look at distributors in Hungary, there seem to be more and more international wines appearing, so I'm guessing there is interest for it.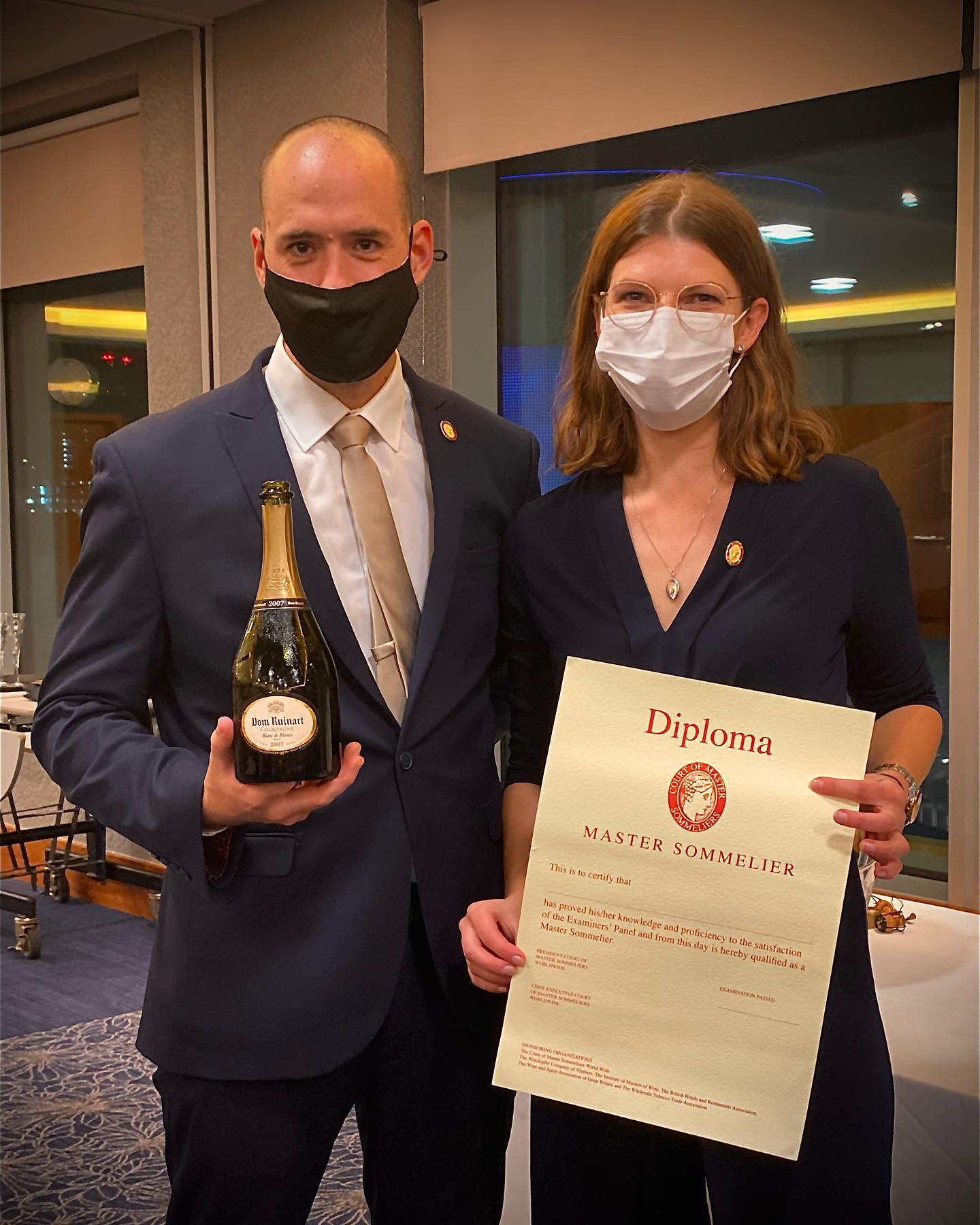 Photo: www.courtofmastersommeliers.org
And what did the British know about Hungarian and other Central European wines, what was your impression here?
I think they are increasingly open-minded, we got requests in the restaurant for more up-and-coming regions like Eastern Europe, China, Turkey, the Middle East and so on, people are interested in little-known regions and rare grape varieties. So, they definitely have a place in the international market. Wines from the classic regions, the prices are just going in one direction, up. And I certainly had requests for Hungarian and Eastern European wines. I always like to promote them, and I think one of the best ways to do that is to use them in food and wine pairings. English and international customers in general like to have something they've never seen or drunk before. Putting a Chablis, for example, in a flight doesn't offer that unique experience, but a Xynisteri from Cyprus is something different and you can learn something. You can open your guests' minds and also educate your team.
How different did you find Hungarian and British consumers and restaurant-goers?
Interesting question, I didn't really work long as a sommelier in Hungary, so this is just an impression and I could be wrong, but the British are really open-minded and trust sommeliers, while the sommelier profession is something relatively new in Hungary, so people need a bit more time to be confident enough to ask sommeliers for advice and realise they are not just looking to up-sell, but to make guests happy by finding the right wine for them
And how did you find living in Lancashire? I think it's quite different to Budapest…
Very different. I really enjoyed it. I moved here seven years ago. People are really welcoming, they welcomed me with open arms at my workplace and everyone was really helpful. I became a sort of member of the family, the workforce and the team. And I really enjoy the countryside. Before I left Hungary, I was living in Budapest, and I thought, oh my God, I'm going to go crazy in the countryside, I thought I would be so bored. But now I'm used to it, I really enjoy walking and the calm environment. I now also have daughter who also enjoys the countryside. But I'm sure Budapest will bring different challenges now.
What have you missed most about Hungary while you've been in England?
Most importantly, the vineyards. Of course, there are vineyards in England too, but just having the opportunity to visit the vineyards, meet winemakers, see the grapes developing and watch the wines fermenting – I've greatly missed all those different aspects of winemaking.
What would be your advice to anybody wanting to follow a similar dream and become a Master Sommelier?
The most important thing is to find the right place and a person to mentor you. When I first moved to England, I was working alone and it took me six months to realise that, although you can develop your knowledge and read as many books as you want, your tasting and service skills will not improve unless you are working with someone who is better than you. So, I'd recommend finding a place where there is an experienced, renowned sommelier working, someone who is willing to teach you and pass on his knowledge and experience.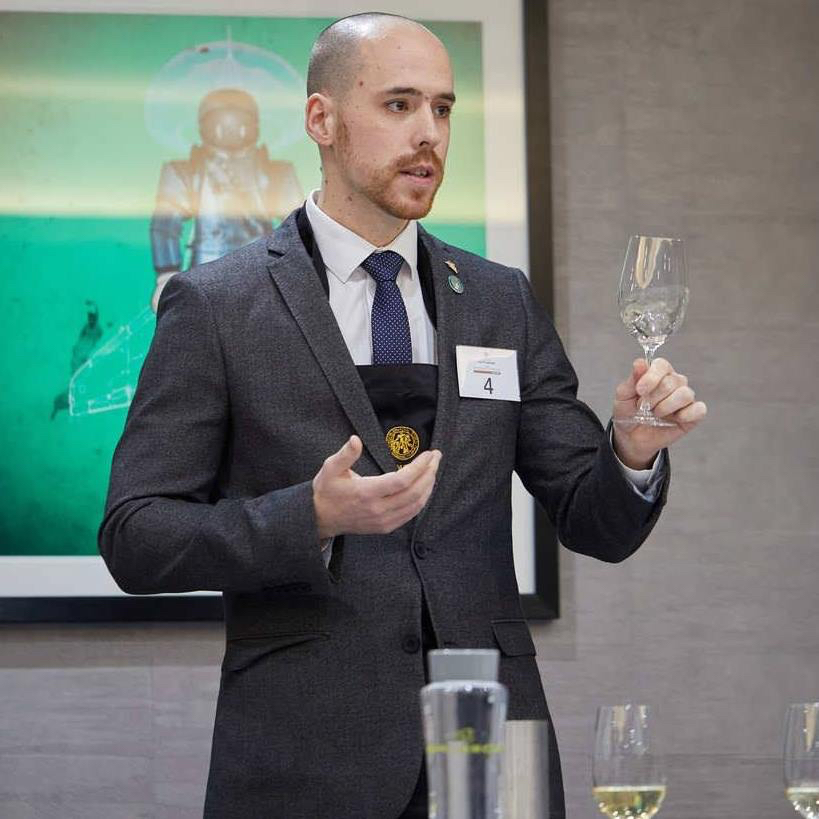 What regions and grape varieties do you find the most exciting at the moment, internationally? That you would be trying to encourage Hungarians to taste?
For me, Pinot Noir has always been one of the world's most noble grapes. It's fascinating how differently it performs in different parts of the world and using different winemaking approaches. I think it's one of my favourite grapes. If I need to pick a white grape, I think most sommeliers would pick the same one – Riesling. It's also fascinating and there are some amazing regions growing it, one of my favourites is Austria, in particular Wachau, the Rieslings there are very different from elsewhere. But I could equally say Germany or Alsace, they all produce outstanding wines.
I read an interesting article the other day – Has COVID killed the sommelier, what do you think about this? How did the pandemic affect you and will it bring lots of changes?
Yes, I think it will bring some changes and already has. It is important for restaurants and wine merchants to adapt as soon as possible, as who knows how long this virus will be with us. It's definitely going to reshape the industry. There will be restaurants which will not reopen, I'm afraid, and those that will reopen with different concepts. Our profession is, of course, highly affected. Hopefully, once they find a solution, the demand for restaurants and for dining out will return. Demand was really high when we reopened after the first lockdown and, even with restrictions, business was booming, so those who survive and reopen will have massive demand.
Yes, but I'm guessing with slightly different concepts, they would reinvent themselves. How has this changed in Northcote?
Before the first lockdown, we could accommodate something like 120 people, then only 60 or 70. We no longer had an à la carte menu, everyone had to have the set five-course tasting menu. Most people also took the wine flight as when they had the chance to get out, they wanted to have the full experience. So, we might keep this in future too, and if it works, well it might also bring something positive to the restaurant.
So, let's finish on a positive note! Thank you Tamás, It's been really great talking to you, and we look forward to welcoming you back to Budapest and the Hungarian wine scene. I hope to meet you in person once you've done the rounds of Tokaj, Eger, Szekszárd, Sopron, Balaton, Somló and so on! Safe trip back to Hungary next week!