Eger is undoubtedly one of the most popular tourist destinations thanks to its history and sights. However, there is a certain amount of ambiguity when it comes to Eger wines. Why is that so? Let's find out…
In the small country of Hungary there was a 50-year period when Egri Bikavér was the Hungarian red wine. Well, certainly not because it was so good but because for a whole generation this was the only red wine available on shop shelves. And not the price was the problem, either. Simply there was no alternative. Unfortunately, wine factories producing for the Soviet market did not keep quality in mind. Naturally, this was true not only for Eger but the whole Eastern Bloc, so the once reputable brand name was tarnished completely. After the change of the regime wine regions were trying to recover with the help of dedicated producers appearing everywhere, with cleanliness, concentration and elegance gaining ground and all this was and is reflected in their wines. The same happened in Eger, as well.
Comet over Eger
Many "Winemakers of the Year" work in the wine region around Eger and the biggest one could have been, and indeed was Tibor Gál – despite his early death at the age of 48 in a tragic car accident in South Africa. He was among the first winemakers who produced serious Bikavér (the 1994 vintage was liked by many), and he was the first to propose that Eger is not necessarily and only suitable for making red wine, comparing the Eger terroir to Burgundy in France. He did not only imagine but also realized the Abbey Winery Pannonhalma and in 1998 made, almost incidentally, the Tuscan top wine, Ornellaia selected Wine of the Year of 2001 by the Wine Spectator. Wine of the Year in the world. Even today there are estates appearing in the market brought to life by Tibor Gál's ideas before his premature death in 2005. One of such wineries is, for instance, Carastelec from Transylvania whose champagne will soon be available in the largest wineshop network in Hungary and it was Tibor Gál who selected the area and grape varieties for this project.
On our Way to Egerszalók
Needless to say, Eger is not only winelovers' destination. The whole country grew up reading Eclipse of the Crescent Moon and watching Stars of Eger so it is only natural that the castle, the minaret or the writer Géza Gárdonyi's former home are significant checkpoints for Hungarian tourists. Fortunately, besides the above mentioned sights the region is full of great baths such as the one in Egerszalók, well-known all around Hungary for its unique limestone salt hill rare even internationally; a lovely sight to gaze upon while contemplating about the world and soaking in hot thermal water. Once in Egerszalók, should you wish to have some wine, do not go to the Szépasszony Valley but stop at the St. Andrea Winery which is also located in Egerszalók. György Lőrincz is not only a fantastic winemaker but also a kind man (strange as it may sound in this context), good company and a loveable, modest person. His wines embrace the heritage of Tibor Gál (though he himself might not be aware of this); the wonderful Bikavér wines bearing fantasy names and Pinot Noir wines; this variety is indeed the gem of Burgundy. Those who do not intend to leave the city must pop in Macok Bisztró by all means. Not only because this is the best restaurant in Eger but also because the wine list is filled with St. Andrea items so here is a great chance to try the above-mentioned wines.
Back to Eger
If there is another winemaker who clearly supports the Eger-Burgundy axis, it must be Nimród Kovács. He is a marketing specialist partly moving home back from the US, who believes in Tibor Gál's vision so much that he had Pinot Noir clones imported from Burgundy and planted in the Eger wine region. The number 777 on newer bottles represents this clone. Additionally, he also deals with Chardonnay, another important variety of the famous French wine region. What is more, Nimród does not sell his wines only in Hungary but also in the US thus cementing the reputation of Eger outside the country. If you happen to meet the owner, take the opportunity to get to know this witty, frank and open person, full of great stories. As for the three winemakers mentioned above, they have not only one common point: Eger but there is something else that connects them. Tibor Gál used to say that the Nagy-Eged Hill towering over Eger is the most important production area in the region. That time the hill was covered in brush and thicket and Tibor did not live to see it change. St. Andrea – as well as Nimród Kovács – planted vines in some of Tibor's former parcels after he had passed away, and today the Nagy-Eged is truly the rediscovered gem of Eger where the highest prestige wines will surely be made in the future. There is one more thing that must be mentioned, something more important than wine even though its truth originates from Eger wines and winemakers. As Sándor Márai put it:
Eger is the city where it is not enough to arrive. Eger is where one may arrive home.
I could not agree more. It was hardly three weeks ago that I last went there but am already planning my next trip.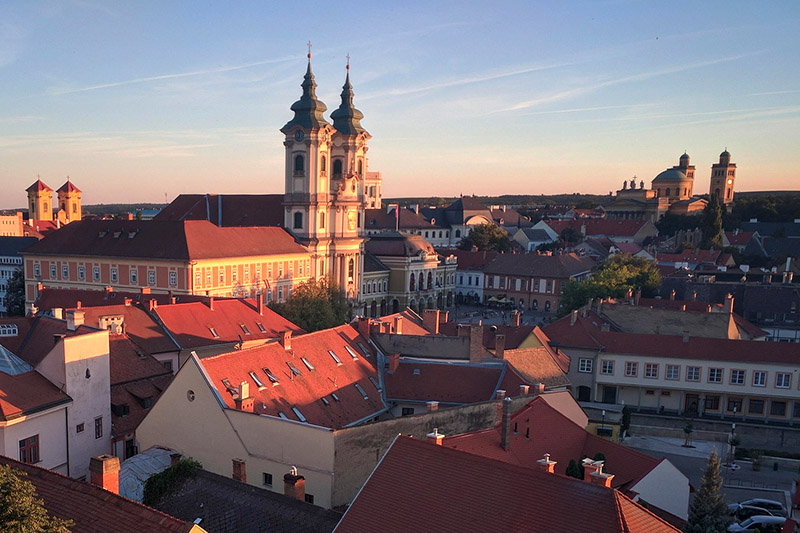 Ferenc Tóth, Egri Pinot Noir 2015 I 86 points
A perfect basic pinot from Eger with a lot of red berries and beautiful spices in the background. Those drinking Pinot Noir cannot expect any robustness and big body anyway but elegance and variety. This wine is a good drink but lets you ponder, too.
St. Andrea, Merengő 2012 I 91 points
A particularly elegant red wine, an Egri Bikavér to be more precise, based on acids. We might say it is of Burgundy style but let's stick to Eger. It is a cool character with beautiful fruitiness and spices in its flavour. It is drinkable now but worth to put aside for a few years and open it later.
Tibor Gál, Sík-hegy Pinot Noir Superior 2013 I 88 points
This variety also evokes Burgundy though the wine does not. It is a thick and robust Pinot Noir with slightly jammy, earthy notes and spices thanks to barrel-aging. This is no surprise as the basic ingredient was harvested on volcanic soil.
Kovács Nimród Winery, 777 Pinot Noir 2013 I 92 points
A wine with round acidity, sophisticated elegance, incredible fruitiness in its smell as well as in flavour. Not only the variety but the whole character evokes Burgundy. The wine is perfect; I tasted it a month ago and since then a whole case has been consumed. Almost impossible to mature as it is so delicious.
Thummerer, Vili Papa Cuvée 2009 I 91 points
A well-known wine of another legend of Eger. This is when Eger shows its other face, the one closer to Villány than to Burgundy. Full body, rich tannin structure, wonderful maturity and loads of black berries. Mediterranean atmosphere from Eger.