We began the next day in the lap of luxury at the Relais & Chateau Villa and Winery of Korta Katarina. The imposing villa rises above the azure waters of the Adriatic and houses both a luxury hotel and a gravity-fed modern winery. Previously owned by a Belgian bank and later used as workers' holiday accommodation, the property was derelict for a long time before being turned into luxury accommodation by an American couple with Croatian roots. The winery has six hectares of vineyards around the property and in Dingać, but also buys in Pošip from Korčula. We taste several of their wines in an imposing tasting room overlooking the sea along with wines from nearby wineries such as Seven Hills and Grgić. The Plavac Mali rosé is savoury and refreshing, the Zinfandel full-bodied and dense, the Plavac Mali (grapes half from Postup and half from Dingać) succeeds in remaining juicy and elegant despite the 15% alcohol, while the 2013 Reuben's Private Reserve, whose grapes come either from Postup or Dingać depending on the year, is an old-school Plavac Mali, with plenty of dense dark fruit and herbal nuances, firm tannins and attractive tertiary tobacco notes. After a tour of the impressive winery and a glance into how the other half live, we head further along the Pelješac Peninsula to its most famous appellation, Dingać.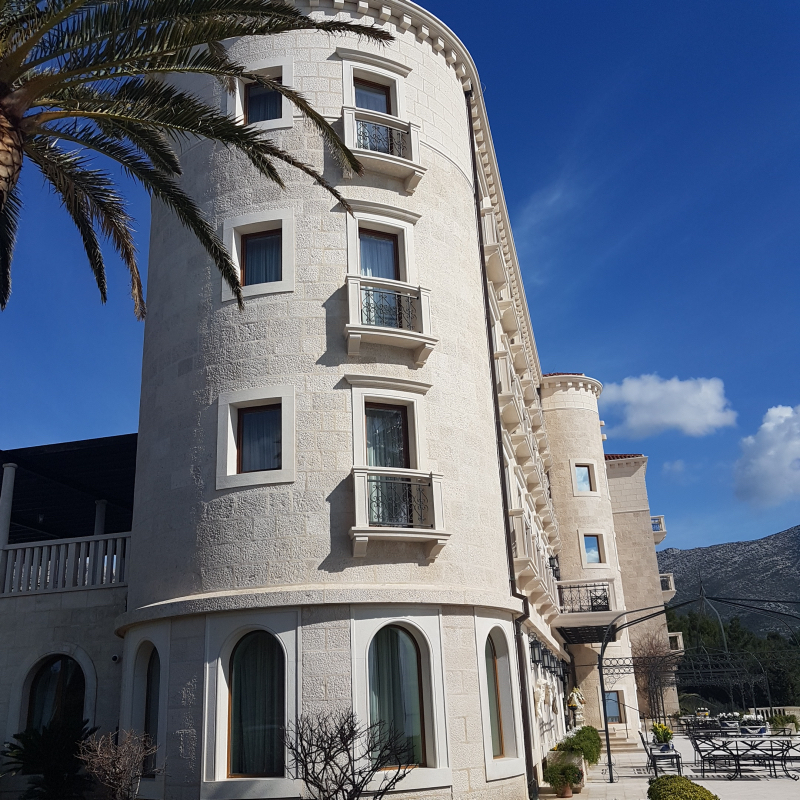 Photo: Sue Tolson
Solar triumvirate
We emerge through the narrow tunnel giving access to the steep south-facing slope of Dingać with the Adriatic gleaming in front of us. Prior to 1973, when growers clubbed together to finance this one-lane tunnel, the vineyards could only be reached by donkey over a 400m-high mountain pass! This scarily precipitous slope – we drove up it on terrifyingly narrow winding roads with hairpin bends, no barriers of course! – is Mecca for Plavac Mali. Dingać, the first PDO in Croatia, is the King of Plavac Mali, producing dense, complex wines with dark fruit – black cherry, blackberry and plum, spice and minerality, with high alcohol and considerable ageing potential. This previously inaccessible wine region comprises rugged karst with very little topsoil and profits from the sun three times – directly, reflected from the sea and bouncing off the white stone.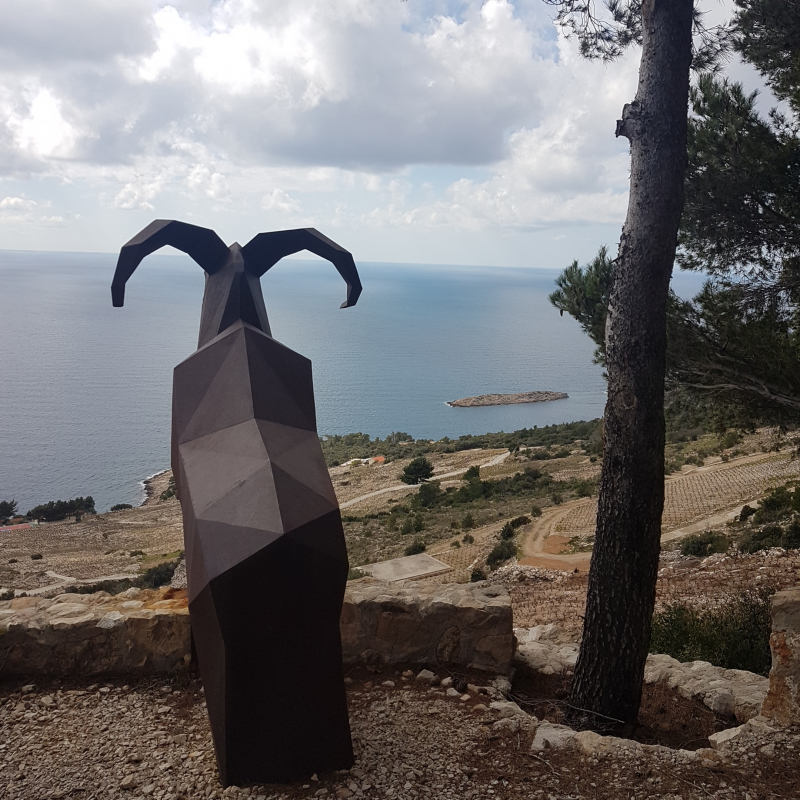 Photo: Sue Tolson
Having reached the top of one of the vineyards owned by Scaramuča winery, we are greeted by Ivo and Kristina Scaramuć, along with a tasting to calm our nerves following the ascent, and to afford us some Dutch courage for the descent! They are the biggest private winery here, the first following the war in Croatia. They boast 25 hectares of this unique terroir. The only grapes they buy in are Pošip. Besides Plavac Mali from Dingać, they have vines in Postup, the peninsula's other renowned position for Plavac Mali and also produce a refreshing, juicy non-PDO Plavac Mali for everyday drinking. Suitably fortified with Plavac Mali, we steel ourselves for the descent.
Karst amphiteatre
The Ponikve PDO, not far from the famous town walls of Ston (incidentally, also famed for its oysters), gained its PDO in 2021, the first to do so under the EU rules. Its terraces and dry stone walls are carved out the area's typical karst. Although not quite as steep as Dingać and with no sea view, they are still pretty spectacular, occupying a sun-drenched amphitheatre, perfect for Plavac Mali, with Pošip and Maraština (also known as Rukatac) also permitted.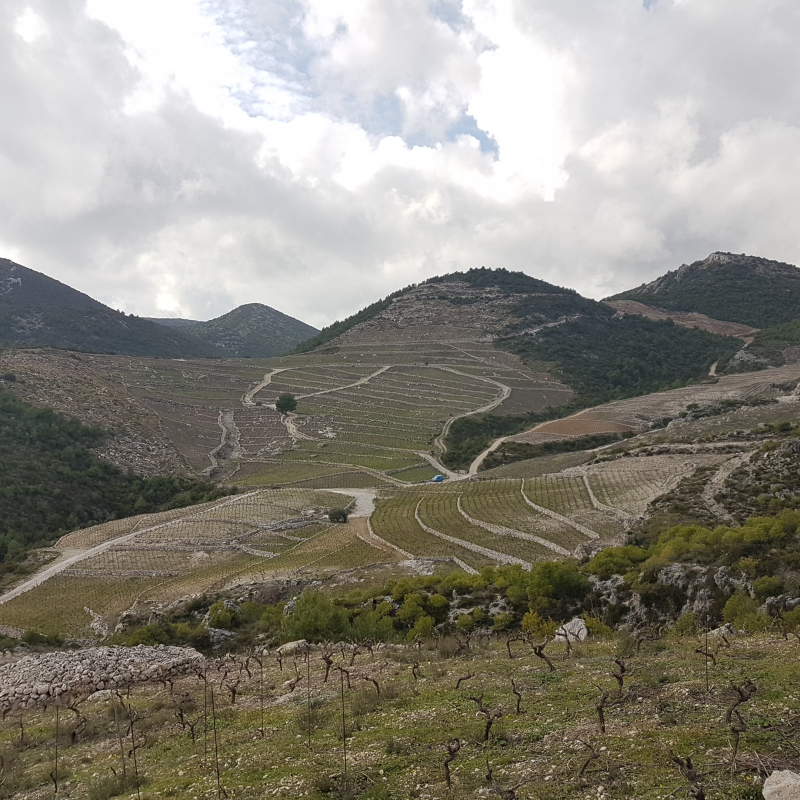 Ponikve (photo: Sue Tolson)
We head up the slope with Frano Miloš and sons, this time in four-wheel drives! Frano started the first winery in the area in 1989 – during socialism, it was not permitted to own a winery, just a few vines – and has been a pioneer in the area ever since. The Miloš winery revitalised the vineyards, rebuilding the terraces and dry stone walls and gaining organic certification. There is not much disease pressure, but it is hard and expensive to work in these extreme conditions, they have to clear all the rocks manually, and in late summer, the mercury regularly hits 30°C and more. They are currently extending their old cellar, with the new gravity-fed winery built partially into the mountain, thus providing natural cooling. Frano prefers to work predominantly with old, large, 100% Slavonian oak to soften Plavac's tannins, eschewing the flavours of new oak. Their premium Stagnum range is made exclusively from 35-year-old vines from higher elevations and includes a rosé, a Maraština and dessert wine from Plavac Mali.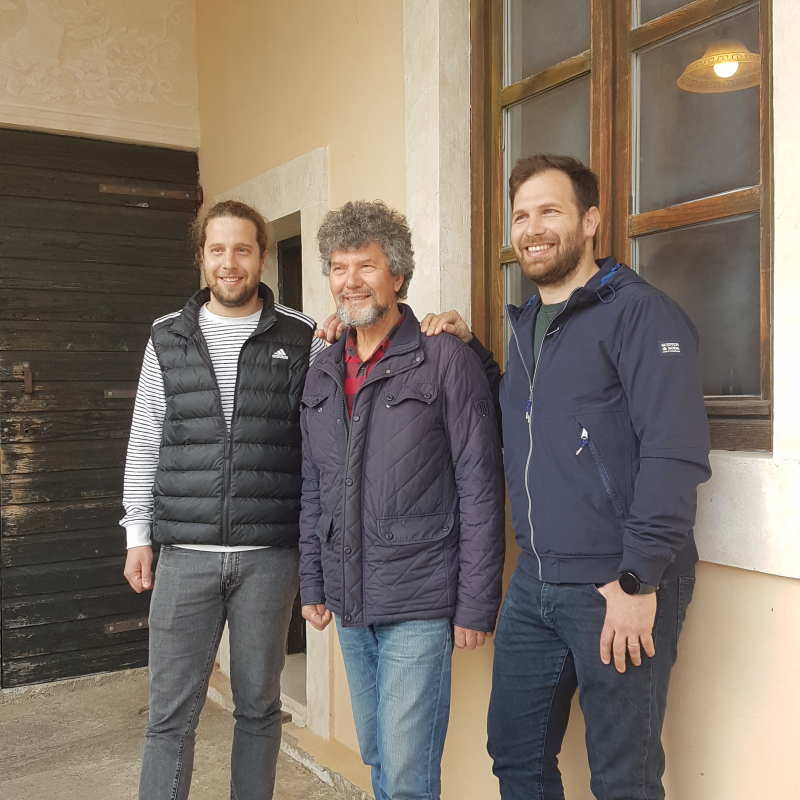 Photo: Sue Tolson
Kaštelanski Crljenak, aka Zinfandel, Primitivo and Tribidag, rediscovered
After an overnight stop in Split, we were heading north back to Zagreb, but with two vineyard stops along the way. The first, at the end of a dirt track somewhere about Split airport, was at a new boutique winery project. Ivaca Kovačević, director of Ština winery on Brać, decided to start his own winery with sons Ivan and Tomislav in the Kaštela region near Split. They took the name of an ancient settlement, now mostly under the sea, known for the production and sale of wine, Sikuli, as inspiration for the winery name – Kaštel Sikuli.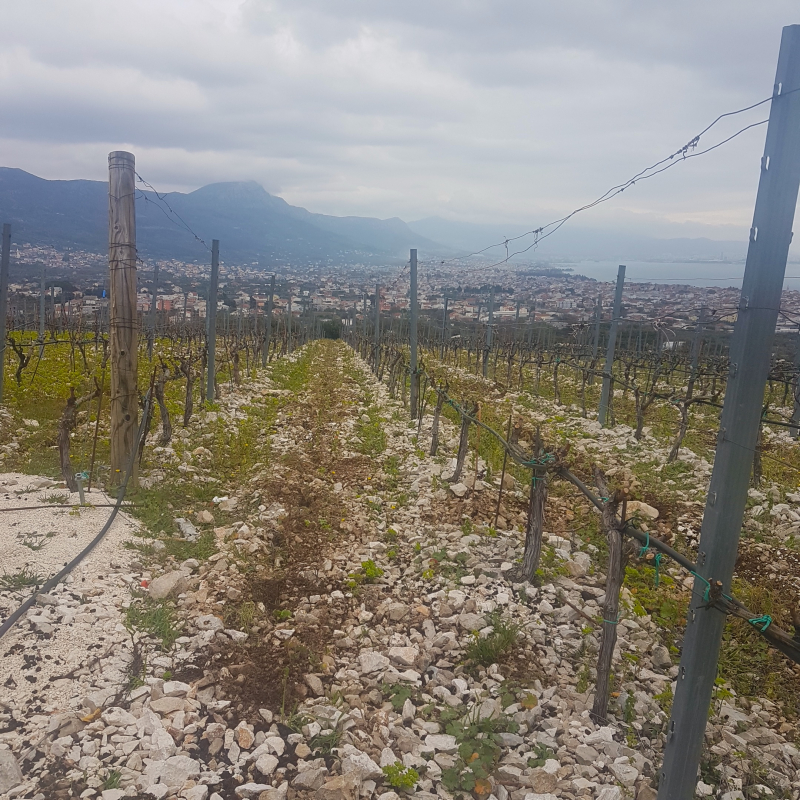 Photo: Sue Tolson
Many varieties are believed to have been born in the region, while Kaštelanski Crljenak, genetically identical to Zinfandel and Primitivo, was rediscovered here, somewhere near the airport. One day I'll learn how to say it correctly, but until then, I'll continue to use its other Croatian name, Tribidag, which is somewhat easier to pronounce. The project began in 2008, with planting of the vineyards, initially just selling the grapes, but with their own wine since harvest 2018. The winery is still under construction, but the tasting room with large glass windows overlooking the sea was already functional, so we were able to sample some wines. Naturally, the focus is on Kaštelanski, but they also have a Merlot rosé and a refreshing Pošip.
Babić and the 'stone lace' vineyard of Bucavac
One final heroic vineyard awaited us in Primošten county. Close to Šibenik, regional capital for gourmet food and wine, rocky vineyards planted with black variety Babić tumble down into the sea. This inhospitable terrain, composed of small squares of red soil divided by low piles of white stone into a kind of lace pattern and accessible only by stony paths, is on the tentative list for UNESCO protection. These stone walls criss-crossing the austere, rugged Bucavac appellation are entirely the result of human labour. Moreover, like in Dingać, grapes were previously transported by donkey and boat, as there was no road here until 1962! As we carefully pick our way across the vineyard, where there are no paths or flat surfaces, it is hard to imagine how anything could grow on the steep slopes and how people could possibly work them. These small squares, rather than terraces, are called 'tirades'. Often pummelled by strong winds, the vines are only about 50 cm high and generally yield no more than 2-3 bunches of grapes. The area is known as 'Dry Point', as it only rains if the wind is coming from the sea, so the vines are planted close to the rocks, which absorb water, enabling the vines to survive. Since the advent of tourism in the region, most people have given up working these vines, yet some dedicated people, including Ivana Prgin Horvat, who moved here from Zagreb, have begun buying plots and revitalising these vines. They are producing exceptional wines here from indigenous Babić, which, well-adapted to this hot Mediterranean climate, retains freshness even in the hottest of years, producing vibrant yet elegant cherry-fruited wines with herbal nuances that speak of their terroir. We celebrate the completion of our walk across the top of the steep slopes with a glass of Prgin 2019 Babić, and toast the 80-year-old man who still comes and works these vines, celebrated on the label of the Vinas Mora Babić.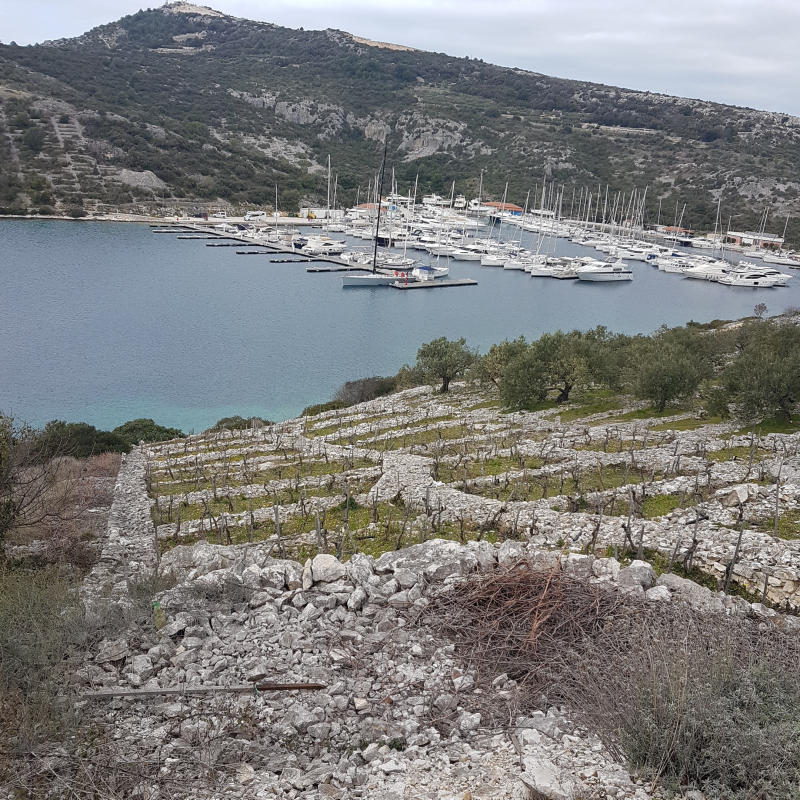 Photo: Sue Tolson
So, next time you are in Dalmatia, tear yourself away from the beach and its tempting azure waves, its historic towns of Dubrovnik, Ston, Korčula, Split, Trogir and Šibenik, and its wonderful seafood and oysters, and take a trip back in history, and hopefully into the future too, at some of these ancient, heroic vineyards and celebrate the blood, sweat and tears that have gone into creating and working them and the delicious wines they yield. Raise your glass to them and say 'živjeli!'.