As we've given a riddle-like title to our cover story, we'd better explain it. BORIGO (the author is the editor-in-chief) has long been publishing vintage charts, the aszú one in October 2004 was one of the first. Since then, we've kept track of the vintages, and although there have been a few breaks, everything continued along nicely until 2009. In February 2015, we organised a blind tasting of 2008 aszús and the following year we tried with the 2009s, but we hardly received any samples, which was obviously no accident… This was the start of the 2009-2012 period when, for whatever reasons, the weather didn't favour botrytis, so hardly any aszú was made in the Tokaj wine region any year during this time. 2013, however, produced a lot of botrytis again and when the first aszús arrived in the editorial office, we were then astonished to realise that we knew almost nothing about the vintages in between. We decided that this should no longer be the case…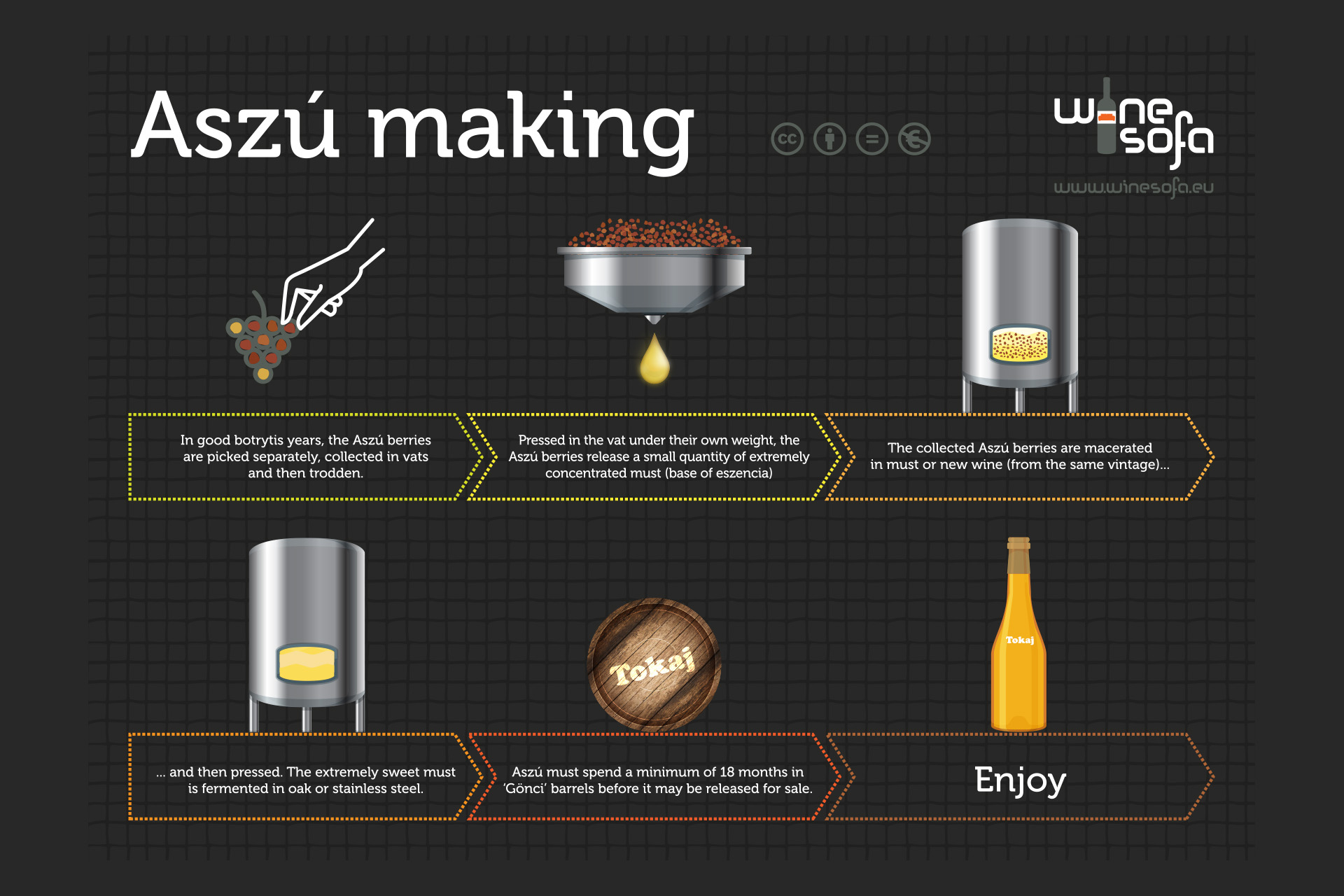 At the end of 2017, beginning of 2018, we tried to request all available wines from the wineries; if this didn't work out, then we tried them at the winery. This project has largely been a success, no doubt we still missed out on some wines, but at least we now know something about the aszús from these four vintages and now we'd like to share this with our readers.
A brief description of each vintage follows, including the weather conditions and our own tasting experiences. The tasting notes and results come from both the February 2018 and earlier tastings. We didn't taste the two Szepsy wines blind at the winery, so there is some bias in the points. Some of the evaluations of the Holdvölgy wines come from our 2016 vertical tastings, so in this case, there is also only a band of points. The situation is similar for some of the Disznókő wines, which we didn't taste blind either.
2009: 9 points
We could characterise this vintage as rather 'two-faced'. The growing season was particularly hot and dry, and the grapes began to botrytise with a very high sugar content. The first half of the harvest brought extraordinary richness and concentration, whereas the second half – beginning from the second half of October- was basically washed away by rain, which is why very little aszú was produced, mostly from the brief periods between two rainy spells. The character of the aszú berries was very smooth, and the acidity was lower than normal.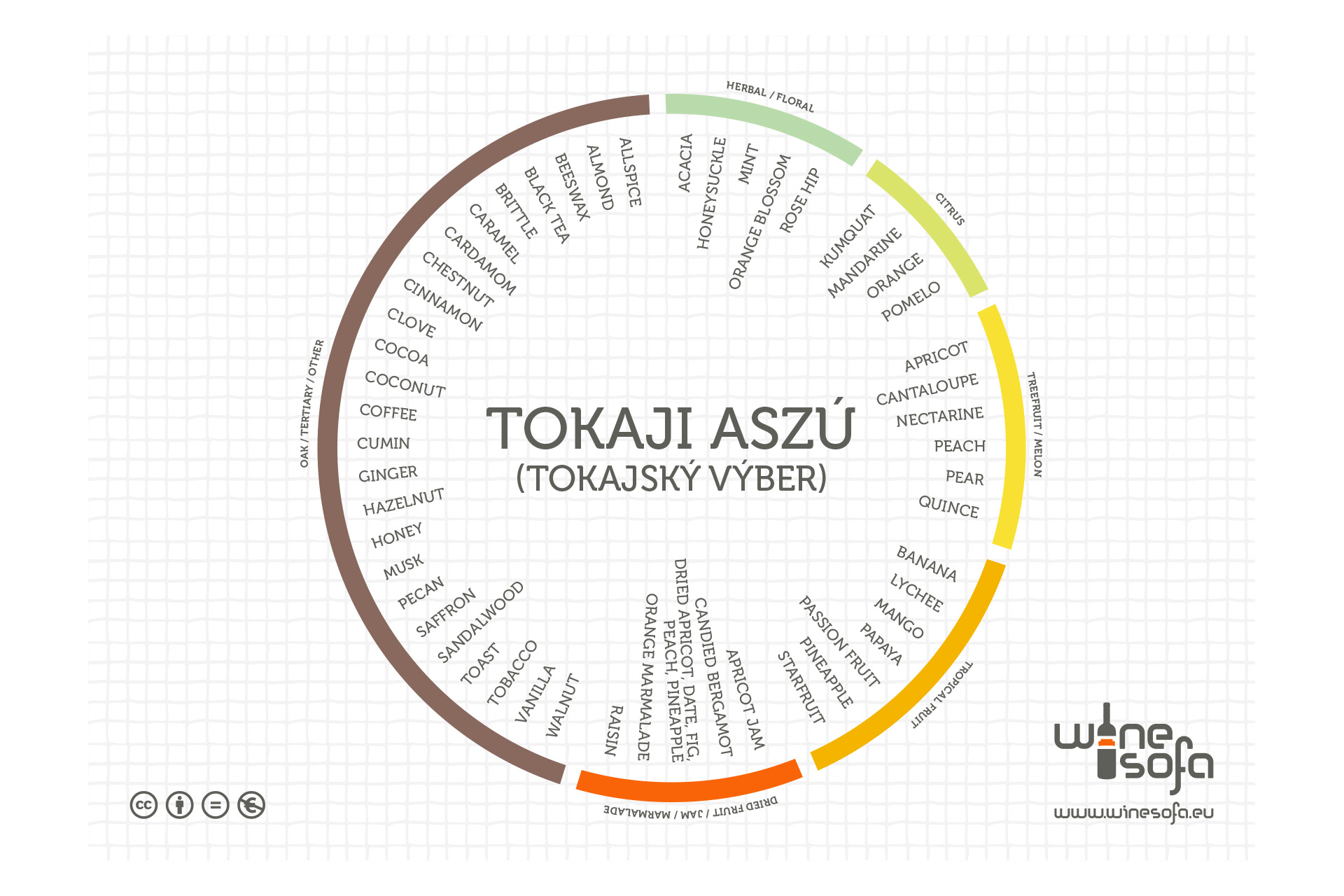 We finally tracked down thirteen samples, most of which came from the February 2015 test I've already mentioned. Overall, we found the wines' acidity polished and delicate, so depth of botrytis and the resulting richness are particularly prevalent in the wines. Thanks to this fine acidity, there were many elegant wines and for the same reason, the wines are already very enticing and drinkable. At the first tasting, we had felt that concentration could be a problem, but as we tasted more wines that feeling diminished somewhat. Which is why gave the vintage 9 points with the comment that it's worth seeking out wines with high number of puttony and choosing carefully.
István Szepsy - 6 puttonyos Aszú 2009 I 96-98 points
Resplendently golden yellow in colour, medium intensity, extremely elegant, with you could say a cool nose of classic apricot and tropical fruit as well as a little nut, botrytis and herbs. Dense and thickly textured with significant sweetness, even a syrupy creaminess, yet an airy, elegant structure. You're assaulted by a terrific cavalcade of flavours and the acidity continuously reveals new layers it opens. It's still in its fruity phase, but its complexity is already indescribable. /tasting note: Botond Gábor Bányai aka BGB/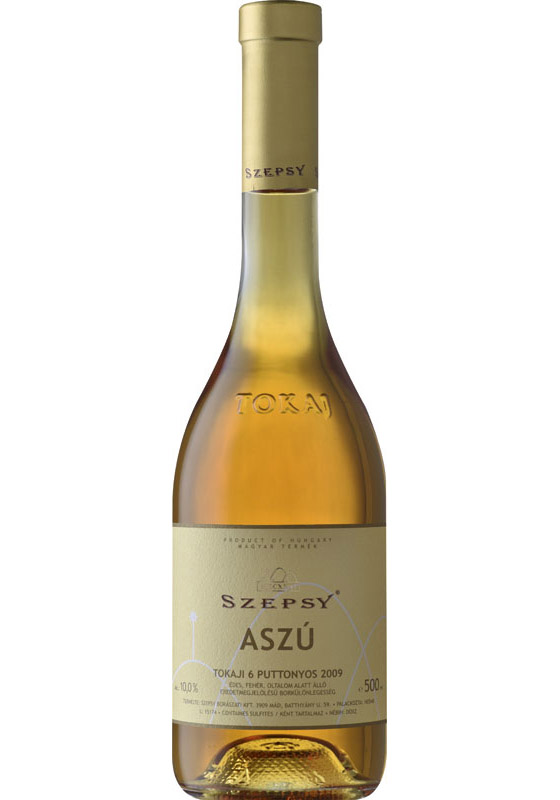 Holdvölgy Pincészet - Tokaji Aszú 6 puttonyos Culture 2009 I 93 points
Restrained nose with a little musk, peach, citrus fruit as well as lovely botrytis and characterful minerality. Medium to full-bodied on the palate with smooth acidity and a dominant citrus character; the balance tips a little towards sweetness. Chewy texture and a long finish with brilliant salty minerality at the end. /tasting note: Daniel Ercsey aka ED/
Szent Benedek Pincészet - Tokaji Aszú 6 puttonyos 2009 I 93 points
Interesting, intense nose where nothing comes clearly to the fore; there's potato-sugar and marshmallow, a little anise and chocolate, mint and peach. It's very balanced on the palate, with bright acidity and a medium to full body. Plenty of dried fruit and lovely ripeness, with a long finish where a touch of minerality also makes itself felt. /ED/
Disznókő - 5 puttonyos Aszú 2009 I 92-93 points
Medium straw-yellow in colour. Initially restrained on the nose, with vanilla and honeyed notes appearing first, but then as it opens, the fruit begins to appear, apricot first of all. A little perfume, some flowers and a touch of minerality. Extremely mouth-filling, its balance tilts towards the sugar, but this makes it amazingly seductive. Incredibly rich palate with botrytis and apricot. (BORIGO February 2015: 90 points) /BGB/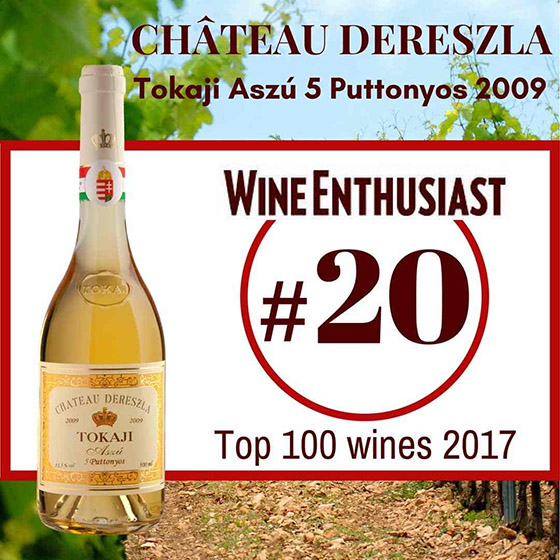 pic: hungarianwines.eu
Dobogó - Tokaji Aszú 6 puttonyos 2009 I 91 points
Straw-yellow in appearance, intense nose, which besides the fruitiness and citrus fruit, unfortunately shows an intrusive aroma, along with a touch of rubber. Full bodied with lovely acidity and flavours of brittle, forest floor, ripe fruit flavours, lots of nectarine and black tea. Long and exciting. /ED/
Royal Tokaji Winery - Tokaji Aszú 5 puttonyos 2009 I 91 points
Deep golden yellow in colour, with medium intensity on the nose. Botrytis plays the main role, but there is also mature tropical fruit and characterful stone fruit. A little leaf litter and earthiness. Beautiful on the palate with delicate, soft acidity and exceptionally rich flavours of vanilla, candied tropical fruit and a touch of minerality. Very beautiful, rich and extremely long. /BGB/
Tokaj Oremus - Tokaji Aszú 5 puttonyos 2009 I 91 points
Medium gold in colour, very thin with a clear watery rim. Its nose is complex, decisive and very broad with everything from primary grape notes through to dried apricot. All this is accompanied by a touch of wood. Lively on the palate too, it displays pleasant acidity and good sugar content, but the finish shows some characteristic Muscat bitterness. Long finish, memorable. (BORIGO February 2017: 90 points) /tasting note: László Bálint aka BL/
Château Dereszla - Tokaji Aszú 5 puttonyos 2009 I 90 points
Medium gold radiating brilliance. The nose unfolds itself with difficulty. Ripe orange, medlar, slightly overripe pear, attractive dried apricot, but all very restrained and soft. Well-balanced, beautifully embellished wine, but despite its concentration, it's rather short, as if the acidity on the finish is shutting down its ability to open up. Then, after a few moments, the flavour explodes. Finishes stormily. /BL/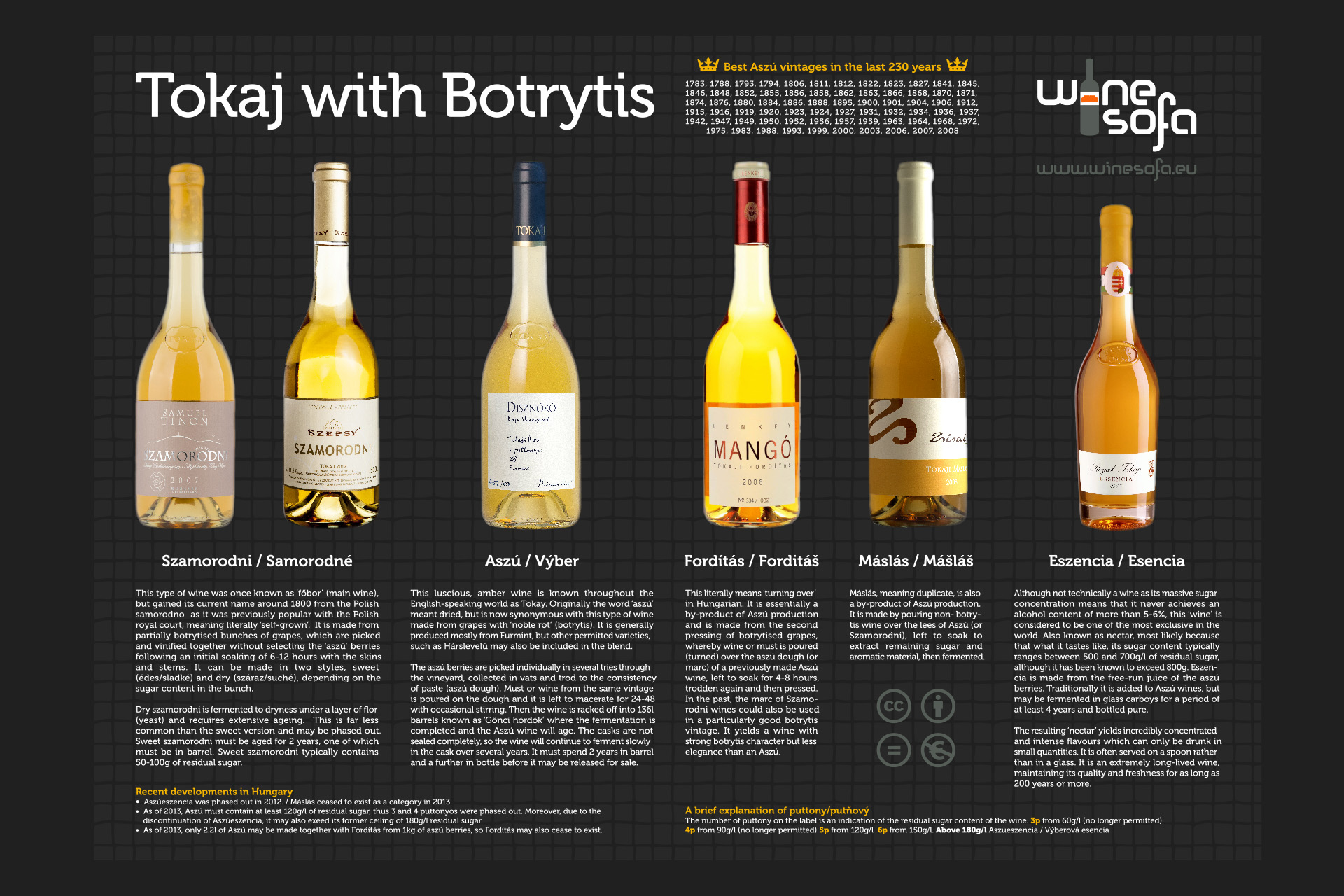 Tokaj-Hétszőlő - Tokaji Aszú 5 puttonyos 2009 I 88 points
Medium intensity on the nose with coconut, vanilla, clove, nutmeg, tea and sandalwood. Medium to full bodied on the palate with lovely acidity and good balance too. The palate is dominated by oaky notes, but the texture is creamy. All kinds of flavours on the long finish, including oaky vanilla. /ED/
Tokaj Oremus - Tokaji Aszú 3 puttonyos 2009 I 88 points
Medium straw-yellow in appearance, with a rather closed nose and botrytis as the main driver. Its fruit is ripe, even nuts play some a role here. Beautiful acidity, a touch of tannins and harmonic sweetness. Extremely rich in detail, not too sweet, but a very drinkable wine which is long and characterful. /BGB/
Zsirai Pincészet - Tokaji Aszú 6 puttonyos 2009 I 88 points
Relatively intense, golden yellow with gleaming reflections. Its nose is quite defined; besides the citrus fruit and a vanilla character, a dusty, chalky aroma also appears, but soon disappears, followed by a deep streak of ripe quince and vanilla. The oxidation suppresses the flavours somewhat on the palate. The wine is well balanced but characterised by a rather strange finish. We would expect more at this level. /BL/
Pannon Tokaj - Tokaji Aszú 5 puttonyos 2009 I 86 points
The wine is the colour of ripe lemons with a thick, sticky crown. Very young on the nose with a mainly citrus character but with some notes of age just appearing. Similar character on the palate too with wonderful acidity and great balance. Long, very drinkable wine with a pleasant, balanced finish. /BL/
Pannon Tokaj - Tokaji Aszú 3 puttonyos 2009 I 84 points
Decisive nose with surprisingly distinct oak influence, complemented by honey, citrus fruit, white flowers and a little bitterness. The oak comes across as a little excessive on the palate, making the tannins bitter. The acidity is however lovely, and the wine is well balanced, yet the structure remains somewhat tight because of this. The oak again dominates the medium finish. (BORIGO February 2015: 84 points) /ED/
You can read more about Forgotten aszú vintages in the second part (2010) of this article series.