Set on the last rolling hills before the Danube in Oltenia (not far from Dragasani), Domeniul Coroanei Segarcea is bringing Romanian wine traditions back to life. Its thoughtfully crafted wine families philosophically blend human values with wine and both royal and gypsy Romanian traditions and inspiration.
The winery was built in the first decade of the 20th century to serve the needs of the royal family. The Segarcea – land of dreams - domain, one of twelve that came under Royal administration in 1884 - was earmarked for winemaking, but its first role was that of rootstock and vine nursery with 60 varieties being grown; this then grew to 300 hectares of vineyards, necessitating the construction of a winery. The Greek-cross-shaped winery bearing royal symbols of the crown is still in use today, albeit greatly extended and modernised with state-of-the-art technology, as is its original gravitational winemaking system. It was officially recognised as being entitled to produced DOC wines in 1929, the winery thrived, and the wines of this time won acclaim at international competitions, returning home with golds from Paris, among others. As in most communist countries, this socialist period was not favourable for viticulture with any focus on quality being swept away in favour of Soviet-style productivity, during which time high-yielding hybrids were planted.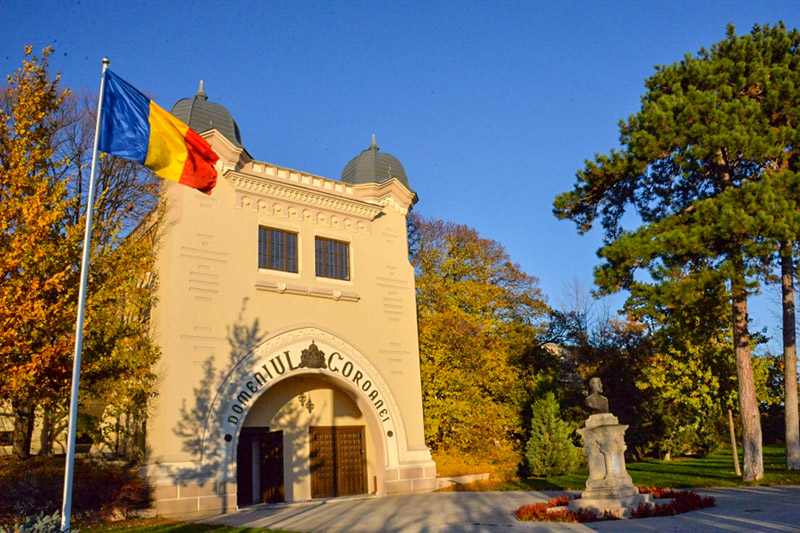 Photo: Piroska Koltai - Wine a'More Travel
Following the revolution, it took people considerable time to get their lands and property back, with many small plots being returned to numerous individual families; the Anghel family, who took over the property in 2002, bought back around 270 hectares from about 400 owners! At first, they tried to make wines with Romanian winemakers, but they were generally communist-trained and therefore focussed on quantity. As the family wished to restore and preserve royal values – the wines of Domeniul Coroanei Segarcea had represented Romanian kings and diplomats on their history-making travels – a focus on quality was required, so they recruited a consultant from France to support them in their quest. French oenologist Ghislaine Guiraud, whose dream was to make wines in Georgia, was seduced by Romania, staying here for ten years.
The winery's key style lines, or wine families, also aim to preserve the historical identity of the place, weaving philosophical musings with royalty, values and the local gypsy identity.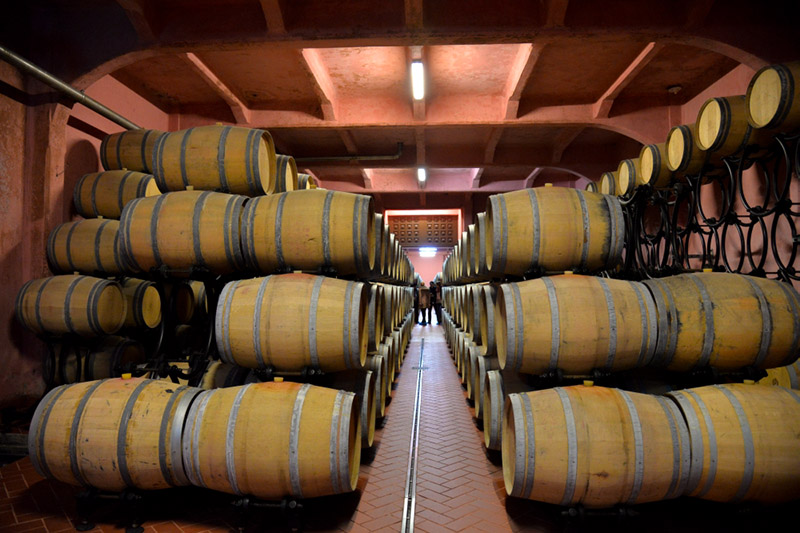 Photo: Piroska Koltai - Wine a'More Travel
The premium Principesa Margaret range was created in honour of the noble spirit of the elder daughter of Mihai I, the last living king of Romania, who has dedicated her life to helping both talented and helpless elderly Romanians, whereas the Minima Moralia wines are named after humanity's indispensable values, highlighting the connection between morality and wine; wine being an enhancer of awareness, thus philosophical thought. These special blends of Honour, Respect, Devotion, Hope, Gratitude and Honesty reflect an intertwining of nature and human nature.
The choice of the name Vardo ('caravan' in the gypsy language) and its labels inspired by gypsy clothing may seem a little strange for a royal domain, but this area was historically a refuge for gypsies from Romanians, who were frequently reluctant to accept them. So, as well as representing the joy of living as intensely and freely as the gypsies - the caravan embodies freedom without barriers and contact with the four defining elements of air, water, earth and fire -, perhaps we can also say that this symbolises respect, one of the defining values - respect for nature, respect for others, respect for traditions and respect for progress.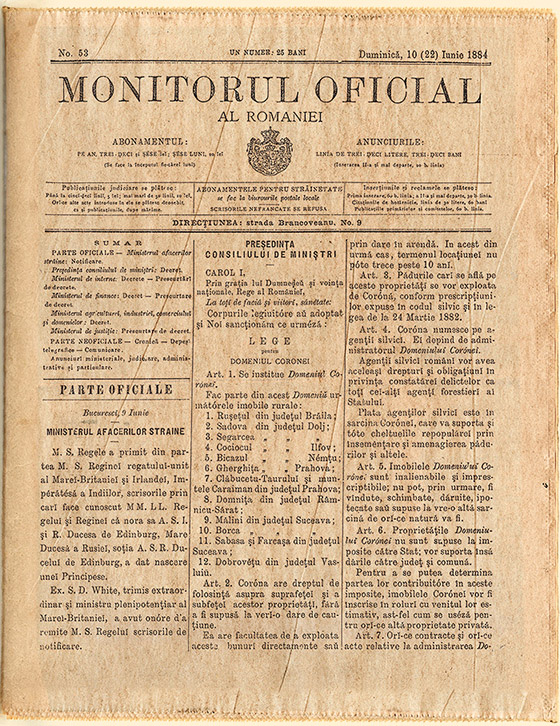 Official document from 1884 certifying that Segarcea became a royal domain.
And so, we have come full circle, to the establishment of the original domain and its quest to become a hub in cutting-edge viticulture in Romania.
Domeniul Coroanei Segarcea tasting notes
Principesa Margareta White 2013 I 91 points (Chardonnay, Pinot Grigio, Viogner both oaked and unoaked)
A complex, yet fruity white wine with serious structure and body. Mineral notes underlay rich tropical fruit and honey, tempered by zesty citrus acidity and exotic vanilla. Lingers on the palate.
Principesa Margareta Red 2011 I 88 points (Marselan – incidentally the winery was the first to plant the variety in Romania)
A deep violet cocktail of fresh red and black berries and a hint of violet perfume. Crunchy blueberry and raspberry fruit with some herbal undertones perked up with lively acidity. Spice, cured leather, cigar tobacco, liquorice and fine cocoa add complexity. Beautifully long chocolatey finish. Cries out to be laid down for a further year or two.
Minima Moralia Honour 2011 I 87 points (Fetească Albă, oaked and unoaked Chardonnay, Sauvignon Blanc, Pinot Gris)
A powerful floral nose with lovely elderflower and fresh fruit notes. Crisp and bright on the palate with razor-sharp acidity. Zesty fruit and mineral notes are rounded out with the honey, butter and vanilla character that comes with a little age.
Minima Moralia Hope Rosé 2015 I 86 points (Pinot Noir, skin contact maceration Pinot Gris, oaked Cabernet Sauvignon)
Attractive fruity rosé with red berry fruit and white peach aromas. Flavours of cherry, pomegranate and rose with fine tannins balanced by crisp, refreshing acidity.
Minima Moralia Gratitude 2013 I 88 points (Cabernet Sauvignon)
Dark inky Cab with aromas of fruits of the forest and barrel spice. Dense and structured on the palate with chunky black fruit jam and sour cherry preserve smoothed out by the richness of dark chocolate. Long and indulgent wine.
Vardó Patima Serii (Flame of the Night) 2011 I 87 points (Feteasca Neagra)
A complex wine with plenty of smoky black and red fruit with just a slight floral touch. Vibrant and fresh with mellow tannins and bags of extract. Bright cherry, toast and a touch of spice protract into a lingering finish.
Domeniul Coronei Segarcea Tamaioasa Romaneasca 2014 I 86 points
Perfumed, floral wine with classic muscat aromas and flavours of rose, fresh fruit and grape. Crisp and refreshing with lively acidity. Perfect as a summer sipper.