Cover pic: Daniel Ercsey
They clearly recognise that winemaking is something you're in for the long haul and their hard work and perfectionism has built their small six-hectare estate and business so successfully that they were named Hungary's Most Beautiful Small Estate 2022 by Bor és Piac magazine. They celebrated the event together with the 20th anniversary of their founding (a year late due to COVID) with a small group of wine professionals last week on the estate.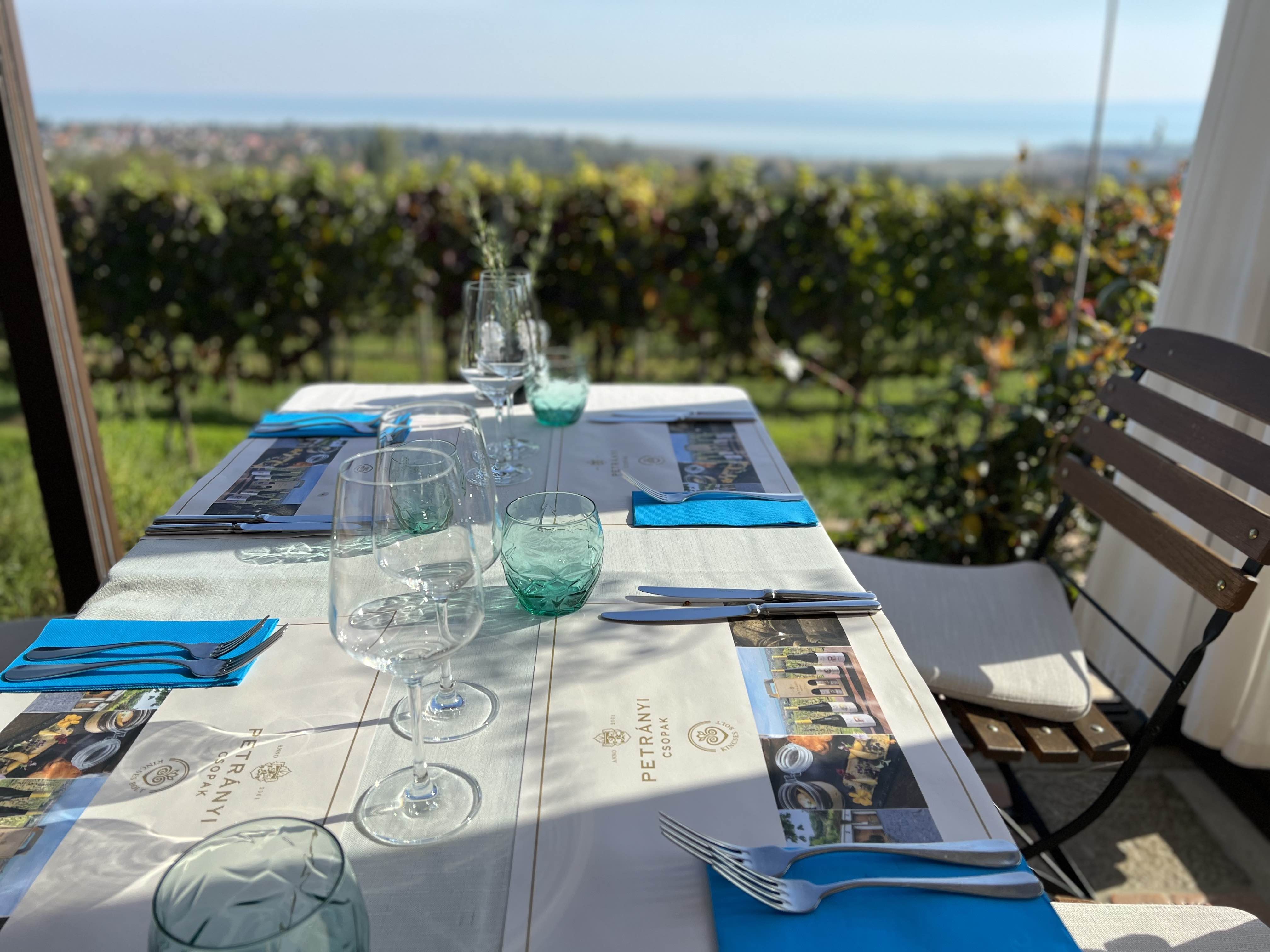 Photo: Daniel Ercsey
Like others enjoying the family's hospitality throughout the year, we had the chance to sample their delicious wines paired with a four-course meal made from high-quality, seasonal ingredients from local producers. And the Petrányis truly believe in the Balaton region as an all-year-round gastronomic and cultural destination, not just a place to relax on the beach and splash in the lake in summer, so they also organise 'Dinner Guest Nights' before and after the main summer season.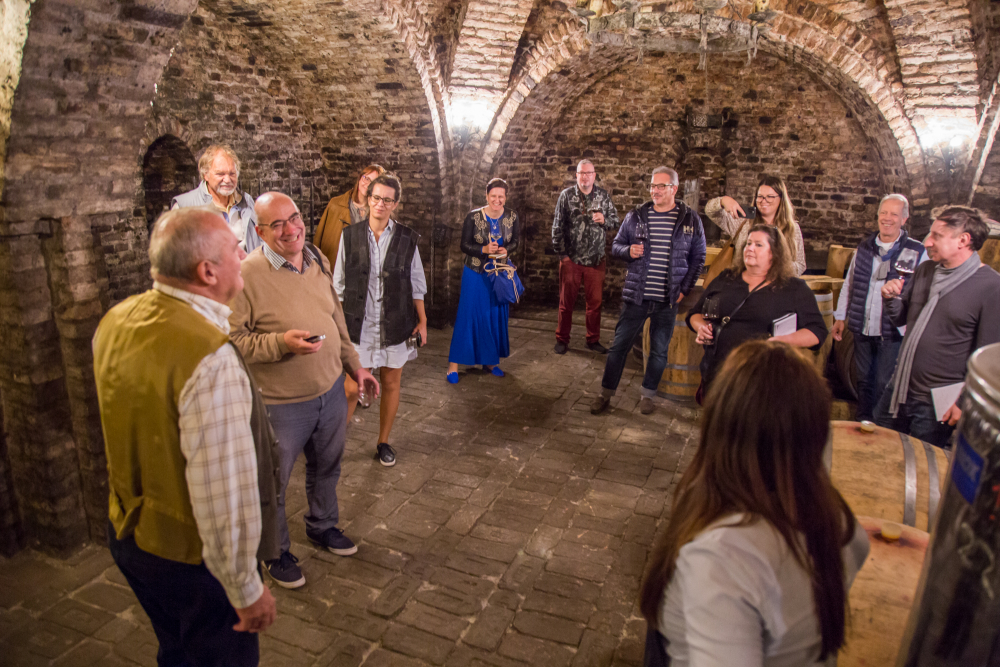 Photo: Sándor Tamás
A refreshing welcome frizzante wine – Harmatcsepp - produced from Muscat and Olaszrizling awaited us on our arrival at the sunny terrace before we enjoyed our lunch and the wines presented by winemaker Ambrus Bakó. Naturally, as Csopak stands for Olaszrizling, we enjoyed two, including the 2021 Olaszrizling Hegybor, which was awarded gold with 86 points at the National Wine Competition, and deservedly so, with creamy layers of complexity and a lingering finish. We also sipped a refreshing strawberry-scented rosé and their red Syrah-Merlot-Kékfrankos blend Derű, a lovely spicy mix of dark cherry and bramble.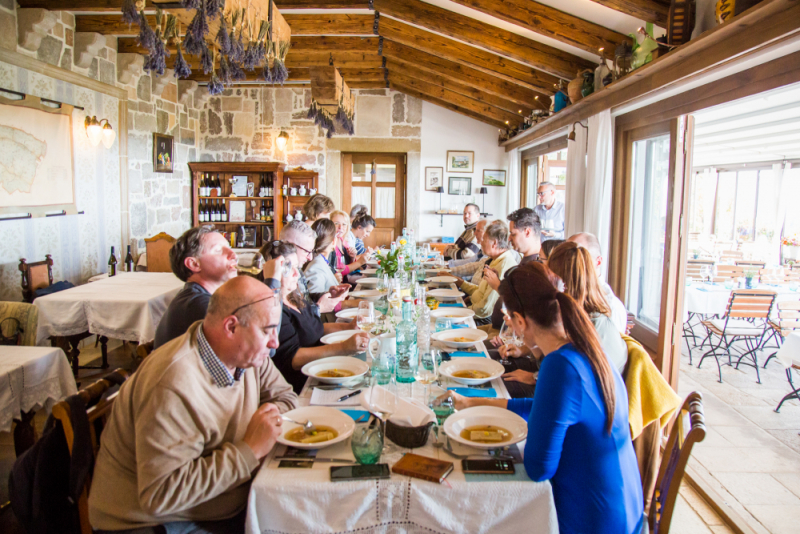 Photo: Sándor Tamás
A brief tour of the atmospheric cellar, lined with bricks rescued from a demolished mill in Budapest was accompanied by a couple of older vintages. A 2016 Codex single-vineyard Olaszrizling from Szitahegy, where the Petrányis first fell in love with their hill. Still holding up beautifully, with notes of honey, dried fruit, wax, smoke and salted almonds. Followed by a 2009 Derű, this vintage a blend of Cabernet Sauvignon, Merlot and Syrah, which was ageing beautifully, with tertiary aromas still complemented by plenty of fresh fruit. This demonstrates that the northern shore of the Balaton is not only suited for Olaszrizling and other white grapes, as in the minds of most people, but black varieties are well on their way to making a comeback.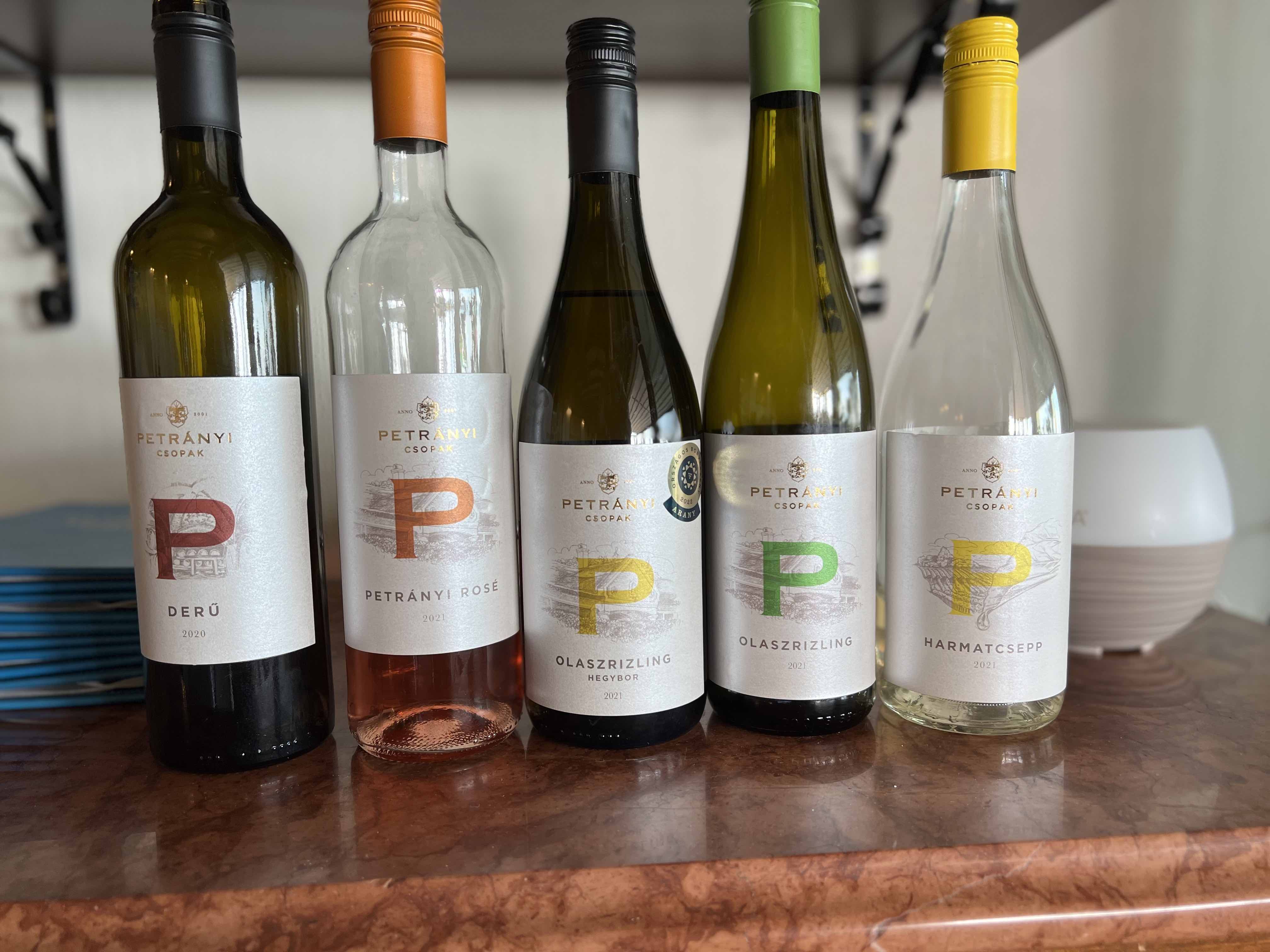 Photo: Daniel Ercsey
The premier of Ében 2020, the virgin production of the family's recently grafted Malbec vines also proves this point. An eminently drinkable, full-bodied wine with plenty of juicy black fruit and spice, and only clocking in at 13% alcohol too! Spontaneously fermented, unfined and unfiltered, which also lent it plenty of complexity and texture. Beautiful now, but one to wait a few years with too.
Photo: Daniel Ercsey
Not only were we delighted to celebrate the Petrányi's anniversary, award and innovation together with them, but we were also blessed with beautiful sunny weather, like on that fateful stroll just over 20 years ago when Piroska and István decided to dedicate themselves to Szitahegy. We could clearly see how much energy and perseverance they have invested in creating this beautiful spot and their wonderful wines. So, we hope that you too will find your way to Szitahegy and enjoy the beauty, wines, gastronomy and hospitality of the Petrányis and their team.