The makers of Libra 2011, selected the 28th best wine of last year – based on the list compiled by the World Association of Writers and Journalists of Wines and Spirits (WAWWJ) – are experimenting with something new again with Ádám Gajdos. The well-known goldsmith and designer has created so many interesting and high-quality products in his workshop. Small wonder that no more than a monthly 20 pieces are made of his artisan belts. The young craftsman now targets stylish and wineloving gentlemen with his latest piece: the exclusive, made-to-measure belts called Wine Way, are made of Italian cow hide, decorated with stainless steel and treated by Bock Capella Cuvée 2008. This elegant top wine of the Cellar gives a wonderful colour to the 35 mm wide belt – and makes it extremely durable, as well. One belt 'drinks' on average about 2 centilitres of wine; therefore, a bottle is enough for 33–39 of these special belts. The unique accessories are made on order, numbered and provided with the name of the owner as well as a certification issued by the Bock Cellar. Orders placed today are ready to be delivered in two weeks the earliest, as ten days are required for the manufacturing of this luxury item.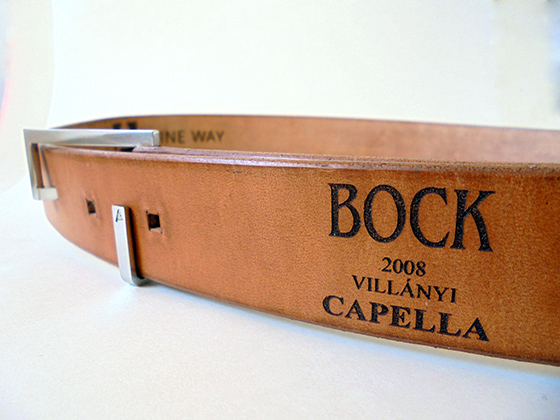 Background Information
József Bock was born near Villány, in Kisjakabfalva in 1948. His family has been making excellent wines since 1850, József since 1981, respectively. Starting from the early 1990s his wines are available in hotels and top restaurants, too. In 1997 he was awarded Winemaker of the Year, the highest professional award in Hungary.
Bock Cellar has achieved excellent results at national and international competitions, as well and is the most important cellar of Villány today. The Cellar makes an annual total of 900,000 bottles of high-quality wine cultivating their own 75 hectares of vineyard located in the best parcels of the wine region and an additional 70-hectare integrated area.
Ádám Gajdos' website: adamgajdos.com