In 2013 Tibor Szilágyi established the Zempléni Sajt Manufaktúra (Zemplén Cheese Manufactory) in Tarcal to continue the old traditions of cheesemaking, to produce high-quality, natural products, thus enriching Hungarian gastronomy.
You have to travel to Tarcal to find Tibor Szilágyi's cheese factory at the bottom of Tokaj Hill. He uses cow's milk to make his delicious cheeses. As he puts it, all his products are gently pasteurised in order to ensure better quality. Tibor intends to revive the traditions of days gone by. He firmly believes that our ancestors had excellent, well- elaborated recipes, thus "there is no need to reinvent the wheel".
The cheesemaster previously worked as a chef at the Andrássy Rezidencia Wine & Spa Hotel in Tarcal for 15 years, then in Tállya at the Oroszlános Borvendéglő (Wine Restaurant), but abandoned it all to learn all the tricks of the cheesemaking trade. In the Carpathian Basin, as Tibor emphasised, "we must find our own flavours and elaborate our own character in taste." Being in Tokaj-Hegyalja, grapes are very much in evidence; Tibor makesa soft cheese speciality covered by grape-seed rind which, according to the cheesemaker, "represents in particular the flavours typical in Tokaj, especially when paired with late harvest sweet dessert wines".
The cheese manufactory intends to use the knowledge of our ancestors to create a range of products which include cheeses with a special Tokaj character. However, Tibor is convinced that the range should not be too wide. They follow the Swiss model and prefer a more limited range so that they can be present on the market in a more focused manner on the one hand, and that the products they offer are always available in sufficient quantities on the other.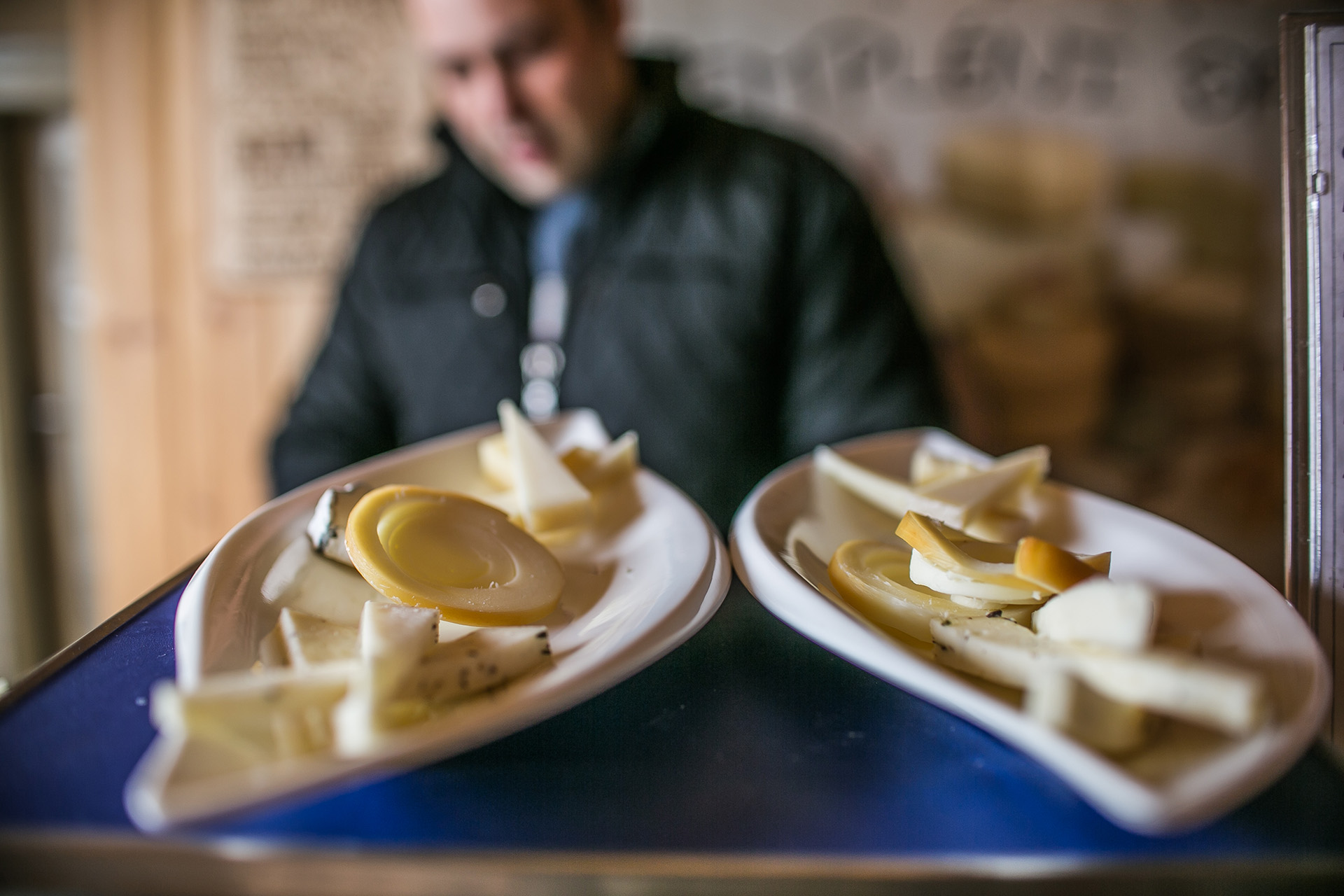 The cheesemaker from Tarcal learnt a lot from his study tour in Switzerland not only concerning having a limited range (meaning no more than three kinds of cheese) but also in terms of origin protection. As concerns raw milk cheeses, he underlines the fact that "there is a high risk of error".
Raw milk, due to its nature, contains millions of bacteria so the end result will always be different after adding the given rennet than what we intend to achieve with the selected culture.
This is why Tibor's method is based on gentle pasteurisation, in other words thermisation, a process in which the milk is maintained at 60–70°C for one hour. The undesirable bacteria are removed at this temperature, and after the milk cools down, a particular culture-selection is added to the raw material to get exactly the required taste, the one they had in mind.
Tibor Szilágyi cannot imagine doing anything else. He supplies local restaurants with his cheeses, but he also has many winemakers from the Hegyalja region as his customers. His aim, however, is not to make a fortune; his business target is, in addition to honest work respecting traditions, simply to provide for his family.