Volcanic wine is a term that is increasingly being bandied around. Indeed, a whole book, which is due out in October, has been dedicated to the subject by Canadian Master Sommelier John Szabó. Wines from regions such as Santorini, Etna and the Azores are sought out by wine lovers. Associations, such as the Volcanic Wines Association in Italy, are being formed to bring together places with volcanic soils, such as Soave, Etna, and DOPs around Vesuvius and in Campania and Lazio.
Although there are many proponents of the theory that you cannot taste terroir, wines made from grapes grown in mineral-rich volcanic soils are believed to have many structural aspects in common, including salty minerality, fresh acidity and serious longevity. Reds are often light, elegant and have lower tannins than most, and whites are more aromatic as a result of the minerals in the soil. Basalt soils, often complemented by andesite and rhyolite, are generally high in calcium, iron and magnesium. Volcanic soils may also be made of tuff or pumice. These characteristics are believed to give wines just that little bit extra.
Italy is known to possess plenty of volcanic landscapes, partly because a number of its volcanoes are still active and we've all heard about the ancient tragedy of Pompeii, haven't we? However, many of Hungary's wine regions are also characterised by volcanic soils. Tokaj, Badacsony, Somló, the Kali Basin and the Mátra are all known for their volcanic origins. Initiatives are also underway to promote these Hungarian volcanic landscapes together.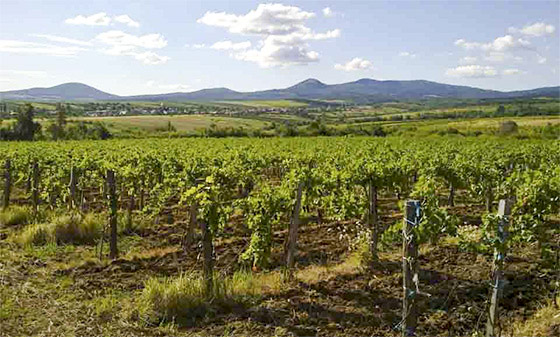 One such initiative is the Volcanic Wine Festival, held for the first time this year in the Mátra's Gyöngyöspata on 27 August. Gyöngyöspata is a small town in Hungary's little-known, but second largest wine region that has 7,815 hectares under vine and viticulture traditions dating back to the 13th century. Typical wines from the region are generally light and aromatic, produced from varieties such as Olaszrizling, Leányka, Muscat Ottonel, Sauvignon Blanc, Szürkebarát (Pinot Gris) and Chardonnay. The region is better known for producing large quantities of unspectacular wines, but a growing number of artisan wineries are springing up, headed by the likes of Gábor Karner, Tamás Szecskő and Bálint Lósonci, forming the group known as the 'Tőkések'.
Organised by Bálint Losonci, who has been living and making wine in the village since 2009, the festival aims to showcase wines from artisan producers from volcanic regions around Hungary in a cosy, family atmosphere. He hopes that this will be the first of many, but that it will not grow to become too overcrowded like many wine festivals around the country.
Guest winemakers from across Hungary and just beyond its modern-day borders were hosted by local winemakers in their cellars, and visitors were able to stroll around the seven-level 'Vári pince sor', tasting as they went. These are rows of small cellars cut into the hill, thus named as in the past a castle had sat watch on the top of the hill.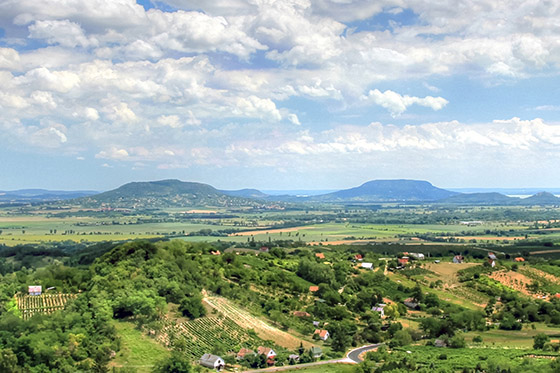 Badacsony was represented by Bencze Pince from Szent György Hill. Founded in 2011 with just half a hectare of Olaszrizling, they now have around 20 hectares of vines. Organic right from the start, sustainability is a key concept for them. The soil here is very mineral and the wines demonstrate great ability to express the terroir. They focus on discovering old Hungarian varieties, and creating wines and sparkling wines that reflect the local terroir.
Tokaj was represented by the Kaláka Pince, run by László Alkonyi in Tállya. László spent 15 years as a writer and then turned to making wines in Tokaj with two colleagues. He produces a pyramid of products, somewhat like in Burgundy, which seemed unconventional at first, but actually makes total sense.
Renee's Wine Heaven hosted Káli Kövek who brought their wines from the Balaton Felvidék, just north of Lake Balaton. He aims to make wines evoking a sense of place and reflecting the character of the terroir. Doing much of the work by hand, Gyula Szabó strives for simplicity, originality and quality, which can be seen in his wines.
The Somlói Vándor Pince served typical varieties from the Somló Hill, such as Olaszrizling, Hárslevelű and Juhfark. The winery is thus named as its owner previously worked for the St Andrea Winery in Eger and commuted to look after his wines in Somló, for many years not even spending a night in Somló.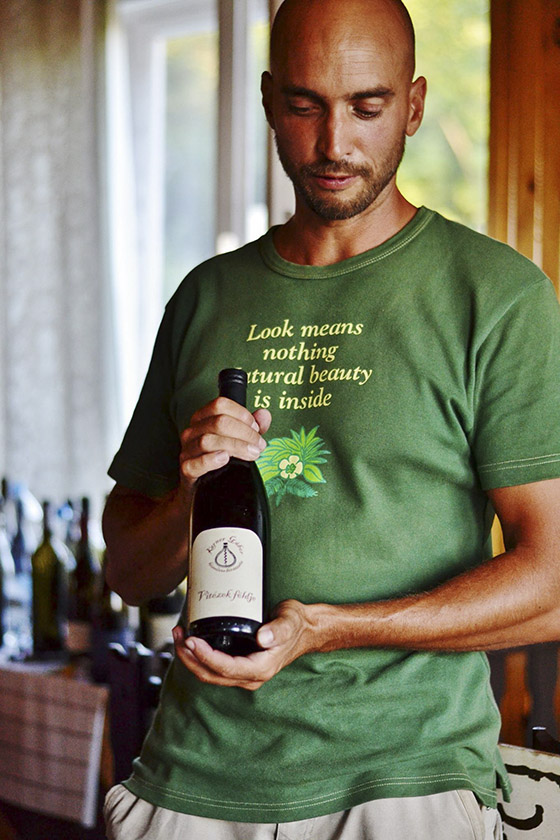 The Mátra itself was of course represented by Bálint Lósconci himself and Laczkó Gyula, with a wide range of wines including a rosé and a siller, both produced from Cabernet Sauvignon, with the grapes for the rosé interestingly being harvested after the siller but spending less time macerating on their skins. Gyula incidentally is a helicopter pilot and is responsible for going up and spraying the crops – he pointed this out to me from his cellar on the hill. A new local winery, Dominium Pincészet, showcased its Syrah among others, Kékhegy had some Zöldveltelini and a blend on offer, and Paolo, a Swiss Italian, owner of 3fuochi, who now resides in the Mátra with his Hungarian wife, had brought along some Ticino-style fresh, fruity Merlot for us to try, produced in the nearby Gyöngyöstarján.
Hungarians from outside the current borders came along and represented their regions. Attila Geönczeöl from Muzsla (Mužla, Slovakia), refreshed us with his excellent Zöldveltelini (Grüner Veltliner), St Laurent and various blends. Wineries from Beregszász (Берегове, Ukraine), introduced us to some of their local varieties, such as the herbal red Golubok and a sweet Kahor mass wine.
Gyöngyöspata is perhaps not the easiest place to get to without your own wheels – you can travel by bus, changing in Gyöngyös, but it's perhaps better to stay the night. However, the organisers laid on a bus for weary visitors to reach the last Budapest bus from Gyöngyös.