Architects: Elmar Ludescher, Philip Lutz
Location: Viessling 31, 3620 Spitz a.d. Donau/Wachau Austria
Project Year: 2015
Photographs: Courtesy of Elmar Ludescher + Philip Lutz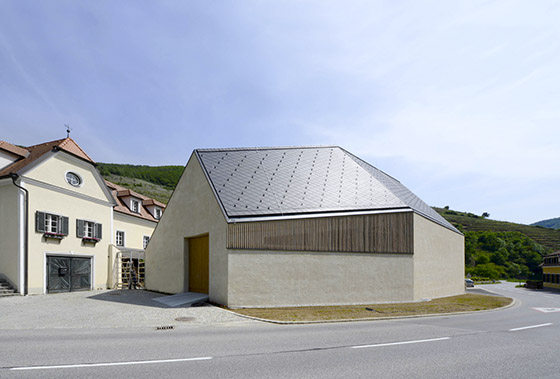 From the architect. Located near the edge of Austria's Wachau region, where the Spitzer Graben valley opens towards the Waldviertel, is Vineyard Högl. The climate is on the edge of viticulture, colder and more inhospitable than at the nearby Danube. However this climate and the rich gneiss and mica schist soil are precisely why wine from the region is so unique. Just as the wine demonstrates the diversity within each region in all its facets and follows the given natural circumstances, the architecture is anchored in this unique place.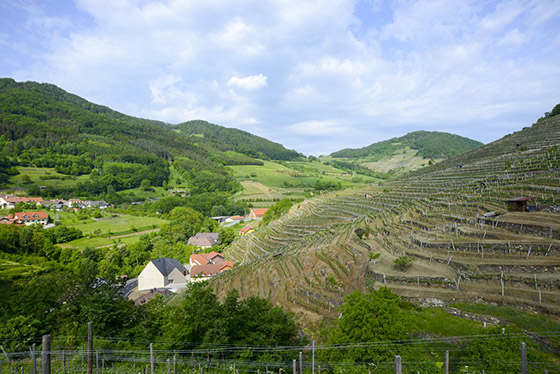 Dominated by a landscape of steep terraces formed by stonewalls, the modern building becomes part of the old farmyard and is designed for the production and tasting of wine.
The structure reinforces the power of its location and uses the potential of the ensemble by completing the courtyard. Together with the existing buildings the house forms an inner courtyard, which is shielded against the street and invites us to take a rest. The new building's volumetry corresponds to the two functions of production and tasting. The production hall evolves along the road, whereas the tasting area is orientated with its viewing side towards the forecourt. The new building defines two distinct entrance areas.