I've already written about the once lively days of Buziaș, its health spa that attracted the wealthy bourgeoisie and military officers, but so far, I haven't really written about its vineyards on the mountain slopes. It's not hard to find, though. You only have to head towards Lugoj on route 592 through Buziaș and once you leave the last house behind, turn right on the last road (strada Timisului) before the fields. This road will take you to the vineyards. And once you're there, take a look back and you can see Buziaș with its old health spa, park and even the centre.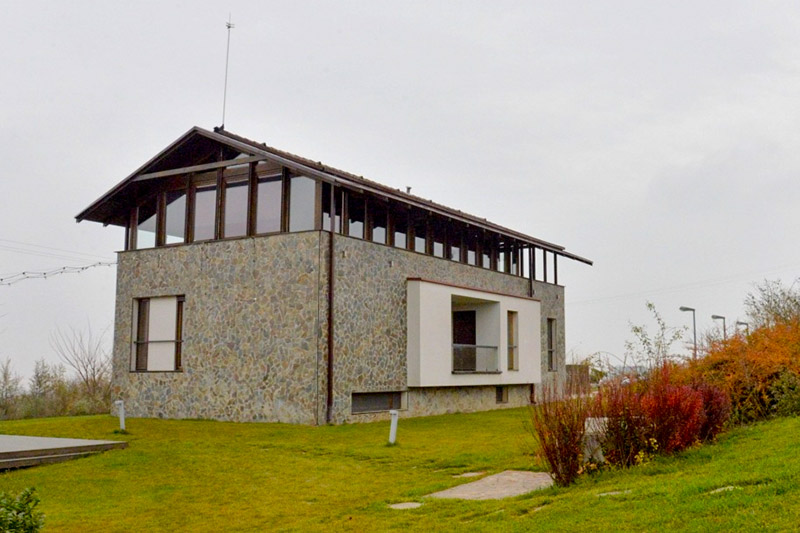 Photo: Piroska Koltai - Wine a'More Travel
Thesaurus winery was built almost on the mountain top. It's worth driving past the winery because then with a right turn you can turn directly back into the parking place. In the modern building next to the winery, there are tasting rooms both in the basement and on the first floor, while the ground floor accommodates several suites only for friends and acquaintances for the time being but once it goes 'live', this place will be a paradise.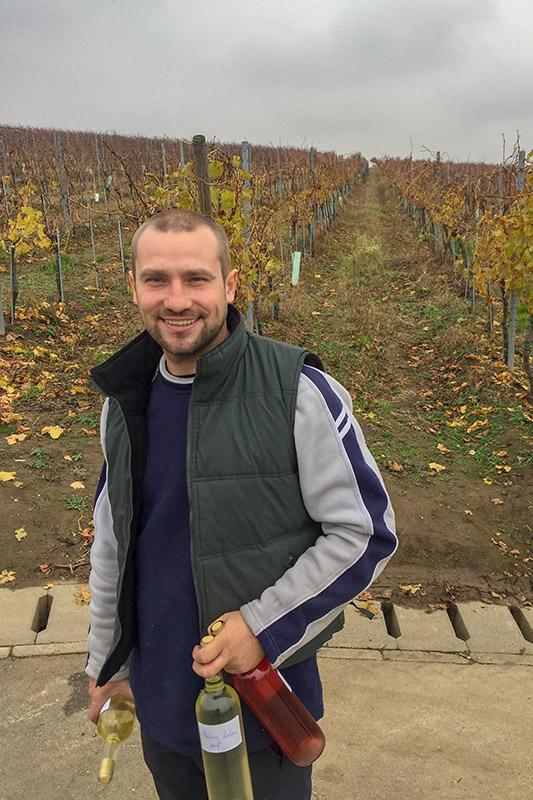 Paul and his wines by Daniel Ercsey
The company was established in 2005, but they took their time and introduced their wines to the market only in 2014. It's good to hear that they believe in the local varieties and that was the reason for them waiting that long with entering the market. They kept experimenting with the varieties, the cultivation methods and the different barrels. The size of the estate is really friendly with its total of 5 hectares of which 4.2 hectares is for grape wines and the rest is for table grapes.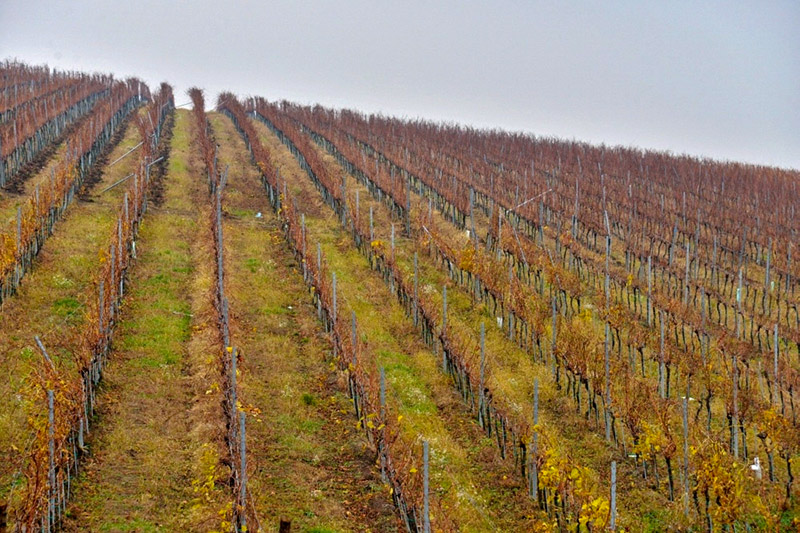 Photo: Piroska Koltai - Wine a'More Travel
And the two persons responsible for these experiments are Paul, born in Bran, Romania, and David from Stellenbosch, South-Africa. And this is what adds up to the Bran-Stellenbosch axis on the vineyard near Buziaș.
Grape varieties are represented by Cabernet Sauvignon, Pinot Noir, Sauvignon Blanc, Muscat Ottonel and Riesling Italian though Paul very much believes in Blaufränkisch too.
"In the old times every vineyard had a German owner here. In general, they produced dry wines. As this side of the mountain is rather windy, we don't need to be afraid of fungi diseases. The mould content of the soil is high; therefore, we have to pay much attention to yield restriction", says Paul.
Tasting wines in the tasting room on the first floor we saw vines all around us. Their majority is untended.
"The property prices have rocketed since we entered the market. Obviously, a major part of the owners doesn't see the immense work we do in the winery, they only see that their lands are next to ours, and they think it's enough for the success. But we don't have secrets. In the first years when we presented our wines, our neighbours came to check on us, what we were doing and what made our wines better. After a while, I invited them to the vineyard to see how it should be cultivated, what shoot thinning meant, what modern foliage management meant, what yield restriction was. It would be much better for us, if we weren't alone and there were another 10-15 similar winemakers here."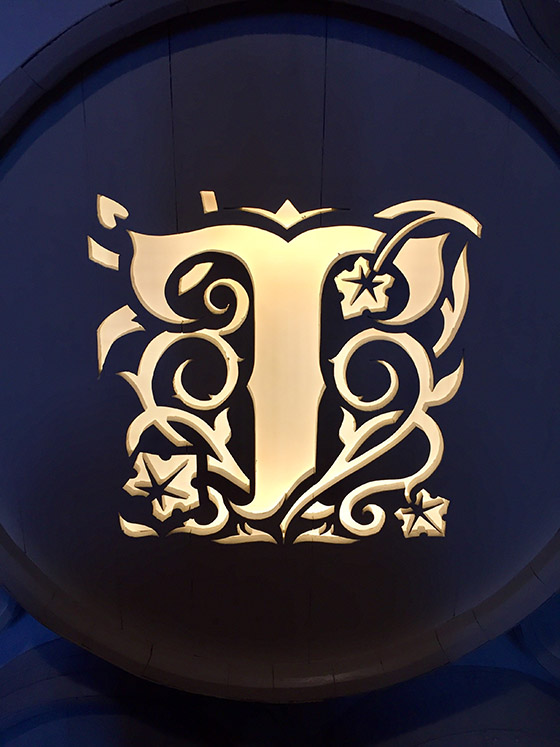 Photo: Daniel Ercsey
What else could I add? I couldn't agree more to what Paul said. High quality in a wine region can only be achieved if there is competition and quality is the focus of a lot of wine makers. Then there will be wine tourism but until then, all I can do is to cheer for this lovable initiative to persevere in the hard times!
Riesling Italian Amadoc 2016 I 80 points
The nose is rather empty, with a little lemon after some aeration. Light and fresh on the palate with good acidity and flavours of apple and citrus fruit. Simple, Off-dry.
Sauvignon Blanc Single Vineyard 2016 I 83 points
Pear, apple, balmy Mediterranean character on the nose. Smooth acidity on the palate with tropical fruit flavours and a medium finish.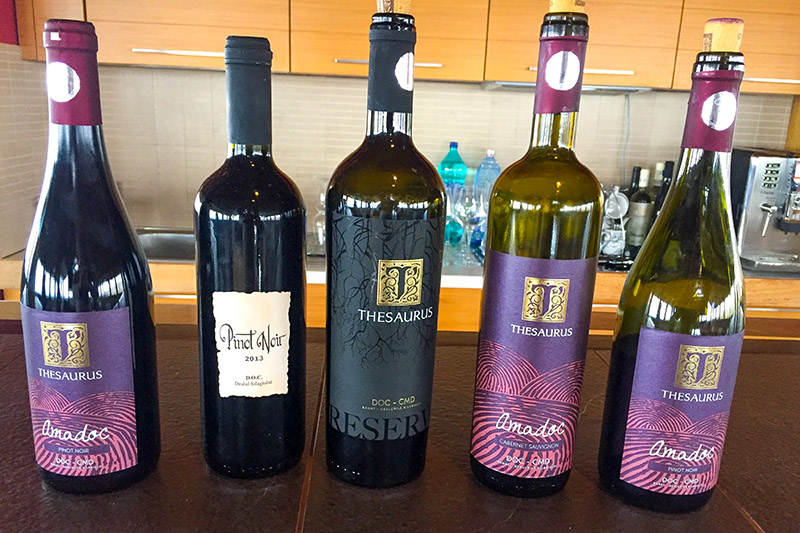 Photo: Daniel Ercsey
Muscat Ottonel Amadoc 2016 I 84 points
Ripe Williams pear on the nose with white flowers and a hint of honey. Smooth acidity with ripe flavours and a short but slightly sweet finish. Very drinkable.
Pinot Noir Amadoc 2015 I 82 points
Restrained on the nose with silky tannins, red berry fruit and a touch of yoghurt on the palate. Ends a little bitter.
Reserve 2015 I 87 points
Intense array of spices on the nose. Medium-bodied with tightly structured tannins, lively acidity and plenty of spice and sour cherry on the palate. Intoxicating, very quaffable but very young.