You are new here? For the 1st part of this article, click here.
Our next port of call is high up above Bolzano (aka Bozen) to taste the winery's flagship variety, Gewürztraminer. The cantina, which has played a key role in raising the bar for Alto Adige wine, has based its profile on the aromatic variety and has become synonymous with high-quality, still Gewürztraminer. Its single-vineyard Nussbaumer Gewürztraminer has won Gambero Rosso's highest accolade, Tre Bicchieri, 18 years on the trot and its newly released Epokale, a spätlese aged for seven years in a silver mine at 2000m scooped up an amazing 100 Parker points last year. However, the proof will be in the pudding or, in this case, in the wineglass.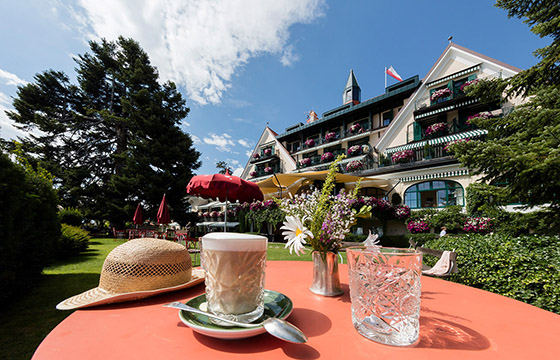 Photo: Parkhotel Holzner
We take the Renon cable car up the mountainside and across verdant mountaintop meadows to the atmospheric Parkhotel-Holzner, built in 1908. Before getting stuck into the real work of Gewürztraminer tasting, we enjoy the spectacular views across to the snow-covered peaks of the dolomites from the beautiful turn-of-the-century's sunny terrace. Glass of their Chardonnay blend, Stoan (a play on the dialect word for stone) in hand, Willi Stürz, the cantina's winemaker gets us up to speed with the variety, one of the oldest in viticulture, dating back at least a thousand years, although nobody knows exactly where it came from.
Traminer gets its name from the village of Tramin where its village museum has a bottle of wine from 1883 where the name Traminer is still used, Gewürztraminer being a spicy mutation of the same variety. Famous names such as Cabernet Sauvignon and Riesling are descendants of the variety and Pinot Noir also shares genetic similarities. The variety still has one of its strongholds in Alto Adige, the other being Alsace. Gewürztraminer from here is generally drier, usually with around 3-7g of residual sugar and spicy notes of cinnamon, whereas Alsatian version may well contain up to 20g and tends to be more floral, with its familiar aromas of rose petals. Twenty-two percent of the coop's members' vineyards are planted with Gewürztraminer.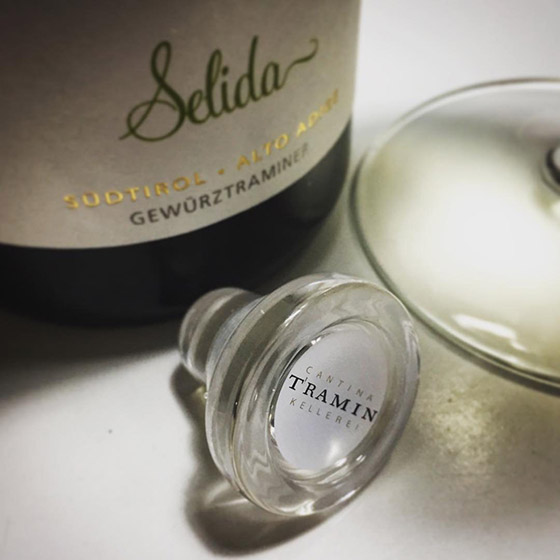 Photo: Cantina Tramin Twitter
We taste their range, from the dry Selida 2017, which offers the accustomed rose and lychee character, through to the luscious Terminium 2015, which is labelled as late harvest but is more like a Trockenbeerenauslese. Harvested between the end of November through to mid-January with 60-70% botrytis, the luscious golden-amber liquid proffered orange, marmalade, honey, ripe peach and umami and weighed in at a whopping 320g of residual sugar. Long lingering finish.
Of course, the main course comprised the Nussbaumer and Epokale. The 2016 Nussbaumer, where they had made 25 separate vinifications to try to understand the variations comes from the Nussbaumer vineyard with porphyry base rock. Well-deserving of its tre bicchieri – a rich, creamy, full-bodied wine filling the nose and palate with aromatic rose, lychee and bags of cinnamon spice. The 2009 had already begun to lose varietal expression but had developed greater harmony and elegance on the palate. Still retaining freshness, it had become smoother, creamier, more buttery with vanilla, spice and mineral notes. Willi pointed out that they now release their Gewürztraminer a year later than in the past.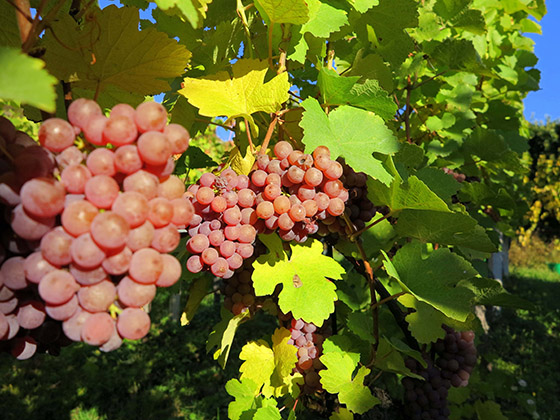 Photo: Gewürztraminer (Cantina Tramin)
And on to the Parker 100-pointer, the Epokale 2011. This was produced in the old medieval style (hence its name) of the variety, semi-dry with 40g of residual sugar and harvested at the end of October. The first vintage, Willi tells us, boasted 107g. Beautifully balanced and creamy, elegant yet honeyed and rich.
A cooperative recognised for high quality
Back at base camp in Tramin, we also taste some of their other wines, demonstrating that they not only excel with their flagship variety but also turn out very high-quality wines from the wide range of varieties grown in the area, such as Pinot Grigio, Pinot Bianco, Sauvignon Blanc and Chardonnay. Although a cooperative, here there are none of the negative connotations associated with the concept, these wines have earned them recognition as one of Italy's top white wine producers. Willi Stürz, the driving force behind helping growers and introducing cutting edge technology in the cellar, was named Italian Winemaker of the Year by Gambero Rosso in 2004. In their search for high quality, they also decided to age their top whites longer, releasing them six months later. This entailed a drop in sales in 2015, but the quality-motivated coop members chose to bear this.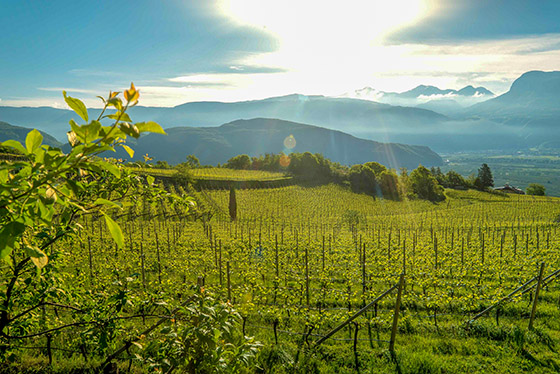 Photo: Cantina Tramin
Naturally, we don't pass up the chance to taste the Maglen Pinot Nero or the Urban Lagrein, the cellar's top reds.
Cantina Tramin is an excellent example of how the cooperative system helps turn mountain viticulture into an economically sustainable activity for local wine-growing families, whilst pursuing the highest quality in their wines. It is an example that could be followed, despite the distaste for the word 'cooperative', in many regions where individual vineyard holdings are relatively small. Not only could it increase the income of grape growers, but it would also enable greater investment in modern technology, thus facilitating an increase in quality.
Many thanks to Irene Graziotto of Studio Cru for organising the trip and to Wolfgang and Willi of Cantina Tramin for hosting us.