Alto Adige, aka Südtirol, is a strange, but delightful place. This most northerly region of Italy used to be part of the Austro-Hungarian empire and is thus a combination of Italian style and Austrian gemütlichkeit, one of those German words it's simply impossible to translate effectively. Although Italian is widely spoken, you often have the feeling you are in Austria – the signs are in both Italian and German and the people are more likely to converse in German than Italian.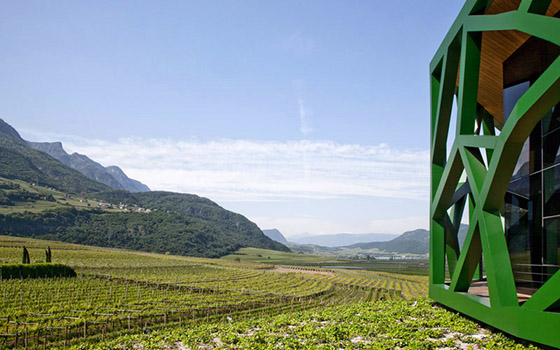 Photo: Cantina Tramin
We're here to visit Cantina Tramin, the region's third oldest winemakers' cooperative, based in the professed home of the Traminer variety, Tramin – or Termeno in Italian. We're met by Wolfgang Klotz at their futuristic winery at the entrance to the village. This stunning green-veined building, a mixture of metal, cement and glass, based on the vine's shape, morphology and the role it plays in the local landscape, morphs into a giant sculpture as you approach and has become a major landmark in Tramin.
Building on a long tradition of viticulture
En route to the vineyards, we call into the café in the centre of the village, as we all profess the need for a caffeine injection. In the tiny space, Wolfgang gives a bit of background on the area as we sip our espressi. There's no viticulture on the valley floor here, unlike around Verona, this is given over to apple orchards. Apple production is big business here – Alto Adige is one of the biggest growers of apples in Europe. Munching on a Pink Lady? There's a good chance it came from Alto Adige. Everyone around is speaking a form of German, but it's not the German you'll learn at school; it's the kind of Alpine German you'll found spoken in Tyrol and even Bavaria. Yet unlike their more northerly counterparts, the South Tyrolese don't learn Hoch Deutsch (High German) and have no connection with it – they speak their local dialect and also learn Italian at school.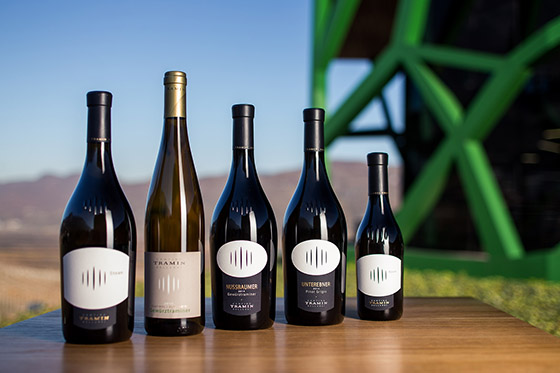 Photo: Cantina Tramin
Despite today's vast swathes of apples, they've only been here for two hundred years or so, previously corn was planted here on the swampy valley floor. Wolfgang tells us that it was very difficult to cross the valley, so dialects vary greatly from village to village. Viticulture, however, dates back 3000 years here. Monks later invested in viticulture too as it represented the warmest, mildest part of the German-speaking world. Viticulture is still a key industry in the valley nowadays with a myriad of varieties grown along its slopes. Gewűrztraminer, Cabernet Sauvignon and Merlot are grown on this side of the valley with Chardonnay, Pinot Grigio, Sauvignon Blanc and Pinot Noir on the other.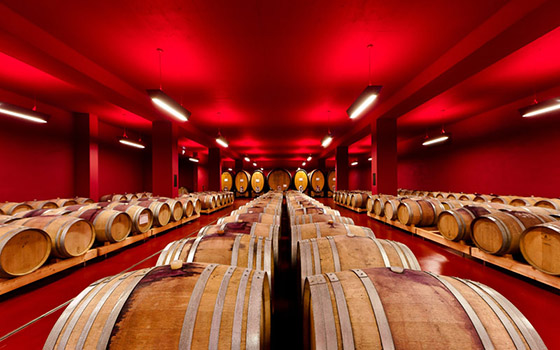 Photo: Cantina Tramin
We head off along narrow roads with fabulous views over the valley, now a UNESCO World Heritage site, to take a look at some of the vineyards and Wolfgang points out where which varieties are typically grown. In the seventies, they merged with another coop from the other side of the valley in Mazon, which is the grand cru for Pinot Noir in Italy. The Pinot Noir from here has great concentration and body. Gewürztraminer (or Traminer Aromatico in Italian), the winery's flagship variety, prefers higher altitude with heavy soils which retain humidity, whereas Lagrein, another key local variety, is planted low on sandy soils.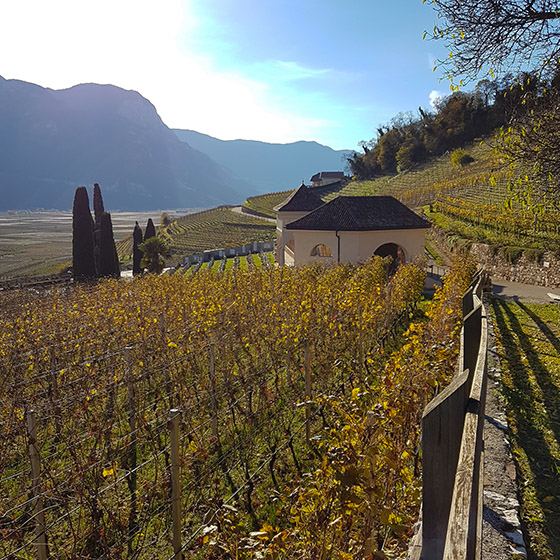 Photo: Sue Tolson
The vineyards belonging to the coop's members run 10km north to south. There are around 350 growers representing about 260 hectares, meaning that most work less than one hectare. The coop, founded 100 years ago, helps to keep such family businesses alive. The income is divided based on quality, meaning that there is only a small difference between grape price and bottle price in Alto Adige, enabling families to make a good income and maintain their traditional way of life. They will probably have some orchards too.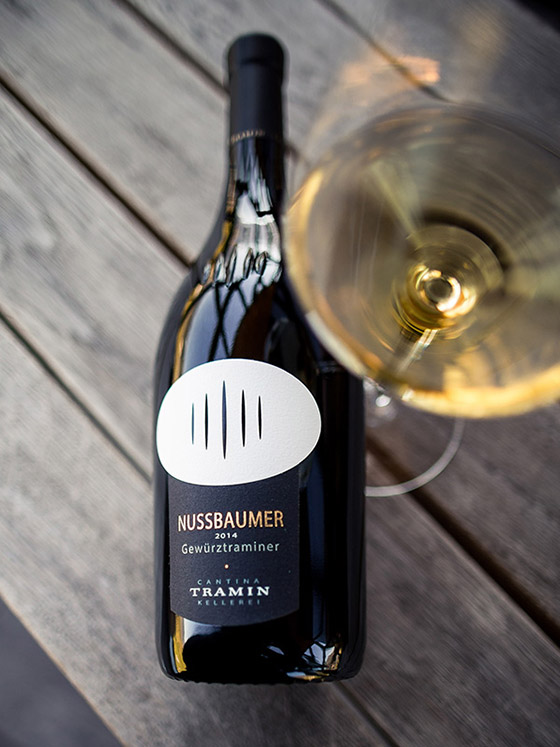 Photo: Cantina Tramin
We take a look at some Gewürztraminer vines where botrytis has already set in – it usually appears between November and January. These berries represent the liquid gold that will become luscious late-harvest, naturally sweet wine, Terminium, which the cantina has produced since 1998.
Come back for the second part of this article next week!