You are new here? For the 2nd part of this article click here. Cover photo: Uros Modlic
The emphasis is on white wines in the Czech Republic, except for VOC Modré Hory, which is an appellation especially for Blaufränkisch. J Stávek, Kobylí, Syany and Vít Sedláček are all names that make beautiful Frankovka every year, as do Slovak producers also known for their lively acidity, such as Château Topoľčianky, the Mrva&Stanko or the Mavín / Martin Pomfy wineries. Smaller estates producing natural wines, like Magula (their Frankovka is a benchmark in Slovakia every year), Slobodné Vinárstvo, or András Mátyás, Frigyes Bott and Strekov 1075 in the Strekov region are, however, following a very different path.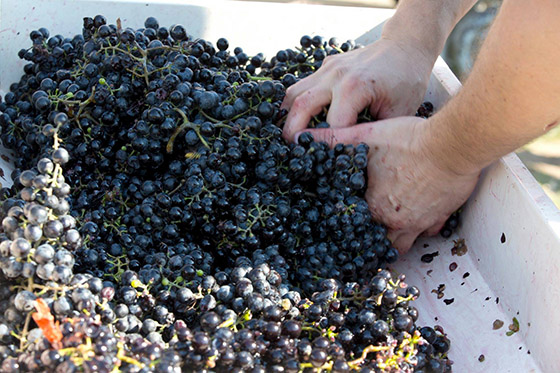 Photo: Magula Winery
But just how does the American first lady come into the picture? There's a small town in Slovenia near the Sava river, Sevnica. For most of the world, this is the birthplace of Melania Trump, for us, however, it is the centre of Slovenia's most important Blaufränkisch festival! Year after year, the Festival Modra Frankinja is becoming the gathering place for the best Slovenian Modra Frankinja, including the wines of Pullus, Krško, Martini, Kobal and Dveri Pax, which are often closest in style to Austrian Blaufränkisch, i.e. fruit forward with vibrant acidity. The Marof wines are an exception to this, where elegance is also accompanied by body and serious depth. It is supposed that the German name for Blaufränkish (Lemberger) also comes from the red wines around Lemberg pri Šmarju in Slovenia; there is, of course, no evidence for this, yet this has stopped neither the Germans nor the North American wineries continuing to call the variety by this name. So, if you come across a red wine called Lemberger or Limberger somewhere in the world, you can be sure that you have some Blaufränkisch in your glass. Speaking of America, more and more producers in the Finger Lakes area are releasing independently-bottled Lemberger alongside their Cabernet Franc; moreover, the market is also beginning to discover these fruity red wines with good acidity. (I'd like to point out here that this article was written thanks to another article, written in Hungarian by John Szabo MS in the VinCE magazine. Click here to learn more about American and Austrian Blaufränkisch, in another piece by John Szabo.) Last year, several American exhibitors showed their Lembergers at VieVinum and made a good impression. Now they simply need to learn that the variety's roots are certainly not in Germany and that they might well lead to Central Europe.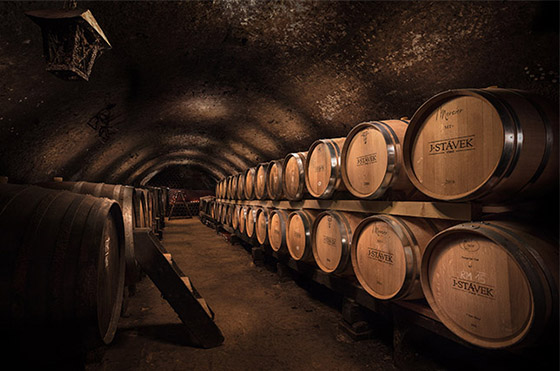 Photo: J. Stavek Winery
Wine recommendations
Fox Run Lemberger, 2013 (Finger Lakes, NY) I 89 points
Structurally, it certainly follows a lighter, fresher line, with vibrant acidity and the fruitiness of cherry soup. Lovely spiciness, mainly pepper, in the background with sour cherry, blackberry and cherry on the finish along with date and a touch of vanilla. Very drinkable wine!
Imre Garger, Kékfrankos, 2007 (Vashegy, Sopron wine region) I 91 points
Beautiful maturity on the nose with the fruit already in the background, a little strawberry jam concealing some spice. Medium-bodied on the palate with lovely acidity and flavours of mint, a pinch of anise, strawberry jam and balsamic vinegar. In beautiful condition. Longer than average finish of spice and sour cherry stone.
Péter Vida, Hidaspetre Kékfrankos, 2015 (Szekszárdi borvidék) I 93 points
An appealing nose with plenty of fruit and lovely spice. Vibrant tannins and lively acidity on the palate with cool elegance. There is a fascinating salty-mineral thread to the finish. Really great wine – one of the best Hungarian Kékfrankos I've tasted.
Magula, Frankovka Modra Unplugged, 2015 (Malokarpatská, Slovakia) I 91 points
Beautiful maturity already on the nose, characterised by red and black berry fruit and serious depth. On tasting, although it feels very young, it's already very approachable with overwhelming fruitiness, but some chocolate and attractive spice rounds out the picture. Red berry fruit dominate on the finish, but this will change as it matures.
J Stávek, Frankovka, 2015 (VOC Modre Hory, Czech Republic) I 90 points
In addition to sour cherry and cherry, a cool, minty note appears, which makes it really appealing. Medium-bodied on the palate with lively acidity and flavours of sour cherry and redcurrant. There is also some cinnamon and an interesting pecan nut aroma. Medium to long finish.
Kobal, Blaufrankisch, 2012 (Stajerska, Slovenia) I 91 points
Ripe plum, notes of earth and autumnal leaves on the nose. Silky texture and bright acidity on the palate, with flavours of plum, chocolate and a beautiful range of spices. Very drinkable, elegant and nicely proportioned wine with a long finish.