Melania Trump's hometown, Sevnica, is in the heart of Slovenia's smallest wine region, Posavje. Chris Boiling, a writer who makes wine in Slovenia, sees what this area, southeast of Ljubljana, has to offer wine lovers.
1 Sevnica is the small, quiet, industrial town where America's next First Lady, Melania Trump, came into the world as Melanija Knavs. It sits on the left bank of Slovenia's longest river, the Sava. Its main attraction is a beautiful castle with interiors from the Baroque and Renaissance periods. Sevnica Castle has a tower at each corner, its own circular wine cellar, and a small vineyard. About 500 vines dress the terraced southwest slopes below the castle. A local winemaker is selected each year to make wine from the Modra Frankinja (Blaufränkisch) grapes. The castle's main claims to fame are its connection with the first Bible written in Slovenian, the fresco in the Lutheran Cellar, its puppet theatre, and an embalmed body in a coffin. I prefer to see the view of Sevnica's old town and the rolling hills from the castle's café.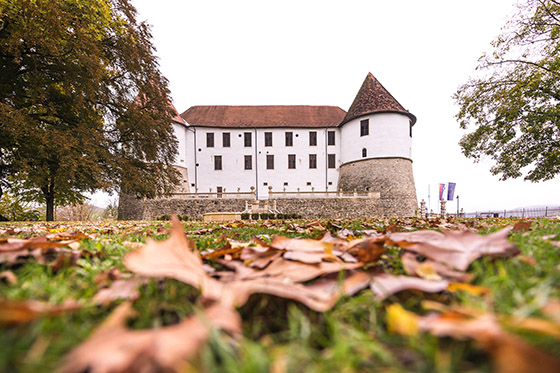 2 Sevnica is the starting point of the Bizeljsko-Sremiška wine road, and also part of the Upper Dolenjska wine road that links Trebnje, Sevnica, Krško, and Škocjan. Sevnica is in the wine sub-region called Dolenjska, which is characterised by small producers whose vineyard cottages and tourist farms are dotted over the picturesque hills between villages, churches and forests. About 4km north of Sevnica is one of Slovenia's top sparkling wine producers, Vinska Klet Mastnak. But it's not the region's most famous wine.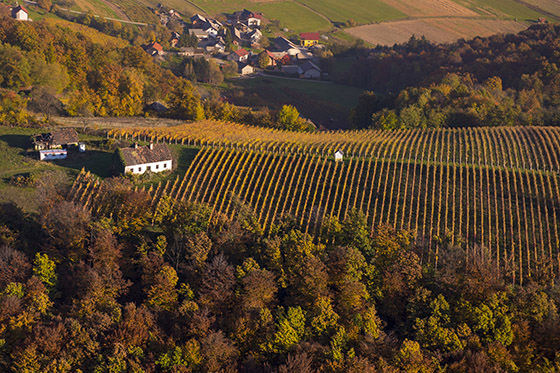 3 Dolenjska's specialty is Cviček. Cviček is a low-alcohol, light-red, highly-acidic blend featuring 70% red varieties (such as Modra Frankinja and Žametna Črnina) and 30% white wines (Kraljevina, Laški Rizling, Rumeni Plavec, Zeleni Silvanec, Ranfol, Lipna). Basically, it's a mixture of the old varieties that survived phylloxera! The Slovenians consume 1.5-2m bottles a year, but it is yet to win over wine lovers outside of its home country. Since it became a wine with protected status in 2001, the quality has improved. The key producer is the cooperative Vinska Klet Krško, which offers tours and tastings in its modern facility in the hills above Krško and Leskovec. The key villages to find smaller producers are Malkovec, Slančji vrh, Bojnik, Dedna Gora, Preska, and Rovišče. At the end of May, the main town, Novo Mesto, hosts the Cviček Week, during which you can taste the full range of Cviček wines and other locally-produced fare. Salami is another regional specialty and Sevnica has an annual salami festival called Salamijada.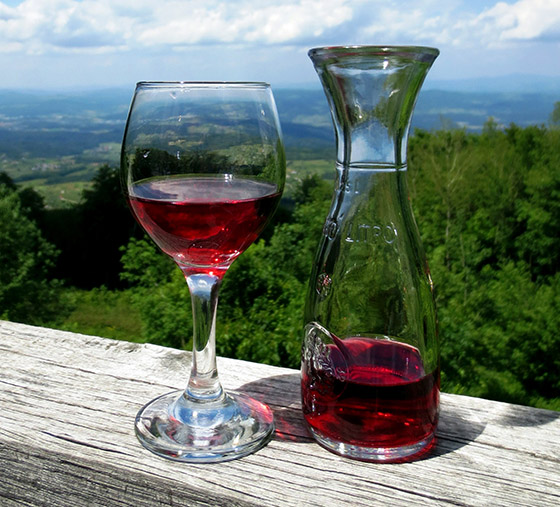 4 Posavje's other two sub-regions, Bizeljsko and Bela Krajina, are also worth visiting for their specialties. Bizeljsko is best known for its repnice. These are hand-dug caves where vegetables such as turnips used to be stored in winter (around the turn of the 18th century), but have been redeployed since the 1990s as wine cellars. Some have even been expanded, with the owners using traditional methods to dig out the siliceous sand. A handful are open for tours and tastings, with the best being found at Vino Graben and Tourist Farm Pudovi (both of which have accommodation), and the most-impressive Repnica Najger (pictured). Another tourist attraction in Bizeljsko is Bizeljsko Castle, above the small hamlet of Bizeljsko Vas. The castle is owned by the state but is leased by the winemaking family of Klakočar. Try their Laški Rizling and ice wine.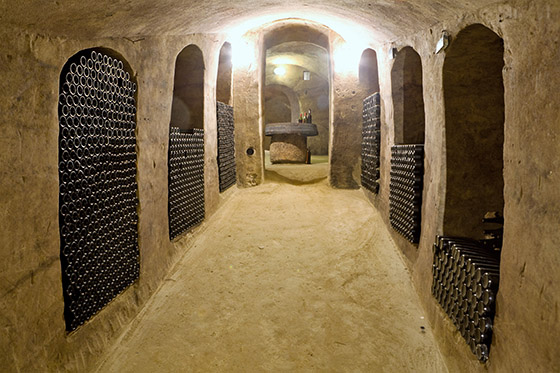 5 Vino Graben's eccentric owner, Janez Šekoranja, is one of my favourite winemakers. His bronze-coloured Pinot Gris should be on every winemaker's bucket list. The one I tasted started with 45 days of skin contact. Among his 50 wines from 20 varieties, there is also a sweet Traminer that has spent 18 years in oak.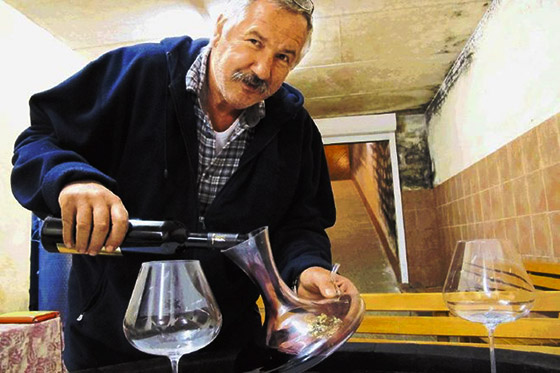 Photo by Ernest Sečen
6 Bizeljsko's other top-rated producer, Istenič, specialises in sparkling wines. Started in 1967 by former Yugoslav goalkeeper Janez Istenič, the company makes 16 different traditional method sparkling wines in its Drenovec winery. These wines range from an aromatised sparkling wine with natural peach flavouring (Desirée DeLight) to a demi-sec made from free-run Blaufränkisch and Pinot Noir (Michelle). Janez started making wine in the Bizeljsko hills after studying in Champagne and seeing the similarities in the sites and climate. Now that the climates are warming, Janez's son Miha believes the local high-acid variety Rumeni Plavec will come into its own. They use this variety in their most interesting wines: the No1 Cuvée Speciale, which is made from 70% Chardonnay, 20% Rumeni Plavec and 10% Pinot Noir, and Barbara, which has had the same taste for 40 years thanks to the skilful blending of different vintages and different percentages of Chardonnay, Rumeni Plavec and Laški Rizling. Accommodation is available in eight two-bedded rooms.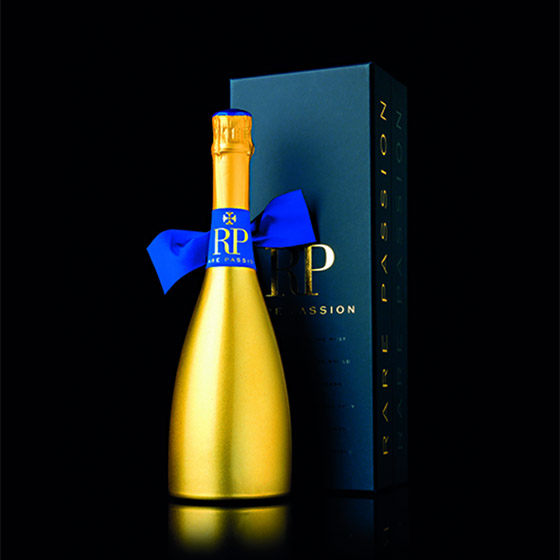 7 Bela Krajina, the smallest of Posavje's sub-regions, is best known for its late harvest and ice wines. The grapes include Laški Rizling, Traminer, Sauvignon Blanc, Pinot Blanc, Pinot Gris, Chardonnay and Rumeni Muškat (Yellow Muscat). The must-visit winemaker in these parts is sweet wine supremo Jožef Prus, whose winery is the tiny village of Krmačina, near Metlika. Vinska Klet Prus is the only place I know where you can taste Rumeni Muškat in all its guises: dry, sparkling and three types of sweet (late harvest, ice wine and dry berry selection). His 2004 Rumeni Muškat Straw Wine and 2003 Sauvignon Blanc Ice Wine are among the best sweet wines in the world. The nearby village of Drašiči has a 'wine bank' (Soseska zidanica) in a cellar in the centre, next to the church of St Peter. This 'wine bank' has been operating for more than 250 years and contains wine from more than 60 local producers. If they borrow from the barrels for a big party or wedding, they have to pay back with interest next vintage. The area's big wine event, Vinska vigred (Vineyard Spring), takes place in Metlika in May. Apart from Metlika, the area's other key wine towns are Semič and Črnomelj.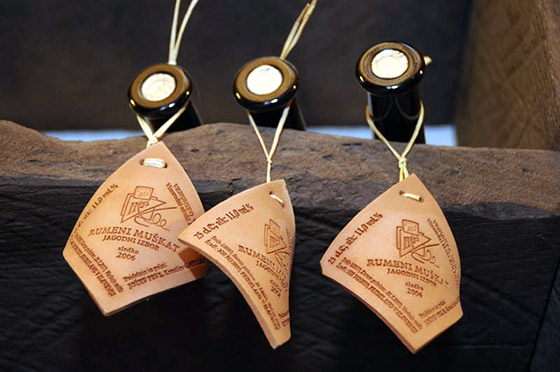 8 When Posavje was part of the Austro-Hungarian Empire, many of the grape varieties found in Austria and Hungary were also planted here. Blaufränkisch and Laški Rizling (Welschriesling) are the main varieties. You will also find Saint Laurent, Zweigelt, Sauvignon Blanc, and the Pinot clan — Gamay, Chardonnay, Sivi Pinot (Pinot Gris), Beli Pinot (Pinot Blanc) and Modri Pinot (Pinot Noir). Apart from some of the sweet and sparkling wines and the Blaufränkisch, I don't think the standard of wines is as good as in Slovenia's other two regions, Podravje and Primorska. The biggest surprise, however, was finding one of my all-time favourite dry Traminers here at a small winery near Plant. It was made by part-time producer Janez Cerjak.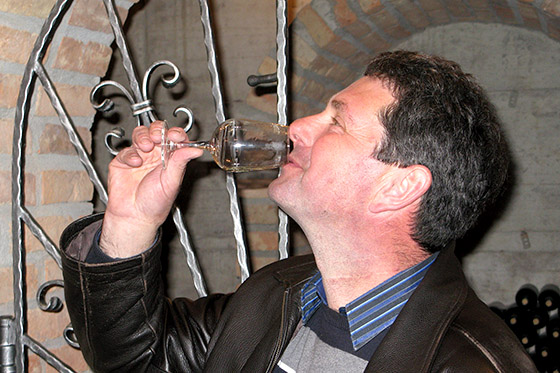 9 Don't leave without trying the white blends. Most regions and sub-regions in Slovenia produce their own unique blends. The best in Posavje are the Bizeljčan (Laški Rizling, Sauvignon Blanc, Rumeni Plavec, Furmint), the white Sremičan (Laški Rizling, Sauvgnon Blanc, Rumeni Plavec), and Dolenjsko Belo (Laški Rizling, Kraljevina, Rumeni Plavec, Sauvignon Blanc, Pinot Blanc).
10 The glassware for Donald Trump's Trump Home brand is made close to the region by Steklarna Rogaška, in the spa town of Rogaška Slatina. The company's history goes back more than 350 years and the location is connected to the discovery of mineral water in the area. This needed to be bottled and tourists needed glasses from which to drink. The company, now part of the Fiskars group (which also includes tabletop brands iittala, Waterford and Wedgwood), runs tours of the factory. The highlight is watching the mouth-blown crystal wine flutes being created by teams of five men. The next president of the USA sells the flutes in pairs for $44.99.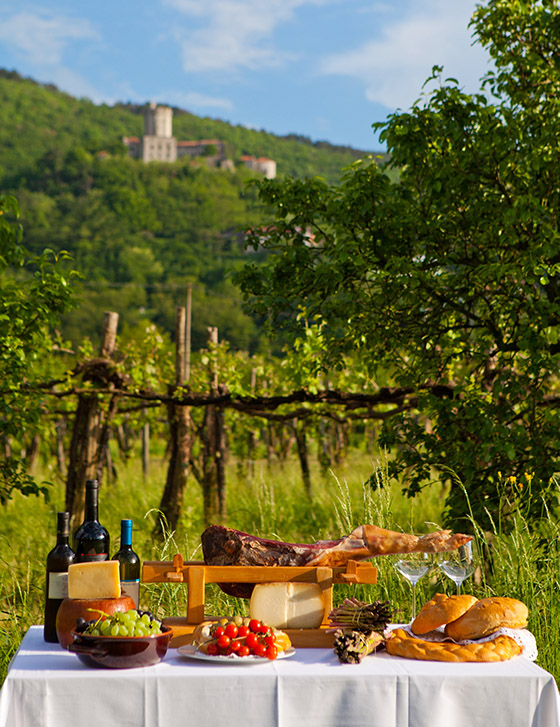 For tailor-made gastronomy programmes in the region, contact one of the regional tourist information centres:
www.tvz.si
www.discoverbrezice.com
www.visitsevnica.com