This year, the world's best wine judges met in Switzerland to exchange their views on more than 9,200 samples as well as the Chasselas variety after several pots of fondue during the travelling wine circus that is the Concours Mondial de Bruxelles.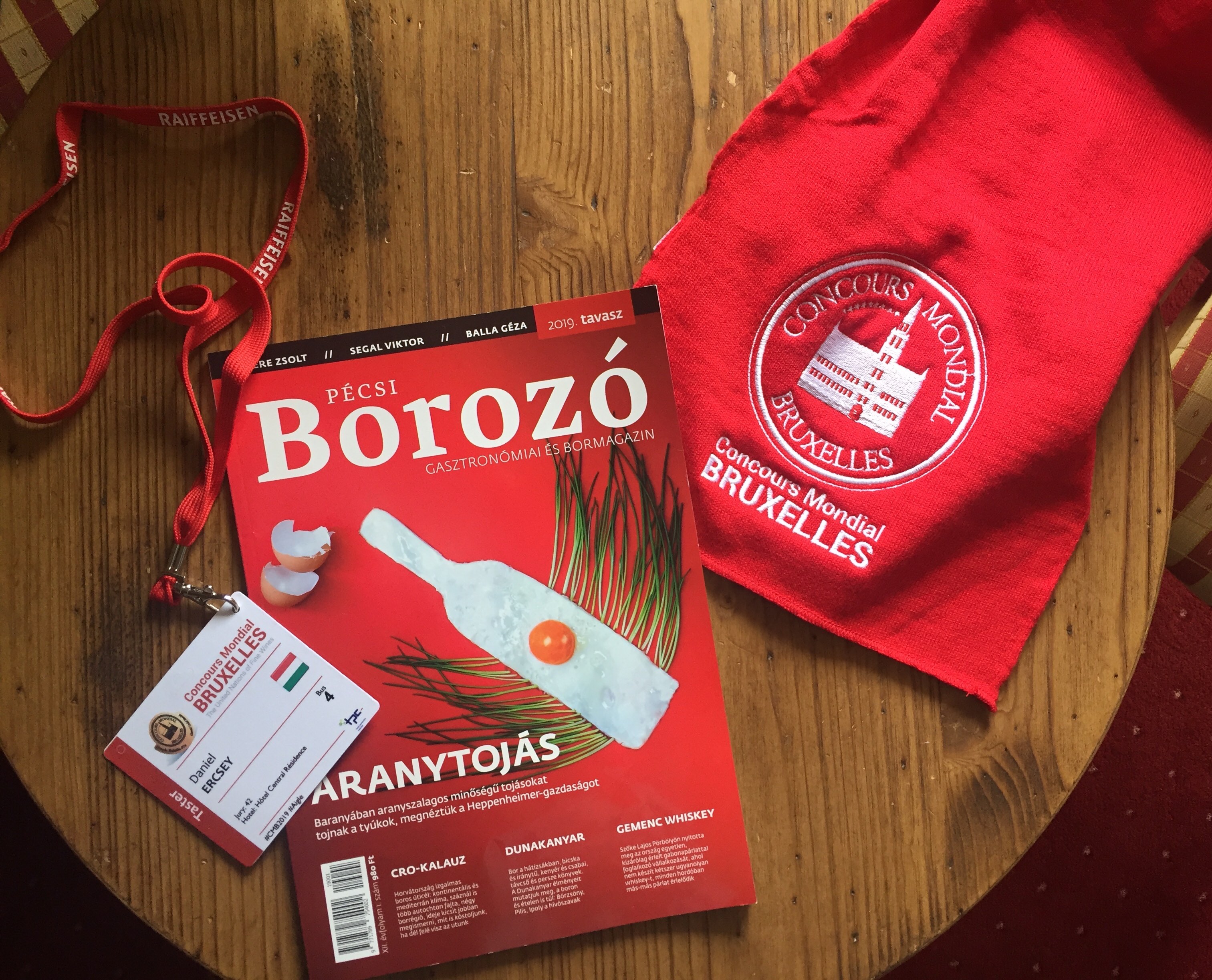 CMB pass, my favorite Hungarian wine magazine and my CMB scarf... (Photo: Daniel Ercsey)
It has to be confessed that the first thing that comes to mind when you think about Switzerland is not wine. Maybe cheese, maybe chocolate, the high mountains, the purple cow (what a stereotype!), Swiss army knives and clocks. That's all we know about this small country in the Alps. If, however, you are working in the wine industry, or you are more interested in wine than the average person, then perhaps the Chasselas variety might come straight to mind when thinking about Switzerland.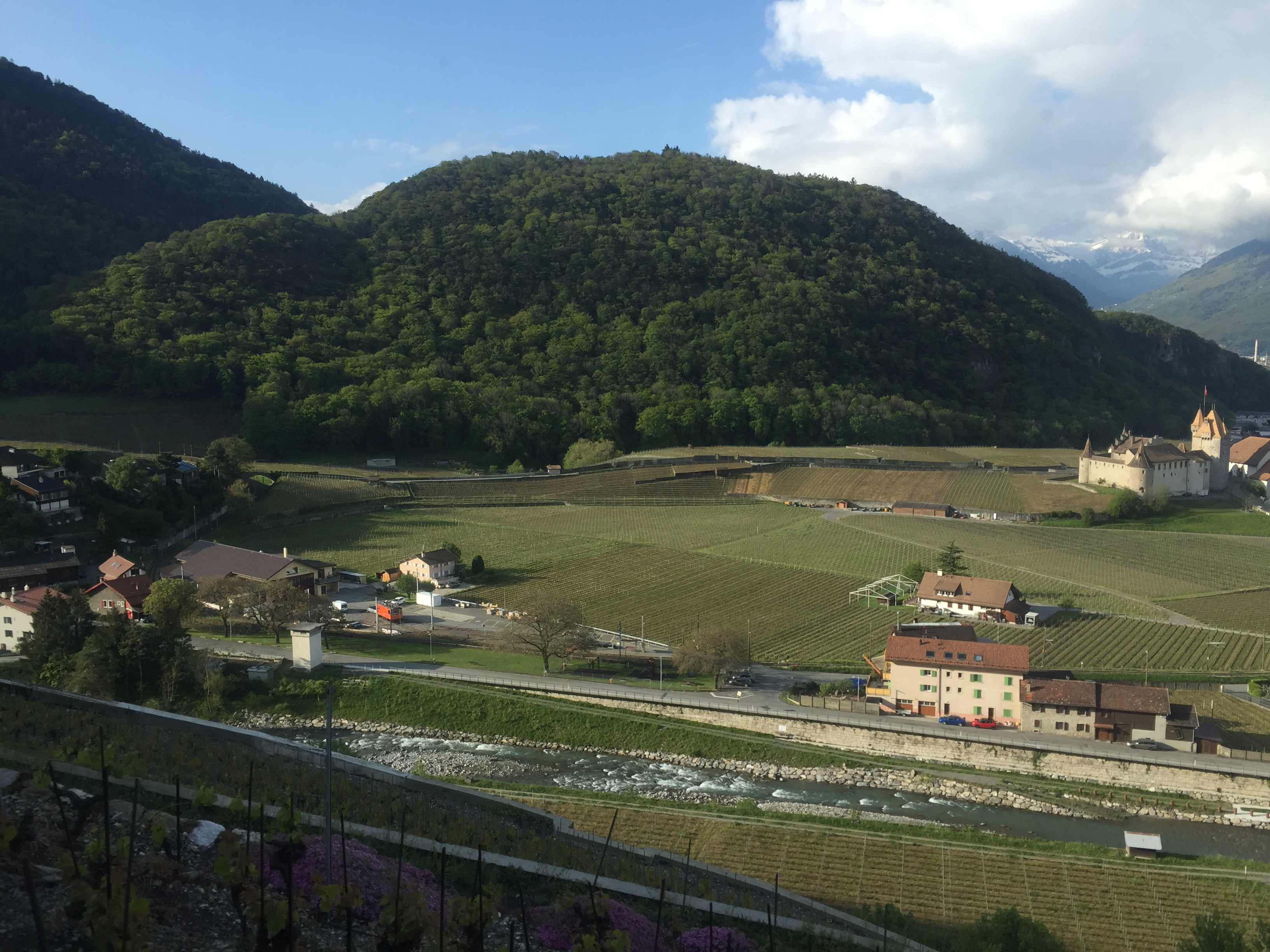 Vineyards around Aigle from the cogwheel railway (Photo: Daniel Ercsey)
What is sold elsewhere at the market as a table grape is Switzerland's most important wine grape, part of its national identity. On the final day of the CMB wine competition, nobody was allowed to leave the gala dinner until they had drunk a glass of Chasselas with the Swiss organisers! Not that we felt threatened by this risk, as there was almost always Chasselas with the dinners and lunches over the four days of the competition, yet the Swiss winemakers who had submitted numerous samples for the competition flooded the members of the jury with even better Chasselas. Well, yes, Chasselas and its best attributes can only be appreciated if you have been to this region and tasted at least fifty wines, so you have something to compare them to. Let's leave it at this – the wines are more boring than interesting when young, while when they have aged for four to five years, they are really lovely. In other words, if you can, drink the older Chasselas and leave the fresh, young wines as the opium of the declining west!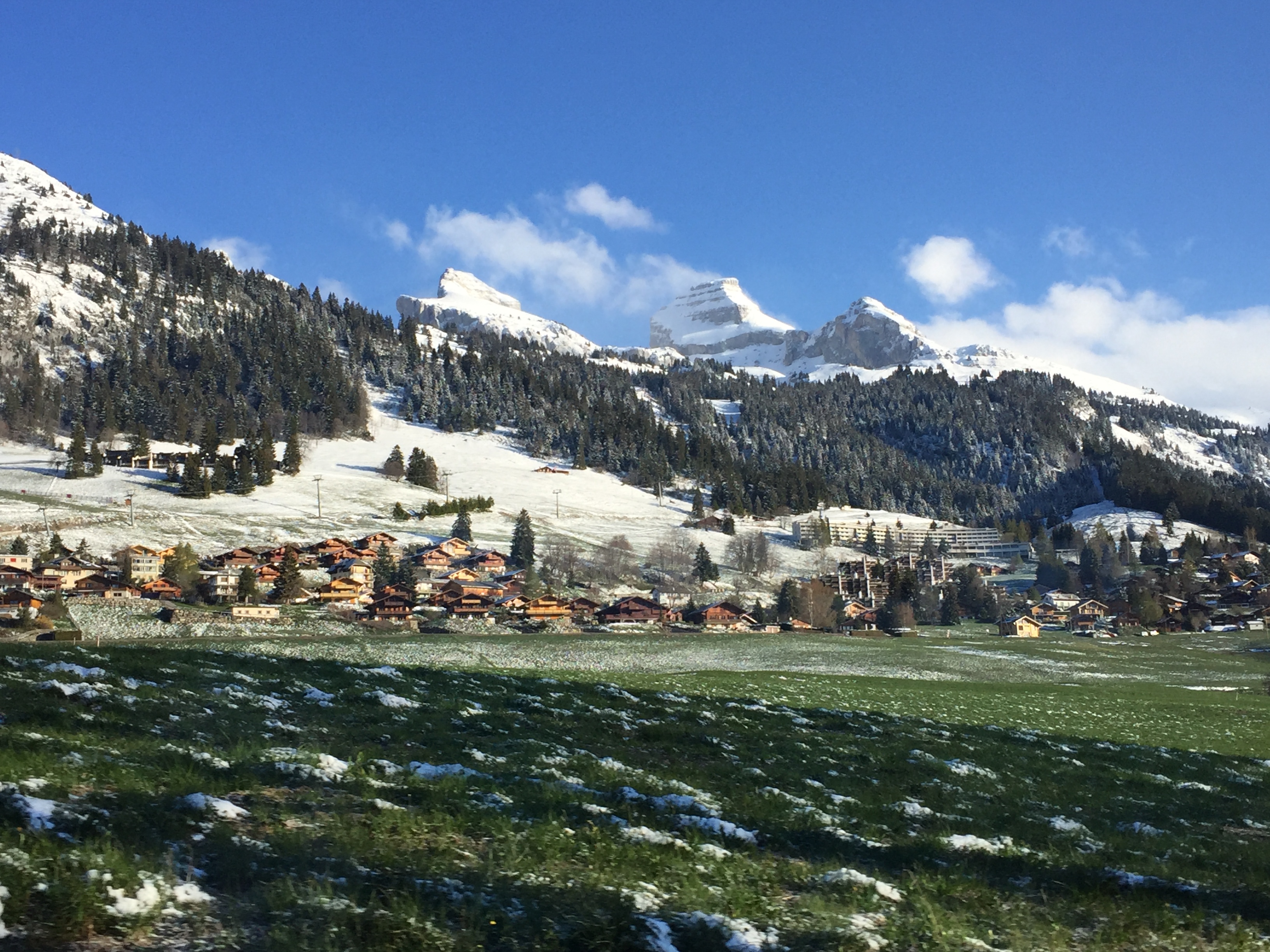 Leysin village with the snow in May... (Daniel Ercsey)
Across mountains and water
I was in Switzerland for a week and during that time, I experienced at least three seasons, travelled by boat, train and plane, was in shirtsleeves, jacket and winter coat as well as in sunshine and the kind of snowstorm where I couldn't even see my own nose. We even had a snowball fight, which at least to us, was somewhat unusual on 4 May. The wine competition was held in Aigle's hypermodern bicycle velodrome; however, we didn't sleep there, rather up on the mountain in the township of Leysin. We climbed up there every day on the cogwheel railway, initially past incredibly steep, terraced vineyards and then pine forests and waterfalls. It snowed from day two on; we, were staying above the snow line and so, for the first time in the history of the CMB, the jury stood shaking with cold each morning waiting for the train.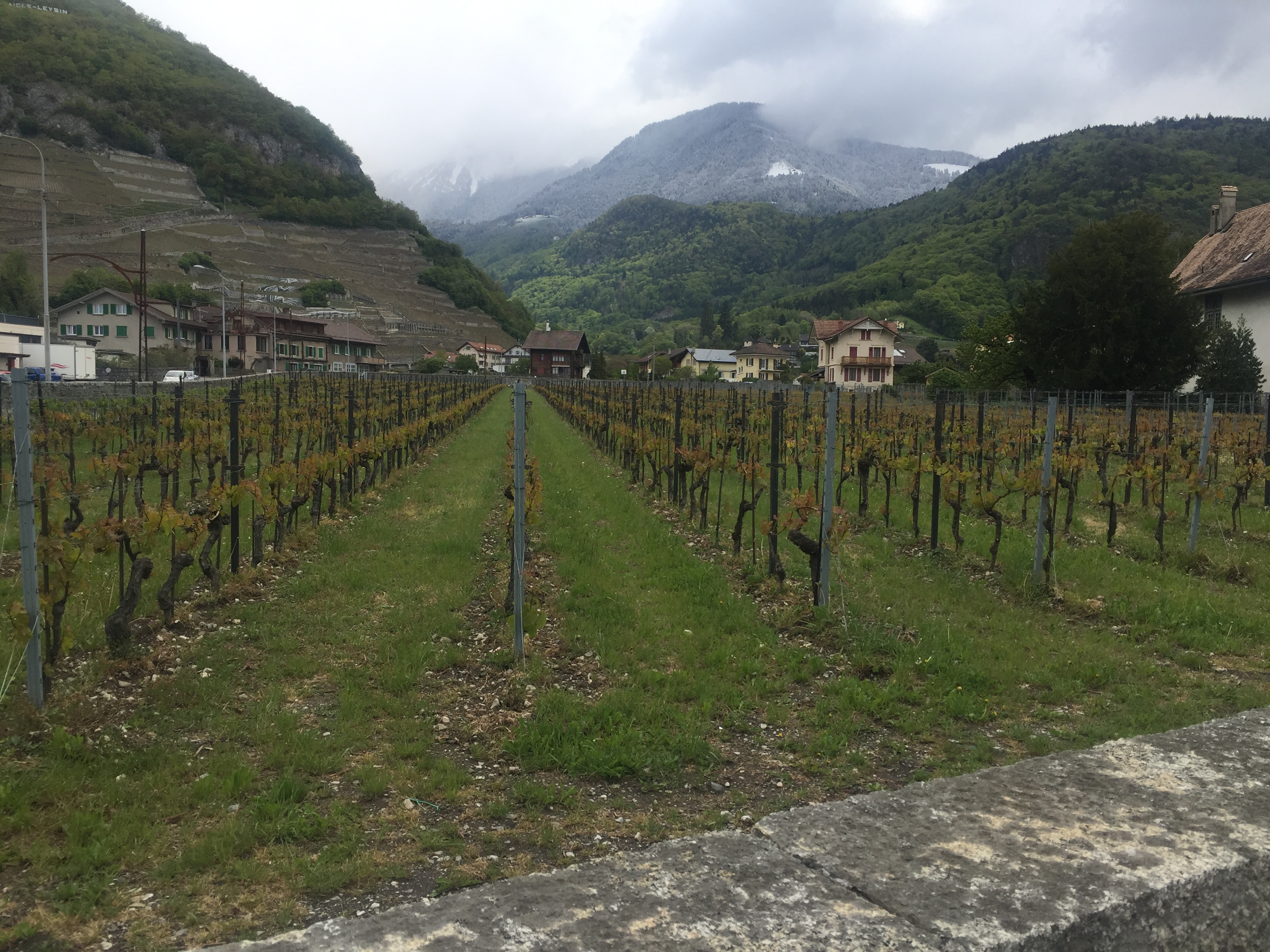 Vineyards in Aigle (Photo: Daniel Ercsey)
Yet, when we arrived in Aigle, it was usually ten degrees warmer, and when we were taken out on Lake Geneva by historic old boat, the sun even came out for a moment. The wine region on the northern shore of the lake, to the east of Lausanne, is really spectacular; it is no coincidence that it was listed as a UNESCO World Heritage Site in 2007. If you find yourself in this neck of the woods, don't miss Montreux or Vevey. Charlie Chaplin and Henryk Sienkiewicz both lived and died in the latter small town. Of course, the Lavaux vineyards are most beautiful seen from the water (and you also have to climb fewer hills there), so if you have the chance, make sure to take a cruise on the lake beneath the vines.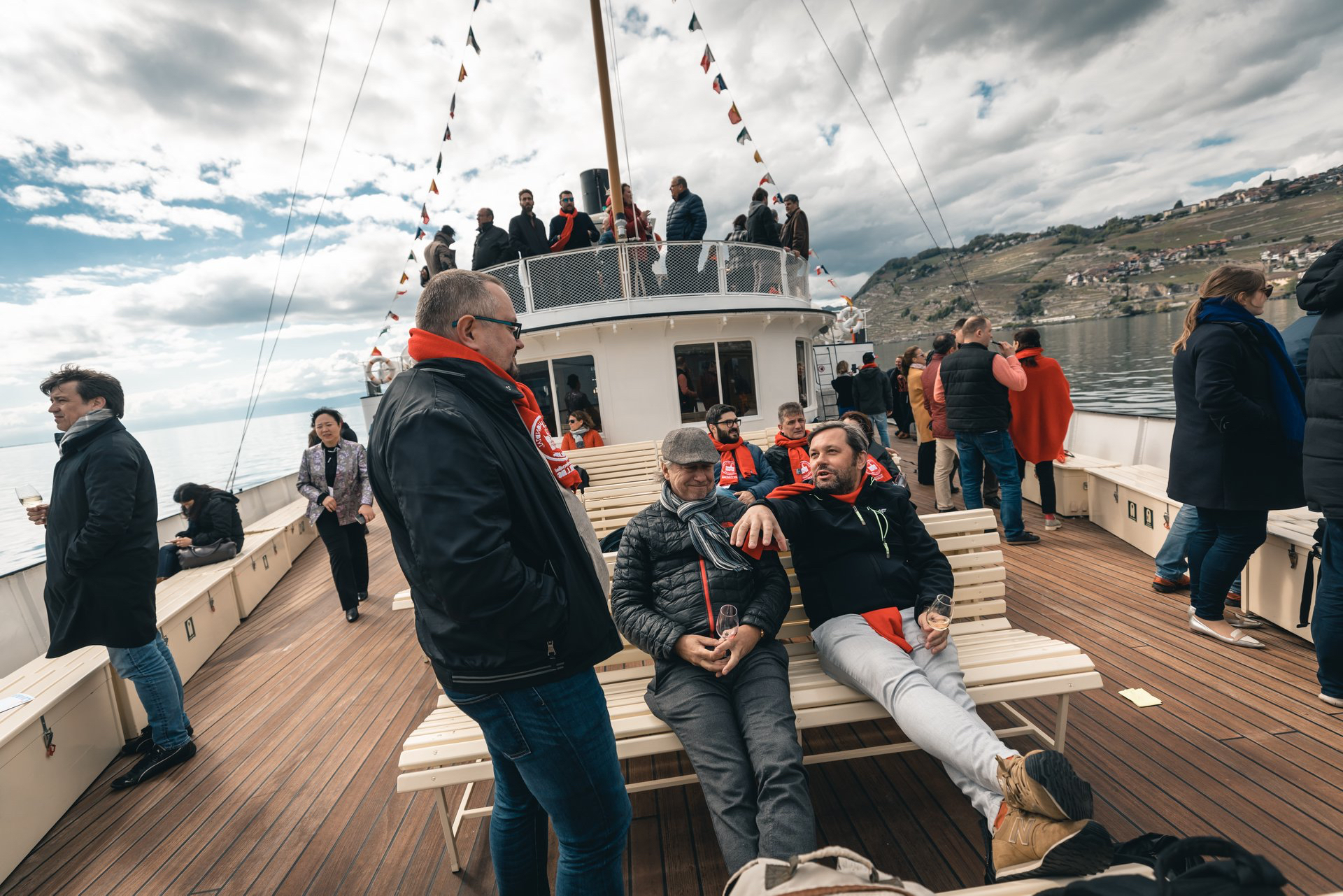 Boat trip on Lake Geneva (Official CMB photo)
The following day, we headed to Valais, the Rhône river's valley, which is rather characterised by 3-4,000-metre-high snow-capped peaks and terraced vineyards – once again a sight that will certainly even make the hearts of those who don't know much about wine beat faster. The regional food culture is primarily confined to fondue and raclette, which is initially appealing and then enjoyable, but after a while, exhibiting signs of acute cheese poisoning, I tried to steal away from the communal dinner and thus discovered Leysin's only Normandy creperie, where thanks to a Portuguese friend and a Normandy chef, I enjoyed one of the world's best food and wine pairings. I'm not joking! Salted caramel Normandy pancakes and Moscatel Roxo from Setúbal are a match made in heaven!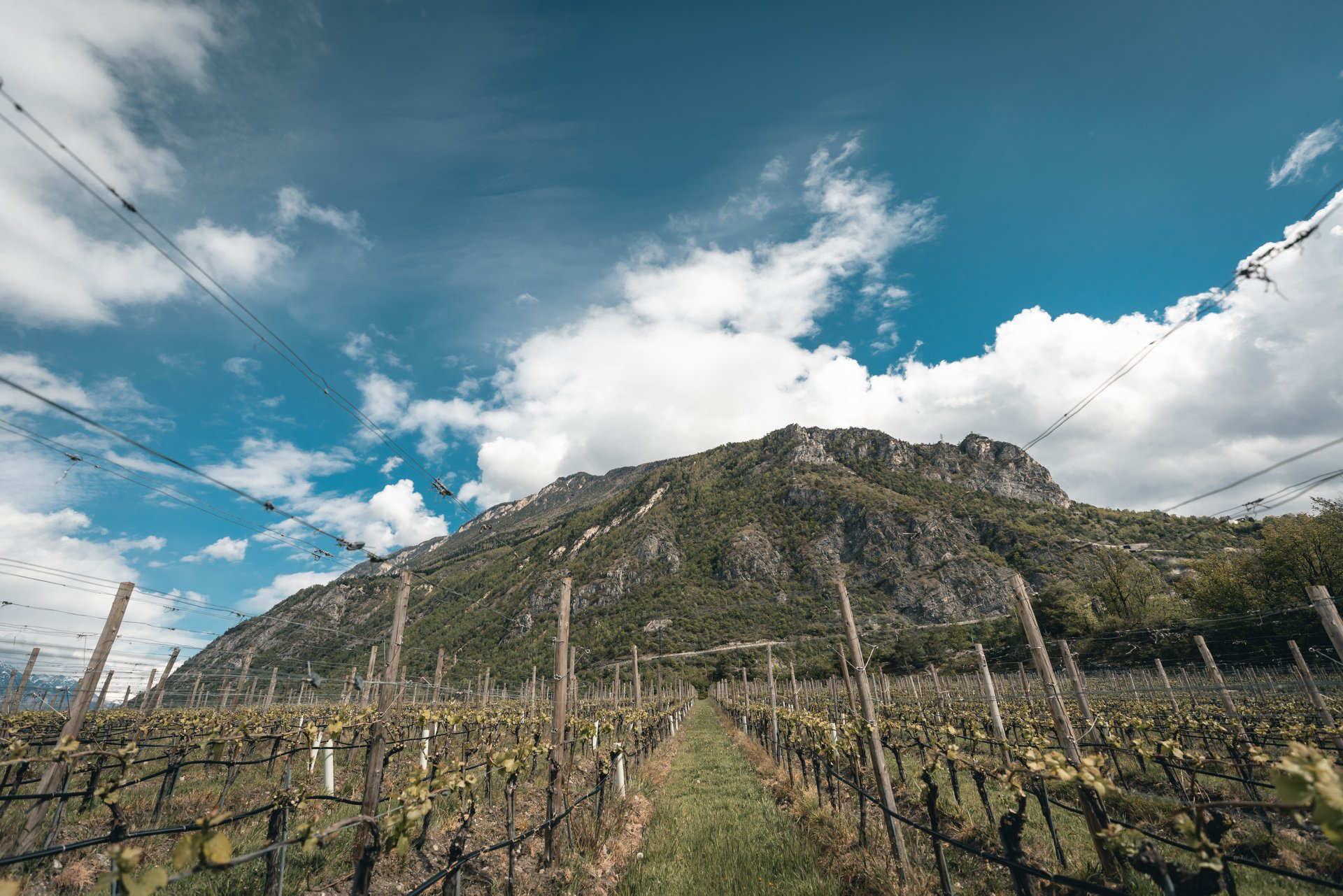 Valais vineyards (Official CMB photo)
Heading north so that we are finally not cold
After the competition, I spent an additional two days at the invitation of the Swiss Tourism Agency in the German-speaking northwestern area, in Schaffhausen on the Rhine and its surroundings. The small town is most famous for its waterfall, the largest in Europe, a spectacle which in fact injected the town with life, as traders were unable to travel further by boat, they had to moor, restow and thus pay customs duty on their goods. Fewer people know that this town, famous for its clock making, had more than 300 hectares of vines growing on its hills in the Middle Ages and even in early modern times, of which only 7.5 hectares remain. However, there are vines in the vicinity, along the Rhine and also on the rolling hills.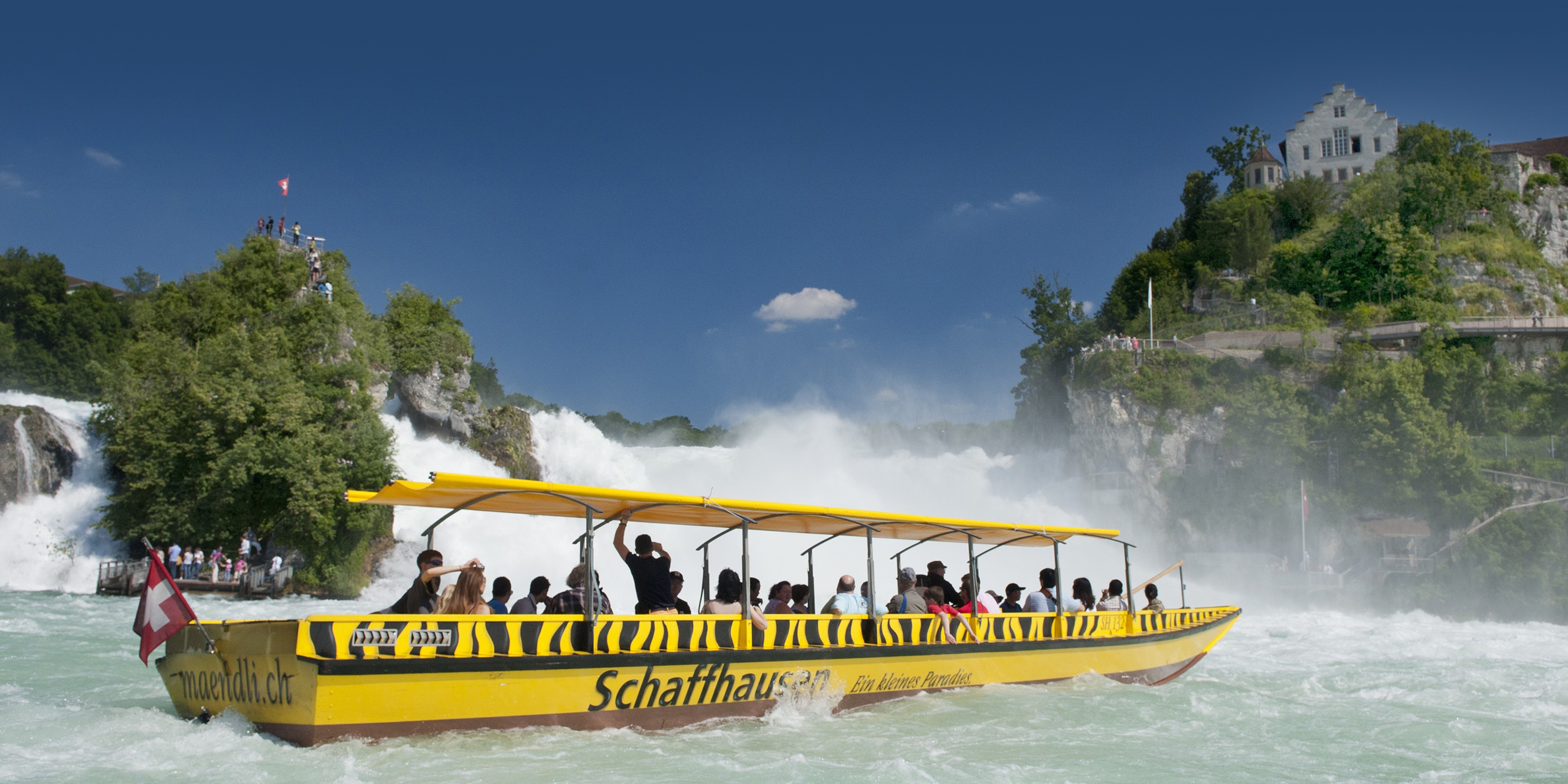 Schaffhausen waterfall (photo: local tourist board)
The current "capital" of the wine region is Hallau, where there are also large cooperative style wineries, such as Strada, which is best known for its non-alcoholic sparkling wines. Neighbouring villages like Wilchingen and Osterfingen also had real surprises in store for me. Hedinger winery not only makes white wines with minimal residual sugar, but also fashionable raincoats for women, while the Stoll Winery treated us to a great flight of Sauvignac, Müller-Thurgau, Pinot Gris and GF 48-12. Vineyards climb the hillsides between the two villages, whereas wherever you look, Germany surrounds the villages nestled in the valley. Built in 1584, the half-timbered community press house has been renovated and now functions as an event space and restaurant, while the Lindenhof Winery, also located in the village, boasts extremely high quality Pinot Noir as well as food – their Riesling soup is excellent!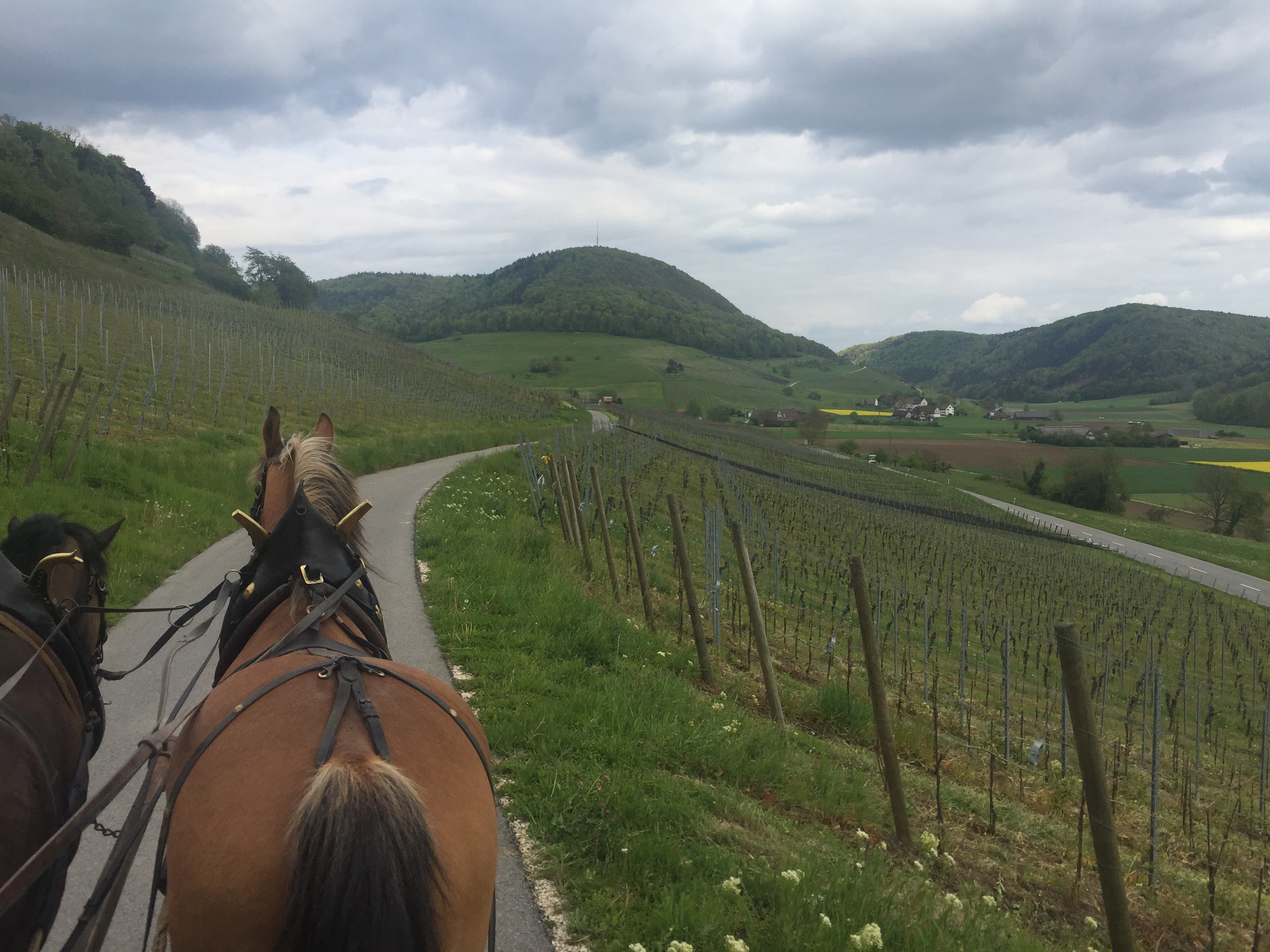 "Germany surrounds the villages nestled in the valley" (photo: Daniel Ercsey)
Switzerland comprises at least three countries, one German-speaking, one French and one Italian. The main tourist magnet of the western side of the German-speaking north is Lake Constance, which is shared by three countries (Austria, Germany and Switzerland). The famous Rhine falls in Schaffhausen are just a stone's throw from here too. In my experience, one of the best hotels in the city is the Vienna House Hotel, located near the railway station and the old town; the range of wines on offer changes almost daily, and they always recommend local wines to pair with their menu. The Rüedi wine bed and breakfast, where you can sleep in huge barrels, admittedly in slightly nomadic conditions, may appeal to wine tourists, or you can enjoy barrel-shaped bathrooms that have been specially produced for this purpose. Unfortunately, there is no restaurant, so except for breakfast, you have to head out if you want to eat, but it's relatively easy to get to Hallau by bike, public transport, or on foot, where there are various restaurants to welcome tourists. I had dinner at the Güterhof restaurant in Schaffhausen on the bank of the Rhine and certainly didn't regret my choice! The menu and the wines were also excellent.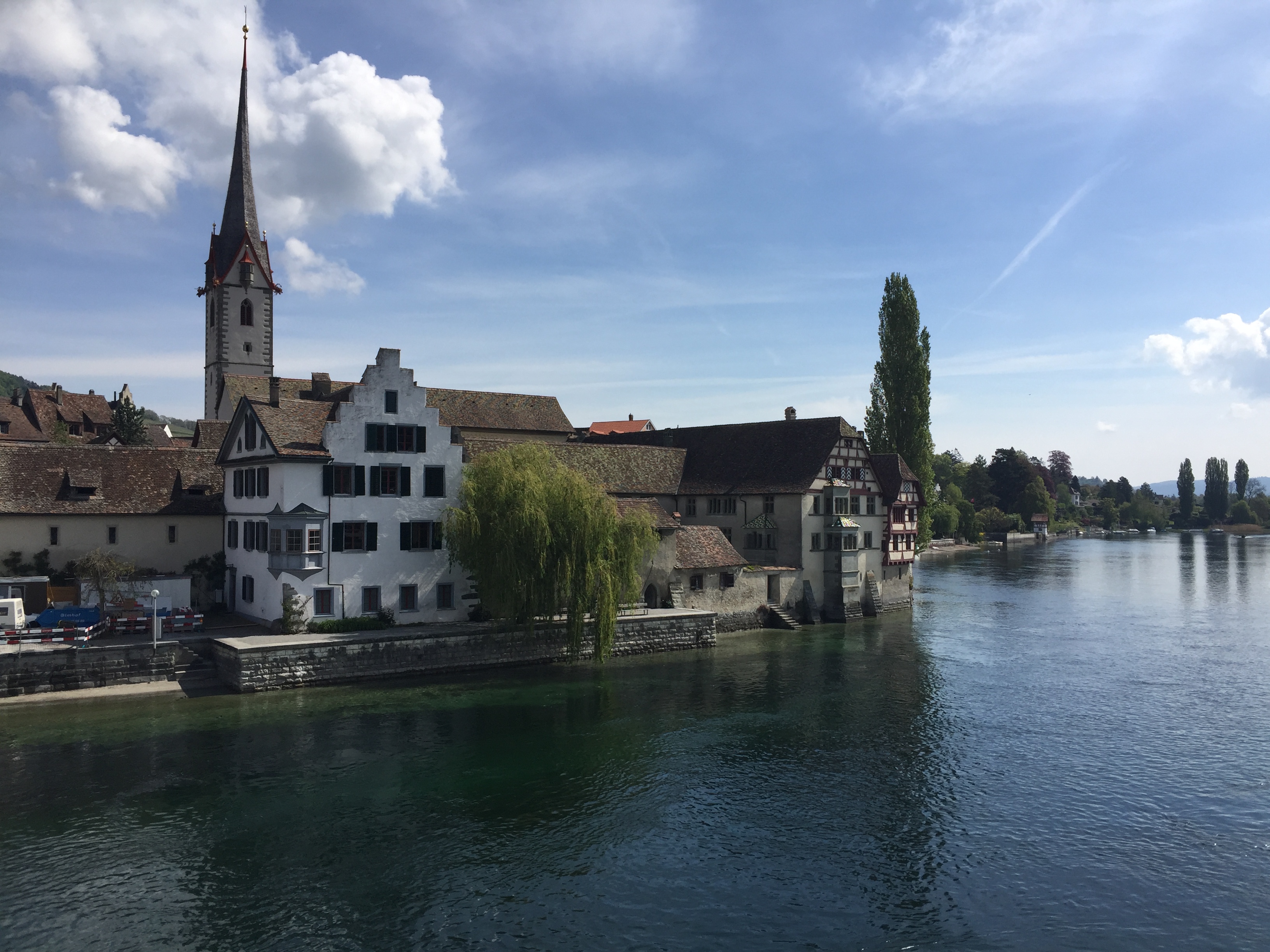 Stein am Rhein is an absolute must! (Daniel Ercsey)
Heading east from Schaffhausen, stopping off at Stein am Rhein is an absolute must. The charming small town next to the Rhine offers quite a spectacular sight, with its German flair, frescoed facades and half-timbered houses, especially when you spot the vineyards overlooking the Rhine on the side of the castle hill rising above it! From here, you can return by train and boat – we chose the latter which also included a wine tasting. The 2015 Reserve Noir from the Rötiberg cooperative received 90 points not only from Falstaff, but also from me, as it was clearly the best wine of the whole trip!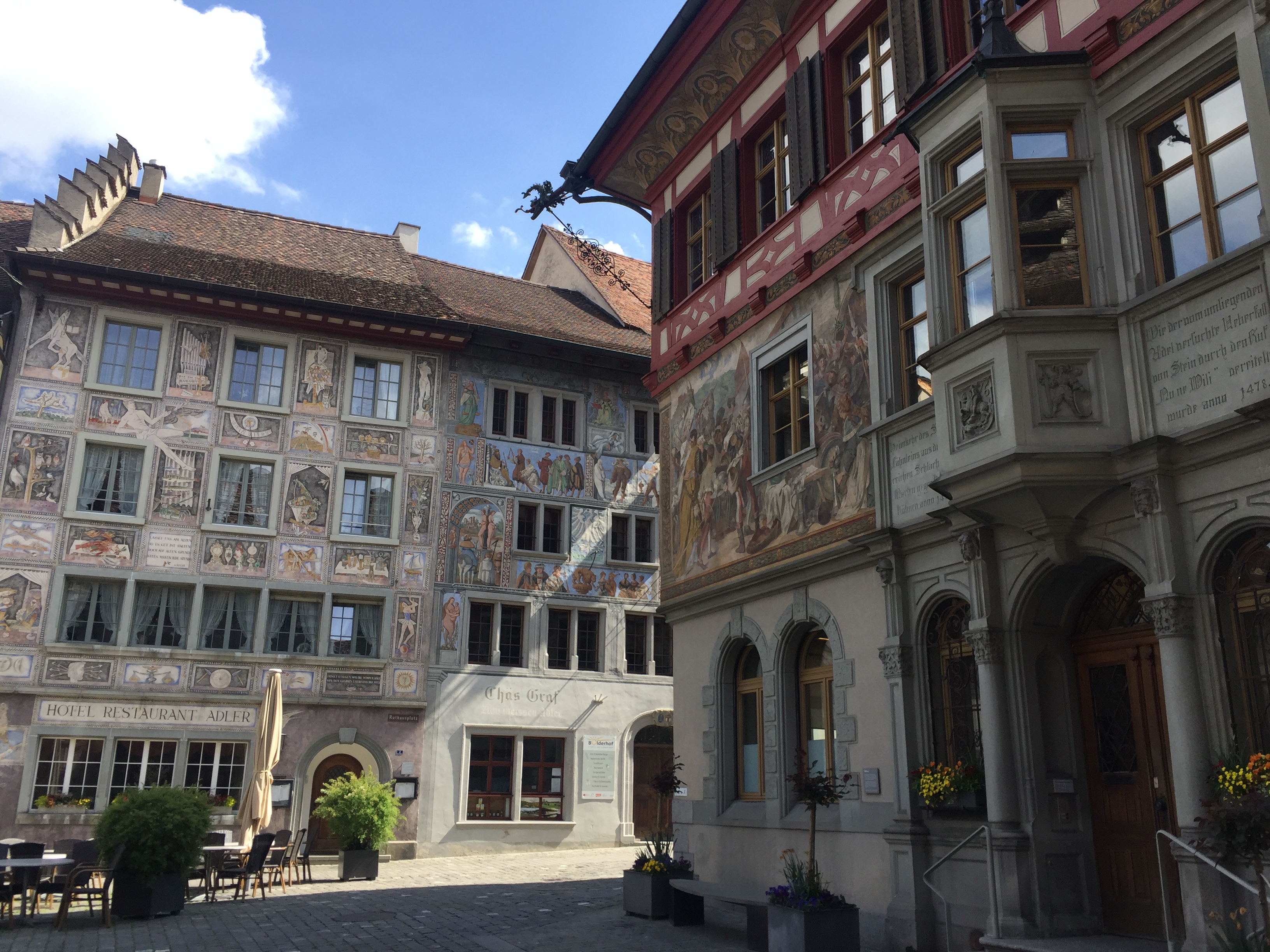 "Frescoed facades and half-timbered houses" (photo: Daniel Ercsey)
It would also be remiss of me not to mention WeinSTAMM, a brand new winery in the border town of Thayngen, where we tasted tightly structured modern white and red wines with fresh acidity. All in all, French Switzerland is more the home of cheese and Chasselas, while German Switzerland is more about Pinot Noir and wine soup. However, it was also the case that the Swiss, known for their precision, belying every stereotype, were constantly late, while their hospitality was so Italian, so deep and sincere, that I can only recommend a trip to the country of May snowfall!