A record number of wines will be auctioned in the sixth Great Tokaj Wine Auction, which will take place between 20 and 22 April in the Tokaj synagogue. The auction is one of Tokaj's most prestigious and unmissable events and will see a record number of wines and wineries participating. Member of the Board of the Confrérie de Tokaj, organisers of the event, Laurent Comas said that the 31 wines from 24 producers are expected to bring in revenue of around 70 million forints (€225,000), which will go towards helping the development of this historic wine region.
The auction is not a goal in itself, but rather a tool to help maintain Tokaj's brand and build its international reputation and to aid further development in the wine region. The Confrérie will use this income to implement projects that would be difficult or even impossible to bring to fruition otherwise, such as scholarships for winemakers and the further stimulation of wine tourism.
Samuel Tinon, Vice President of the Confrérie de Tokaj pointed out that increasing international participation in the auction is a top priority. Both Hungarian and foreign - especially from China, the US and Poland - collectors, wine merchants and restaurant owners bid on these unique wines and the Confrérie has been marketing the event in various cities around the world (London, New York, Washington and Warsaw) to try to further internationalise the event. This year, potential bidders can participate online at the prestigious London members' club Pall Mall 67. Samuel hopes that US bidders will also be able to do the same in the future.
Exceptional quality wines
Gabriella Mészáros, prominent Hungarian international wine academic and Tokaj-based Ronn Wiegand – one of the very few people in the world to boast both the Master Sommelier and Master of Wine title – were involved in selecting the wines. They praised the excellent quality of the wines compared to previous years. Those wines ending up on the auctioneer's list were tasted on several occasions. Gabriella Mészáros commented that there were significantly more wines to choose from and that the 2017 vintage had brought exceptional quality in both dry and sweet wines - exciting fruity wines with fresh acidity in both categories.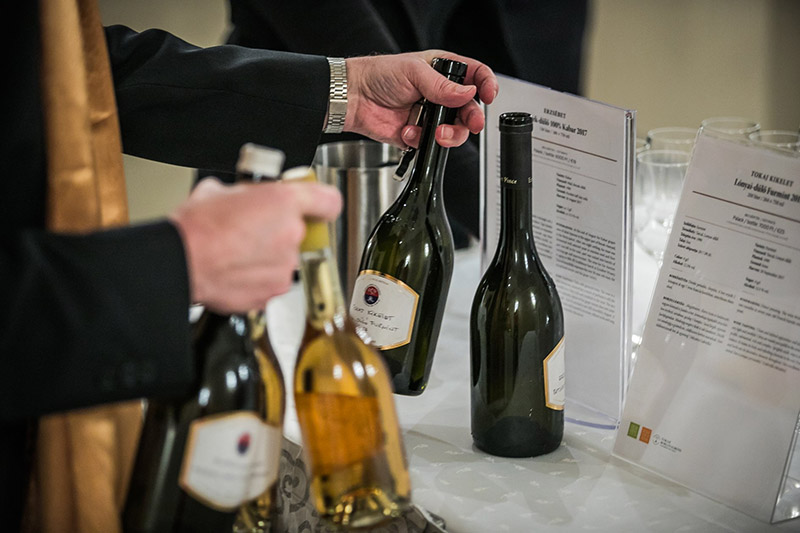 Photo: @PixelTaster
Potential buyers can bid for fresh barrel lots – with the dry wines being sold in the traditional gönci barrels (136 litres), sweet in half gönci (68 litres) and Esszencia in 10-litre bottles. Some smaller numbers of bottled wines that are not commercially available but have already benefited from several years ageing will also fall under the hammer.
Buyers can decide how they wish to have these unique, exclusive wines bottled and labelled; they will not be commercially available elsewhere.
I was lucky enough to be able to taste some of the wines that will be auctioned in April. These are my impressions of the wines. Of course, these are mostly unfinished barrel samples, so will not have settled and come together totally, and will be youthful by default.
Dry wines
Tokaj Hétszőlő Organic Vineyards – Kis-Garai-dűlő Furmint 2017 - A little hazy still, but fresh, clear, lemony acidity, some vegetal notes and a touch of tannins on the palate. Balanced and long.
Füleky Sajgó-dűlő Furmint 2017 - Crystal clear, citrusy, well-structured wine. Zesty acidity with plenty of apple and pear fruit and a touch of spice on the finish.
Disznókő Tokaji Hárslevelű 2017 – Still a little yeasty on the nose but attractive floral and honey notes, characteristic of the variety. Fresh fruit and some spice. Vibrant acidity and great length.
Erzsébet Becsek-dűlő Kabar 2017 – Generous wine with a creamy, mineral feel and balanced acidity. Perfumed and aromatic on the nose with wonderful elegance and bright apple and lemon fruit.
Tokaj Kikelet Lónyai-dűlő Furmint 2017 – Linear wine, fresh and perhaps a little austere. The palate is dominated by a herbal and lemon character. Nevertheless, very elegant.
Kraszinger Mészes-dűlő Furmint 2017 – Still a little hazy in appearance. Bright, fresh nose of citrus fruit and white blossom with a touch of toasty oak. Light and refreshing with creaminess balanced by zesty acidity.
Sárospataki Borterasz Megyer-dűlő Furmint 2017 – Still slightly yeasty. Generous bright citrus fruit with quince, pear and a hint of sweet spice. Fresh and balanced.
Mytrus Lestár-dűlő Hárslevelű 2017 – Slightly austere, mineral wine complemented by rich honey, fresh stone fruits, acacia blossom and spice. Complex and long.
Barta Pince Öreg Király-dűlő Furmint 2017 – Zesty wine with grapefruit, lemon and apple along with a splight spritz and a hint of bitterness. The fruit is complemented with some spice, salt and touch of sweetness. Long, elegant and complex.
Bodrog Borműhely Lapis-dűlő Furmint 2017 – Plenty of ripe generous fruit and lively citric acidity. Rounded and creamy, balanced by high acidity.
Budaházy Nyúlászó dűlő Hárslevelű 2017 – Rather yeasty on the nose with some floral character. Creamy, honeyed wine with refined acidity and minerality. Balanced and long.
Disznókő Lajosok-dűlő Furmint 2017 – Elegant wine with plenty of autumn fruit and spice. Vibrant acidity with attractive mineral notes and wonderful complexity already developing. Rich and long.
Préselő Pincészet Messzelátó dűlő Furmint 2016 – Sweet spice, truffle and slightly heavy-handed oak on the nose. Refreshing, zesty palate with plenty of acidity and citrus fruit.
Kincsem Kastely Hárslevelű 2013 – The maturity of this wine contrasts with the younger samples. Creamy and slightly toasty vanilla notes mingle with intense dried fruit, honey, spice and tobacco. Balanced and long.
Demetervin Úrágya 57 Furmint-Hárslevelű 2013 – Mouth-filling, balanced wine with a mineral, stony character and plenty of zippy acidity piercing the fruit. Mature notes of tobacco, forest floor and slight medicinal note complement the salty, savoury tone of the wine.
Samuel Tinon Tokaji Dry Szamorodni 2011 – Mature wine with a wonderful nose reminiscent of a good Amontillado with notes of yeast, dried fruit and nut. Attractive botrytis character with refined acidity and some tannic grip. Beautiful dried fruit, minerality, tobacco and apple strudel. Long and lingering on the finish.
Karádi Berger Palandor Furmint 2011 – More mature golden wine. Extremely mineral on the nose with clear aged notes. Citrus fruit, perfume and fresh acidity balances honey and, strangely, some yeasty notes. Steely minerality and a long finish.
Sweet wines
Myrtus Vigyorgó-dűlő Botrytis Furmint 2016 – Beautiful aromas of stone fruit, mandarin and botrytis. Fresh acidity balances sweet apricot jam and quince jelly on the palate. Elegant, long, spicy finish.
Tokaj Kikelet Tokaji Édes Szamorodni 2015 – Light and fresh with some botytis character and a touch of matchstick on the nose. Vibrant, refreshing acidity with plenty of bright citrus and stone fruit. Balanced and fruity.
Holdvölgy Intuition No 1 Tokaji Édes Szamorodni 2013 – Mature notes of chocolate and spice complement the fresh citrus and apricot fruit. Vibrant acidity and a silky texture persist on the long spicy finish.
Demetervin Édes Szamorodni 2012 – Bright fresh fruit, peach and mandarin on the nose with some characteristic botrytis. The palate is enriched with some caramel and toffee complementing the honeyed fruitness and beautiful acidity. Rich with a lovely spicy finish.
Pajzos Tokaj Hosszúvölgy Aszú 6 puttonyos 2016 – Typical Aszú notes of orange, apricot, marmalade on botrytis on the youthful, herbal nose. Fresh and vibrant acidity with citrus and ripe stone fruit character. Rich, complex and balanced.
Royal Tokaji Aszú Vineyard Selection 6 puttonyos 2016 – Extremely yeasty and not yet settled. Strongly mineral, citrus nose with some herbal notes. Aromatic stone fruit on the palate with elegant acidity and some tannic grip complementing the abundant sweetness. Long and balanced.
Disznokő Dorgó Aszú 6 puttonyos 2015 – Attractive bright fruit, botrytis character and apricot jam on the nose, accompanied by some wet leaves and tobacco. Wonderfully zesty acidity balances the high residual sugar. Fantastic ripe fruit on the palate rounded off by a lingering finish.
Pajzos Tokaj Hosszúvölgy Aszú 6 puttonyos 2014 – Strong botrytis character on the nose with plenty of herbs and spices. Rich, ripe stone fruit and marmalade mingle with nutty notes. Lively acidity balances the generous sugar content. Elegant, well-balanced and long.
Samuel Tinon Tokaji Aszú 5 puttonyos 2013 – Fruity nose of mandarin and apricot with attractive botrytis notes. Marvellously balanced on the palate with some maturity already evident. Ripe stone fruit and quince dominate the palate. Restrained acidity and an elegant, long finish.
If you'd like to attend the events in Tokaj from 20 to 22 April, or even try to secure some unique Tokaj wine for yourself in the auction, you can find more information about the wines that will come under the auctioneer's hammer and the weekend's programme on their website.