The neoclassical press house stood at 100 Kadarka Street in Szekszárd for 150 years, surrounded by vineyards stretching in every direction. Nowadays, this has sadly changed, in that Szekszárd's once best vineyards have been swallowed up by the town, partly as a result of progress, partly because of the dreadful deeds of Socialism, when housing estates were built on the vineyards lying closest to the town. (Thus the glory of the world passes away.) However, today's centre of the estate, the previously mentioned neoclassical style press house was saved. It functioned as the centre of a cooperative dealing with grape production, which may be why the wine region's most prominent winemakers are all tied to this place, as they had all worked here in some way before the regime change. Finally, a couple bought the derelict building together with the cooperative's land and a huge manorial tithe cellar, which is so big that in the past horse-drawn carriages could turn around in it!
At first, they didn't change the name; it was the beautifully evocative Aranyfürt (golden bunch of grapes) cooperative. Finally, however, they changed it in 2010 and the winery took the owner's name. Since then, the name Schieber has appeared on its labels. The original concept of the cooperative was to produce an extremely easy to drink, perfect value for money bulk wine, which fortunately they haven't broken with; 100,000 bottles are produced from the 30 hectares each year, the rest continues to be sold as bulk wine. Just while we were there, seven people appeared with empty plastic cans, among them an elderly man on a bike, one of the neighbours who hurried over from the housing estate in his slippers because he needed something for lunch and a well-dressed business woman, who just chucked the wine onto the backseat of her Volvo SUV and dashed off to a meeting. In short, everybody seeks out their wines as they are very good and the price is unbeatable.
However, there is one more thing, which Schieber thankfully realised, and that for bottled wine, it's not enough for the wine to be good (that was a given), but there needs to be a person and a story behind the wine. They understood this and it seems they've got the hang of things, because this is noticeably present, not only in their wines, but also in the building, the labels, in everything. The winery is thus not a faceless, boring trial, but a well-established business with a sound foundation, which owners and employees alike can happily say is destined for the top-shelf segment.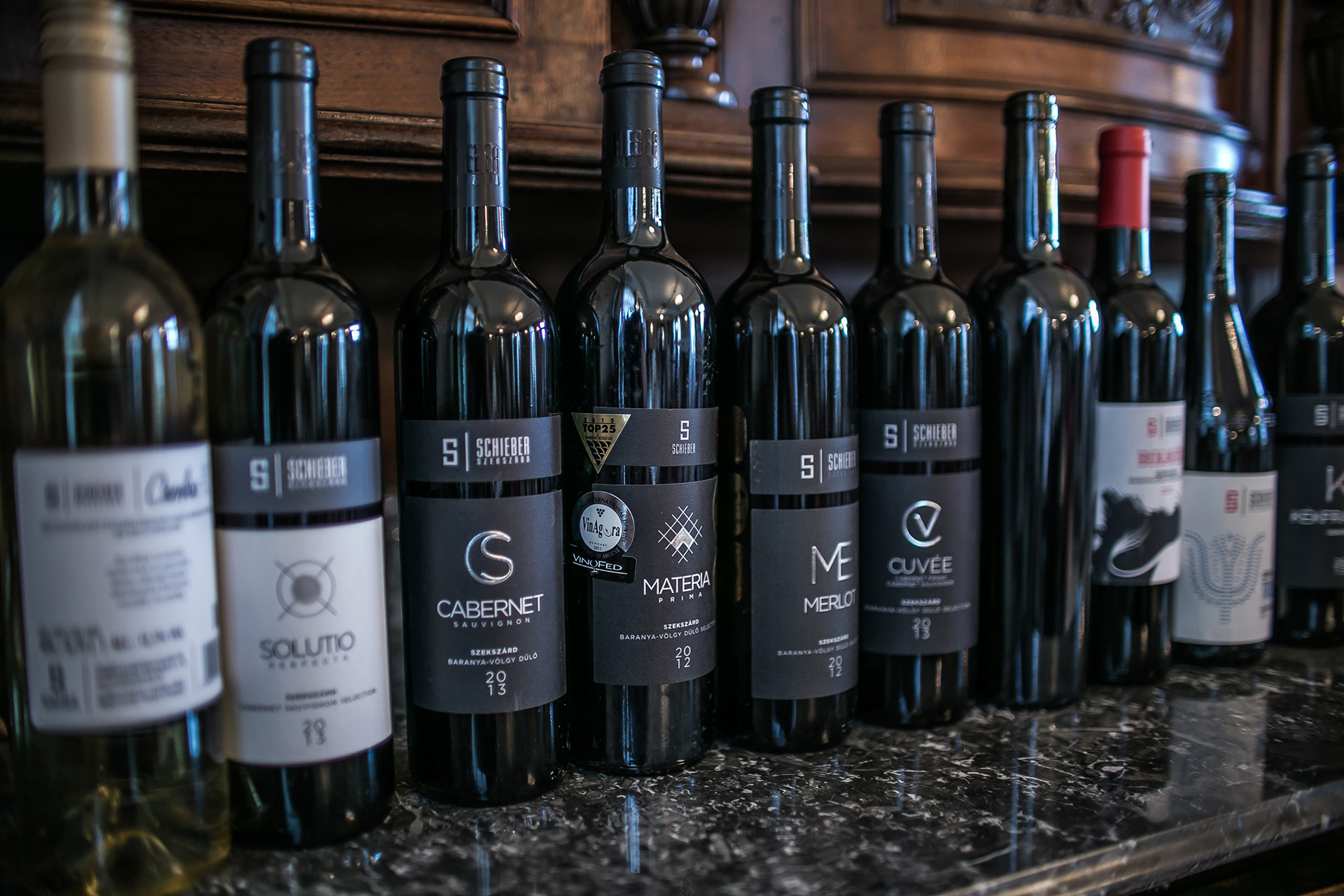 Cserfes (Chardonnay) 2014 I 82-83 points
Aromas of peach, ripe apple and white flowers. Full bodied with lively acidity with flavours of Mediterranean citrus fruits.
Fruska rosé 2015 I 84-86 points
Restrained on the nose (which is refreshing when compared to the many average tutti-frutti-scented rosés), citrus fruits and red berry fruit. Light, with lovely acidity, a little raspberry, strawberry and pink pepper. 84-86
Fruska rosé prémium 2014 I 87-88 points
Aromas of ripe raspberry, strawberry and little vanilla. Medium bodied, with rounded acidity, ripe red berries, a little residual sugar and rose hip jam on the finish. Could even go well with a light steak.
Abrakadarka siller 2015 I 82-84 points
A word play on the magic abracadabra and the name of the grape variety Kadarka. On the nose, it is really undeniably Kadarka, with a lot of spice, herbs and red berry fruit. Medium body with lively acidity and a little tonic water bitterness on the finish.
Kadarka 2013 I 82-83 points
Aromas of vanilla, pepper and cherry. The new oak seems a bit over the top. Tightly structured, lovely acidity, but the tannins are still a little grippy and drying, meaning that the fruit remains in the background.
Kadarka 2012 I 82-83 points
Overripe jammy aromas, a little more than medium bodied, with red and black berry fruits. Fresh acidity and medium finish. Lacks true Kadarka character.
Kékfrankos 2013 I 85-87 points
Cloves, pepper, star anise and cherry on the nose. On the palate, medium bodied with lively acidity, lots of red berry fruit and a nice bouquet of spices. Still very young!
Trilógia Kékfrankos 2013 I 90-91 points
Refined nose with lovely aroma of barrel spices, almond, sour cherry, a little punch, cherry and a touch of vanilla. Elegant structure with rounded tannins and fresh acidity, the palate mirrors the nose. Beautiful wine with a long finish. Collectors might like to lay down a carton of this!
Bikavér 2013 I 86-88 points
Restrained aroma of red and black berry fruit and oriental spices. On the palate, very fruity, lovely acidity, above medium body, with taut tannins holding it all together. Easy to drink, but still very young.
Bikavér prémium 2013 I 89-91 points
Aromas of blackberry, marzipan, pepper and cedar. The palate is full bodied with beautiful acidity, star anise, violet, cherry and sour cherry, cedar and a long finish. Still very young.
Cabernet Sauvignon 2013 I 83-85 points
Bell pepper , pepper, blackberry and blueberry on the nose. Full body, with drying tannins, greenish reflexes, plenty of pepper and pipe tobacco. A slightly smoky, medium finish.
Merlot 2012 I 86-87 points
Rich and ripe on the nose with a little vanilla, a lot of sour cherry and marzipan. Full bodied, mouth-filling structure with lovely acidity. A rich, fruity wine with soft tannins and a long, fruity finish. Perhaps just lacks a little elegance.
Materia Prima 2012 I 92-94 points
Very complex nose with marshmallow, dried leaves, smoke, marzipan, blackberry, blueberry, cherry, anise, chocolate. nut brittle and mint. The palate is full bodied with rounded acids and silky tannins. The flavours reflect the complexity of the aromas, always revealing something new. Endless finish.