Braving the icy November wind around 50km from Craiova in Romania's Oltenia wine region, we descend from the minibus in front of the historic building with its old arched tower decorated with intricate brickwork. We are visiting Galicea Mare, a labour of love under reconstruction. Under the clear blue sky, the accoutrements of renovation litter the bare earth separating this elegant old building from the modern winery behind.
The beautiful old building, constructed in 1913 as a purpose-built winery for Romanian prince and pilot, George Valentin Bibescu, has been completely gutted inside. We wander the chilly interior, stepping up and over planks with owner Iosefin Florea as our guide. In the past, he tells us, clients would bring their own barrel and take away their own wine in it; every boyar had their own barrel and they would come and make their own wine there – like a kind of coop for the local nobility. The lowest of the three floors will be the barrel area, he points out, indeed the Chardonnay and Fetească Neagră from this year's vintage are already resting quietly down in its depths.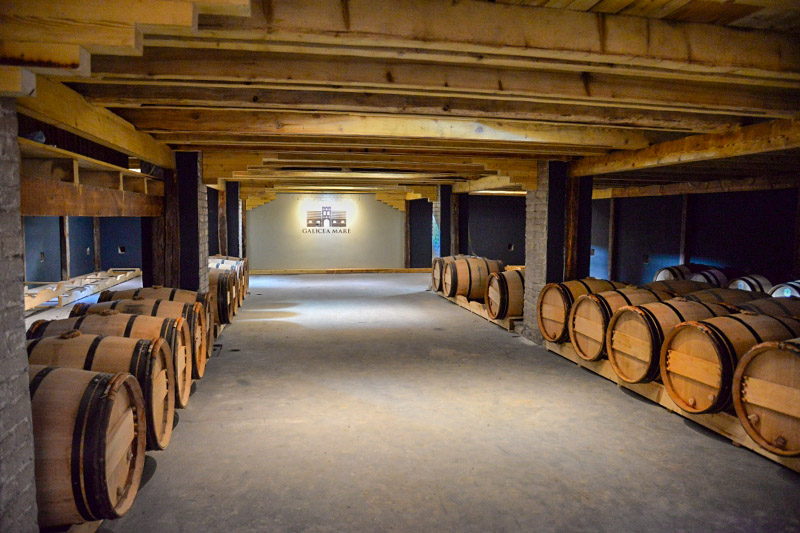 Photo: Piroska Koltai - Wine a'More Travel
Prince Bibescu had inherited the land from his grandfather, a Romania ruler, built the winery and planted 15ha of vines. The first wine was produced here in 1916 and the winery has been productive right until this day; even under communism, which put paid to many wineries in Romania, it was maintained and a further 35ha were even planted. After communism collapsed, someone was also churning out some kind of dubious plonk here too. However, with no real owner, the building was vandalised. This derelict winery somehow chose Iosefina, although he admits that had been more inclined to run from the challenge its renovation represented – they had to replace the roof and practically every brick, rebuilding from scratch would probably have been easier!
The search for Romania's best Fetească Neagră led Iosefin to the village of Galicea Mare, where he tasted some that he says was a bit dirty, but he could tell the vines had the potential to make good wine – he now owns these 75-year-old wines and makes his own, more than drinkable, Fetească Neagră, which he enjoys with a good steak. He confesses that he's not really a wine drinker, except for pairing a passionately made red with his beef or sipping some rosé Champagne with good company in warmer weather. He doesn't understand whites, except for Chardonnay, and if he had to drink white, he'd probably choose Sauvignon Blanc from Bordeaux. He exported Romanian wines into the UK and says he learned so much about the wine-making business visiting numerous producers that he never wanted to have his own winery. Although, it seems fate has decided differently.
Years away from Romania, including twenty in the UK, where he learned to work hard, two in Japan, where he learned discipline, and in Italy, which has inspired his good taste and creativity, have given Iosefin the right tools to manage everything here. Having worked in IT, a restaurant and even a disco, Iosefin is now winemaker, agronomist and building engineer. I suspect that Iosefin worked as a chef in the restaurant given the delicious spread he laid on for us to enjoy with his wines – glistening, scorched roasted peppers, aubergine salad with peppers and olives, intricately woven breads, homemade pickles, baked potatoes crushed with olive oil and fragrant herb, crisp yet succulent spare ribs and perfectly barbecued beef with liberal scatterings of fresh herbs and olive oil... I confess to salivating as I write this – or maybe Italy just left its indelible mark on him.
He agrees that he must have been mad to get drawn into this total mess, but his involvement has pushed him to really prove himself.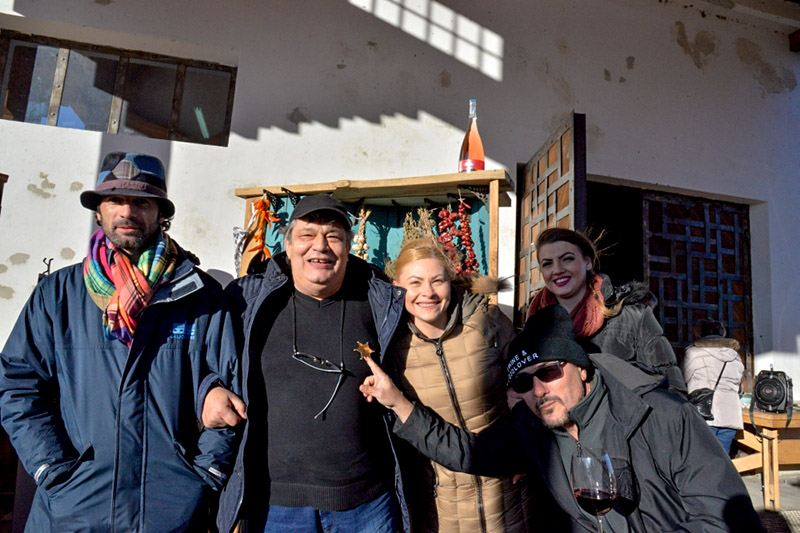 The #winelover group by Piroska Koltai - Wine a'More Travel
He started with great terroir and fabulous old vines, albeit in a disastrous state, but terrible wines and an awful winemaker who wanted to spice up the wines with all kinds of additives, and he couldn't find anyone in Romania who didn't want to do the same and produce some undrinkable doped up brew. So, he decided to tackle it himself. Anyway, he just wanted something he could drink, something as natural possible. He doesn't want chemicals in his food and drink; the only chemistry he believes in is that of love. He learnt about horticulture and eschewed chemicals, turning organic – the wind helps here - and reintroducing manual work, including stamping the red grapes. A visitor once told him, "I just realised that you've done something in the area – you've invented hard work in Galicea Mare".
His hard work, huge investments in technology, learning and risk have all paid off and Galicea Mare is now producing clean, beautiful wines that he enjoys more than he ever thought he would. As did we.
He concedes that the project will never be finished; in such a large property with 50ha of vines, there will always be something to improve. The current improvements will shortly be ready and from June, Iosefan will be rewarded for his passion, as will visitors to Galicea Mare - there will be twelve rooms for guests and facilities for tasting and events. I for one am looking forward to returning in the future and seeing the finished, well finished for now, result and enjoying more of his graceful hospitality.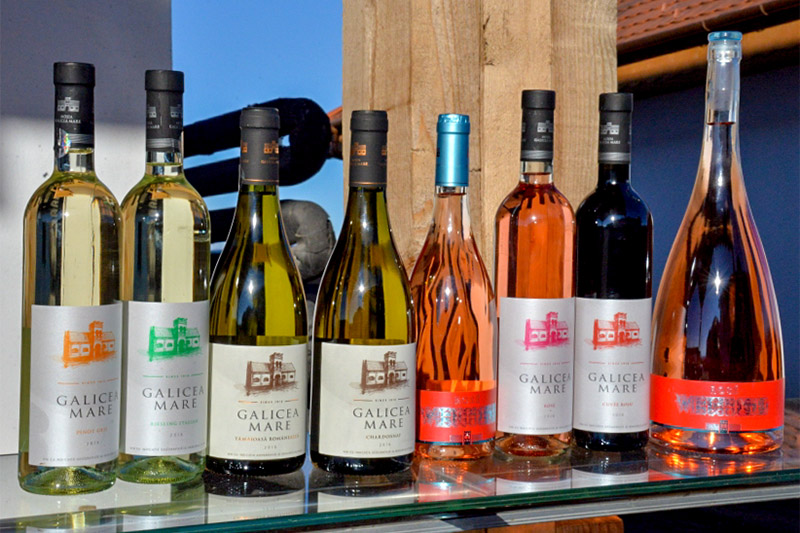 Photo: Piroska Koltai - Wine a'More Travel
Mosia Galicea Mare tasting notes
Tamaioasa Romaneasca 2016 I 86 points
Attractive dry wine produced from 71-year-old vines. Explosively fragrant and perfumed on the nose with fresh zesty lemon, Muscat grape and floral notes tempting the palate. Light, refreshing and very quaffable.
Chardonnay 2016 I 87 points
A blend of wines fermented partly in barrique and partly in large cask. Vibrant and fruity wine with crisp acidity and well-handled oak. Mouth-filling yet fresh at the same time, delivering plenty of peach, lemon and apple fruit.
Cuvee Roşu 2016 I 87 points
Blend of Fetească Neagră, Merlot and Cabernet Sauvignon. Fresh fruity nose with aromas of fragrant spring flowers. Intense and full on the palate with very sweet berry fruit and bright acidity. Velvety tannins and a smooth finish. A perfect quaffer.
Fetească Neagră 2016 I 89 points
Produced using three different clones. A light, fruity wine with plenty of fruits of the forest on the nose. Structured on the palate with a whole gamut of bright red and black fruit. Its smooth tannins make it slip down a treat. Still very young.