Royal Tokaji is not just Mád and the Tokaj wine region's most iconic winery, but it is the only Hungarian winery which for the past decade has practically become a permanent member on the list of the 'world's fifty best-known wine brands'. It's as if the importance of this can't really be gauged, since the Royal Tokaji Aszús are just as expensive (although not) for the majority of Hungarian consumers as those from the other large wineries in the region. Whereas wine professionals consider the non-vineyard-selected Aszús (the legendary blue label) as a basic Aszú, and thus speak about it less. Yet, it is just this category which ensures Royal Tokaji of its position where it can dictate international Aszú tastes because it makes affordable yet premium quality Tokaji Aszú available to any interested British, American, Australian, Chinese or Chilean family.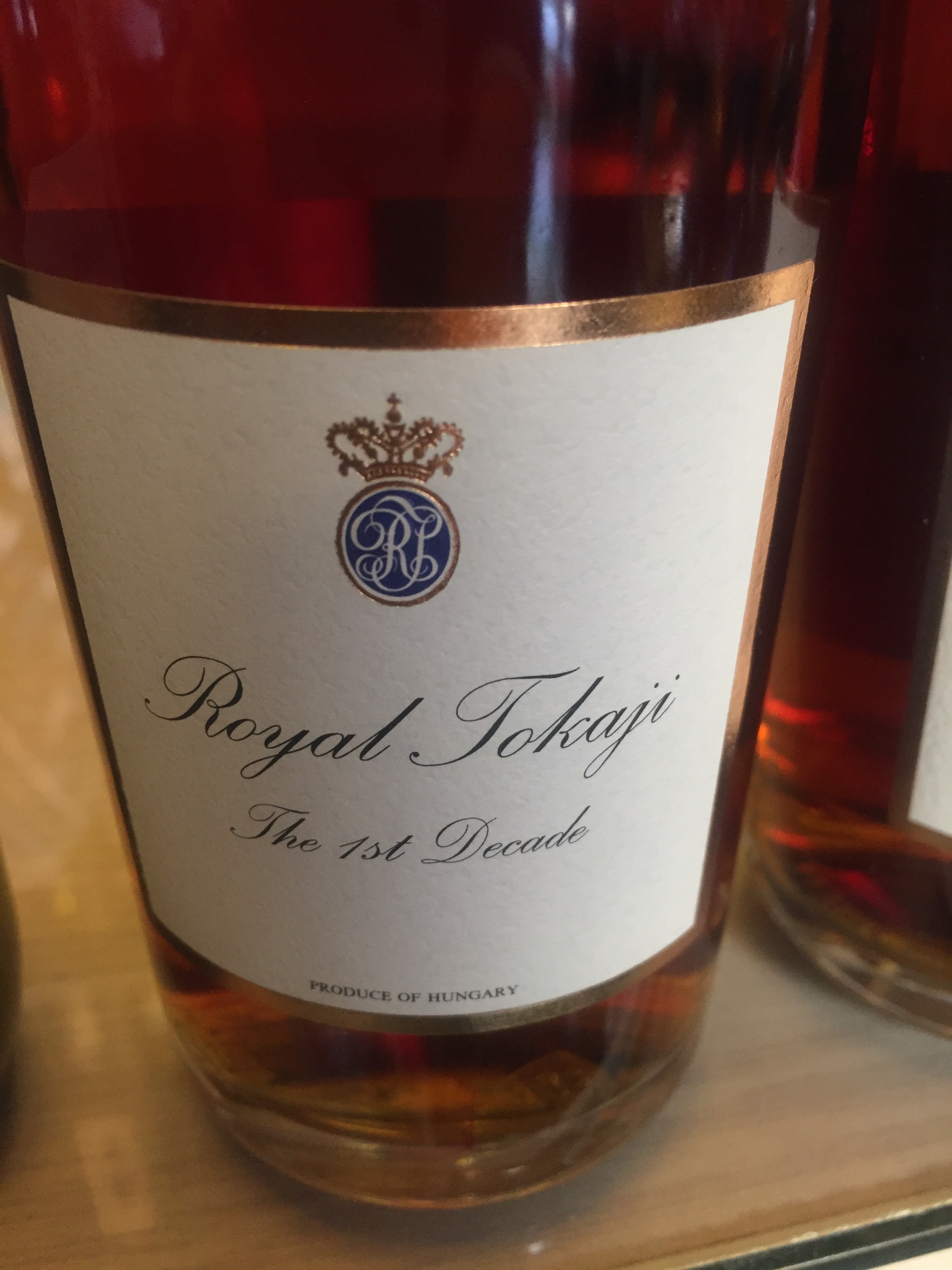 Aszú 5p Betsek 1990 (50% Hárslevelű, István Szepsy made this wine) I 91 points
Tobacco, quince, coffee, cocoa, oriental spice and aged sour cherry liqueur on the nose with some orange zest and prune in the background. The wine is mouth-filling yet lacks real depth, at least compared to the usual densely structured Aszús of today. The acidity is lively with a palate dominated by tertiary flavours such as black pepper and tobacco while the finish is reminiscent of mature plum jam.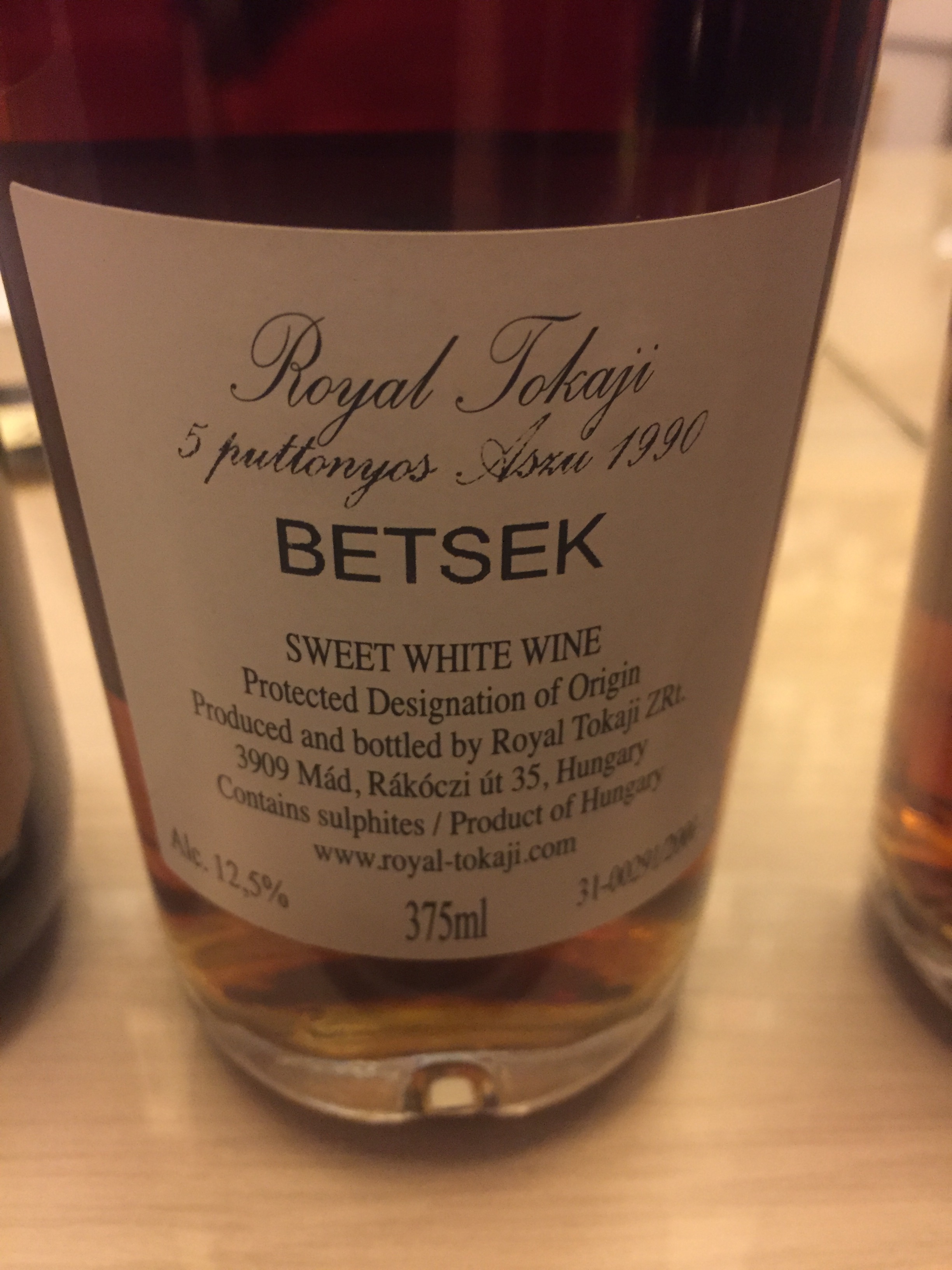 So, how did all this start? Towards the end of the eighties, when it was already evident that there would be dramatic changes in Eastern European politics, increasing numbers of foreign, mostly Western European, investors and wine writers appeared in Tokaj. Royal Tokaji was not created in the same way as most other large estates in the region, that is by one investor buying land parcelled off by the former state wine cooperative, rather the small producers in Mád village, led by István Szepsy, created a cooperative system for themselves in 1989 to try and find new markets. The legendary wine writer Hugh Johnson, who himself became a shareholder in the company and whose statue stands in the winery's courtyard, brought in the first, Danish, investor. It can perhaps be considered amusing that there is a statue of someone who is still alive…
Aszú 5p Betsek 1991 (István Szepsy made this wine) I 87 points
A very restrained nose compared to the previous wine with almost only tertiary aromas. A fuller body, with more extract and noticeably more tannins. The palate is dominated by the bitterness of sour cherry stone and dark chocolate. A full-bodied wine which is unfortunately also bitter on the finish.
Subsequent share purchases make the company's most important man (the majority shareholder) Damon de Laszlo, a British businessman, whose grandfather shared a cell with Hugh Johnson's grandfather at the end of the First World War. We are talking about Philip de László here, one of Hungary's undeservedly forgotten portrait painters whose biography is worth reading for its romanticism alone. He was born in Budapest as Laub Fülöp, later became a student of Károly Lotz, married a Guinness girl and then moved to England where he became a portrait painter of the aristocracy and was first awarded with the Order of Victoria and then Franz Joseph knighted him. His works, including those of Franz József, Queen Elisabeth (Sisi), People Leo XIII, Theodore Roosevelt and a childhood portrait of the current British Queen Elisabeth, can be found in the collections of noble families and famous public collections.
Aszú 5p Betsek 1992 (Samuel Tinon made this wine) I 92 points
Much lighter golden colour than that of the 1990 or 1991 as well as lower alcohol (11%). Mint, dried apricot and oriental spice on the nose. Full bodied and completely mouth-filling with soft acidity and flavours of ripe citrus fruit still evident along with dried fruit, white pepper and an appealing mineral note too. Medium to long finish.
In addition to the contribution of the initial small producers, the owners also purchased their own land, which is how Royal Tokaji ended up as owner of the Mézes-mály vineyard. The estate's viticulturist played a key role in this, which I have already written about here. Another issue is the fact that the estate refers to Mézes Mály as a historic vineyard, whereas the ancient Mézesmály (which I have already covered in this article about Hétszőlő) was a promontory, meaning the south-southwestern side of the Tokaj Hill, which, according to some researchers, actually finished on the edge of Tarcal. Hence, today's Mézes-mály is not only not identical to it but was perhaps not even part of it. This, of course, does not detract in the slightest from the value of the vineyard, which is the source of exciting wines produced in the Royal Tokaji winery every year!
Aszú 5p 1996 (Károly Áts made this wine) I 90 points
Old gold in colour with brownish reflexes. Intense, complex nose with notes of rosehip jam, plum jam, sour cherry jam, dried fig, cocoa, mint and saffron. Medium to full body with steely acidity and incredibly concentrated tannins. Ripe citrus fruit on the palate with tertiary notes of black tea. Long finish, but somewhat bitter due to the tannins.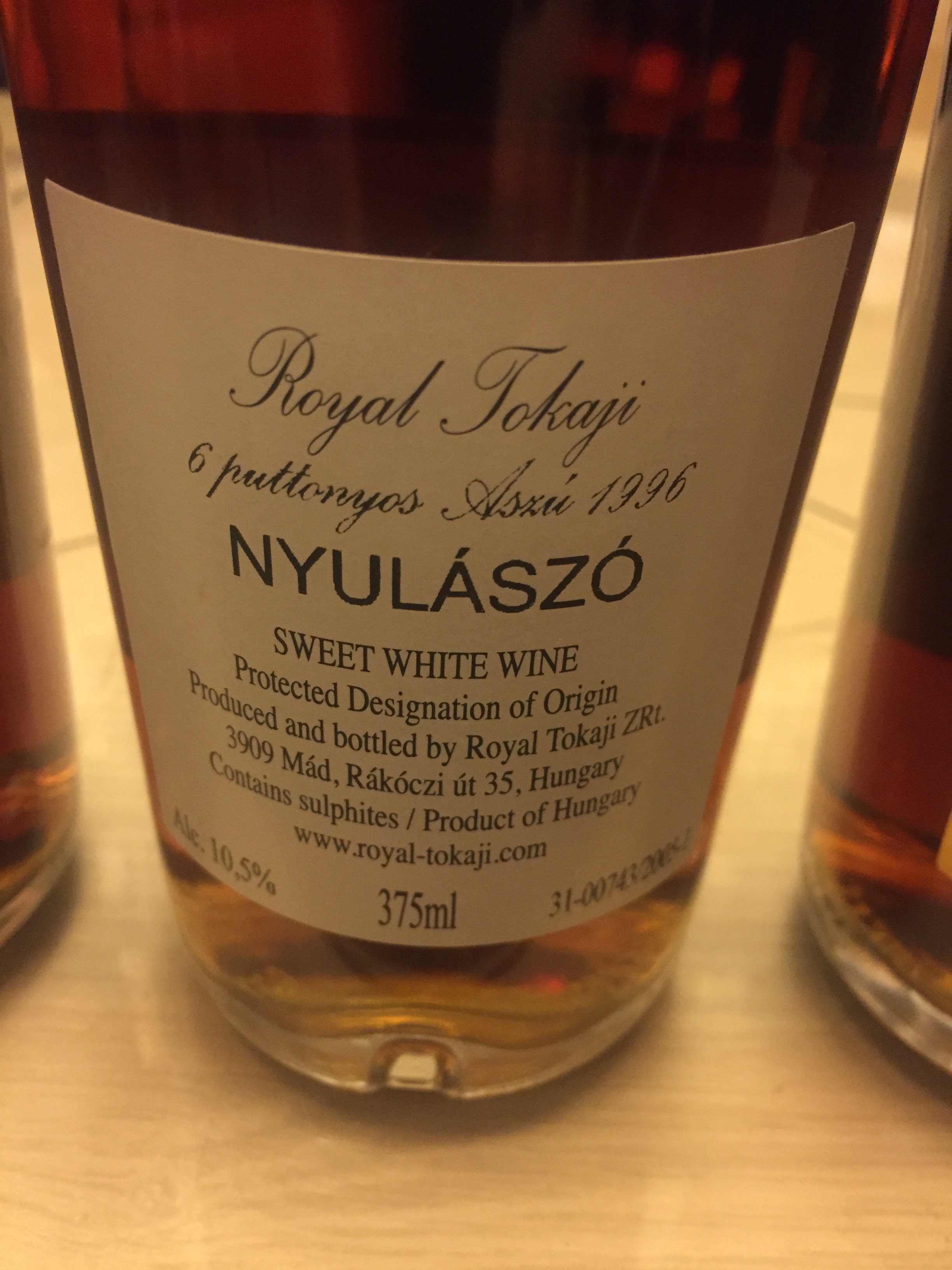 Aszú 6p Nyulászó 1996 (Károly Áts made this wine) I 95 points
Mint, pineapple, coconut, peach and apricot contribute to an extremely complex and fresh nose. Full bodied with lively acidity and attractive tannins. The palate is also dominated by citrus fruit and oak spice together with pineapple, orange, orange zest, vanilla, clove and nutmeg. Endless finish. This wine is in a different league to the previous ones!
As you can see, I've indicated the chief winemaker's name next to each wine too. This is because István Szepsy made the Aszús in the beginning, followed by Samuel Tinon and then later, Károly Áts, who was an undeniably emblematic figure in the Royal Tokaji story (1995 to 2012). The style of Aszú developed under him is still characteristic of the winery's Aszús today, it's no coincidence that after the change, he became the chief winemaker of the Tokaj Kereskedőhaz and then, after its name change, Grand Tokaj. At the same time, the creation of the incredibly successful Áts Cuvée can also be credited to him. This has become synonymous with a good value-for-money late harvest wine, enhancing the Royal Tokaji brand name under Károly Áts's reign in Mád. However, its 107 hectares, extraordinary vineyards (Mézes-mály, Betsek, Nyulászó, Birsalmás and Szent Tamás) are also hugely responsible for its 250,000 bottles per annum. In 2017, the company decided to rebottle every Aszú produced in the first decade (1990-1999) and these wines certainly deserve this opportunity. This is how 1,746 bottles of Aszú were reborn in 0.375l bottles.
Aszú 6p 1999 (this wine was produced by Károly Áts) I 96 points
Round, perhaps slightly powdery nose with plum dumplings, dried quince and mushroom notes. The acidity so characteristic of this vintage scours the mouth dry, while the wine is tight, fresh and lively with citrus fruit and incredibly lovely fruitiness. Almost infinite finish.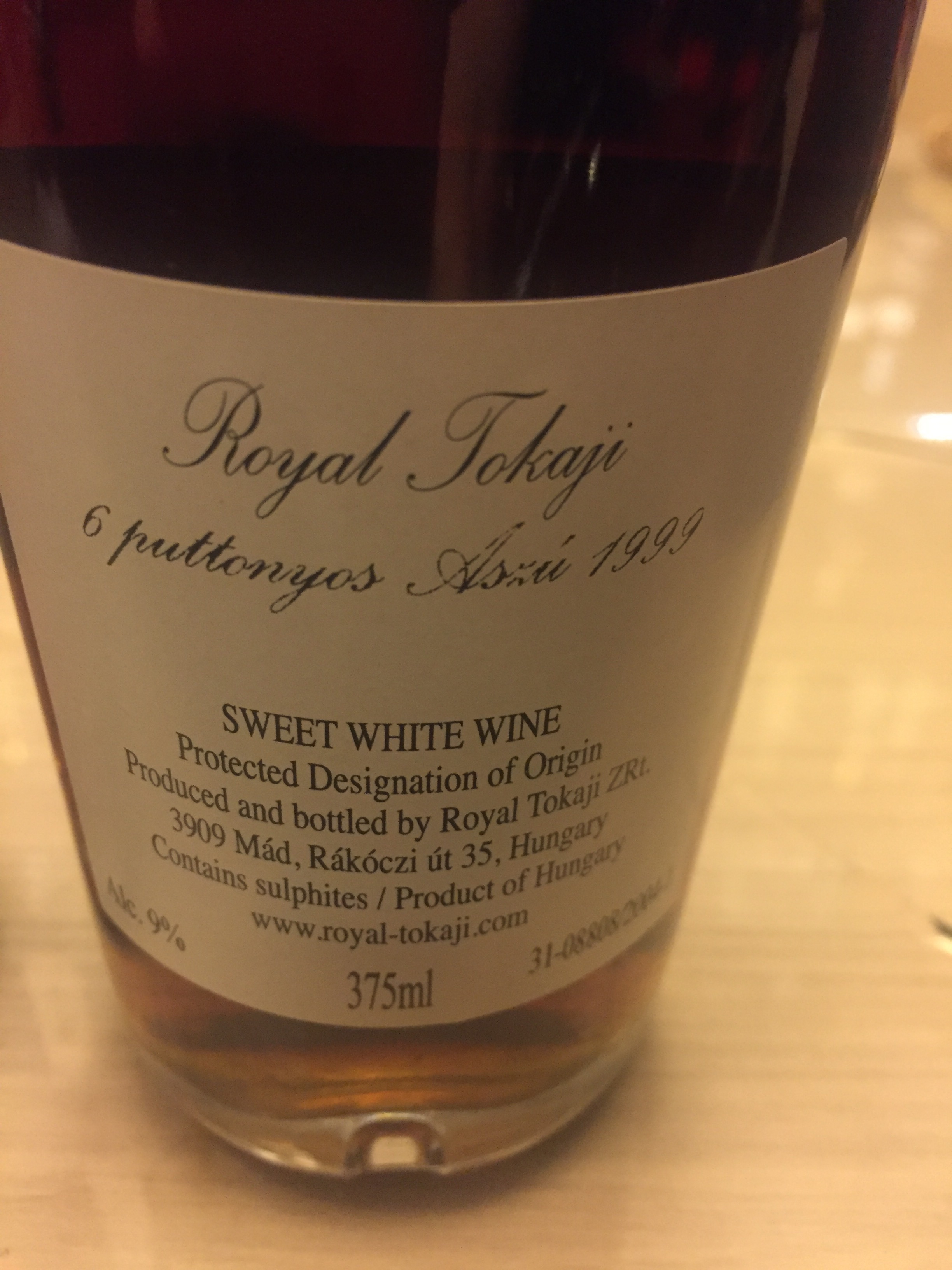 Royal Tokaji has recently gained a new chief winemaker and new estate director, but the quality of the wines has, thankfully, remained unchanged. A memorial plaque on the wall of the estate centre commemorates the name of the former Jewish owner of the building and the vineyards surrounding it, while Royal Tokaji wines are continuing the build the fabric of a story, almost buried once in the past, with Tokaji Aszú and the famous vineyards of Mád and Tarcal at its centre.