I have been chewing over this sentence for weeks now. A sentence I heard at a social gathering, as someone was recounting how a clerk at the local building authority's office told a Somló property owner "not to worry too much" about deviating from their existing building permit as "no one will enforce any penalties there, no one cares about Somló" .
What?
Now, when there is a new video, short film or TV programme about us every week, while article after article is published on wine and tourism related forums? When, finally, everyone seems to agree that Somló is a unique and highly valuable wine appellation, comparable only to Tokaj in Hungary and Champagne in Europe? Now that Somló is producing world-class wines, and the region is currently enjoying a new renaissance?? Now that we see Somló winemakers recognising this and standing together, or at least behind each other, at various national and international events and projects, orbi et urbi, displaying a long desired, unified common front, both in terms of quality and acceptance of the common Somló branding targets? Now that we also see there is a handful of determined professionals working with them, (us), who are miraculously devoid of personal interests and resistant to ancient Hungarian naval-gazing and self-destructive tendencies? Amongst them the very owner of one of the largest local wineries, who is brave enough to share their fame and fortune with "the little guys"?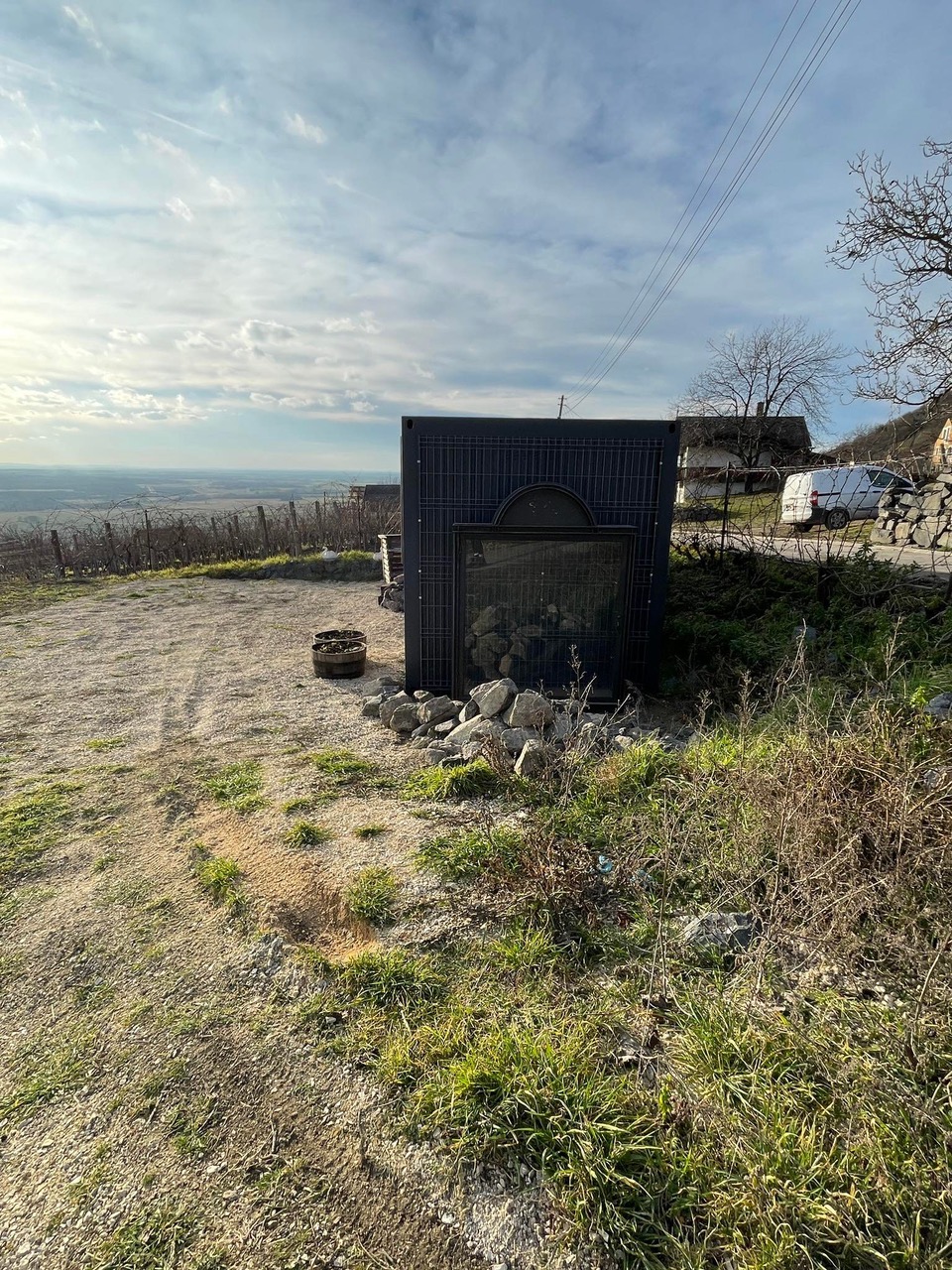 Now that thanks to their unity, the enviable pairing of 'product' and 'team' is actually working on Somló? Now that there are enough good wine(maker)s and enough local (professional) people, who are initiating, financing, organising and keeping enough common projects and events alive together, thus maintaining this welcome new focus on Somló? Now that as a result, the appellation is currently experiencing the most important international and national breakthrough of its entire existence?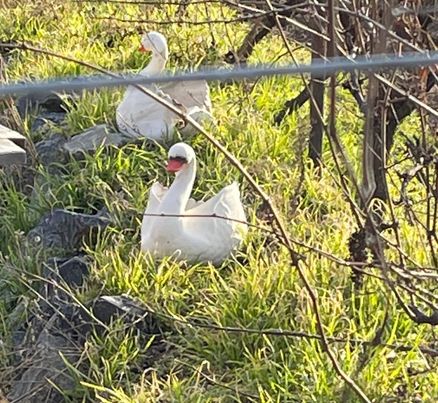 Never before has this appellation received so many gold medals and so much approval and attention from around the globe. Juhfark – besides Furmint – is becoming the most sought-after and acclaimed Hungarian indigenous grape variety as we speak, and Somlo's old-new products like traditional method sparkling wines and pálinka are also beating world records.
So, what exactly is the problem? What is this "no one cares" comment about?
It reflects the apparent lack of harmonisation between the local winemakers' efforts and the infrastructural development of the hill itself. It also highlights an even more serious problem: the current development trends counteract and, in some cases, even nullify the results of the (finally united) winemakers, as they are totally random and lack any kind of professional or unified oversight.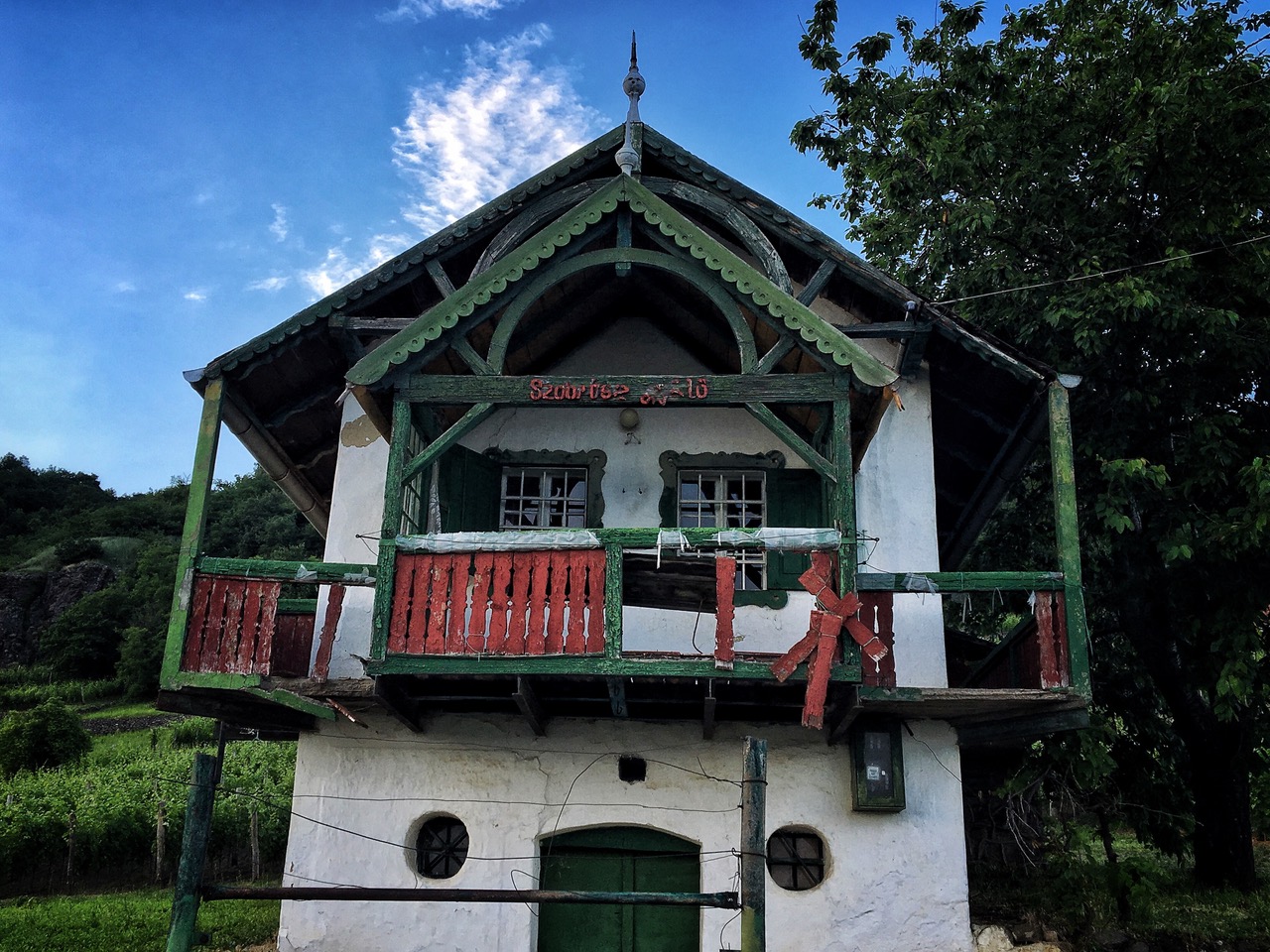 The reason for this complacency and by now, blissfully, an everyday fact is that its increasingly well-known wines are attracting growing numbers of Hungarian and international tourists, experts and investors to Somló. However, after their happy-hazy arrival in this Peaceful Paradise and the first night's enjoyable wine tasting event, "the day after" may hit our guests with some not so world-class, sometimes even hard realities. Transport, rubbish (and its collection, or lack of), gastronomy, accommodation, landmarks, programmes, tourist information and foreign language information – Somló has all these, yet it also doesn't have them. Those who have already visited know what I mean. Those whose who have not yet been, please do some proper research before you come.
As for a common executive and policy system for establishing all or any of the above, well, this is definitely non-existent on Somló.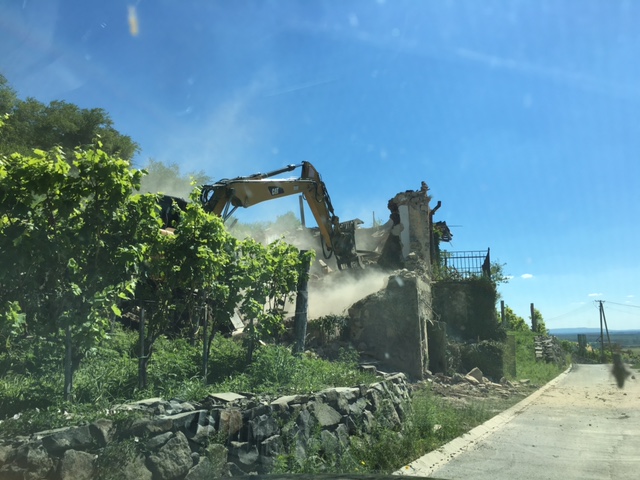 Somló is currently governed by no fewer than FOUR different local councils of the four villages located at its foot. Additionally, the hilltop is part of a regional institute, Bakony-Balaton National Park and its forests are owned by a sixth, the government-owned entity Bakonyerdő Plc. The seventh official body, the so-called "Office of the Hill Judge" acts as a professional regulator and reports to the Ministry of Agriculture. There is no way that any of these entities – together or alone – could oversee Somló as a whole, nor would it be fair to expect them to do so.
Neither jointly nor on their own - these local councils and other organisations simply do not have the legal means and suitably trained human resources to coordinate the daily development and management of a world-class national product and tourist destination of national importance.
Sure, this is of course just one opinion and you are all most welcome to do your own research regarding this "no one cares" comment. By all means go ahead and ask your own local acquaintances and stakeholders. Unfortunately though, I must warn you: most likely the more people you ask, the worse the picture you will get. The more comments you read in local or Somló-related online groups and the more photos you look at, the sadder the outlook you will find on Somló's current 'mental' and 'physical' health.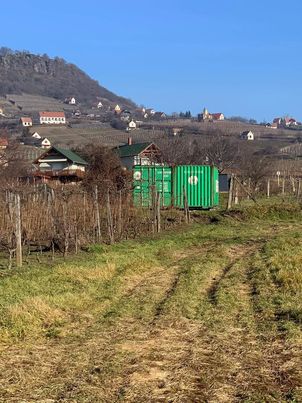 Beautiful, centuries-old Somló cellars are being destroyed and/or are left to go to rack and ruin, not necessarily due to lack of funds but due to sufficient legal protection. Meanwhile, all around the hill, random campsites and street food facilities are popping up in, yes, SHIPPING containers. We now also have yurts, wooden alpine huts and a few fire pools, oops, no, sorry, maybe, swimming pools? Private wells are being drilled one after the other, 'smart', i.e. not intact, cesspits are being added to old properties, whilst the flow of natural springs is dwindling, or in one case, has stopped altogether. Their water quality is also deteriorating due to the high nitrate content, with one council having already had to put up warning signs. The new, oh so lovely, EU-funded rainwater management (or rather, rainwater drainage) system is already noticeably causing drought on the upper section of the hill, because its planners hadn't considered side drainage. In its current form, all rainwater is channelled down to the bottom of the hill via several-miles-long concrete channels. Nobody thought to examine how this would affect the water reserves inside the hill itself - yes, those that also feed the springs. Various buildings with optional sizes, functions and features are springing up around us each week, without respecting any of the formerly observed regulations, the national park status or building rules – or any formal regulations, really. There is no common vision, plan or long-term coordination for building anything on Somló nowadays, nor does there seem to be any official control or consequence for anything either.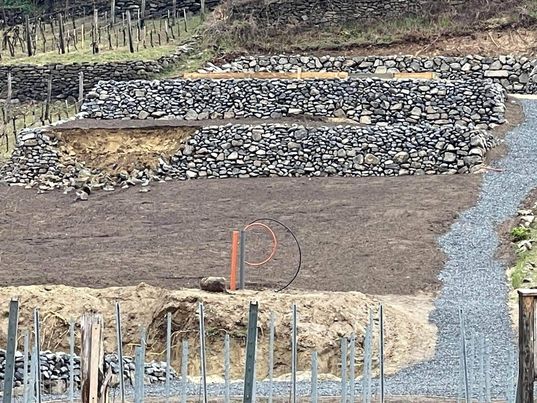 All this, along with shrinking vineyard area. According to the official data from the National Viticultural Council (HNT), there were 599.7 hectares of productive vineyards on Somló in 2010. By 2020, it was 557.47 hectares and by 2021, it had dropped to 483.88. The size of the Juhfark vineyards dropped most drastically in 2021: of the 101 hectares in 2020, only 79.24 hectares remain of this precious and rare grape variety.
One of the Somló vineyard owners gave us a good metaphor, comparing Somló to an Alpine ski resort: "Due to the lack of centralised control and legislation, we are currently destroying a recently discovered and extremely well-positioned ski resort, because everyone wants to build their own house or guesthouse right on the piste, instead of actually building the piste and the ski lifts first. All this, when the villages at the foot of the hill boast plenty of empty, beautiful old houses, and young people are moving away to work or to be close to schools and kindergartens, while those who remain have to drive their kids 20-30 km twice a day. Somló's hospitality scene is also a mess, with lone, uncoordinated restaurants and wine terraces opening and then closing every other year. Instead we should be centralising our "hüttes" and focusing them in the most frequented places, whilst ensuring that the existing landmark heritage is integrated into the routes leading to these and that we are advertising the whole infrastructure as a package."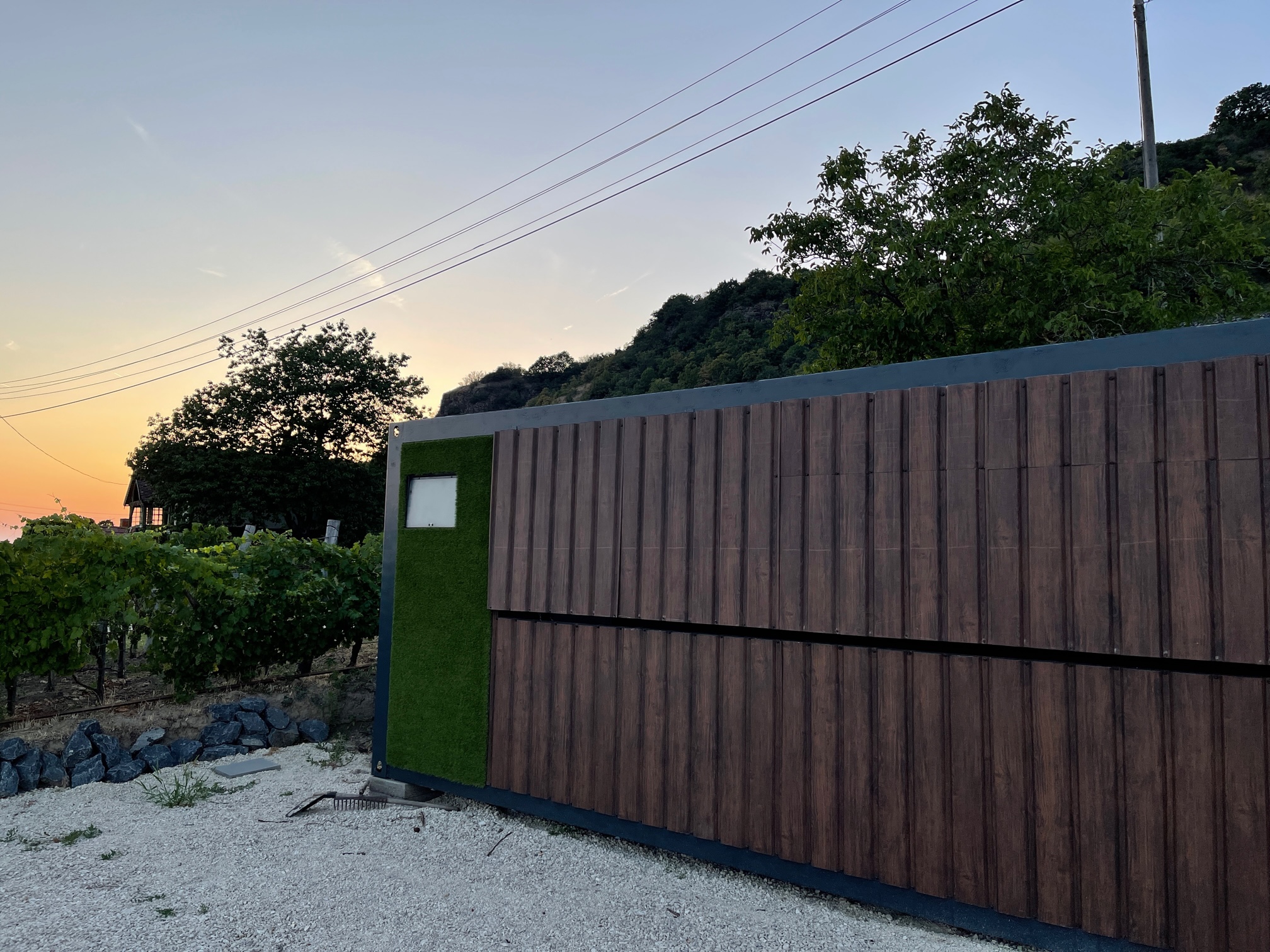 You can also hear very often that "we will end up like Badacsony" (a Hungarian wine region famously swamped by holiday homes), we will "inevitably be overrun by holiday homes due to the lack of control and its consequences", "no one can or will do anything as no one wants to confront their neighbour, the big guys or the local council". The hill is turning into "the playground of the rich", "nothing is expensive enough here now" and "everyone does as they please here" are some more commonly repeated phrases. What is most worrying though is that the least of anyone's concerns seems to be the future of Somló winemaking and the vineyards themselves.
The overall picture, therefore, unfortunately reflects an old Hungarian saying: Somló seems to be cutting the very tree branch on which they are sitting, at least in terms of built heritage.
This is hard to miss, yet many succeed in doing so. You can have as much EU money as you want, you can build as many jacuzzies and mini guesthouses and open as many trashy food containers as you want on Somló. You can also have nice stone walls and beautiful new private villas behind high fences, but if you there are no guests to host and vineyards to produce wine, itwill all be worthless. Why on earth would anyone choose to visit us if they can go to sooo many other places, where the locals were smarter in preserving their key product and their core values??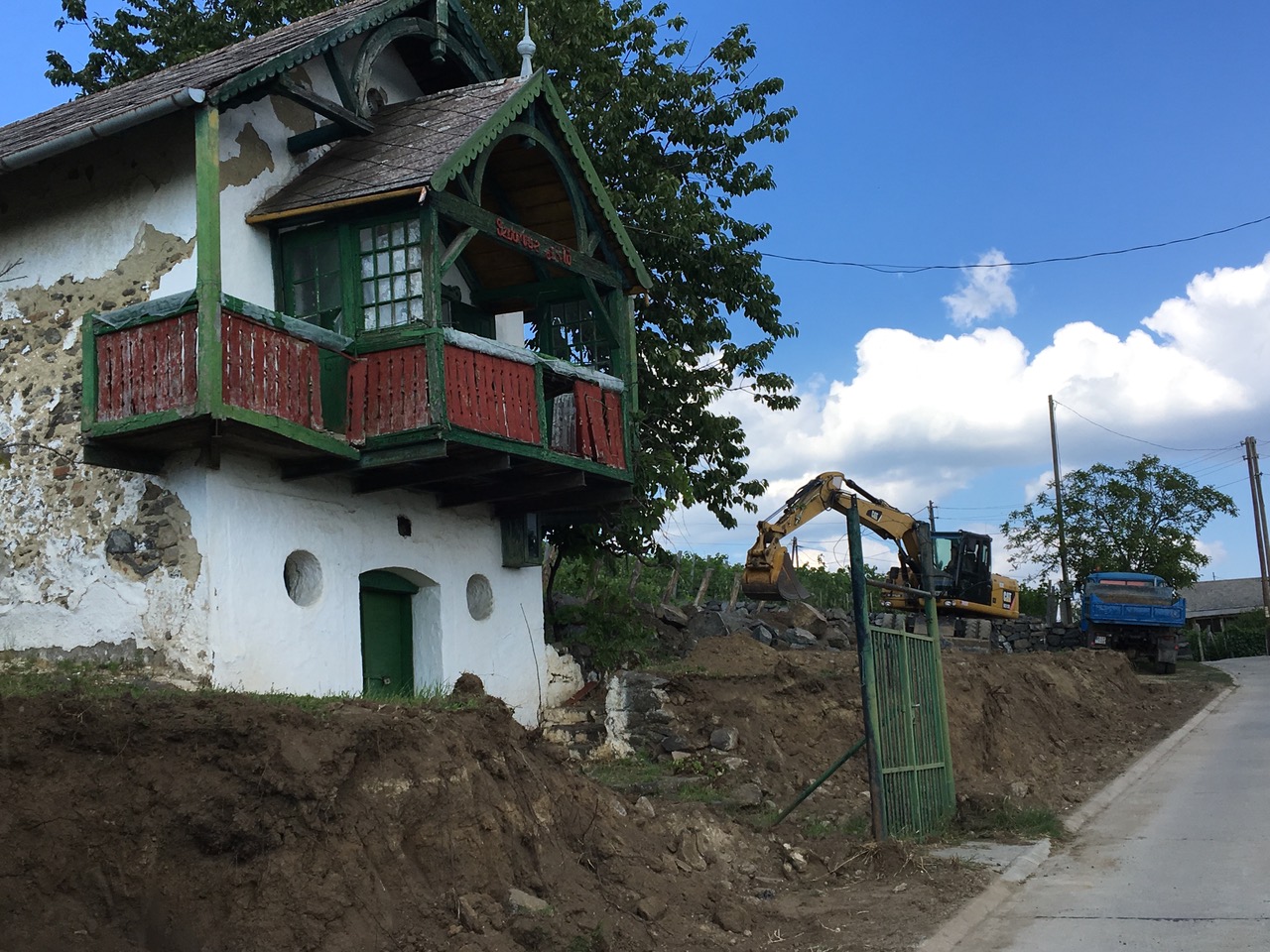 Is there a solution to this current trend?
I think so – and more than one. Moreover, Somló has a historic solution of its own, which is over 500 years old. It is like The Hill itself: - singular, strict, practical and just. It has a name: Hegytörvény – in English, probably "Hill Lore". The nuns of Somlóvásárhely village put this in writing for the first time in 1511. Up until the beginning of the 1920s, the Somló Hill Lore's regulations were adhered to by everyone, enabling the generations before us to save this national treasure in the very form which makes it world-class and, more importantly, also preserves it as such.
The Hill Lore not only included regulations about viticulture and the making of Somlo wines, but also covered the buildings of houses, roads, stone walls and water ditches on Somló. It was so deeply respected that even under communism, the locals converted it to written legislation and in 1987, the surrounding villages even issued a joint local council decree based on it.
Its intention and purpose could probably be translated into current terminology like this: Protecting and preserving the product of Somló and Somló Hill itself, in its entirety, by ensuring that the reason this place and product is so unique on this planet remains a constant.
How can we avoid the destruction of these values burdening the conscience of our generation? We need definitive, fast and joint action from the local councils, or better still, a legislative decision at national level. To execute this, we already have volunteers from the tried and tested winemaker marketing team, which many local stakeholders would happily join.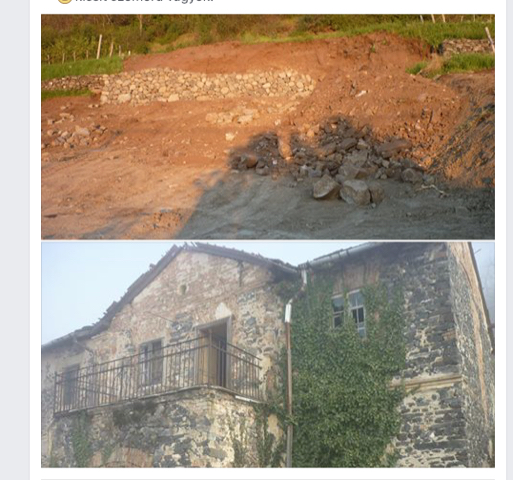 Would such a newly introduced Somló Lore make people "care" for their hill more?
Based on the historical evidence, most likely, yes. How? By putting responsibility and ownership back into the hands of those who actually live and work by and on Somló itself. It has been said many times that "This hill could provide for not four, but ten villages, only if…" I doubt that in our lifetime this appellation will have a better chance than it has now to finish this sentence, or at least to lay the foundations for the next generation to do so.
I say: #Hegytörvény for Somló!