Ancient vines and gourmet chocolate-making nuns were the motivations for a recent excursion out of Tbilisi to Javakheti and Meskheti. My plans weren't well made and on the day of the trip we didn't even know if the caretaker of these vines was available. For my part, I was making a pilgrimage. I have always been a tree hugger. Old trees and ancient landscapes are my churches. Visiting ancient sequoias, and looking at the rings of a dead tree and realizing that it's age surpasses even that of the old city takes my breath away and puts my life and the cosmos in order. Like the song Dust in the Wind, a 3000-year-old olive tree in the Sabine with scars and marked branches gifts civilization with olives for oil- the ancient makes our own brevity more astute and real.
Ancient vines that have survived the likes of disease, natural events and human invasions and still give us the honor of fruit for wine are especially inviting. Wine: the gift of our ancestors. I have heard many a vigneron describe how they feel when they are planting new vines. They are curators of the future. The gifts of the young vines may make lovely wine in this generation, but they are planted for their daughters and sons, and further for their grandchildren. Not many of us can see as far into the future as beyond two or three generations, but a wine grower sees further while slowly tending her vines, to the rhythms of the seasons, peacefully nursing to this living thing in the now. Wine growing is zen.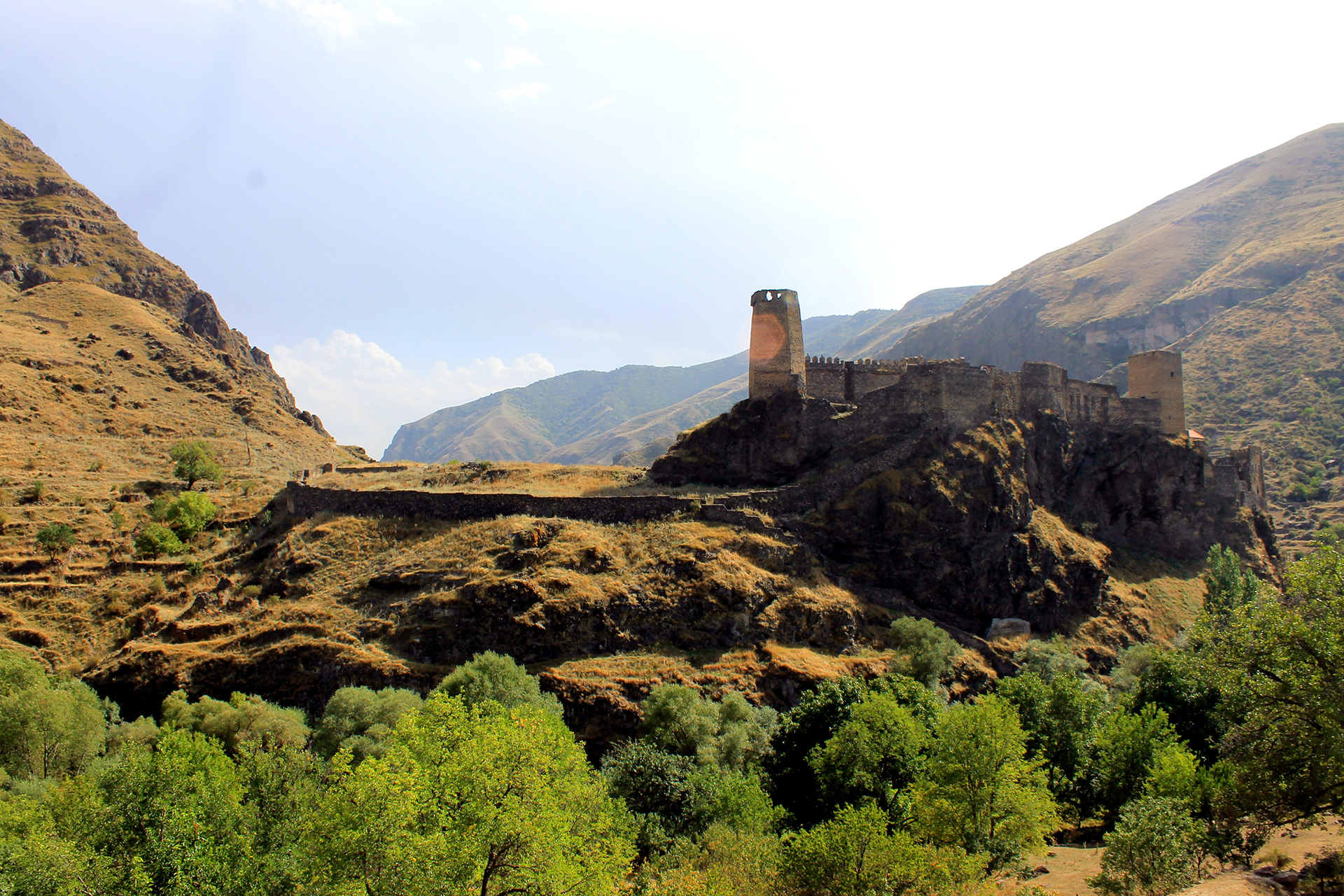 Why is it hard to imagine vines that are 400 years old? The concept rips through the common narrative of vines reaching their peak, creeping past middle age and losing their value due to low yield. When we received the call that Giorgi Natenadze was available to meet us, we were driving through badly paved country roads in Javakheti on our way to the Vardizia, the ancient cave city in Meskheti. I had hired a driver for the day to take me to the secluded Phoka convent in Javakheti and it seemed, at least on paper, that a visit to this young wine "hero" in Meskheti would be a short drive on the way back to Tbilisi. I hadn't contacted him and so I was actually clueless. One would think after eight visits to Georgia in two years, I'd have learned more about GMT (Georgian Maybe Time), which is a combination of a laid back attitude with appointments and the fact that roads and infrastructure aren't exactly well done yet. Sometimes change is glacial. Maps and measurements can't determine distances. Georgian country roads are notoriously bad (badly paved) and there are a lot of curvy, mountainous roads in most regions. When we called Mr. Natenadze, he told us he would meet us at his home at 2pm and that he was on his way home to welcome us. I had to meet him, the winemaker with the ancient vine. My guide Keti arranged it and our driver Alex put the pedal to the metal. Thoughts of mortality ran through my mind, and this is no exaggeration. Alex was weaving around hairpin turns at neck breaking speeds, often with high cliffs below us. We screeched our way around terraced hills and abandoned caves until we reached his town. I texted my husband, "If I die today, please know I love you."
I wasn't expecting such a young man to greet us when we arrived. Out walks this youthful, strapping man in clothing that can only be described as "Indiana Jones." Complete with safari hat. You see, before he met with us, he and his friends had been trekking through the local wilderness hunting for lost wine grapes. It's his passion and full time job. He alone has rediscovered 24 wine grape varieties that have been verified genetically at the Scientific Research Center at the Ministry of Agriculture of Georgia. I'm intrigued. I'd really only come this far to pay homage to the ancient vine I'd been reading about. When we arrived in his back yard, he had clippings from four unknown grape varieties that he had found while "grape hunting" before meeting us.
Natenadze is very well versed is his region's wine culture and history, which took us back to the sixth century through the sixteenth century and through to the present. He recounted this story over his qvevri wine and his delightful wife's khatchapuri. My friend Iago Bitarishvili, the very respected winemaker from Kartli, once told me that he believes Meskheti has the potential to be the most widely recognized and famous wine region of Georgia, such is the capacity for great winemaking. By the sixth century, the region's terraces and wines were world renowned and well known as far as Rome and Greece. It's a perfect area for viticulture, the steep terraces have fertile, lime rich, well draining soil, it is dry with temperate weather, there has never been much need for chemical intervention and the area is still free of Phylloxera.
Before the sixteenth century invasions, the area was quite well regarded and documented throughout Georgia and abroad. Driving through this now rugged region, it's easy to imagine. There are abandoned and dilapidated ancient manmade terraces now connected by modern roads. These days, most visitors who aren't local come to visit and admire the ancient cave city Vardizia without realising or paying much attention to the secrets these rugged canyons and abandoned cave towns keep. Natenadze is its gatekeeper. The fear of losing his own history fuels him. He studied wine in 2009 and has been immersed in the area's history ever since. His mission is to propel Meskheti into the global wine scene while honoring tradition.
When the Ottomans invaded the area in the sixteenth century they found an already cultivated area with complex terraces that were used for grape growing for wine. The locals lived in caves cities with special marani for winemaking and wine storage. Natenadze has found ample evidence of both qvevri production and qvevri wine making in the area. I was able to visit renowned archaeologist Giorgi Barisashvili the next day and he confirmed Natenadze's findings and showed me ancient qvevri from nearly every region in Georgia including from Meskheti.
The Turkish invaders nearly destroyed wine culture in this region, ripping up grape vines in favor of fruit production. Vines that were not destroyed gave way to be used as table grapes, as the local people emptied out of the area and the cave cities were abandoned, as were the vine terraces. These people took their wine heritage with them throughout Georgia.
The theory is that though it was almost forgotten, Meskheti was the source of a number of autochthonous wine grapes that originated here and were transported during the exodus and spread to other regions in Georgia. Villagers in the area know of a local grape branded for good winemaking, called Chkhaveli, which is very likely the same grape that is considered a Gurian variety called Chkhveri, and 80% of the grapes are now grown there. Another variety that is known as a Gurian variety is actually Javakhetuna, which is from Javakheti and Giorgi's village, which spread from Meskheti through the Adjara Mountains and into Guria. Perhaps that famous Gurian crazy spirit and humor also originates in Meskheti.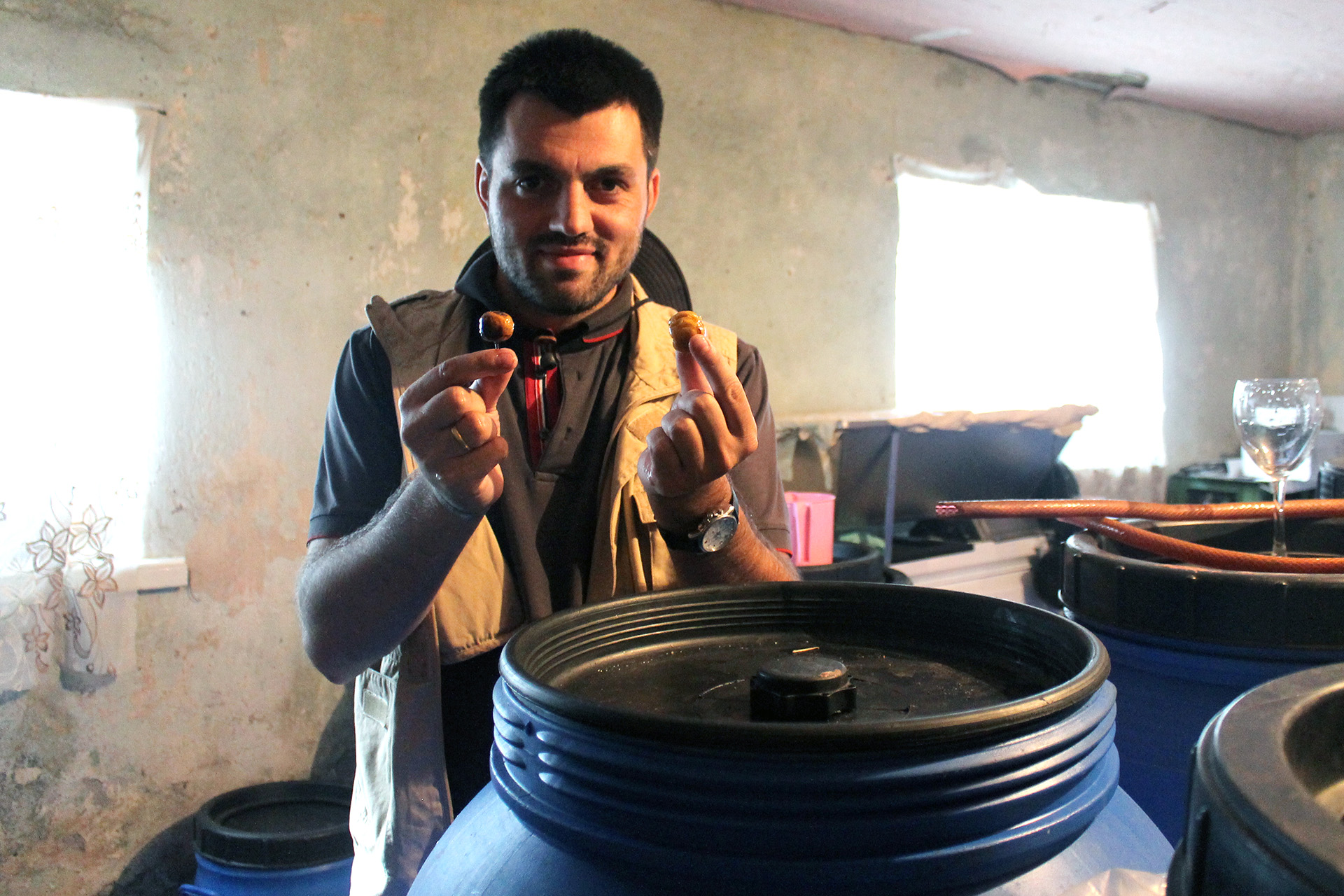 Natenadze has a number of methods for acquiring new grapes, and he gets the locals involved. Many families, including his, can trace their heritage back many generations. His genealogy brings us to a great find that is at least 400 years old. Family records confirm this because each generation that has lived in the house has recorded the presence and use of the vine for great wine, and he uses grapes from this vine in his Meskhuri dry red wine. Drinking this wine is drinking literal history.
He also engages the elderly by asking them if they have seen or remember seeing any vines in the area, then he'll go and take samples that will be sent to the university for genetic testing. He searches in other Georgian regions for the heirs of the Meskhuri who took clippings of vines and replanted them elsewhere. Many grapes he has discovered in regions outside Meskhia have turned out to be Meskhuri grape varieties. He finds these people based on their Meskhuri last name. There is evidence that the wine grape Khikhi that is most often used in the region Kakheti (including by the Alavedri monks) originates in Meskheti. He has also found his way into northern Turkey where both Turkish people and Georgian settlers of Meskhuri heritage planted grape vines from cuttings taken from those ancient terraces. There they cultivated them for table grapes and for personal use. Qvevri wine production tradition was all but lost in the area, which gave way to fruit production, and most of the terraces were abandoned, and the wilderness has crept in ever so quickly and claimed it as her own. Sometimes Natenadze will engage in good old-fashioned detective work in the field. He is the wine grape Olivia Benson and is not afraid to get into the trenches, get dirty and get into some dangerous situations as he reclaims Meskheti's regional grapes.
Natenadze has also started a project with financing from Manila Khararadze to restore and rehabilitate a 32 ha area of ancient terraces for the purposes of winemaking. The project has been making a lot of progress and he plans to make both cuvée and varietal wines and through experimentation he will see what works best. He is currently involved in a number of other wine, spirits and digestif experiments. If wine can be made even just a little from the grapes he finds, then he will make it. For example, two years ago he discovered a grape Akhalsikhuri Terri and made only one litre. We tasted it out of a half litre plastic bottle. I had to agree with him, it had great potential for high quality, well balanced wine. I was impressed as we went along tasting a number of different experimental wines.
In 2009 he made his first vintage and bottled 920 bottles, which included grapes from his ancient vine. It's a red wine made in qvevri with 14 days of skin contact. The wine is very fruity and well-balanced with nice, silky tannins. At the current time he has four 500 lt. and two 300 lt qvevri which were made in Imereti. In 2013 he made a gorgeous Meskhuri Mtsvane in his 300 Lt. qvevri with six months of skin contact, which won the Best Qvevri Wine of Georgia at The Traditional Georgian Wine Festitval.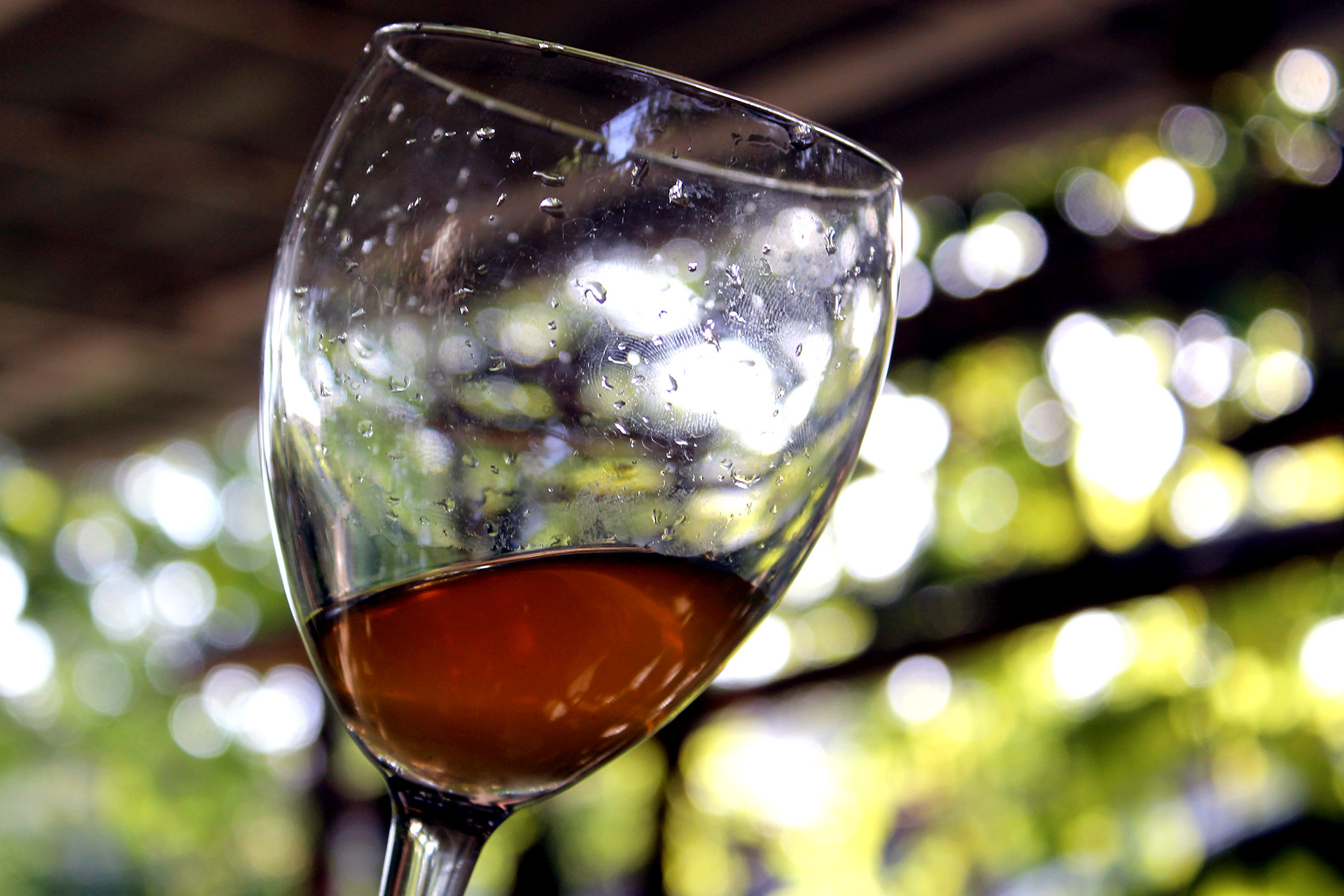 Wine is not his only alcoholic endeavor. While I was there he told me about yet another project; he goes out into the forest and finds indigenous and wild fruit species, and goes to ancient terraces where the Turks ones cultivated fruit trees that have gone wild. He has rediscovered a plethora of apple species that are more or less unknown or have disappeared from the catalog of modern agriculture. He led us across the street where one of his neighbors allows him to ferment these fruits in large food grade plastic barrels. With a twinkle in his eye, he opened the barrels and had us taste the fermenting juices. The one that stood out for me was the two-year-old wild apple ferment. It was a very intense cider. And even though my driver Alex was aching to go we couldn't leave because he offered us freshly distilled wild apple brandy that he made on a small stove top pot still. We tasted it warm. That was a bit too rustic and harsh for me but I could taste the potential. It wasn't just the fruit, it's the energy in the spirit of young Giorgi. It's his vision, his goals, his dirty work and his tenacity that are bringing Meskheti back from the brink of obscurity.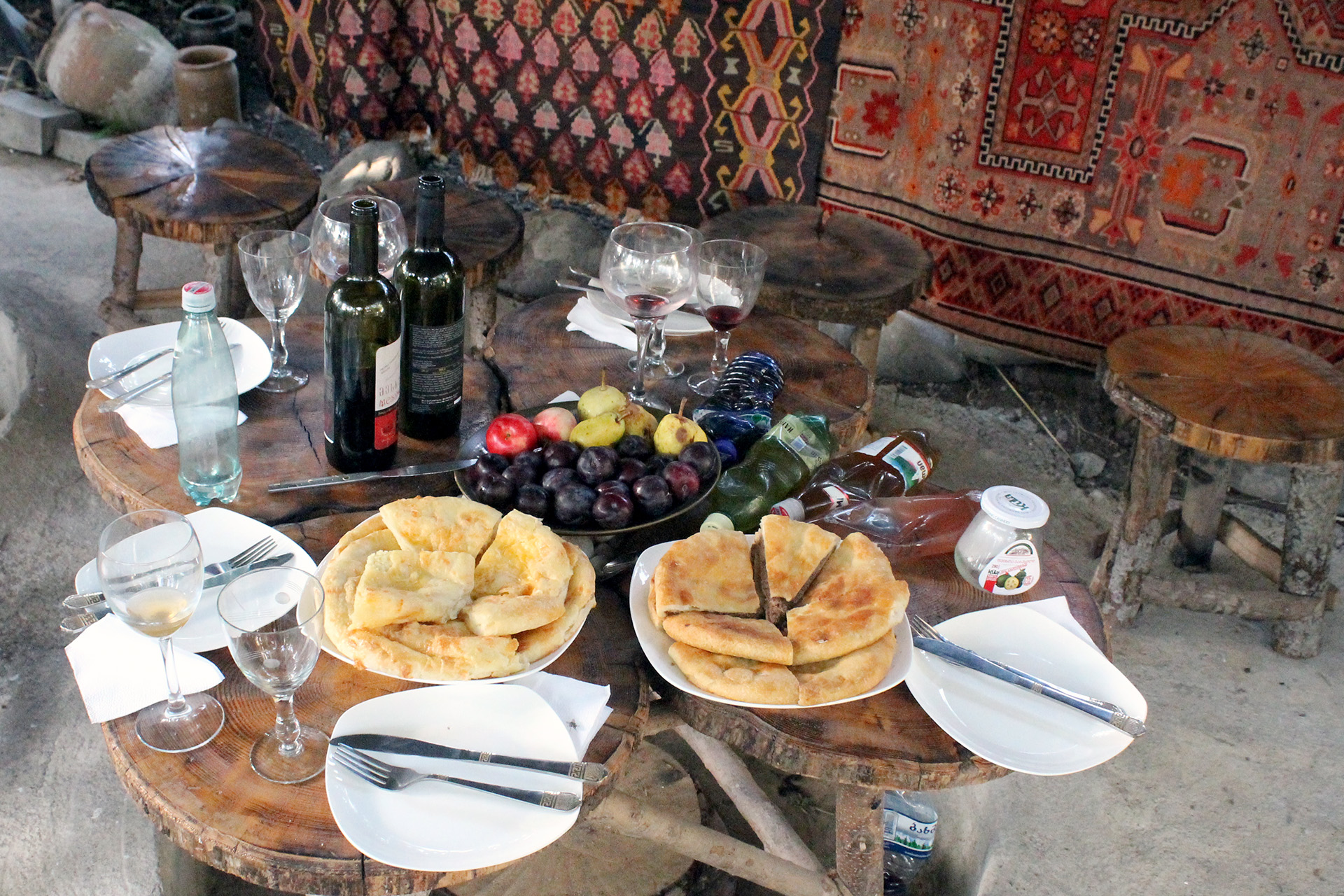 When someone who makes near perfect wine, like Iago, claims that Meskheti is potentially Georgia's greatest wine region, it's based on the work of Natenadze. It was exciting for me from the outside to discover such a rich and colorful wine history and to see and feel the land. It's great to know that he has such respect of his heritage that business people and winemakers are investing in in this region, and that 10 years of hard work and his goal to bring the region to light are paying off- he's a son all Georgians should be proud of.
I never did get to meet that vine. Such was the nature of our conversation.