I have fond memories of chatting at length with Nachbil founder Johann Brutler in German while tasting his wines at VinCE in Budapest. I finally made it to the Nachbil winery in the Swabian village of Beltiug, Satu Mare in Romania. However, I was unable to visit the winery with the charming Johann as he is unfortunately no longer with us.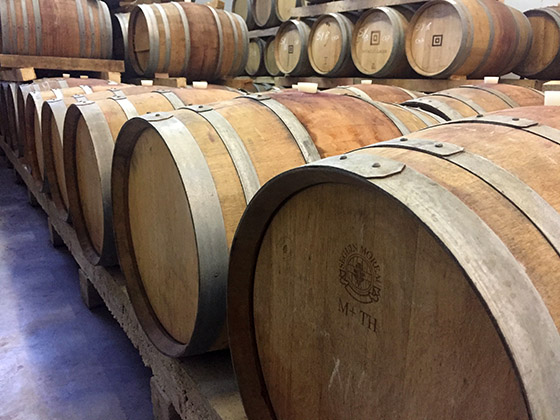 Photo: Daniel Ercsey
Transylvania has long been a mixture of peoples – Romanians, Hungarians, Jews, Saxons, Roma, to name a few. But how did the Swabians also end up here, so far from their home in Germany?
In 1723, Count Sándor Károlyi bought the whole estate of Beltiug from the Prepostváry family and subsequently invited Swabians from Oberschaben to come and settle in Satu Mare county, referred to at this time as the seat of Bacchus thanks to its flourishing viticultural and wine culture, although much was simply families producing wine for themselves. Many younger sons, who would not inherit land in their homeland, saw this as the land of opportunity and headed for Transylvania. They were granted vineyards for which they were exempt from paying tax for two years. Their vineyards were probably planted with Furmint, Red Bakator, Riesling and Chasselas, which were key varieties in the past, whereas nowadays the region's vineyards are planted to a diverse range of international varieties, with Carpathian Basin cultivars such as Olaszrizling, the Feteascăs and Blaufränkisch also in the mix.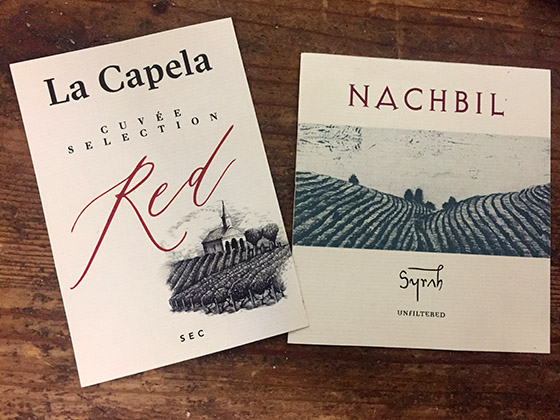 Photo: Daniel Ercsey
Johann Brutler and his family were descendants of these Swabians, who had moved to Germany in the early 1980s in search of a better life although they returned to Beltiug each year to visit. They had some land restored to them and in 1999, decided to plant some vines on it in partnership with Mihály Lieb. Their wine proved so popular with their Romanian friends in Germany that eventually winemaking turned into a real business and they moved back to Romania to build it up.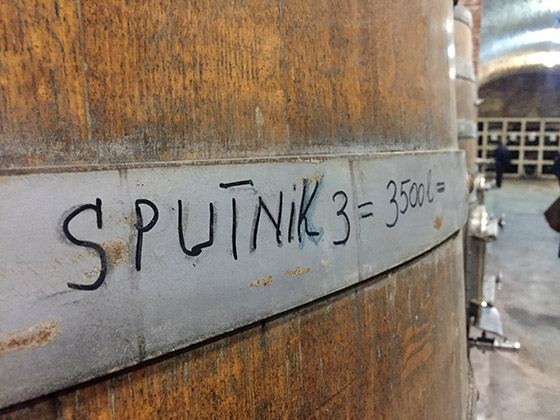 One of the funniest barrel-writing ever! (Photo: Daniel Ercsey)
The family has now sold the winery, although they have kept some vineyards with old vines for themselves, so we are greeted by Edgar Görbe, the general manager. He takes us down to the new winery facilities further down the village built in 2016 and gives us some background on the winery. It's named after one of the best hillside vineyards, Nachbil, which is also the brand name for the majority of their wines, produced with minimal intervention in the interest of showcasing the variety and local terroir. However, they also have a new brand La Cappella since 2016, named after the small chapel up on a hill close to the village dedicated to St Orban, the patron saint of viticulture. The aim of this brand is to produce fruity, easy-to-drink wines.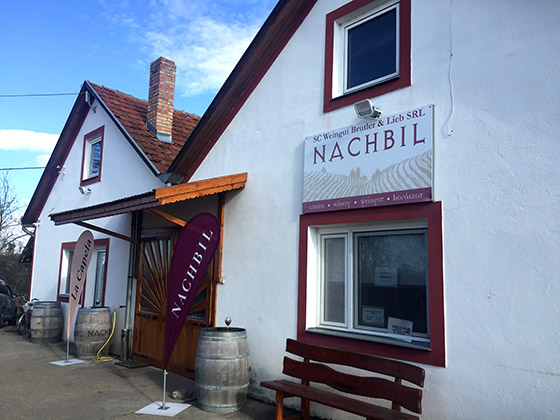 Photo: Daniel Ercsey
They have around 20 hectares of vines, with around 50% each white and red, although Edgar tells us they don't bottle red wine in bad vintages. They are now organic and work naturally with spontaneous fermentation and also lengthy skin contact for several of their whites. The bottles are hand labelled and they use wax to seal some bottles, so Edgar invested in a machine for melting the wax, which he said was rather embarassing to buy, as these are usually bought by cosmeticians, so he got some funny looks!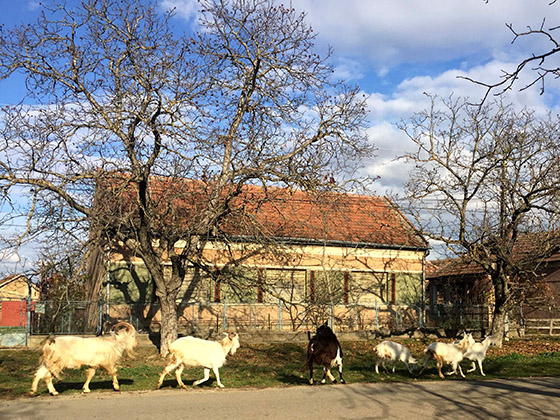 'Frisky goats' (Photo: Daniel Ercsey)
We head back through the village past a herd of frisky goats and the village's fixed market stalls to the historic cellar belonging to the winery, which was built in the 1720s. It lies at the top of the village with rows of small cellars behind it; multi-functional buildings which have a room in front of the cellar where people can taste and entertain their family and friends. They were located near to the village, says Edgar, as otherwise it was hard to stagger home after so much 'tasting'. They still keep some barrels here in their old cellar, so that they can play with different microclimates. They also store racks of dusty bottles from previous vintages here, which we browse before tasting some grape distillate and heading upstairs for lunch and to taste some wines.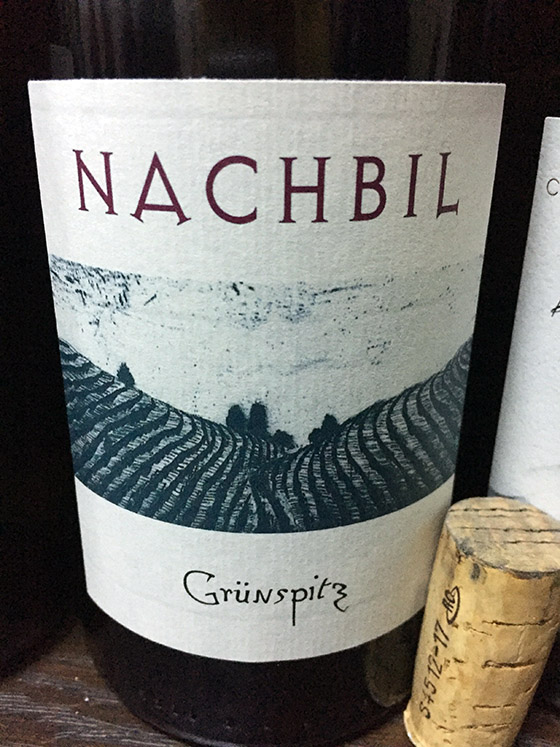 Photo: Daniel Ercsey
Lunch in the cosy, gemütlich room above the cellar consisted of typical local fare – cold cuts, boiled eggs, cheese and bread. With it, we enjoyed an attractive 2017 Riesling with bright acidity and a touch of residual sugar to balance it as well as citrus and floral aromas. This was followed by a thick-skinned local variety 2016 Grünspitz that had spent a week and half on its skins lending it a touch of tannins. A honeyed wine with ripe apple, apricot and mandarin with plenty of refreshing acidity and a mineral note on the finish. Nachbil are the only winery actually working with this variety. This was followed by an attractive 2017 Chardonnay Barrique, a structured wine with plenty of ripe peach, lemon and grapefruit, although a little heavy on the oak for my tastes. Another curiosity, Grand Pa – a blend of varieties including Olaszrizling, Fetească Regală and another old local variety, Baras, came next in two vintages. Produced from vines ranging from 60 to 100 years old and skin fermented for four weeks. The 2016 was a complex concoction of butterscotch, cream, spice, honey and orange with mineral, savoury and floral notes with just a touch of grip while the 2017 was more youthful with plenty of juicy apricot and mandarin enriched with spice and honey and a bit of tannic grip.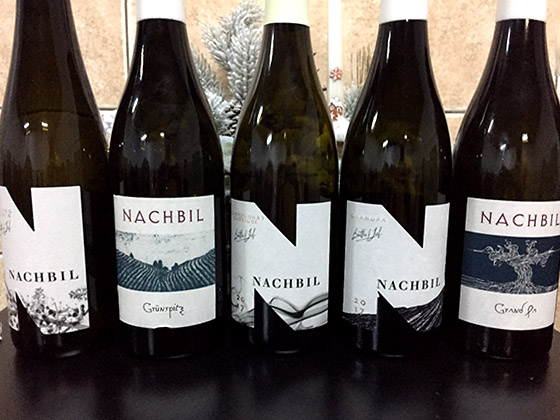 Photo: Daniel Ercsey
On to the reds. The 2016 Fetească Neagră was juicy and structured with bags of dark fruit and spice along with smooth tannins and a slight bitterness on the finish. The 2016 Blaufränkisch, harvested early to keep the alcohol down, was fresh and bright with juicy ripe cherry, but slightly grippy tannins and muted acidity. We finished on a high with the unfiltered 2010 Syrah – a dark fruit bomb with plenty of spice, a touch of green pepper freshness and a tight structure.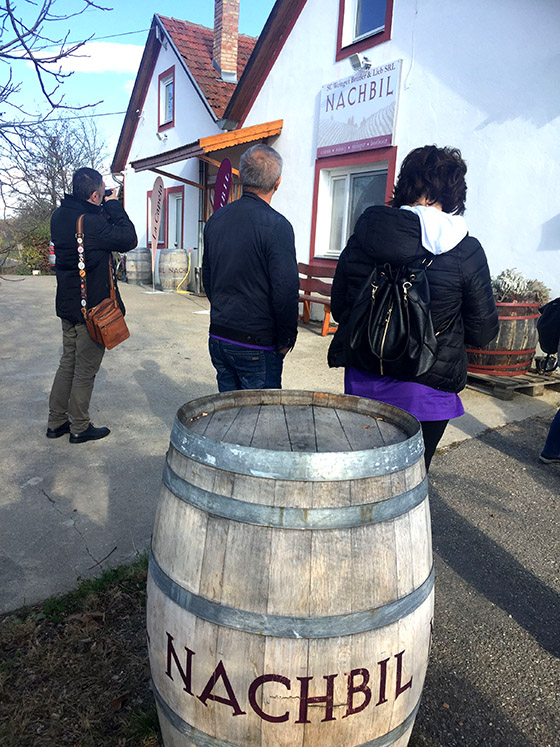 Photo: Daniel Ercsey
Based on our visit and tasting, Johann's legacy would seem to be in good hands.