En route between a brief tour of the Crisana region and the Rovinhud wine show in Timişoara, we made a quick pit stop in the Miniş-Măderat region of Romania. We had already visited the iconic winemaker Géza Balla and the increasingly visible Elite Wine earlier in the year and now we had the chance to make the acquaintance of three more promising wineries from the region and taste a selection of their wines.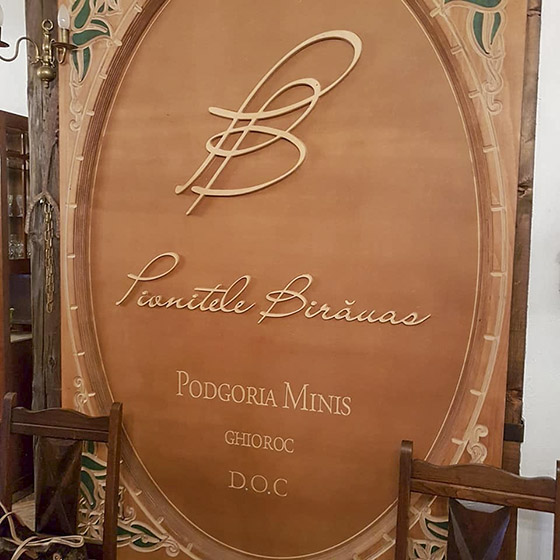 Photo: Sue Tolson
We were hosted by Pivniţele Birăuaş and its brand new owner Mircov Mirian, who informed us he had only acquired the winery a week or so before. There was also an international slant to the tasting as not only were the tasters a group of international wine lovers, but the wineries themselves demonstrated a mingling of nations. Daiconi Vineyards is owned by an Italian-Hungarian couple (Roberto Cerantola and Ágnes Böhm) and the owner of Cramele Miniş, Spyros Stikas, is Greek. The perfect backdrop for a tasting in Transylvania, which has always been known for its rich tapestry of cultures and peoples – in this case, just a slightly different mix.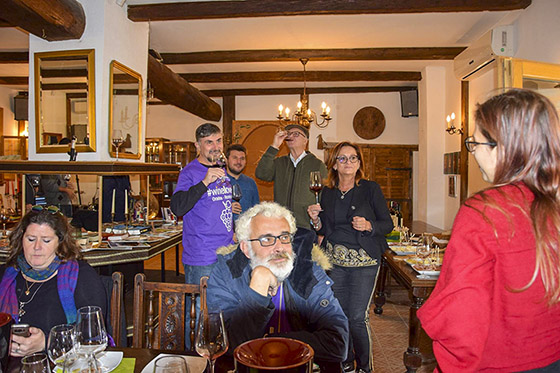 Photo: Carmen Babutau
And now for the wines.
Daiconi, Mustoasă de Măderat 2016 I 82 points
Bright green fruit and white flowers on the nose. Fresh and crisp with crunchy green apple and zesty acidity. Light in alcohol and very refreshing. Perfect as a summer aperitif.
Cramele Miniş, Dealurile Siriei Rosé 2017 I 80 points
Produced from Merlot, Spyros admitted he didn't have the technology to produce good rosé, but he had a go anyway. He did pretty well for an entry-level wine.
Attractive dry rosé with plenty of fresh strawberries and some notes of bitter almond. Perhaps a little lacking in acidity.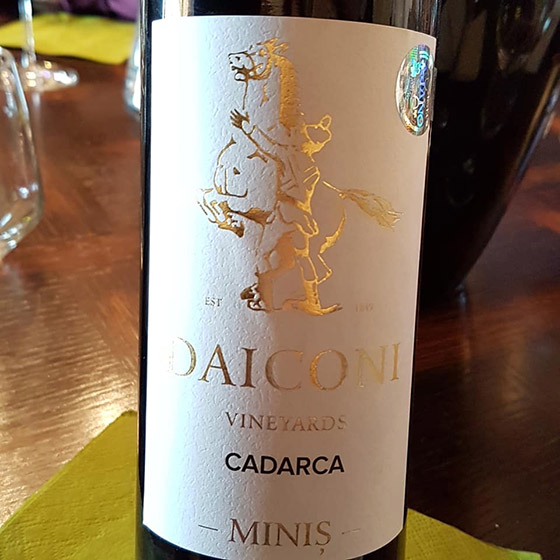 Photo: Sue Tolson
Daiconi, Cadarca 2014 I 86 points
Lovely pale ruby colour with plenty of fresh red fruit and purple flowers on the nose. Spicy cherry with some crunchy cranberry dominates the palate. Fresh, linear and elegant with beautifully fresh acidity. A very drinkable Cadarca.
Cramele Miniş – Castel Emilly, Merlot 2016 I 80 points
A slight mustiness on both the nose and palate which masked the ripe cherry and plum fruit a little. Nevertheless, fresh, light and fruity and very drinkable for its €7 price tag.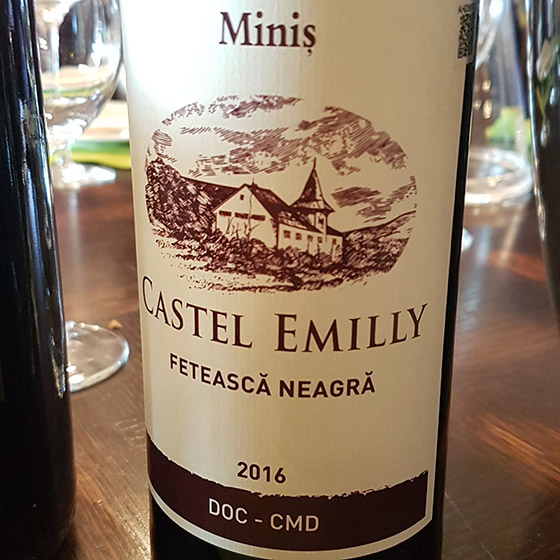 Photo: Sue Tolson
Cramele Miniş – Castel Emilly, Fetească Neagră 2016 I 84 points
Clean and fresh on the nose with plenty of dark, spicy fruit. Smooth on the palate with ripe tannins, refreshing acidity and dark, concentrated cherry jam and a touch of cough syrup on the finish.
Pivniţele Birăuaş, Pinot Noir 2012 I 87 points
An elegant wine with bright cherry and plum fruit to the fore but with some attractive tertiary notes of tobacco and mushroom just starting to emerge. Lovely fresh acidity with just a touch of tannic grip to give it structure. Smooth, complex and long.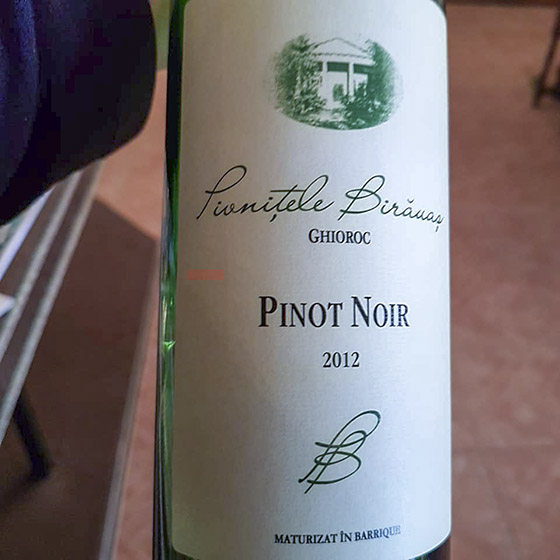 Photo: Sue Tolson
Daiconi, Burgund Mare 2007 I 88 points
Kékfrankos (aka Blaufrankisch) by another name. An elegant wine with bags of blackberry and sweet cherry and just a touch of leather. Still very fresh with bright acidity, ripe, layered tannins and well-defined fruit. Most definitely not past its best.
Pivniţele Birăuaş, Cabernet Sauvignon 2005 I 89 points
Has aged beautifully. Still plenty of dark, smoky fruit. Black cherries, cassis, a touch of graphite and a note of green pepper, complemented by some tertiary notes of forest floor and dried fruit give the palate great complexity. The fine-grained tannins caress the palate and the crisp acidity and touch of menthol add a lovely fresh feel to the wine.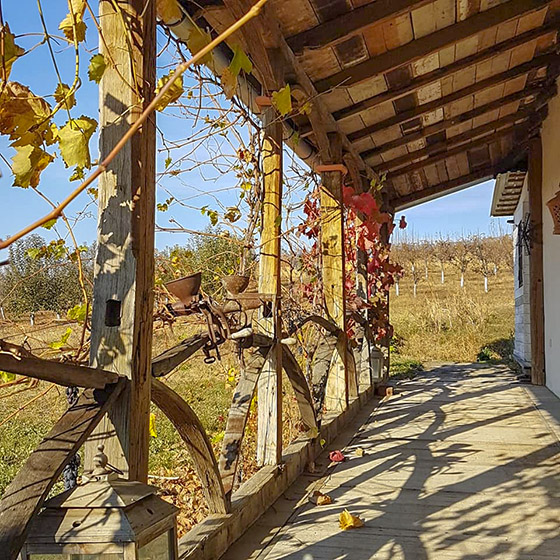 Photo: Sue Tolson
Mircov also led us down into the cellars between the whites and the reds to taste a couple of samples of his 2017 Cabernet Sauvignon (70 year-old vines) from the barrels, both were very promising – plenty of ripe, juicy fruit and not overly dominated by oak. It seems he's off to a good start with his new venture!