The title may seem funny, but this sentence which makes you smile does reflect reality. Géza Balla is a Hungarian who was born in Romania. Fate, or maybe God's grace, led him to begin work under communism in the state farm in Minis in the Arad Hills, so he learnt early from the local old guard which parts of the region had the best vineyards. Then the system collapsed, the dictator disappeared, and the state economy was over.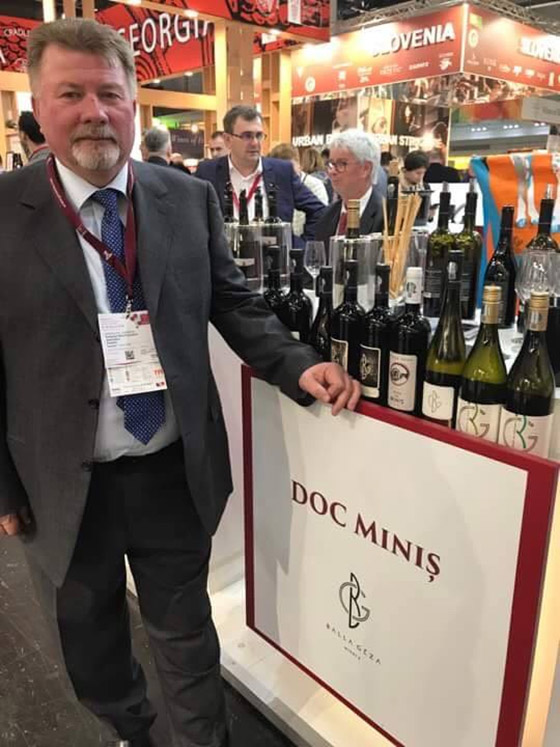 Photo: Facebook, Balla Géza Winery (ProWein)
Dilapidated villages, an ageing and waning population, and barren hillsides, overgrown with weeds would still be the case today if Géza hadn't decided to put all his eggs into one basket here. In 1999, off his own bat, he began to make wine, making the blessed decision to re-establish the reputation of Minis wines. This was no mean feat, as Minis, or Ménes as it is known by the Hungarians, had provided the most renowned red wine in royal Hungary for centuries! The Hungarian national anthem speaks of Tokaj, but there is also a flirtatious version and there are some who whisper that it was not originally Tokaj's vineyards that it commemorated, but Ménes's. Of course, this is just a joke, there is no evidence yet, but it is certainly a good illustration of its past grandeur that this possibility even came up!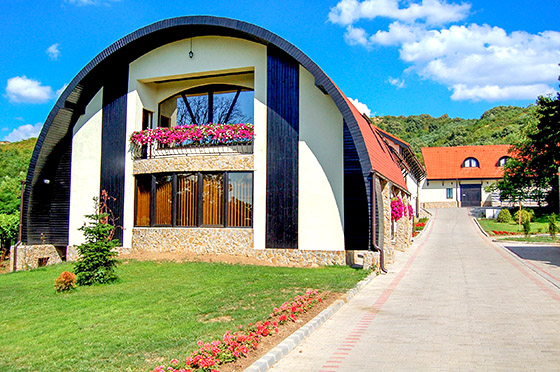 Photo: Balla Géza Winery
Géza Balla thus came, saw and remembered how over years and decades he had bought the plots of land that the old guys had pointed out as the best vineyards. The Arad Hills, more commonly known as the Minis wine region, are located along a relatively narrow belt in Transylvania, 20km east of Arad. Minis's excellent geographical location, weather, soil characteristics (granite, diorite and clay) and its microclimate thanks to the River Mures favour the production of red wines. The wine region is in the southern stretch of the Transylvanian Central Mountain Range which begins at the eastern end of the Hungarian Great Plain.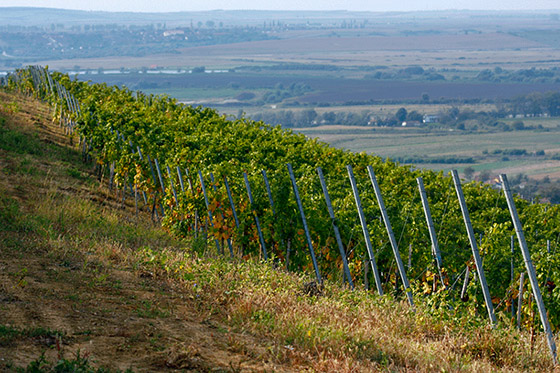 Photo: Balla Géza Winery
80% of his 120-hectare estate is planted to black grapes, 20% to white. Géza's philosophy is to focus primarily on the traditional grape varieties native to the Carpathian Basin. His most renowned white wines are Feteasca Regala - Királyleányka, Mustoasa de Maderat - Mustos Fehér, native to the Minis wine region, and Furmint, which was planted in 2008. His Cadarca - Kadarka, Blaufrankisch - Kékfrankos and Feteasca Neagra - Feketeleányka, planted in 2007, are the most popular of his red wines. The winery also boasts a traditionally legendary red Aszú wine too, made from Kadarka (you know, Géza can't even leave that legend to rest), which in good years is sold under the name Cadarissima. Of course, the estate also produces wine from international varieties, such as Riesling and Sauvignon Blanc for the whites and Cabernet Franc, Cabernet Sauvignon and Merlot among the reds.
The estate boasts everything you need to entice your eyes and palate – a tasting room, accommodation, dining opportunity – you can judge that for yourself. You'll find information on their website. It's worth planning to stay for several days as there are plenty of things to see and do in the area too.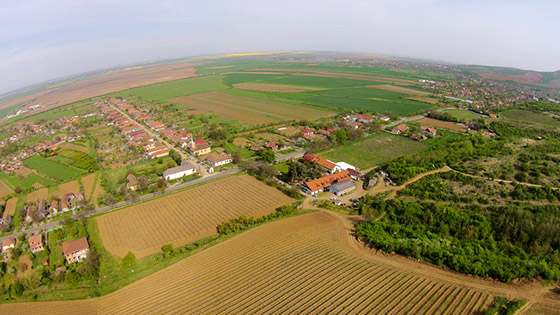 Photo: Balla Géza Winery
As for the rivalry between the countries, it's heartening (for me) that my Romanian colleagues and friends present Géza Balla's wine as the country's best Cabernet Franc, or that they speak about him in Bucharest when it comes to professional wine tourism, while Géza lives in Hungary, in Szeged, close to the wine region, and the Hungarian-labelled version of his wines are also regularly served by the Hungarian Foreign Ministry at their events held all around the world. I don't know how Géza feels about this, but I hope that Hungarians and Romanians, people from Bucharest and people from Budapest, will not fall out over this. For me, Géza Balla himself is Ménes, or let it be Minis, the wine region itself, its soil, its hillsides, the spring wind blowing between its rows of vines and the rain that soaks the earth. The man who has not let hundreds of years disappear without any trace into the mists of the past, the man who in 2003 crafted the world's yardstick Kadarka, the man thanks to whom the Earth once again has Kadarka Aszú.
Feteasca Regala 2016 I 86 points
Pale lemon-yellow colour, with some pink nuances. Fresh apple and apricot on its silken, pronounced nose. The palate is characterised by crisp acidity and a light, steely textures. It takes its leave with a medium finish.
Sauvignon Blanc 2016 I 84 points
Medium lemon-yellow colour. An intense nose of gooseberry, lime and elderflower explode all at once. Light-bodied, fresh, youthful structure with flavours reflecting the gooseberry, elderflower, citrus and green-apple tones. Parts with a light finish.
Stonewine Furmint 2015 I 87 points
Medium lemon-yellow in colour. Moderate nose of some grated apple, vanilla, spices and also a touch of oxidation. The smooth flavours reflect the aromas of ripe apple and spice with a hint of creamy vanilla. It represents a balanced, somewhat mature style with a long finish.
Stonewine Kadarka 2013 I 90 points
Medium deep ruby colour. The ripe red berry fruit are already lending "sweet" notes to the nose, with cherry and strawberry dominating. The palate is characterised by low acidity, medium body and alcohol, along with expressive tannins. Flavours of oak maturation are obvious but embellish the fruitiness beautifully. A ripe finish rounds off the wine.