Every country and every region have their pioneers. And interestingly enough, when it comes to winemakers, in Western Europe such pioneers lived some 200 or even 300 years ago but in Post-Soviet Eastern Europe they are still alive. Small wonder; after 1990 everything that was not beyond repair had to be redesigned, restored as much as it was possible after the 43 years of Soviet repression.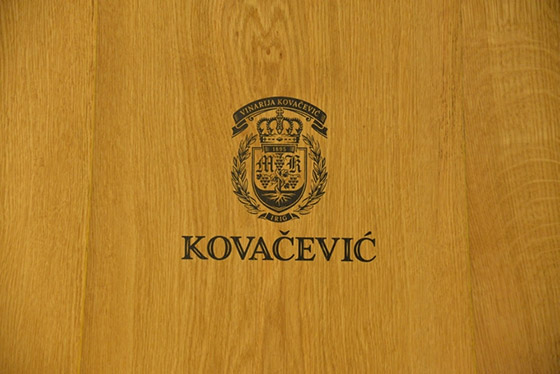 Photo: Piroska Koltai - Wine a'More Travel
In Serbia the pioneers, Radovanovic, Aleksandrovic and Kovacevic form a triumvirate. The latter is seated in Irig where the ancestors of the Kovacevic family have been living for centuries. Unsurprisingly, we can find some winemakers, too among their ascendants but the era when quantity was preferred to quality in the COMECON market did quite a lot of harm to winemaking.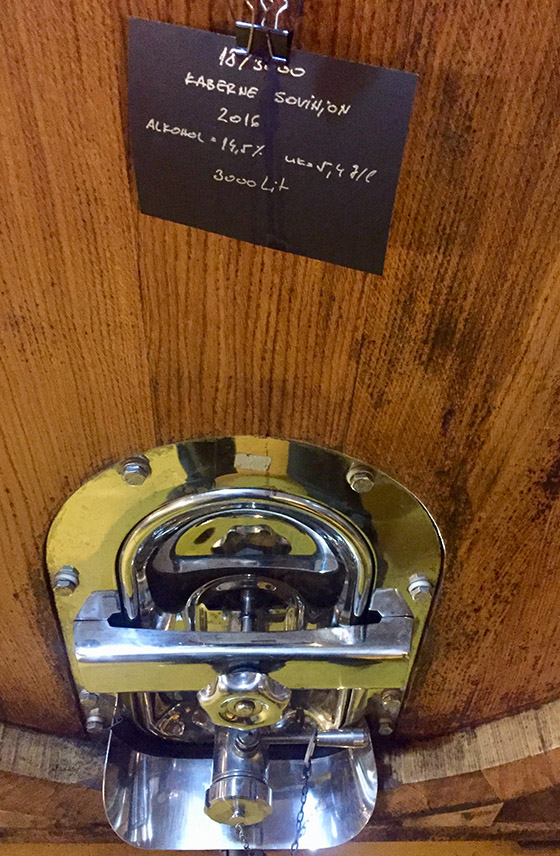 As I see it, Irig stands head and shoulders above the towns and villages located in the southern region of Fruska Gora, and this applies not only to its size (with approximately 4400 residents) but also to its architecture. It is evident from its atmosphere and clearly visible when looking at its old but sadly ruinous buildings that the place was the most significant market of the region and could have been a market town already in the Middle Ages. Administratively speaking, the nearby Vrdnik also belongs to Irig municipality with its castle built by the Roman Catholic archbishop of Kalocsa to protect his mines in the neighbourhood. Currently, there is a great place to stay below the ruins of the said castle but way above the village, which could be a great starting point to discover Fruska Gora.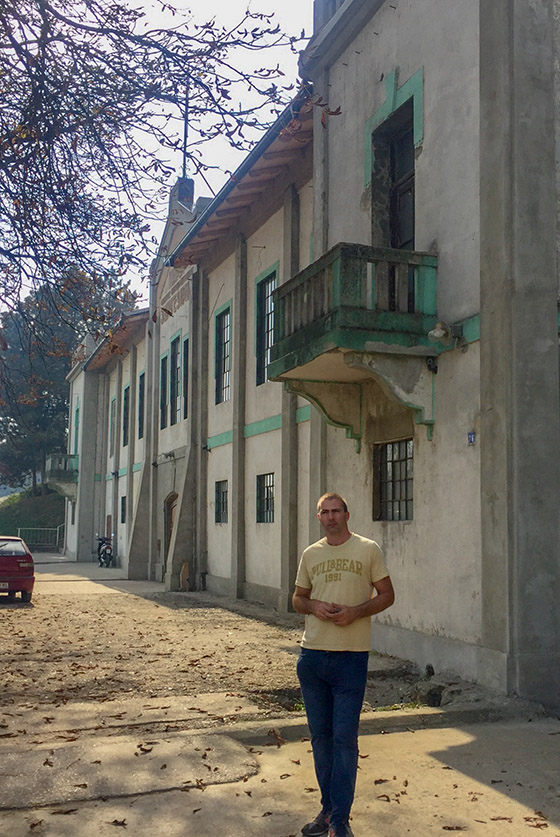 But let's get back to the golden age that wasn't such a long time ago. In Serbia today's "great names" including Kovacevic Winery, were born in 2001. The initial investment wasn't enough for the increased demand (now they possess 40 hectares of land and purchase grapes from an additional 200) so in 2012-13 they bought the area (together with the facilities and cellars) located south of Irig, which was originally developed for a cooperative winery in the 1930s. The huge, open-air containers have been covered, the cellars cleared but the works have not yet been finished.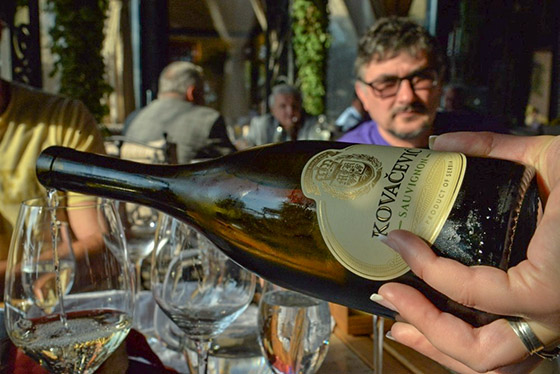 Photo: Piroska Koltai - Wine a'More Travel
In Serbia the name Kovacevic stands for Chardonnay and it is no surprise knowing that 60% of their annually sold 1 million bottles, i.e. 600,000 bottles are Chardonnay. What is more, they soon realized the importance of tourism besides winemaking so now one of the best restaurants and accommodation of the region operates under the Kovacevic name very close (wisely) to one of the greatest tourist attractions of the area, the Novo Hopovo Monastery. If you are ever around, you must definitely try the Kovacevic wines even if you are not a real winelover. With a sip you can not only taste the wine but also get to know the new-age history of the region.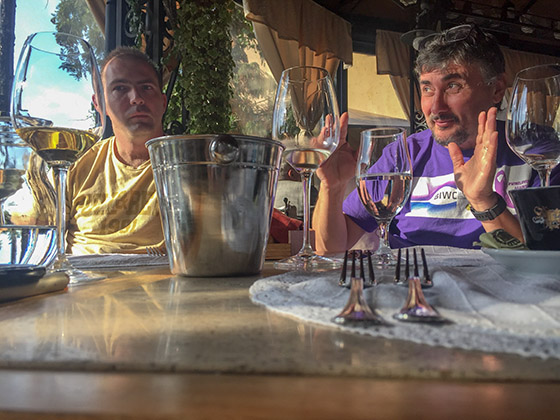 Tomislav Ivanovic (vinopedia.rs) and Luiz Alberto (the No.1. #winelover) by Daniel Ercsey
And the tasting notes:
Brut 2010 I 87 points
Intense autolysis aromas on the nose, yet a barely perceptible mousse. Broad wine with plenty of biscuit, yeast and citrus fruit. Steely acidity!
Riesling 2015 I 83-84 points
Fresh scent of citrus fruit, pear and white flowers. Light, rounded acidity with pear and a little bitterness on the palate.
Sauvignon Blanc 2016 I 85 points
Restrained nose of herbs and fruit. Medium body and rounded acidity with herbal notes, citrus fruit, apple and flowers.
Chardonnay 2016 I 84-85 points
Perfumed white-fleshed fruit on the nose. Medium body and smooth acidity with pear, apple and citrus fruit on the palate. Medium finish. Very drinkable.
Chardonnay 2013 Selection I 86-87 points
Restrained nose yet full-bodied with smooth acidity, plenty of oak, sweet spice, apricot and vanilla. Long, rich and spicy with a touch of smoke on the finish.
Sauvignon Blanc 2012 I 84 points
Restrained aromas of tinned pineapple and sweet citrus fruit. Full body, rounded acidity and high alcohol with flavours of orange, pineapple and overripe pear with some butteriness and barrel spices. The alcohol sticks out disturbingly on the finish.
Sauvignon Blanc Selection 2016 I 84-85 points
Fresh nose of citrus fruit, gooseberry and cut grass. Lovely acidity. Palate reflects the nose. Medium finish, a little bitter at the end.
Aurelius 2015 I 85-87 points
Dense nose with spice and fruit remaining in the background. Full-bodied, attractive tannins and smooth acidity with plenty of spice and vanilla. Medium finish.
Aurelius Selectia 2012 I 88-90 points
Beautiful maturity and concentration on the nose with lots of fruit and spice. Silky tannins complemented by rounded acidity, plenty of fruit and a touch of chocolate. Exciting, full-bodied, long and elegant.
Aurelius 2012 I 85-87 points
Sour cherries in brandy, chocolate, a touch of spice and overripe fruit on the nose. On the palate, sour cherry and blackcurrant jam, plum and chocolate. Full-bodied, warming and long. And unfortunately, also a bit too much.