Our long journey north from Zagreb almost to the Hungarian border, took us to Kutjevo, Croatia's Graševina stronghold, where we first paid a visit to Vlado Krauthaker, one of its best-known producers and a real character. If we had not had a further three appointments afterwards, I think we would never have managed to leave!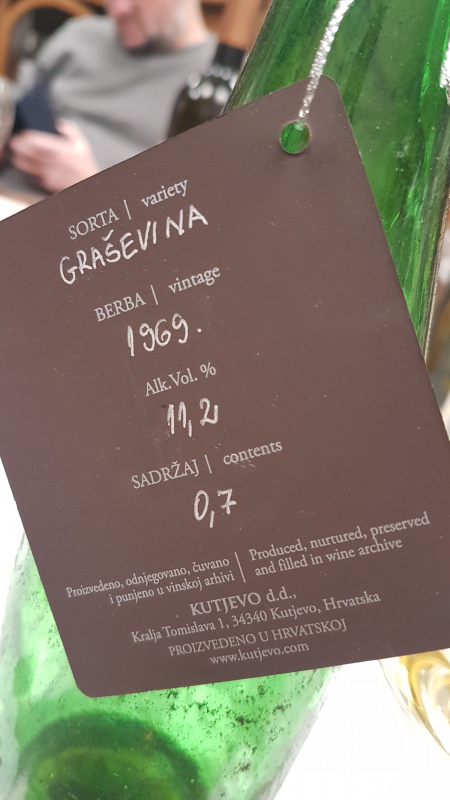 Graševina and beyond
Vlado began with 1 hectare of vines but now owns 45 hectares, with a further 65 hectares worked in cooperative partnerships. Although they produce 70% whites, of which 70% is Graševina, they also have some experimental red varieties including Nebbiolo, Blauburger and Pinot Noir. Due to climate change, they are now trying out Zinfandel, or rather Tribidag as it is known in Dalmatia where they got their vines from. The most northerly Zinfandel in the world! Vlado likens Kutjevo to Piedmont, with a range of small hills and ridges, similar to the Langhe, which is maybe why he thinks Nebbiolo could do well here – we try it later, safely inside in the warm.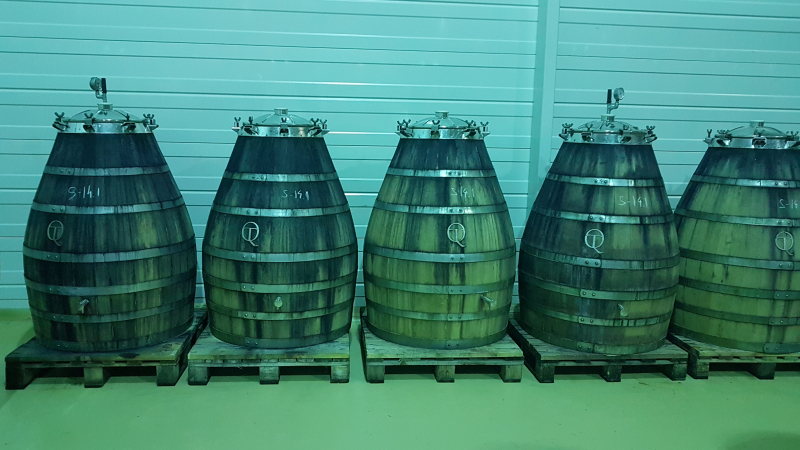 Everything is done by hand, with some of the oldest vineyards ploughed by horse due to the narrowness of the rows. Although they cannot achieve organic certification, due to the proximity of their non-organic neighbours, they try to be as organic as possible, tying the vines with willow, planting various grasses and flowers to help reduce botrytis in vineyards and using these dried to make preparations for the vine as well as only using manure for fertilising. Incidentally, they needed 500,000 litres of cow manure when preparing their new vineyards! The oak for some of their barrels is also as local as it gets, since some came from woods cut when some of their newest vineyards were planted. Turned into barrels by a local cooper in Našice, Vlado feels it is similar in character to French oak.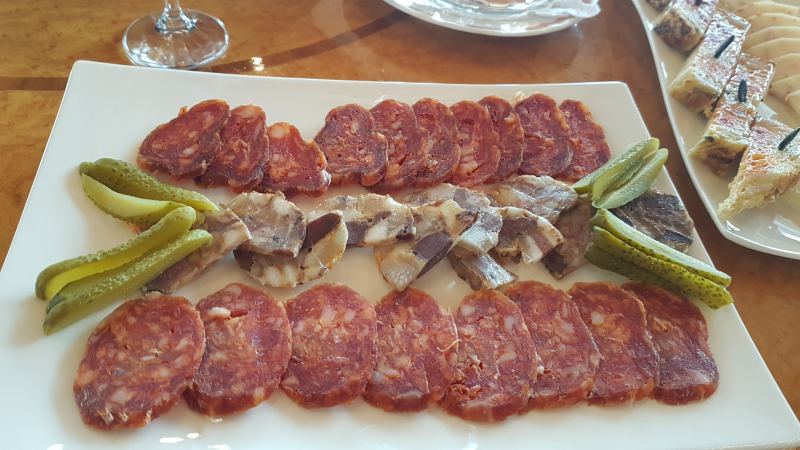 After stops in several vineyards, we finally make it back to the winery, where we see the painted barrels, decorated by a colony of artists each year, which they then auction. They have around 50 exploratory projects we learn, looking at different techniques, including five amphoras and some amphora-shaped oak. They also do numerous micro bottlings, e.g. from single vineyards.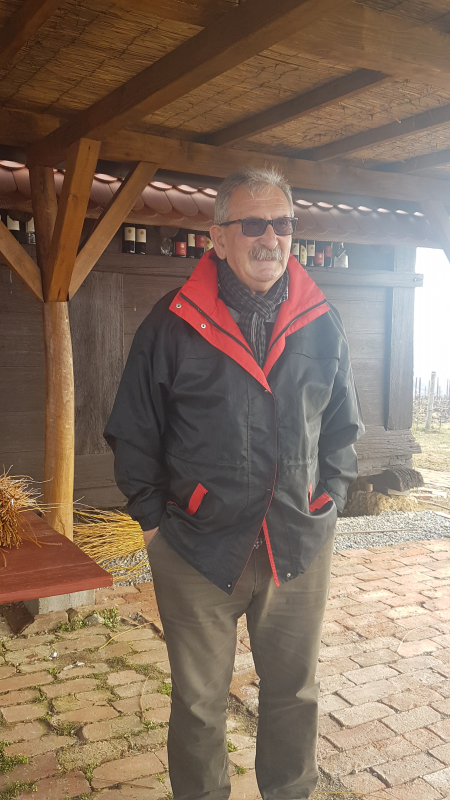 In the tasting room, we taste through a mammoth line of wines while snowflakes begin to swirl outside, including Pinot Gris, the only Rotgipfler produced in Croatia, various Graševina, Viognier aged in acacia, Sauvignon Blanc, Chardonnay, Pinot Noir, Merlot and Cabernet Sauvignon Blend, Syrah, Tribidag, Frankovka, Nebbiolo, Zelenac and Graševina orange wines, sweet Graševina… Did I say that Vlado liked to experiment? Did I say that Vlado's hospitality knows no bounds? Well, it seems this was just a mini tasting, according to Vlado, and we should come back another time, for longer, so we can really do his wines justice. Well, I'm in!!
The ultra-modern
The Galić winery a short drive away in the centre of Kutjevo is quite different. The winery began business in 2008, producing just 30,000 bottles, and now produce ten times that, with this modern winery built in 2018, at a cost of around €7 million including equipment. Although, like Krauthaker, and I suspect most of the wineries in the region, the lion's share of production is Graševina, they are also the biggest rosé producer in Croatia. They also have another brand, Ego, in Dalmatia, where they produce Plavac Mali and Posip. The skin-contact Riesling orange wine was my particular favourite here, and we also had the chance, down in the cellar, to try their first vintage of Graševina from 2008, which I have to say was holding up pretty well, a long, savoury, textured wine with notes of salted almond, apple, honeycomb and propolis.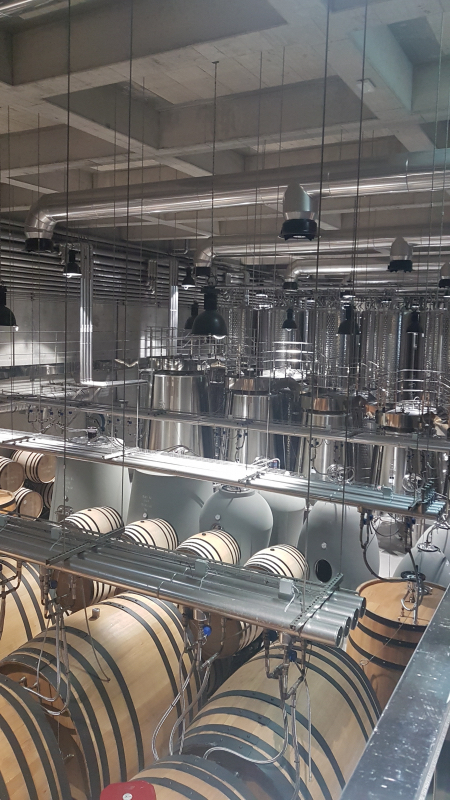 The small producers
We then had to move swiftly on to have a hearty lunch in the town's aptly named House of Wine restaurant with some smaller winemakers from the town, with the Adžić, Mihali, Perak and Sontacchi wineries presenting their wines. We also got to try some of the latter, the smallest winery in the region's, experiments as they discovered we were rather curious people and fetched a couple of samples from the winery just down the road – a refreshing rosé petnat from Graševina and Pinot Noir and the so-called 'Superslav' orange wine made from seven varieties, including, you guessed, Graševina!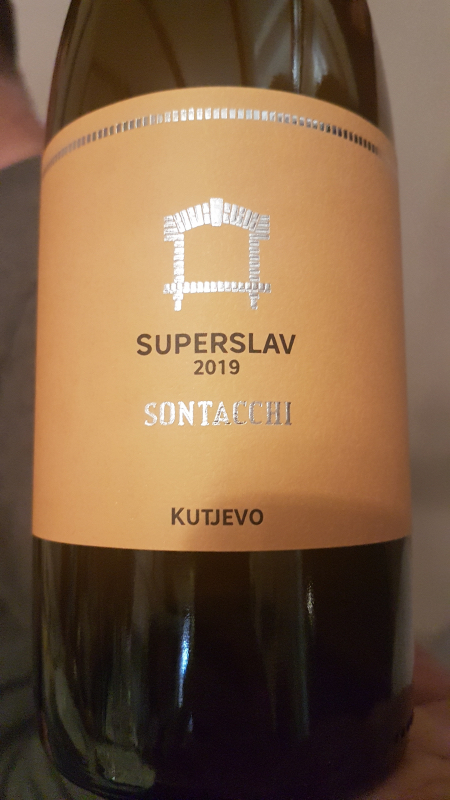 We had learnt earlier that there is also a producer association who club together to organise technical aspects together, such as a mobile bottling line and a lab for wine analysis. Good to see a region working together to help the smaller producers. Moreover, the Graševina Association, with 35 members, organises festivals and tastings together and considers common image development. Cooperation is key and the association is still growing, with the larger members inviting smaller members for free at common stands at shows, for example.
The biggest and oldest winery in the region
Finally, it's almost dark when we arrive at Kutjevo d.d., the biggest winery in the region, with 800 hectares out of the total 1,400 hectares in Kutjevo, exporting 44% of their 5 million-litre annual production.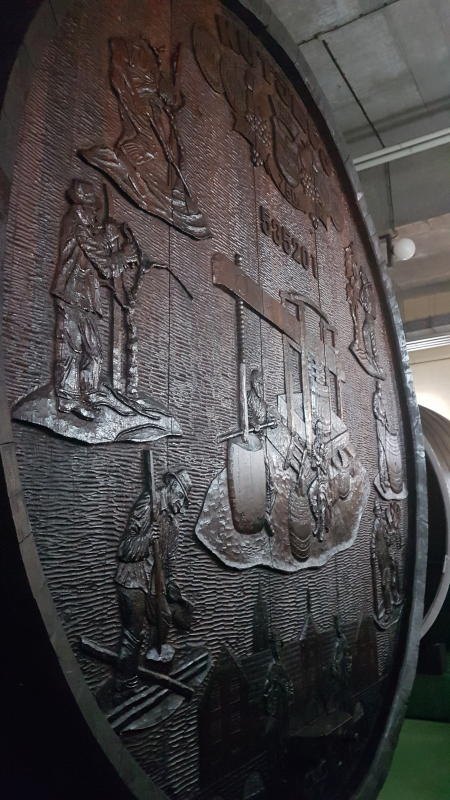 The cellars date back to the 13th century, when Cistercian monks, arriving from France and Germany via the Balaton in Hungary, founded a monastery here. The Turks unfortunately destroyed the church in the 16th century, but the cellar remained intact. We descend into these ancient cellars, with their numerous old carved barrels, a kind of temple to Graševina. They also have around 65,000 bottles in their three-room archive!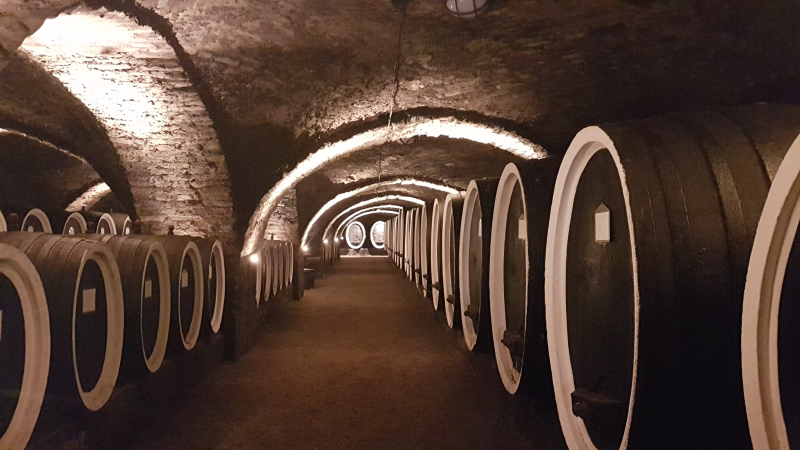 Once the Turks were expelled at the of the 17th century, the Jesuits took care of the place, building the monastery and castle of Kutjevo and investing in education and the improvement of society. After phylloxera, the winery was the first to plant US rootstocks, helping to save the wine region. Following WWII, the winery was nationalised, succumbing to the usual mass production of such state-owned companies. However, the winery was privatised in 2003 and has made great strides in rebuilding its reputation, as evidenced by the over 20 countries they now export to.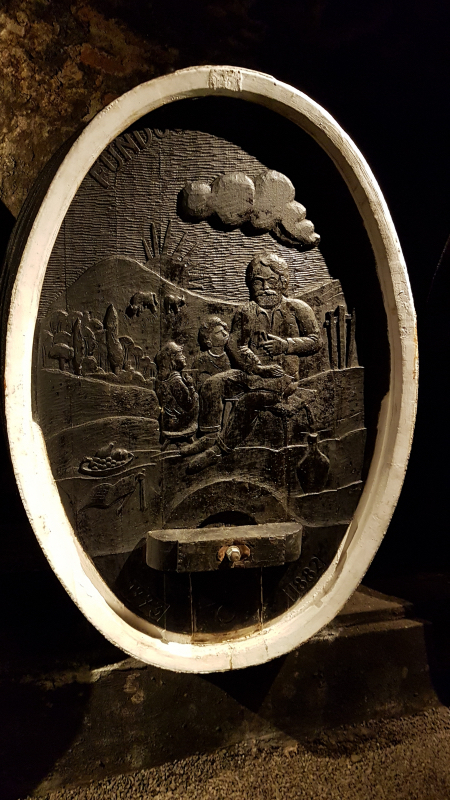 Once we had emerged from the old cellars and found ourselves in the winery's still somewhat socialist style tasting room, we had yet another outstanding tasting of what Kutjevo has to offer, not only in terms of its flagship variety, but also Riesling. The highlight here, particularly for me, as it was a birthyear wine for me, was one of their archive wines, a 1969 Graševina – highly complex and concentrated with dried fruit and honey, zippy acidity, orange marmalade and hints of petrol and saffron. The 2015 Riesling and 2018 Graševina ice wine also impressed. A more than fitting end to our day in the kingdom of Graševina.