I took part in a totally amazing Zierfandler tasting at the Gebeshuber winery in Gumpoldskirchen, organised by Wine&Partners. As the invitation said that we would be tasting wines going back to 1948, there was of course no question of me not heading to Austria.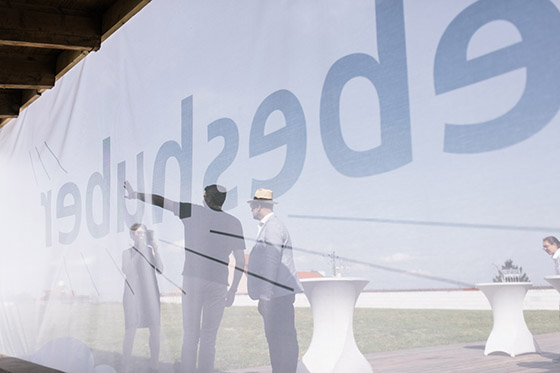 Let me just say a few words about the region too, before we slip into the past. Gumpoldskirchen, located just 25km south of Vienna is the centre of the Thermenregion. The 2,200-hectare wine region's most important varieties are Zierfandler, Rotgipfler, St Laurent and Pinot Noir. In past centuries, the town became known for the Zierfandler-Rotgipfler duet; these two varieties still make up the backbone of modern Gumpoldskirchner wine. Oh, and the soil is limestone rich in fossils.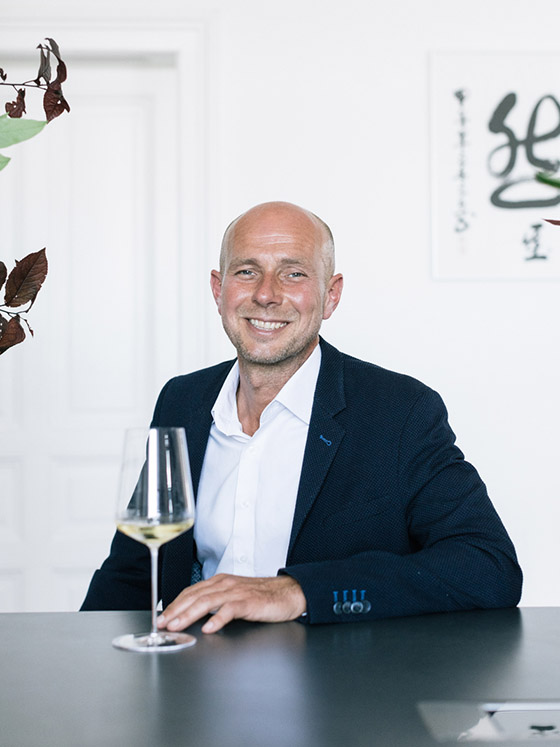 The following three wines originate from the period of the Russian occupation directly after WWII. The Soviet army withdrew from Austria in 1955 and thus the Thermenregion too, but naturally before this, they had established their own producer cooperatives. The wines we tasted were all made at a time when wine was supplied to the Viennese wine merchants in barrel, so sometimes they spent only half a year maturing in barrel before consumption and sometimes as many as three or four. Records show that a cool summer fell between the hot and dry spring and autumn of 1948, which was in fact the year that US President Truman signed the Marshall Plan. 1952 was a perfect year in which the renovation of St Stephen's Cathedral in Vienna was completed. 1954 was a tough year for vine-growers but saw the introduction of the first colour TV as well as Elvis Presley giving birth to Rock and Roll.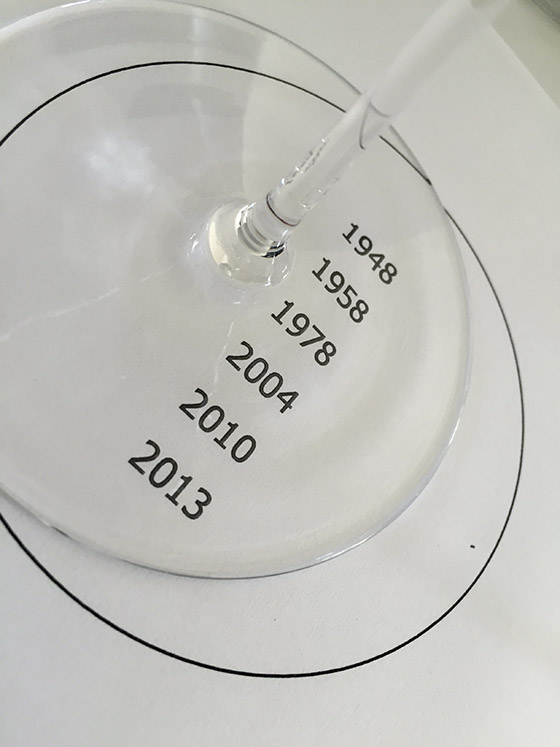 Zierfandler auslese trocken 1948 I 89 points
Hazelnut, almond, macadamia, vanilla, overripe pineapple and oriental spice on the nose. Medium-bodied on the palate with lively acidity, a little ripe citrus fruit, sweet spices, grated apple and walnut. On the finish, walnut kernel, a slightly bitter note and fresh acidity. A touch of sugar rounds everything out.
Zierfandler spatlese goldknöpferl 1952 I 87 points
Restrained nose of orange zest, propolis, sandalwood and cinnamon. Vibrant acidity, medium body and flavours of pineapple, spice and apple. Elegantly structured with fresh acidity, but with less to it than the 1948.
Zierfandler rasslerin 1954 I 90 points
Plasticine, sweet spice, orange and yeast on the nose. Great acidity, medium body and elegant structure. Fruit on the palate with apricot, propolis and a really long finish of cake, pastry and apricot. Wow!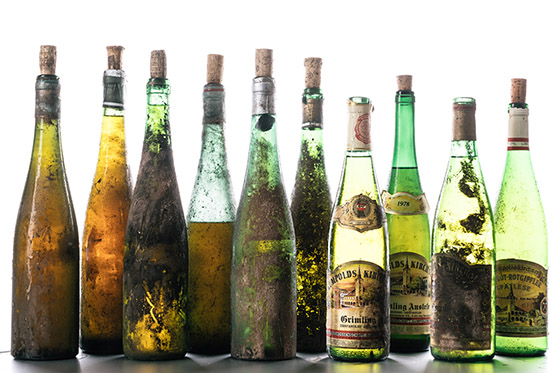 The Austrian government quickly recovered after the Soviet withdrawal and was reintegrated into its original role in the Western Bloc. This, of course, did not mean the immediate renaissance of Zierfandler, as there is still only 80 hectares of it cultivated today in Austria (along with around 30 hectares around the city of Pécs on the southern border of Hungary). We discovered that the majority of the wines from the 50s, 60s and 70s were made in a sweet or semi-sweet style; that was the Gumpoldskirchner style. (It's interesting to note that this style is still sought by consumers around Pécs, where Ziefandler, known locally as Cirfandli, is concerned.) In 1958, Charles de Gaulle was inaugurated as the first President of the Fifth Republic in France and NASA was formed whereas winemakers were happy thanks to the balanced vintage and good acidity. 1968 was the "Prague Spring" and the year of student riots in Paris; the vintage was characterised by high acidity and low alcohol. In 1976, Jimmy Carter became the 39th US President; there was a warm, dry summer whereas autumn brought plenty of botrytis.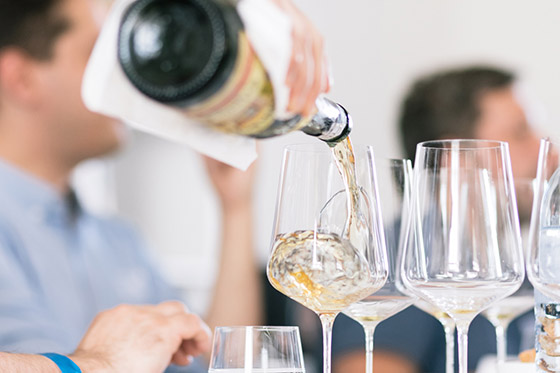 Zierfandler spatlese königswein 1958 I 89 points
Slightly sweet and oxidised nose of walnut with a touch of honey and wilted flowers. Bright acidity and medium body with flavours of citrus fruit and grated apple. Mouth-filling with a medium finish dominated by walnut.
Zierfandler auslese grimling 1968 I 88 points
Restrained nose of pollen, bouquet garni, apricot and pineapple. Fresh, lively acidity, citrus fruit, pineapple, lychee and mandarin on the palate. Fresh, tight and in amazingly good shape, although the acidity tips the balance a little.
Zierfandler auslese grimling 1976 I 91 points
Aromas of dill, burnt rubber, pollen and chestnut honey; the latter gains in intensity and is finally transformed into a nectar-like character. Medium-bodied on the palate with a fresh, elegant structure – perfect! A touch of sugar, pineapple, flowers, pear, mango, apple and mandarin characterise the palate. Long finish!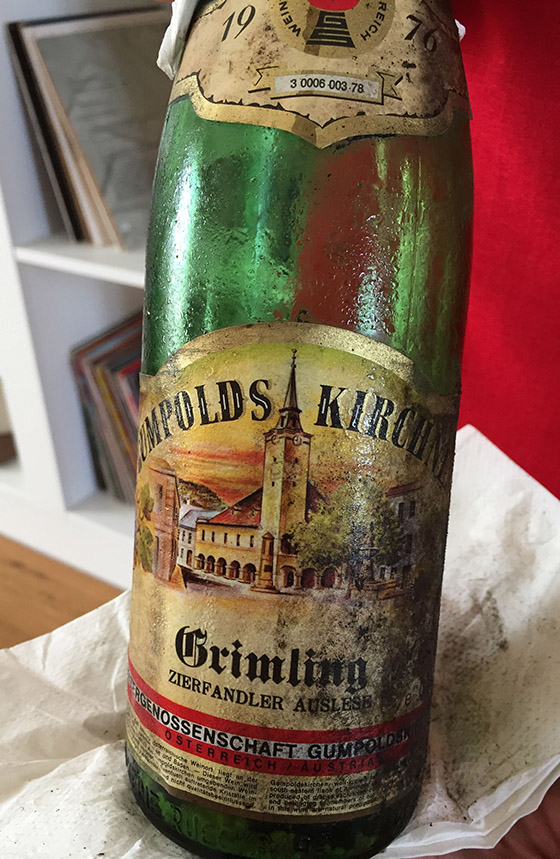 Gumpoldskirchen did not become the wine region's most well-known town simply because of its central location, but also thanks to its microclimate. The cool air flowing down at night from the 700-metre-high Anninger hill through the best vineyards helps to retain lively acidity in the nascent wines. The end of the 70s, but especially the 80s, were all about the Austrian glycol scandal, which rocked the wine industry to its very foundation and finally set it on the path it treads till this day. In 1978, Karoly Wojtyla was sworn in as Pope John-Paul II; it was a cool year with a late harvest and good acidity. Whereas 1984 was a cool, dry year with poorer quality, high acidity and grapes that had difficulty ripening, as if the climate had also known that because of George Orwell, 1984 would mean something different for the future. In 1988, a hot dry summer followed a mild winter in Austria and the grapes ripened beautifully. Benazir Bhutto, on the other hand, was the first woman to become prime minister of a Muslim country.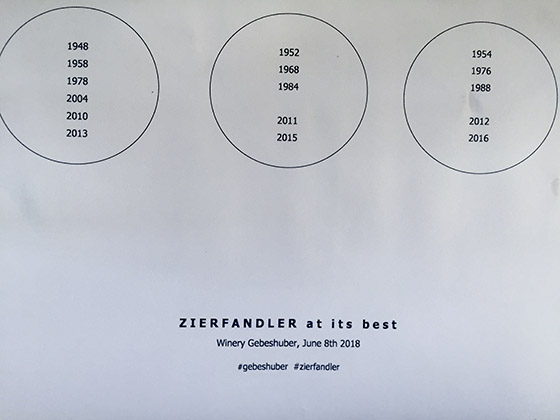 Zierfandler/Neuburger auslese 1978 I 87 points
Slightly oxidised nose of walnut, almond, apple blossom and propolis. Full-bodied with good acidity and flavours of dried fruit, pineapple, apricot, orange, honey, spice and a touch of botrytis. Long walnut and citrus finish.
Zierfandler grimling spatlese 1984 I 85 points
Very restrained nose of white flowers and stewed apple. Medium-bodied with bright acidity. It's a little disjointed – there's sugar, fruit and acidity, but each stands alone. There's also some umami on the palate.
Zierfandler auslese trocken 1988 I 90 points
Aromas of herbs, such as dill, then gingerbread and its spices, ginger, honey and apple blossom. Medium-bodied, lively acidity, citrus and apple on the palate. Tight structure, fresh and long – a vibrant wine.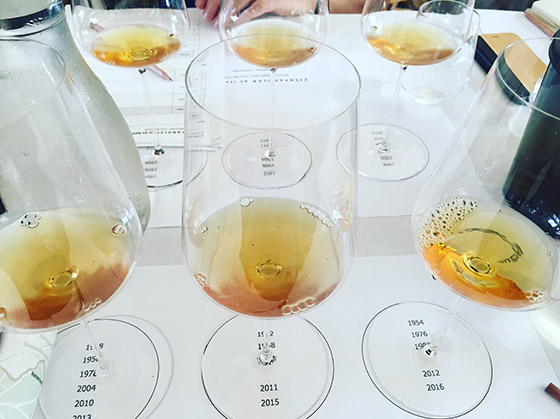 The Gebeshuber winery was established in 1998 and now cultivates 25 hectares, organically since 2006 and biodynamically since 2017. Their commitment to local varieties is shown by the fact that they also have 7.5 hectares of Zierfandler and 6.5 hectares of Rotgipfler; the latter out of a total of 120 hectares in the country. 20% of their wines are sold locally, 50% in Austria and the remaining 20% are exported. A brief summary of vintages follows.
2004: cool year, elegant wines, lively acidity
2010: cool year, lots of rain, low production
2011: perfect ripening, good acidity, well balanced
2012: ripe grapes, hot year, fuller-bodied wines
2013: a white-wine year, good acidity
2015: perfect year, well proportioned
2016: fruity wines with good ageing potential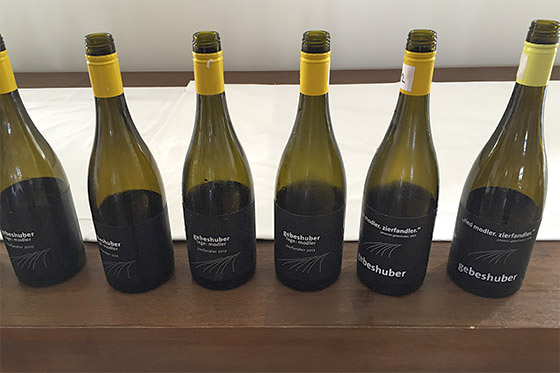 Zierfandler modler 2004 I 86 points
Medium lemon in colour with a nose of citrus, pear and white flowers with a little mushroom in the background. Reminiscent of Champagne on the palate with lively acidity, medium body, a touch of yeasty toast and plenty of citrus fruit. Interesting! The acidity and citrus fruits persist on the long finish.
Zierfandler modler 2010 I 89 points
Aromas of buttered popcorn, asparagus, citrus fruit and pear, with obvious battonage. Medium to full-bodied on the palate, broad with good acidity, oak, spice, apple and citrus. Long finish. American style.
Zierfandler modler 2011 I 86 points
Sweet spices, vanilla, clove, flowers and, surprisingly, plum on the nose. Medium-bodied with good acidity and flavours of apple, pear, citrus fruit and flowers. The sweet spices persist the longest on the palate.
Zierfandler modler 2012 I 89 points
Intoxicating nose reminiscent of Riesling, with pear, citrus fruit, flowers and a little mint. Tight and elegant on the palate with mango, mandarin, pineapple and razor-sharp acidity. Lean and long.
Zierfandler modler 2013 I 90 points
Apple blossom, pear blossom, wow, what a fragrance! Elegant structure, steely acidity, with mineral notes, citrus, flowers and a hint of petrol together with a longer than average finish.
Zierfandler modler 2015 I 91 points
Sweet nose with plenty of fruit and flowers. Similar on the palate. Elegant and very drinkable with white-fleshed fruit. Super and elegant now – a real experience!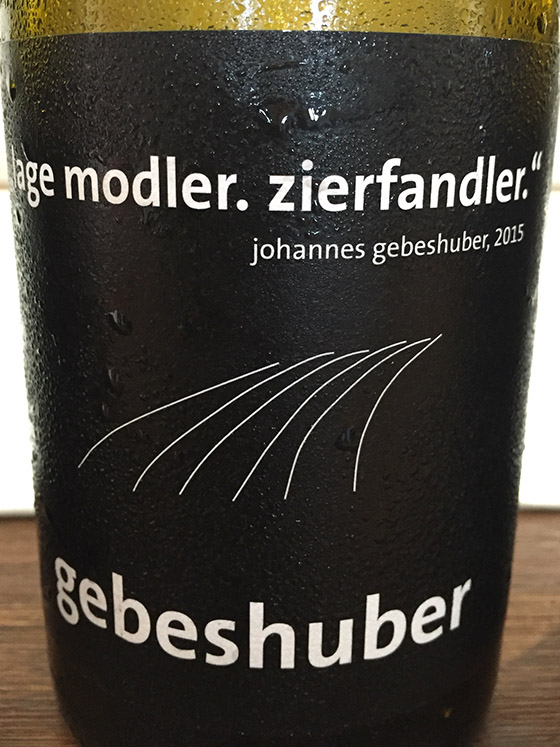 Zierfandler modler 2016 I 87 points
Restrained nose of grapes and a bit of pollen. Medium to full-bodied on the palate with bright acidity, ripe fruit and a touch of tannin. Longer than average finish.
I have to admit honestly that before the tasting, I had serious prejudices regarding Zierfandler. I had no doubt about its characteristics, rather about its ageability. I see now that this was due to my lack of experience in this case. Even the wines from the 40s and 50s were enjoyable and sometimes absolutely delicious and very drinkable. However, what is even more important is the message about this tasting and Johannes Gebeshuber. Here is a wine region with 2,200 hectares of vines and a winery with 25 hectares. The wine region has a total of 80 hectares of Zierfandler, 7.5 hectares of which can be found at this winery. Yet they are still capable of communicating about it and about Rotgipfler! It's important for wine regions around the world who are in the same boat to realise that focussing on what there is plenty of is not the only route to take. That is one path, but it's not the be-all and end-all. It's equally important that we preserve our traditions, our old varieties, even if there is not very much of them, and that we don't work with them reluctantly, rather we explore and unravel our ancestors' style and, bearing this in mind, though not slavishly, create new ones based on these varieties. The world will then take note of this and we can then sell them our other wines too.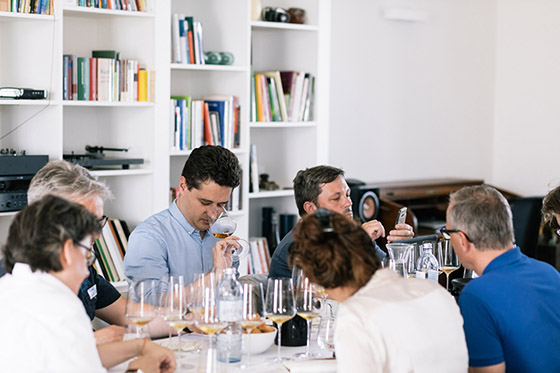 If you have any more questions (or you'd like to register for a fantastic tasting), seek out Johannes Gebeshuber in Gumpolskirchen at 43 Jubilaumstrasse (AT-2352) or by email at jg@weingut-gebeshuber.at.