It seems that the Austrians are in the process of revolutionising their entire quality wine spectrum. Not only are they building a comprehensive quality classification system for their vineyards, they have also revamped the way that quality Sekt, the Germanic world's take on sparkling wine, is being marketed. They are trying to move away from the term Sekt, as they feel it has not always had a good name. Whether a product of Austria or Germany, Sekt is considered cheap and cheerful, often not even cheerful, thanks to the ocean of mediocre bubbles produced from grapes, juice or wine produced anywhere but in Austria or Germany to meet the demand of thirsty drinkers from the world's two biggest sparkling markets.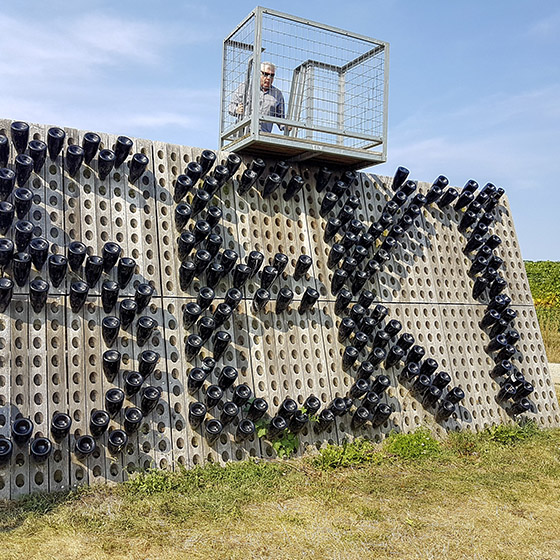 Photo: Sue Tolson
Austrian has now sought to remedy the reputation of its sparkling wine and created a quality pyramid for wines produced from Austrian grape material. Basic Austrian Sekt can be made from grape material sourced anywhere in Austria from any of the 36 varieties permitted for Qualitätswein. However, stricter criteria apply to the three levels of the quality pyramid – Klassik, Reserve and Grosse Reserve, the terms they wish to emphasise rather than the word Sekt, which unlike Champagne, is not a protected term.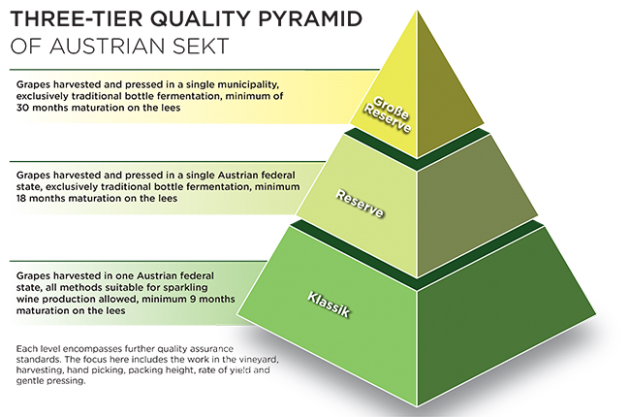 Three-tier Quality Pyramid, © AWMB
A bubbly history
Austria has a tradition of sparkling wine going back to the nineteenth century, when many large producers in Vienna would source many of their grapes or wine from Niederösterreich (Lower Austria), nowadays mostly from the Weinviertel.
The Kamptal, however, also boasts numerous creative producers who are crafting a variety of sparkling wine based on different philosophies and styles, not all of which fit into this quality pyramid. I was amongst a group of curious Wein Akademiker from Weinakademie Österreich who descended on Langenlois's futuristic Loisium (a wine museum and boutique hotel) to catch up with what is going on in this sparkling hotspot.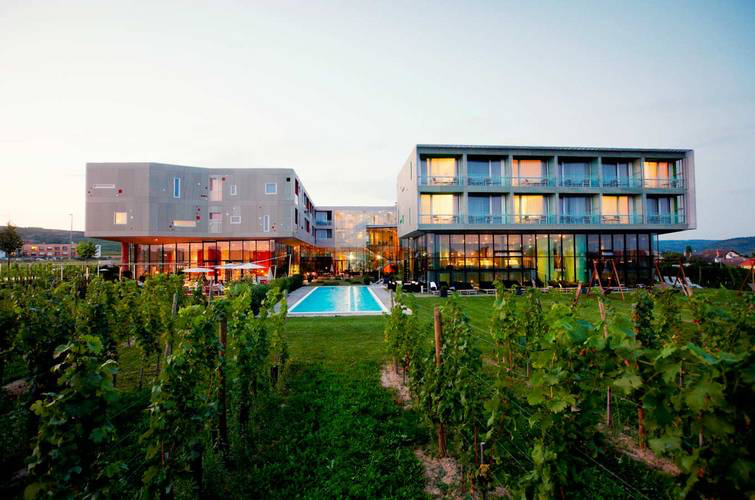 Photo: @Loisium
Both established and young producers are producing a wide variety of styles, including pet nat, in one of the coldest spots in Austria, meaning they have ripe grapes with good acidity and low pH, perfect for sparkling. They also cultivate the Burgundy varieties alongside more traditional Austrian Grüner Veltliner, Riesling and Zweigelt, which is also often used for sparkling.
Fred Loimer, the head of the Kamptal wine committee and biodynamic since 2006, presented two attractive non-vintage Extra Brut Reserves, a white and a rosé, both based on Zweigelt, along with his 2013 Langenlois Grosse Reserve Blanc de Blancs Brut Nature, a lovely complex, layered wine with attractive autolytic notes, bright fruit and a refreshing saline streak, characteristic of Langenlois.
Incidentally, Fred's Grosse Reserve was pitted against three biodynamic/organic Champagnes, a Cava, a Crémant d'Alsace and a German Riesling, all from or based on 2013, when presented to international sommeliers and journalists at the Loimer estate a few days later by Fred and Stefan Reinhardt, the Wine Advocate's Champagne specialist. I was privileged enough to attend and can testify that the Langenlois Grosse Reserve certainly held its own against these venerable rivals.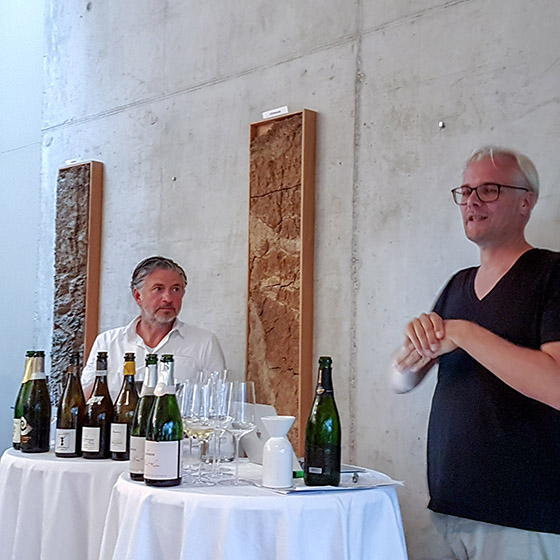 Fred Loimer and Stefan Reinhardt by Sue Tolson
Eva Steininger showed us three faces of Riesling – a 2015 Reserve, the 2013 Heiligenstein (in the future, this will be a Grosse Reserve, which may also note the vineyard instead of the producing community, if applicable) and a 2015 "méthode elementar", a wonderful, textured, honeyed wine with flinty notes. Eva explained that the fermentation was stopped at 24g residual sugar and the natural sugar was then used for the second bottle fermentation. It was then riddled and disgorged but not filtered, resulting in an exciting wine with an 'elementary' character. Steininger are also known for their wide range of varietal Sekts based on Austrian varieties.
Bründlmayer's flight of wines, the same non-vintage Brut Reserve based on Pinot Noir, Chardonnay, Pinot Gris and Pinot Blanc with a touch of Grüner Veltliner but with differing disgorgement dates, came closest in character to the Champagnes that some of my tasting colleagues appeared to be hankering after. Perhaps due to the combination of grape varieties or the fact that Willi's wife is French! Small differences were discernible between the wines due to the disgorgement; however, nothing earth-shattering.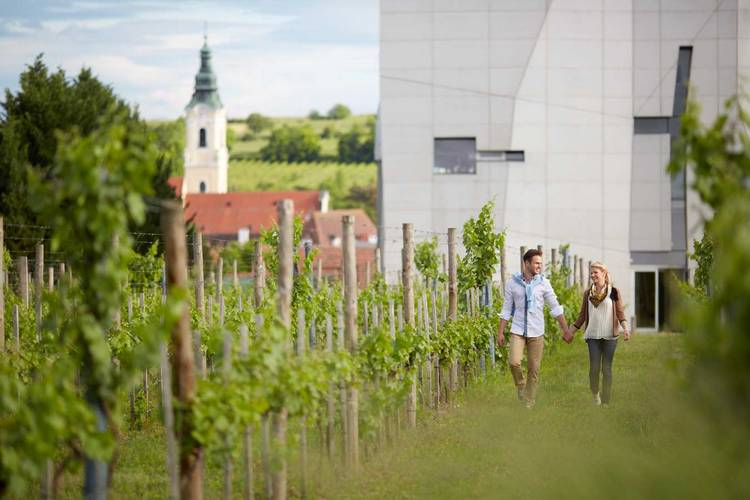 Photo: @Loisium
Schloss Gobelsburg 2008 Vintage (Extra Brut), produced from Pinot Noir, Riesling and Grüner Veltliner also scored well. Having spent ten years on its lees, it displayed yeasty autolytic character with ripe juicy fruit, great complexity, balance and a lingering finish. Schloss Gobelsburg is incidentally one of the oldest wineries in Austria, formerly a Cistercian monastery and still owned by the Stift Zwettl.
And this is when things started to get a bit funky with the younger generation.
Alwin Jurtschitsch started making sparkling Grüner Veltliner in 2012. His philosophy is to follow the rules from Champagne but use local varieties. His 2014 Grüner Brut Nature, which spent 3.5 years on the lees, was a beautiful refreshing, mineral sparkler with smoky tones and lovely characteristic GrüVe lime and pepper. The non-vintage Rosé Brut, based on Zweigelt with 15% each of Pinot Noir and St Laurent, was a lovely pink, fruity fizz with plenty of crunchy red fruit and crisp acidity. Alwin told us that the colour came from the Zweigelt, sourced from vines at high elevation where the grapes rarely get ripe, whereas the Pinot and St Laurent had been vinified in white.
Alwine & Stefanie Jurtschitsch by Newcomer Wines where you can buy their wines
And, moving onto the pet nats, funkier still. Austrian pet nats are still in their infancy, so, as elsewhere, there is no real regulation, allowing plenty of room for experimentation. Alwin Jurtschitsch and Anna & Martin Arndorfer have created Fuchs und Hase to allow them to dabble away from their family wineries. They leave some lees in the bottle to protect against oxidation, while the skin contact brings structure to the wine, says Alwin. All wines are denominated Vol 1 – 5. The higher the number, the longer the skin contact. We try a Vol 1, Müller-Thurgau, Grüner Veltliner and Gelber Muskateller creation, which has a lovely perfumed, aromatic nose with plenty of spice. There's plenty of zesty grapefruit on the palate, but unfortunately, as with many natural wines, I found it a little mousy on the palate.
Matthias Hager's 2017 Pet Nat Grüner Veltliner was for me the most successful of the pet nats we tried. A fresh, yet rather yeasty wine with good acidity produced from old vines.
So, if I've piqued your interest in dipping into the diversity of Austrian Sekt, you could even celebrate Austrian Sekt Day on 22 October by seeking out some Austrian bubbles or visiting one of the many Sekt houses who have open cellars on this day!
Zum Wohl!