WineUp, which was now held for the third time, is Transylvania's most important wine event. Its driver and creator, Ioana Bidian Micu, is one of the most energetic and professional wine event organisers I know. Since I also have Transylvanian, what's more Cluj roots, it was particularly exciting to stroll through all the exhibitors and related programmes, wine dinners and master classes, with my wine glasses on.
The venue, the Bánffy Palace, is the former property of an old Hungarian aristocratic family, located on Cluj's main square near St Michael's Church. For the last few decades, it has housed the local fine arts museum, but if the rumour is true, an individual, more precisely, a descendant of the former housekeeper of the last Bánffy owner, has reclaimed the building and the court has decided in their favour. Its return (after the communists forced nationalisation) is of course welcome, but it is definitely a matter of concern that on the one hand, not the family but rather a former employee has received the building (even if they can prove their claim with the relevant papers, how did they come by these documents?), and on the other, such an important, beautiful building has been entrusted to people who have no capital to either maintain or operate it, whilst it is also not inconceivable that the museum will have to move out…Well, I'm certainly not enamoured with the whole story, but that's my problem, that's not what we're discussing here.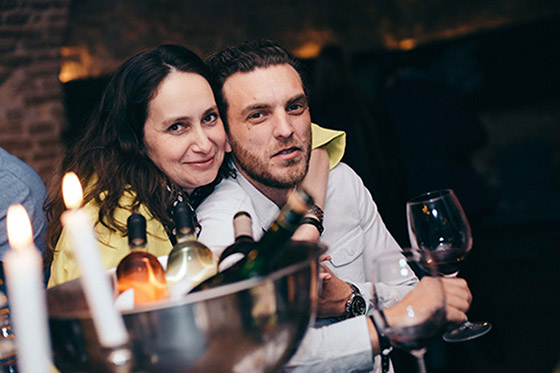 Rather the fact that the building as a venue is absolutely perfect! Under the arcades, due to the rain, the somewhat derelict inner courtyard was a great place for a coffee or a sandwich, the concert was also great, whereas the museum was nicely spaced out on the first floor (I don't know how many visitors bothered to do so, but I certainly bought a ticket and visited the permanent exhibition, including wonderful portraits of the former Transylvanian nobility and twentieth century Transylvanian paintings with outstanding works from both Hungarian and Romanian artists.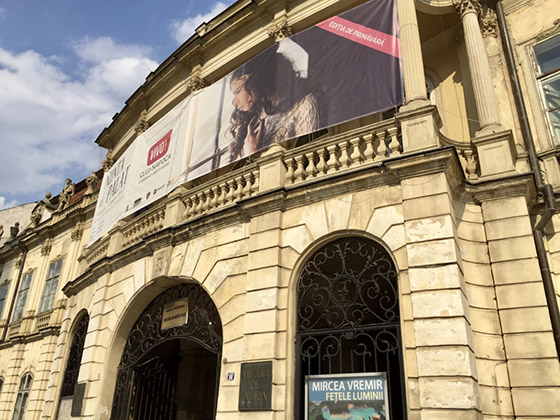 I also ruefully admit that a whole day of tasting (especially like this, i.e. sitting and walking in a massive crowd) is not my forte, so whenever I felt that I could not take it anymore, I headed off for a bit of a walk in the city centre. I know it may sound a little perverse, but one morning I wandered around the Házsongárd cemetery for nearly two hours and not because I couldn't find my ancestors' graves, but simply captivated by the peace and quiet as well as by the numerous familiar names on the gravestones. Moreover, I discovered the city centre's best gyros, the most Hungarian café and restaurant (funnily enough right opposite the back door of my ancestors' former house) and a street which was mentioned a lot in the book I had just begun reading during the trip (Andrea Tompa: From head and from foot). If you're after something to read, let's take the famous Transylvanian Trilogy by Miklós Bánffy. So, thanks to WineUp, its Cluj history morphed a little into my Cluj history and that was really very good. Many thanks for this!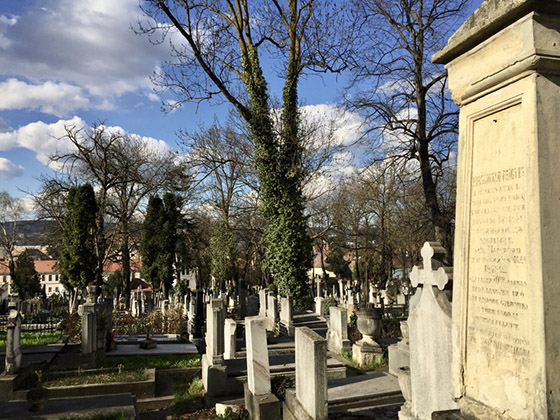 There was also another very positive result of this trip (I'm not thinking about the journey there - as there were no plane tickets for that day, I went by train in the end and due to the Romanian State Railways' strike, the journey took nearly ten hours), namely a lot of new acquaintances, including the whole WineUp team, Előd Ádám MW student, Enikő Negele from Carastelec Winery, Valeriu Stoica owner and Ghislain Moritz chief winemaker at the Avincis winery. All being well, I'm going to visit this latter gentleman soon as I'll be in Bucharest at a wine competition and then I'll have two days before I travel home.
As I already mentioned, the wine exhibition also provided an opportunity for talented artists to introduce themselves. I know that my personal taste does not matter here, but I really should draw your attention to Cristina Marian's paintings, which captured my imagination mainly due to her use of colour, as did Csaby Konyicska's paintings. For me, this latter artist rather excelled in capturing light and shadow. It's well worth keeping an eye out for them!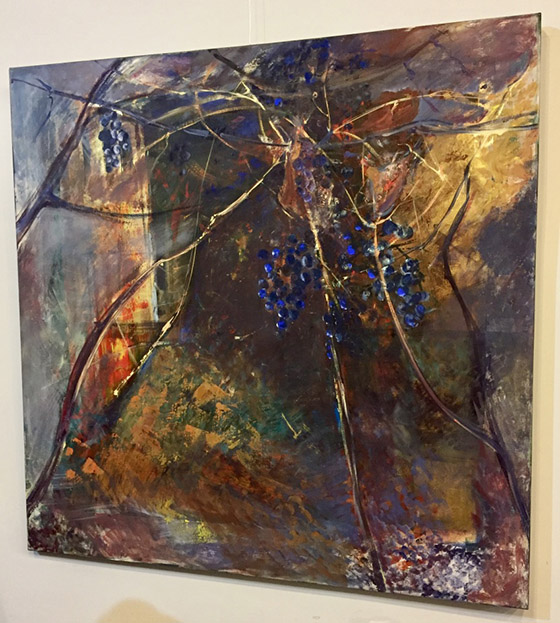 Now to the tasting notes from the event, or what it's worth buying if you visit Romania (unfortunately, I didn't have time to taste wines from all the exhibitors, but even so I managed to collect so many tasting notes that I was forced to sieve through them and only publish the most interesting):
Liliac
I first wrote an article about the Transylvanian winery in 2012, which was in Hungarian. They have 52ha and a wonderful tasting room overlooking the vines, furnished in a fresh and modern style. Stopping by is a must for any wine lover visiting Transylvania!
Sauvignon Blanc 2016 (55 Ron) I 87 points
Lovely varietal character, tight, citrus and nettle, exciting.
Nectar of Transylvania 2015 (76 Ron) I 88 points
Honey, dried peach and apricot on the nose. Medium body, smooth acidity, good balance. Elegant, very drinkable, long.
Feteasca Neagra 2015 (55 Ron) I 86 points
Lovely spiciness, black cherry, plum and sour cherry on the nose. Silky and fruity.
Carastelec
Extremely new winery, have only been present in the market since 2014. They currently only have still wine but plan to specialise in sparkling wine. I tasted their sparkling wine and it doesn't seem like an unrealistic idea! There is a tasting room at the winery and, all being well, they'll have some accommodation by next year too. By the time this article appears, the sparkling wine will also be available with the name Carassia.
Vinca Sophia 2015 (39 Ron) I 87 points
Full-bodied and ripe with sweet woody notes, citrus fruit and white-fleshed fruit. Tight tannins, lovely acidy and good balance. 100% chardonnay.
Vinca Rhein Riesling 2015 (24 Ron) I 85 points
Aromas of pear, citrus fruit and white flowers. Medium body, vibrant acidity and recognisable varietal character. The palate mirrors the nose.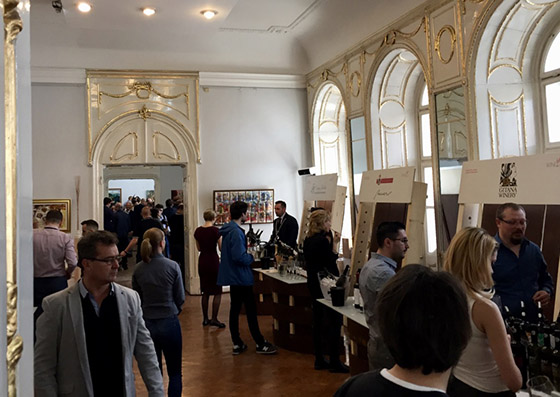 Crama La Salina
Another new player on the Transylvanian market; the estate is located near to the Torda salt mine and has a 13-room hotel, restaurant and riding school, in short, everything in one place, so you could even base yourself there for several days.
Issa Pinot Noir 2015 (49 Ron) I 84 points
Restrained nose, medium body and lively acidity. Plenty of red berry flavours, although the tannins are still quite intense. Medium finish.
Nachbil
The winery's big debut in Budapest took place several years ago; at that time, it was their Syrah that the press and the public were all talking about. The owner, former Romanian Saxon, Johann Brutler, who moved back from Germany, is spending less town in the cellar now due to health reasons, but his son, Edgar, seems to have found the way forward for himself and the Nachbil wines.
La Capella cuvée selection 2015 (27 Ron) I 87 points
Firm, good acidity, super fruity and very well-priced entry-level wine. Wow!
Grünspitz 2016 I 90 points
Not yet bottled, they only brought a sample to the event. Unfiltered and spent seven days on its skins (thus orange wine), it's still resting on its lees.
Vibrant floral nose, lovely tannic structure, plenty of fruit, mainly apple and apricot, lively acidity. Full-bodied, long and exciting!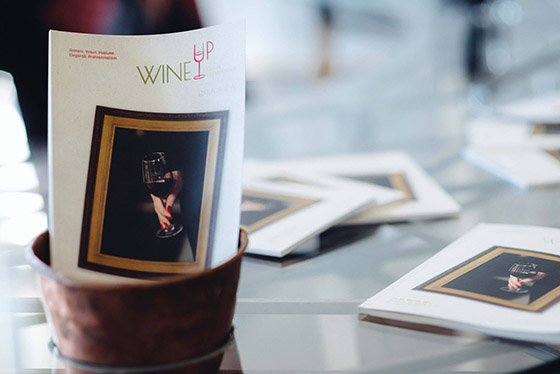 Aurelia Visinescu
A lovely lady, who as winemaker at Halewood first produced dry Feteasca Neagra. One of her wines ended up as Romania's first real premium wine. A true legend, she now cultivates grapes on 64ha. She markets her wines in groups. The international varieties have a character name, whereas the local grapes have an artisan name. You'll also be able to taste the wines at the winery from April!
Red Artisan 2013 (42 Ron) I 86 points
Spicy aroma and flavour, firm tannins, smooth acidity and plenty of fruit on the mid-palate.
Anima Merlot 2012 (73 Ron) I 89 points
Plenty of ripe red berry fruit and a little marzipan on the nose. Full body, firm structure, good acidity and serious fruitiness. Elegant and long.
Anima 3 Fete Negre (103 Ron) I 92 points
We've already written about this wine here.
Full body, firm but not excessive tannins, exciting acidity and good balance. Plenty of fruit on the palate, lovely range of spice and a little tobacco. Exuberant and vibrant with a long finish.
Cramele Recas
One of the country's largest winery, with more than 1000 hectares, huge consumer market, major export sales, lots of types of wines and numerous wine families, British co-owner.
Regno Recas 2016 (33 Ron) I 87 points
Attractive spicy nose, silky tannins and lively acidity. Loads of fruit, very drinkable, super.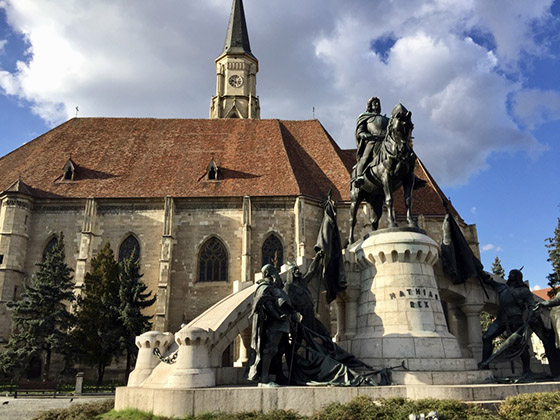 Avincis
40 hectares in the wonderful Dragasani wine region; the owner is a really pleasant and good-humoured gentleman. We talked a lot during one wine dinner but it was only afterwards that I found out that he was a law graduate and had been the country's Minister of Justice for four years from 1996! Their oenologist is Ghislain Moritz, a French guy from Alsace, who's responsible for their yearly 250,000-bottl production. Based on photos, if I could only choose one winery in the whole of Romania to visit, it would be this one!
Cuvée Petit Sauvignon Blanc 2014 (36 Ron) I 90 points
Full-bodied wine with good acidity. A touch of green pepper on the nose clearly indicates its vintage. Elegant and tight on the palate with plenty of fruit. Super!
Cuvée Andrei Cabernet Sauvignon 2012 (62 Ron) I 90 points
With firm tannins and attractive acidity, it still seems very young, but due to its structure and fruitiness, it's a wine with a long ageing window. Don't open much before 2020, although you could enjoy it right up until 2040!
Negru de Dragasani 2013 (54 Ron) I 91 points
Firm tannins, lots of fruit and a range of spices with elegant acidity and a long finish. A classic!
Viile Metamorfosis
100-hectare estate, of which about 75ha are adjoining. This is Marquis Antinori's Romanian investment, meaning – I think – that I've said everything, at least in terms of their quality approach.
Negru de Dragasani 2015 I 87 points
Young, spicy, firm and powerful. There's still plenty of room for it to age, it promises to be great!
Feteasca Neagra 2013 (71 Ron) I 90 points
Lovely and fruity and seriously spicy. Silky tannins, Mediterranean character, elegant with smooth acidity. Very drinkable, fruity, just beautiful.
Prince Stirbey
Romania's iconic winery, the pinnacle according to everyone (although as I've indicated, I'd rather give that imaginary first place to Avincis). Their winemaker Oliver Bauer is legendary, uncompromisingly putting quality at the forefront. The owners are descendants of the Stirbey royal family, who regained possession of their hundreds-of-years-old estate. They currently manage 25 hectares in seven different vineyards in the Dragasani wine region.
Cuvée Genius Loci 2012 (76 Ron) I 88 points
Medium body, rounded acidity and seriously fruity. Very drinkable, long, super!
Bauer
Stirbey's "sister estate", to be more precise, the chief oenologist Oliver Bauer's love child, they manage five hectares and only work with bought-in grapes. As the winemaker put it, Stirbey is for wine connoisseurs, Bauer is for geeks.
Sauvignon Blanc 2016 (44 Ron) I 87 points
Firm, fresh and very pure with vibrant acidity. On the palate, plenty of citrus fruit and a little nettle with beautiful varietal character.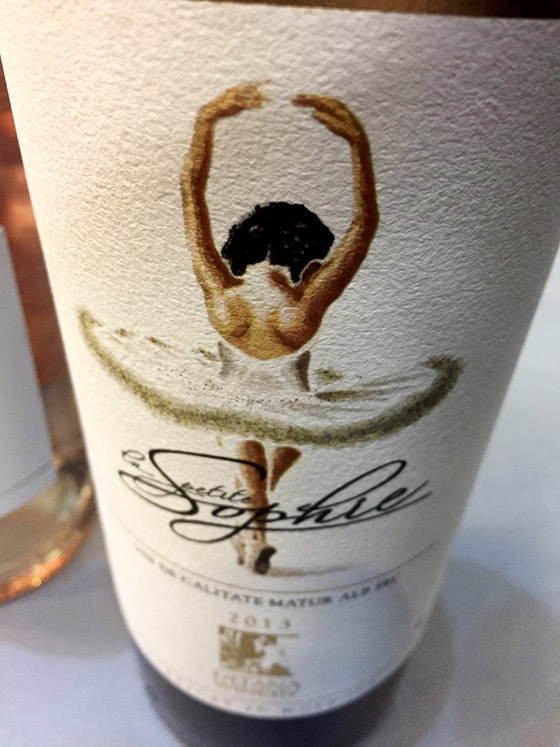 Gitana Winery
The odd one out is a Moldovan rather than a Romanian winery, with 360 hectares in three vineyards, next to the Prut river. Most of the vines were planted in 2002, their labels are incredibly beautiful as are most of the wines. It was a real pleasure to taste them.
La Petite Sophie 2013 (60 Ron) I 89 points
Aromas of white flower and a touch of petrol. On the palate, rounded acidity and medium body with flavours of pineapple, mango and petrol. Super!
Lupi 2012 (75 Ron) I 88 points
Firm with good acidity and intense tannins. Black berry fruit and lovely use of oak with some chocolate on the finish. Still young.
Villa Vinea
Back to Transylvania, to the village of Mica near Tirgu Mures, 100 hectares. You can visit the winery, which would certainly be worth doing based on the tasting.
Selection Contesa 2013 (68 Ron) I 89 points
Wonderful nose of dried apricot, spice and obvious botrytis. Well-proportioned, with vibrant acidity and good balance. The palate reflects the nose. Deep and long.